Summer just got a lot more exciting. For those of us who appreciate the finer things in life, Greater Palm Springs is a picturesque area known for glitzy glamour and stunning surroundings. Whether you're looking for luxury hotels or exclusive resorts, Greater Palm Springs is one of the best places to stay in Southern California. Here's a compiled list of some top luxury resorts to add to your bucket list.
Kimpton The Rowan Palm Springs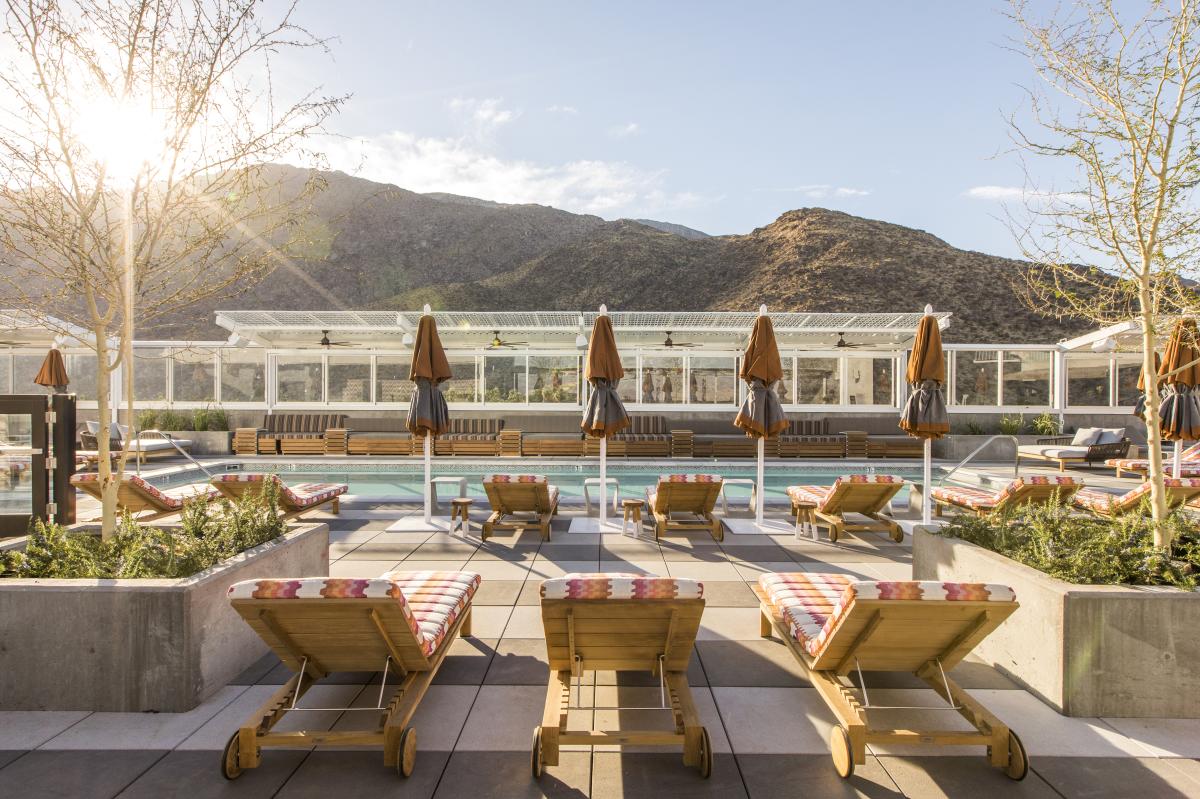 At The Rowan Palm Springs, a fabulous rooftop pool, five dining options from stellar dining venues (Juniper Terrace offers sublime culinary wonders while 4 Saints' rooftop presents farm-fresh American fare), and 153 spacious, light-drenched guestrooms and suites with stunning views of the San Jacinto Mountains make for a truly chic portal, right in the heart of downtown Palm Springs. Large windows welcome you in spacious guestrooms whose showers and tubs are the epitome of luxury—plush bathrobes are a nice touch, too. Want to go all out? Bask in luxury in a King Suite, complete with a spacious, private balcony and floor-to-ceiling windows. A unique standout here is the inventive concierge service, which offers above-par assistance in booking local tours or guiding you to the best dining options in downtown—although all food venues within this wonderous complex stand out. Elegance and convenience align here for a memorable stay. 
Information: 100 W. Tahquitz Canyon Way, Palm Springs, 1-760-904-5015
Avalon Hotel & Bungalows Palm Springs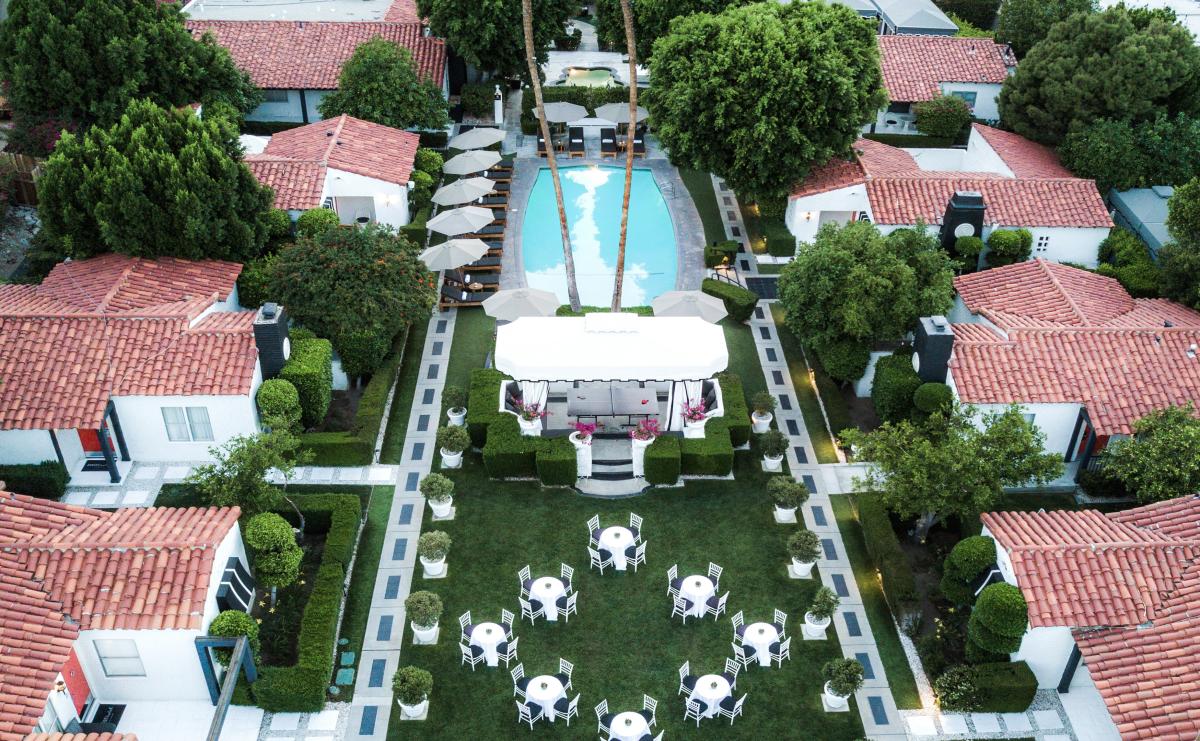 Historic and tucked away in old downtown Palm Springs, these Spanish-style studios, suites, and bungalows are the epitome of luxury. Hollywood has been coming here since the 1930s. Between its tranquil spa (Estrella), romantic setting, plush beddings, and standout poolside dining with Cali-Mediterranean cuisine (at Chi Chi), what's not to like? One-bedroom bungalows offer the finest desert eye candy, but suites and courtyard studios also captured our attention. Let go, breathe and unwind with Estrella's signature Avalon Massage or Sea Salt Body Scrub. Turquoise Sage Mud Wrap, perhaps? Why not? This is the place to go all out. Notice the detail and nuance that goes into making your stay here feel downright memorable.
Information: 415 South Belardo Road, Palm Springs, 1-760-318 3012
The Ritz-Carlton Rancho Mirage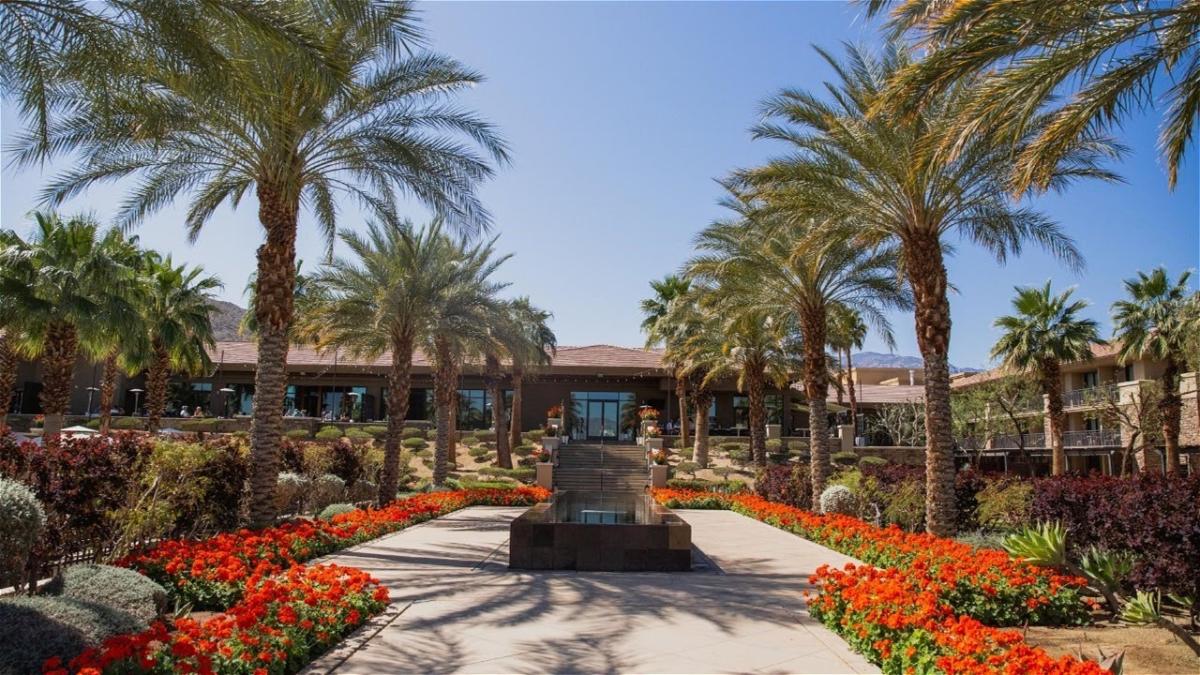 Among the top luxury stays in the country, The Ritz's modern design, dreamy accommodations, and striking desert views create an unrivaled opportunity for pristine upscale comfort. To be sure, the sunsets here are so stunning they take your breath away. Its two swimming pools and VIP-style cabanas vie for attention with signature spa experiences in treatment settings featuring private terraces and plunge pools. Get your om on with yoga and meditation, too. The full-service salon is a nice touch and cuisine at the Air Pool Bar and State Fare Bar & Kitchen is fine dining at its best—consider the Fig & Prosciutto Flatbread or Bay Scallops & Sofrito Rice for a real palate pleaser. As far as rooms go, you have your choice of a one-bedroom suite, a residential suite, or a remarkable 1,700-square-foot Valley view suite. Decisions, decisions.
Information: 68900 Frank Sinatra Dr, Rancho Mirage, 760-321-8282
Parker Palm Springs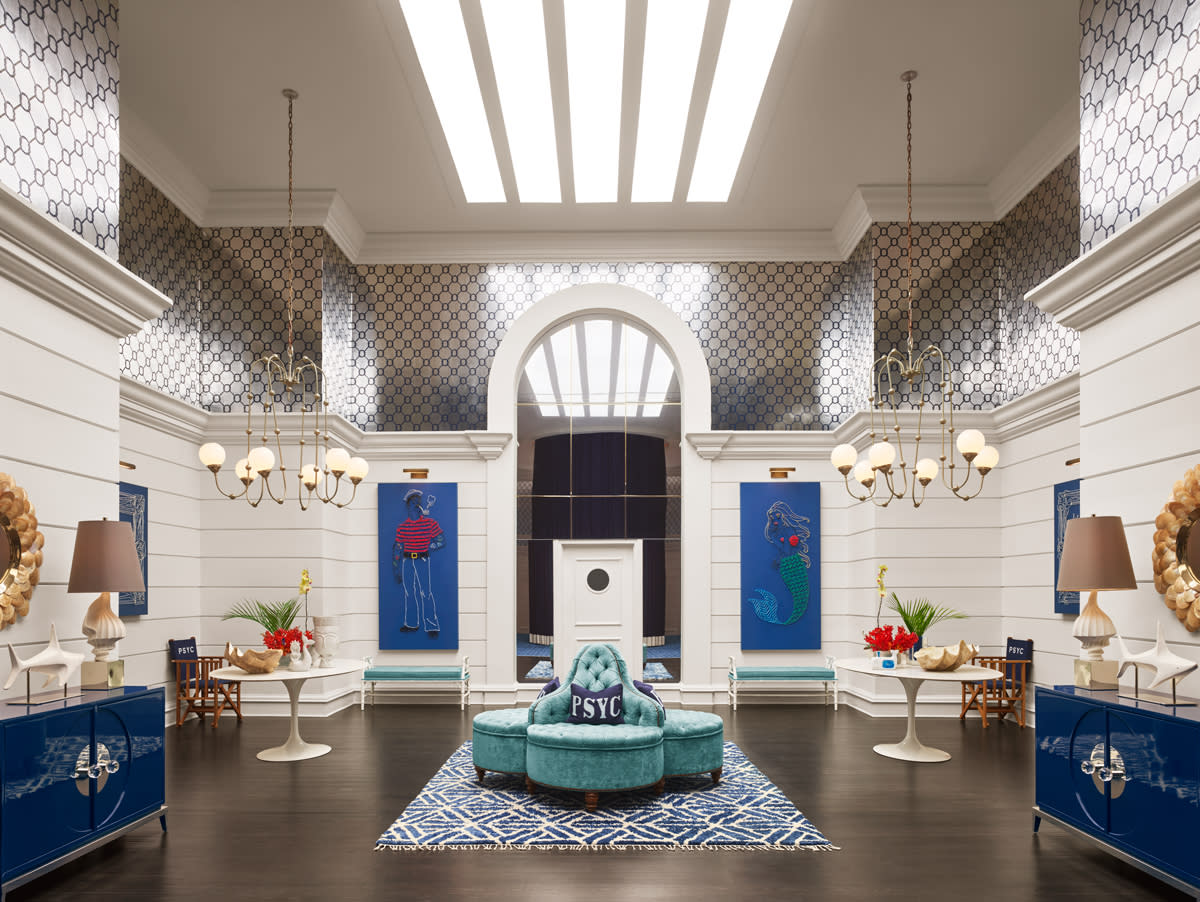 Few hotels know how to master color themes as well as Parker Palm Springs. Bold reds, hypnotic turquoise, tangerines, and striped blues abound here in this palm tree haven that shares real estate with herb gardens and the lush landscape. Palm Springs Yacht Club, featuring the finest custom treatments and wellness regimens, is perched here. Its ocean-themed pool is an eye-catcher. Five indelible dining spots offer opportunities to imbibe on many levels, including Norma's (a glorious open-air terrace restaurant serving breakfast day and night), Mister Parker's, and Counter Reformation, where stellar wines at the bar are a nice touch. The Mini Bar and Lemonade Stand round out the mix, but the "world's smallest restaurant, Mrs. Parker's, is dreamy poolside magic at its best. There are several pools to choose from here, in fact—all of them unique. Tennis, table tennis, pétanque, or croquet, anyone? Maybe after another nap in lavish rooms. But now that you're here, why not consider the midcentury marvel that is the Gene Autry Residence? 
Information: 4200 E. Palm Canyon Drive, Palm Springs, 1-760-770-5000
La Quinta Resort & Club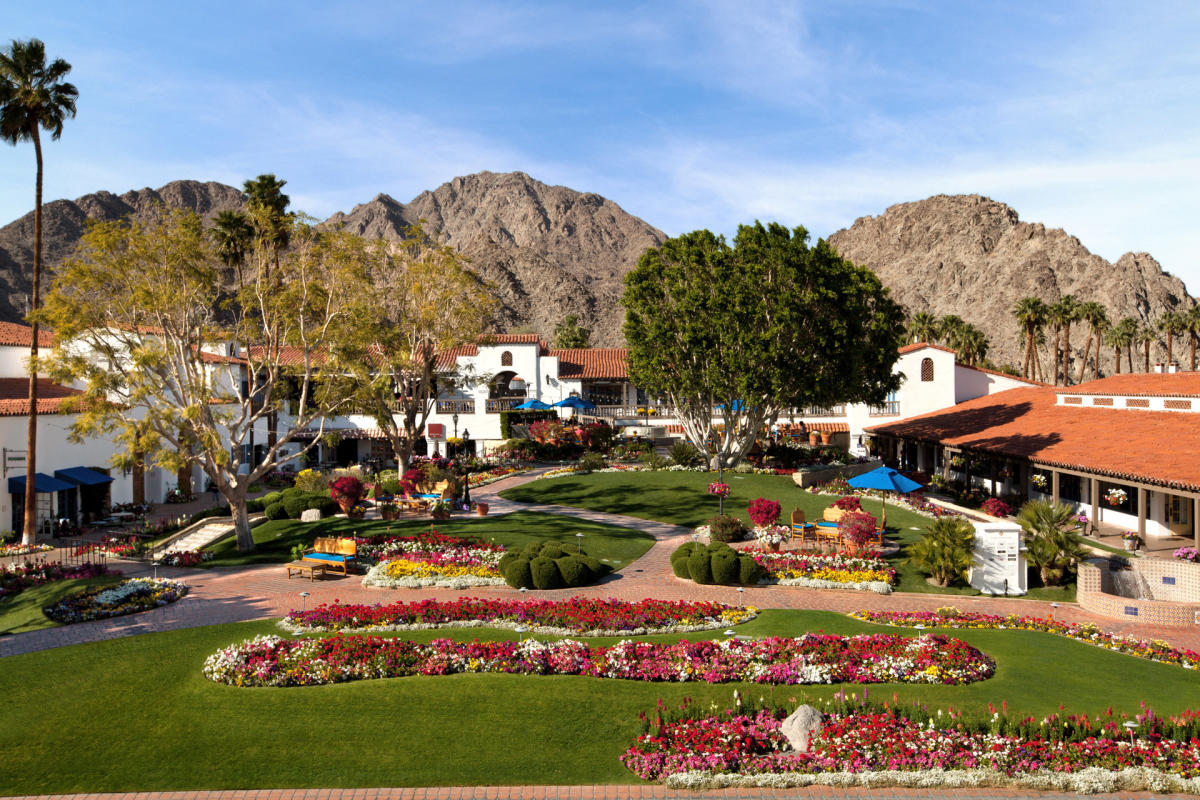 Wisk away to this dream hideaway in Greater Palm Springs. The La Quinta Resort & Club sits snuggled alongside the Santa Rosa mountains. Located in La Quinta, this resort is located minutes away from the Indian Wells Tennis Garden and the Empire Polo Club which is home to Coachella and Stagecoach every April. Spread across this beautiful 45-acre property are hacienda-style suites with access to over 40 climate-controlled pools, 21 tennis courts, pickleball courts, and a spa. The landscape is filled with flowers and palm trees, perfect for a stroll or enjoying the peaceful scenery. 
Information: 49-499 Eisenhower Dr, La Quinta, 1-760-564-4111
Sands Hotel & Spa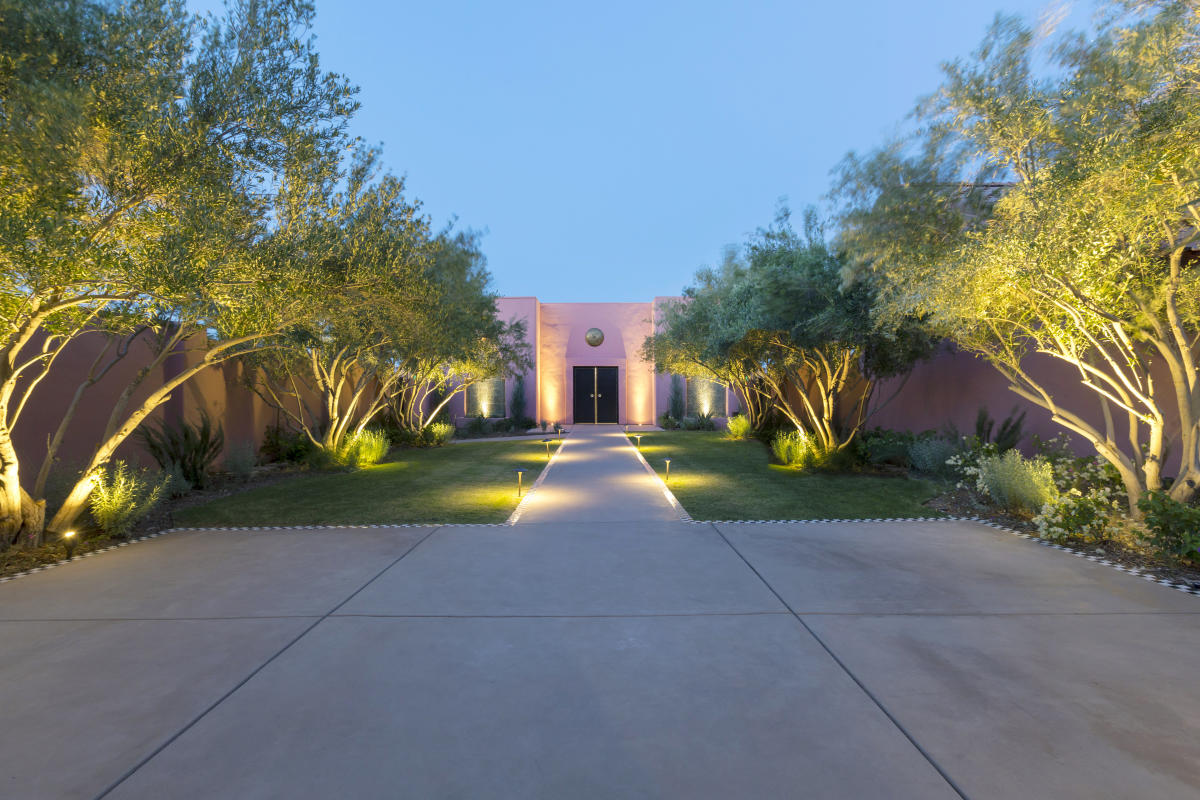 Sands Hotel & Spa offers 46 luxurious guest rooms and suites that each have their own unique charm. The boutique hotel is in the exclusive community of Indian Wells and the layout of the hotel feels extremely private. Lay poolside under the palms or enjoy a little R&R at The Spa, which offers Morrocan-inspired treatments. This hotel is also home to an ultra retro-chic restaurant/bar that is an ode to tennis and racquet clubs of the 50's and 60's. Take a step back in time at The Pink Cabana. Those looking to unwind even further can be sure to do so are their signature spa which is sure to lead to the ultimate weekend of relaxation for you.
Location: 4-985 Province Wy, Indian Wells, (760) 321-3771
Arrive Palm Springs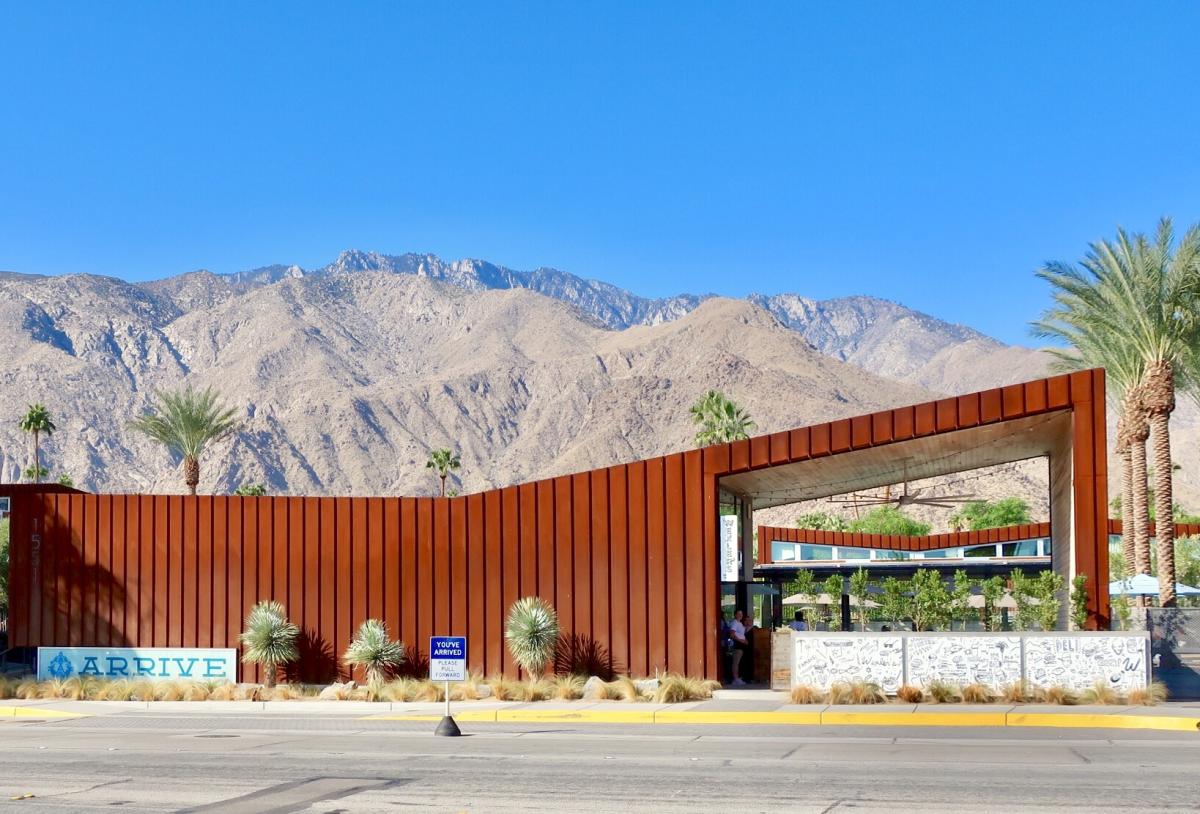 Sleek with a bit of mystique, Arrive Palm Springs impresses on a number of fronts. On one hand, it's purposely chill. On the other, it's remarkably luxurious setting—oh, those mountain views—is unbeatable. It's the scenery, in fact, that makes up most of its lavishness, anchored by a pool experience that feels comfortably upscale. Rooms (studios and patio settings) feature 100 percent Egyptian cotton bedding with plush robes to boot. Malin + Goetz bath amenities are soothing perks, too. Well-behaved dogs can live it up here. Bring Fido. Dining is considerably low-key—although the signature ice cream shop is superb as are the coffee drinks featured here. You don't have to be a millionaire to stay here, but you sure feel like one when you do.
Information: 1551 North Palm Canyon Drive, Palm Springs, 1-760-507-1650
Feeling inspired to visit our Southern California oasis? Book your summer travel to Greater Palm Springs.