Greater Palm Springs is a plant lover's paradise, and we've compiled our recommendations for some horticultural exploration in the desert!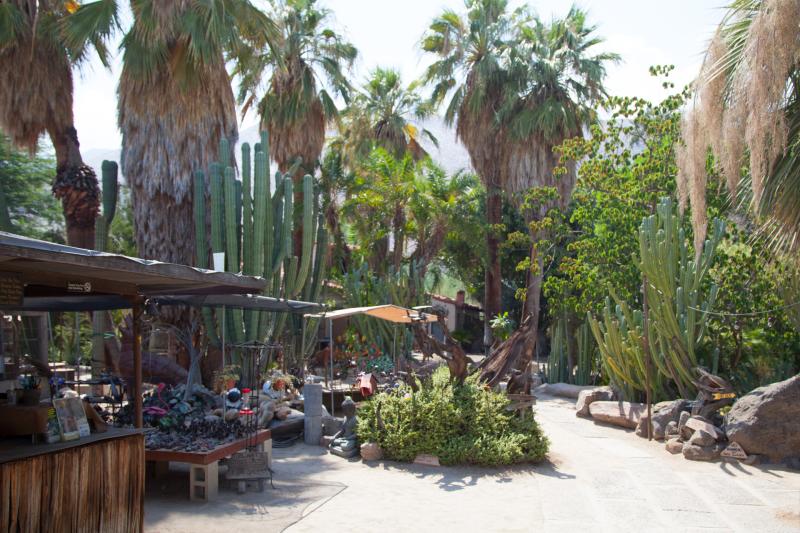 Moorten Botanical Garden
Moorten Botanical Garden in Palm Springs is a great place to start your plant-hunting adventure. Established in 1939 by Patricia and Chester "Cactus Slim" Moorten, who offered landscape design services to Hollywood celebrities for their Palm Springs area homes, the garden is now available for public tours and also features plants for sale in the nursery. The gardens feature thousands of cacti and other plant species and are home to the world's first "Cactarium" – a greenhouse filled with rare cactus specimens.
While The Living Desert in Palm Desert may be best known as a zoo, it is also an excellent desert botanical garden with over 1,400 species of plants. The Living Desert was one of the first public gardens to utilize "immersion" gardening to incorporate plants from specific geographic regions. These gardens are designed to create a sense that the visitor is standing in that specific region, with areas represented including the Upper Colorado (the local region of the Colorado Desert of southeastern California at 1,500 to 3,000 feet elevation), Mojave and more. The Living Desert also features educational gardens such as the Cahuilla Garden, which shows the relationship of the local band of Native Americans to their desert environs, and two hummingbird gardens and two butterfly gardens, which offer examples of plants favored by these winged creatures.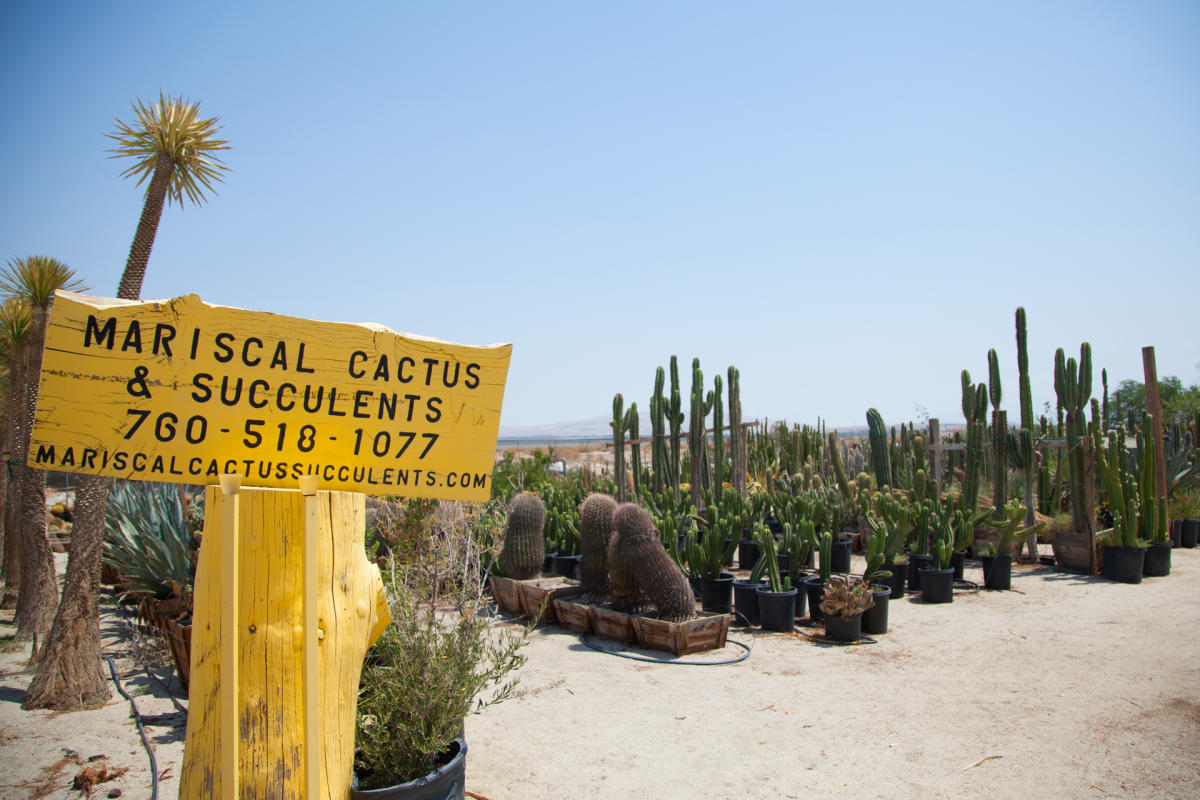 Mariscal Cactus & Succulents
Greater Palm Springs is home to many great nurseries offering expansive selections of cacti, succulents, palms and other desert plants for purchase. Some of our favorites are Mariscal Cactus & Succulents in Desert Hot Springs, Moller's Garden Center in Palm Desert, Macias Nursery in Thousand Palms, Bob Williams Nursery in Indio and Vintage Nursery in Bermuda Dunes.
A little further out in Morongo Valley sits Cactus Mart, with a large assortment of cacti, succulents and other desert plants, as well as pots and garden-related gifts.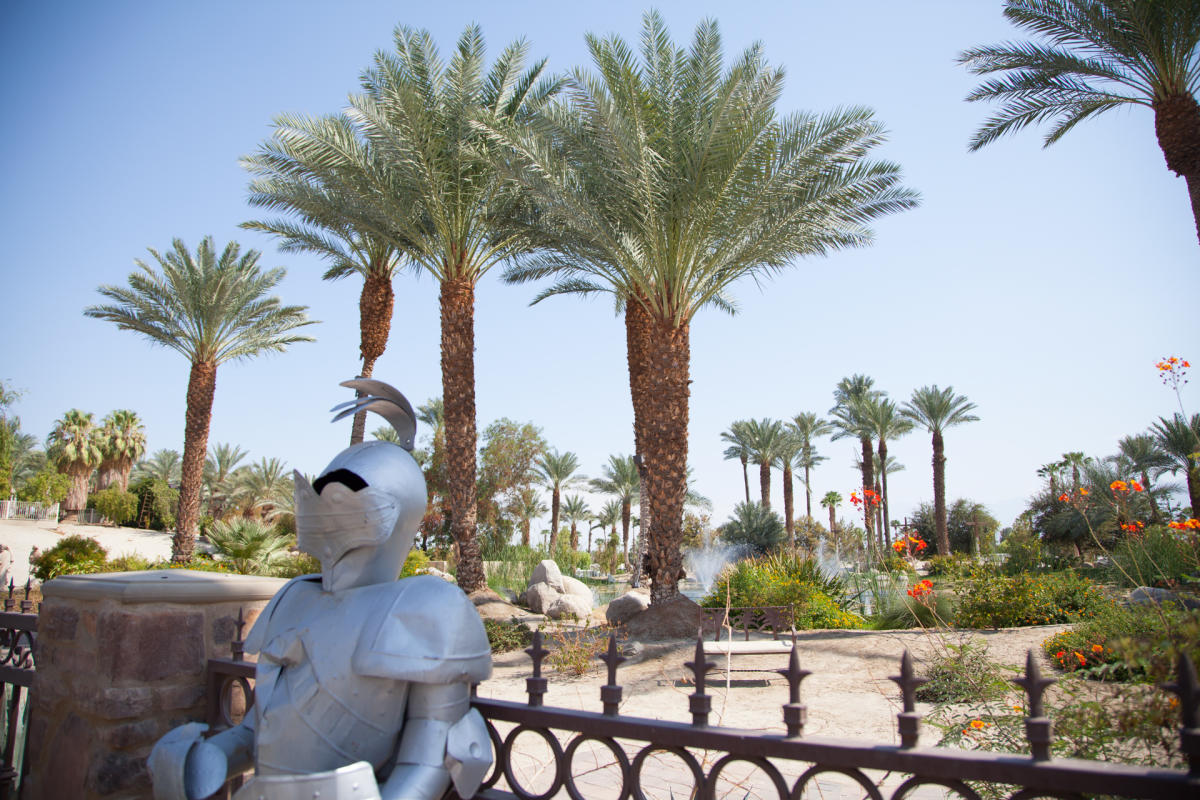 Shields Date Garden
Shields Date Garden has been a desert staple since 1924, with 17 acres of date and citrus farming and a huge selection of dates for sale in the on-site shop, as well as their famous date shakes, fresh juices and a full café. Watch their free movie, The Romance and Sex Life of the Date, for an informative look at date culture and then explore the grounds on the garden path that winds through the farm.
Sunnylands Center & Gardens in Rancho Mirage was created as a visitor's center and educational resource in conjunction with the historic Annenberg Estate – the former home of Walter and Leonore Annenberg which now serves as a retreat where national and international leaders convene to promote world peace and international agreement. Sunnylands Center & Gardens features nine acres of gardens inspired by the Annenbergs' collection of Impressionist and Post-Impressionist paintings, with twin reflecting pools, a stone labyrinth and 70 species of native and arid-adapted plants from North and South America, Africa and the Mediterranean. Access to Sunnylands Center & Gardens is free, while the tour of the historic Annenberg Estate tour is ticketed and requires advance reservations. The tour of the estate brings visitors through the rolling grounds filled with olive trees, cacti and a rose garden.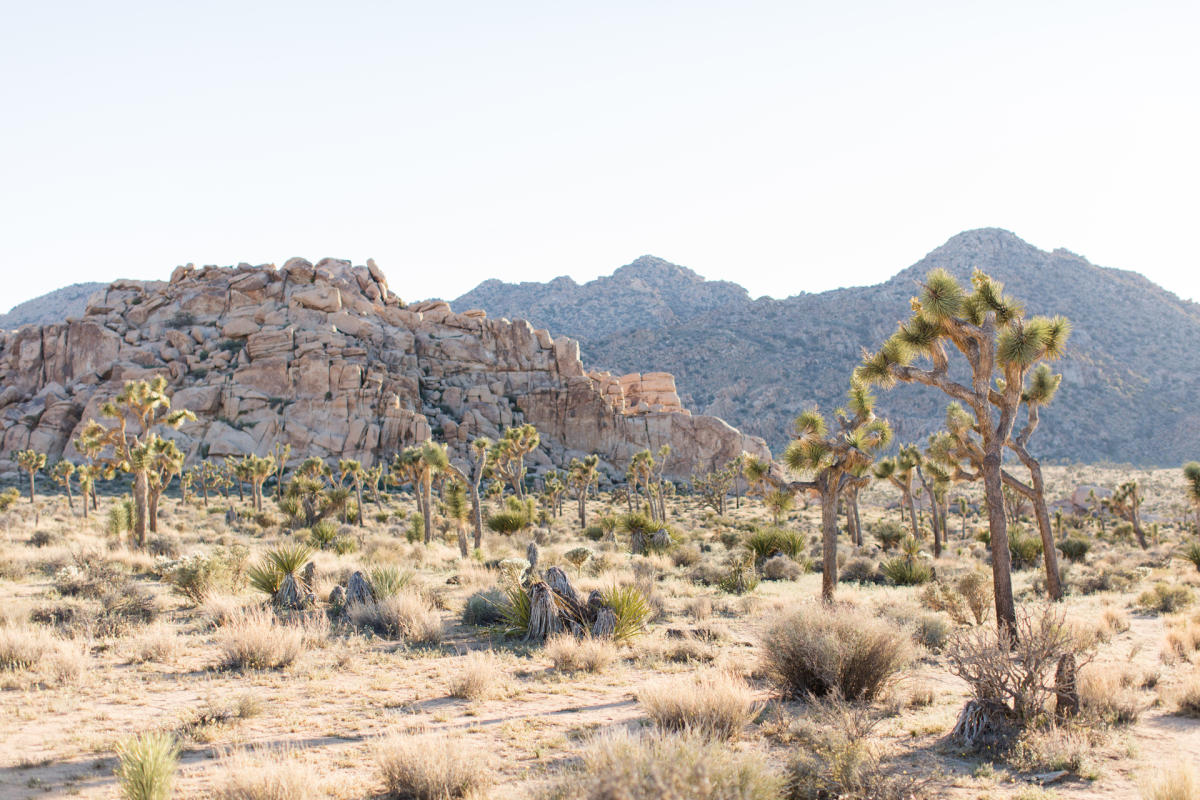 Joshua Tree National Park
Joshua Tree National Park is an expansive park encompassing 790,636 acres, including 429,690 acres of wilderness made up of two distinct desert ecosystems, the higher Mojave Desert and the lower Colorado Desert. The park is named for the Joshua trees (Yucca brevifolia) that fill the Mojave Desert areas, while the Colorado Desert portion on the eastern side of the park features Cholla cacti, Yucca, Creosote bushes and Ocotillo, as well as Washingtonia filifera (California Fan Palms) in five oases where water is available year-round. The Oasis of Mara Visitor Center includes a nature trail showcasing plant species that are unique to the oasis soil conditions. About 12 miles south of the park's north entrance is the Cholla Cactus Garden Nature Trail, with a 0.25 mile loop through landscape filled with Teddybear Cholla. Joshua Tree National Park is filled with hiking trails and rock climbing areas and overnight camping available in select spots.
Another high desert stop for plant-lovers is Gubler's Orchids in Landers, where they grow an extensive variety of orchids and carnivorous plants. They offer free tours of the facility Monday through Saturday and host an annual Orchid Festival each fall.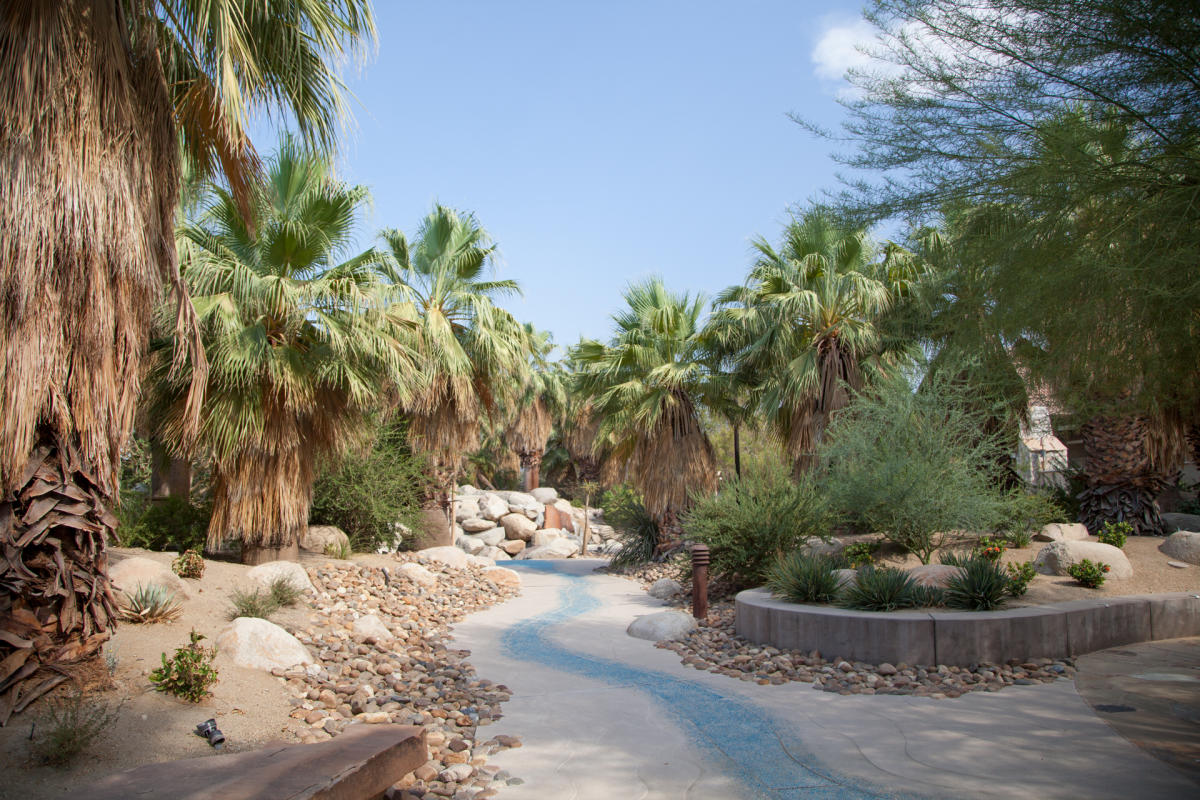 Palm Springs Art Museum in Palm Desert, Faye Sarkowsky Sculpture Garden
Love plants and art? Palm Springs Art Museum in Palm Desert features the Faye Sarkowsky Sculpture Garden, where works by artists including Donald Judd and Betty Gold sit among a winding path of palm trees, cacti, desert blooms and water features. The sculpture garden is open year-round with no admission fee and you can download a self-guided tour to the garden here.
For a change of pace from cacti and palm trees, head up to Mount San Jacinto State Park to enjoy the pine, cedar and oak trees growing in the cooler temperatures found at the higher elevations. The Palm Springs Aerial Tramway in Palm Springs will take you up to the state park by way of a rotating car with killer views of the valley below, or you can access the park by car in multiple locations.
Tahquitz Canyon and the Indian Canyons are stunning natural features on the Agua Caliente Band of Cahuilla Indians Reservation in Palm Springs, with hiking and horseback riding trails available to the public for an admission fee. Tahquitz Canyon includes a seasonal 60-foot waterfall and Palm Canyon in the Indian Canyons is the world's largest Washingtonia filifera (California Fan Palm) oasis.
The BackYard at The Shops at Thirteen Forty Five
At The BackYard at The Shops at Thirteen Forty Five in Palm Springs you will find a well-curated selection of cacti, succulents and other desert plants, as well as a great collection of pots and planters (including our favorite vintage Gainey ceramic pots), plant-related gifts and books. You can select plants to be potted on-site in your choice of container, plus they offer landscape design services for homes and businesses in Greater Palm Springs.
If you love gardening and are a resident of Riverside County, you may want to consider the Master Gardener Training Program held at The University of California – Riverside in Palm Desert. The in-depth program includes 50+ hours of instruction by horticultural experts, aimed at training Riverside County residents to become better gardeners and improve community gardening and landscape practices.
The Desert Horticultural Society of the Coachella Valley is a great resource for more information about plants in the desert, and they host great local events like their annual Desert Garden Tour.
Happy plant-hunting!