It's been said that nature is the best healer. And those looking for food that is good for not only themselves but also for the planet need look no further than Temalpakh Farm in Coachella. Created, owned, and run by the Augustine Band of the Cahuilla Indians, whose spirit permeates the entire operation, Temalpakh Farm's focus is on sustainable farming, eco-friendly practices, and renewable energy.
Located just south of the Augustine Casino, the 40-acre Temalpakh Farm broke ground in 2012 and opened an on-site food market for the public in 2022. The word "Temalpakh "(pronounced TEM-al-pock) translates to "From the Earth," so it's no surprise that a driving force of the business is to create nutritious food while employing practices that protect the health of the land so it can continue to produce for generations to come. 
To that end, Temalpakh Farm does not use harsh chemicals or pesticides but instead uses integrated pest management to handle pesky bugs. The Augustine tribe also do not use genetically modified seeds, and everything they grow is certified USDA organic. It's part of what they call the Seven Feathers Guarantee that everything they sell is fresh and natural. There are seven adult members of the small tribe — hence the promise and farm logo that features seven feathers.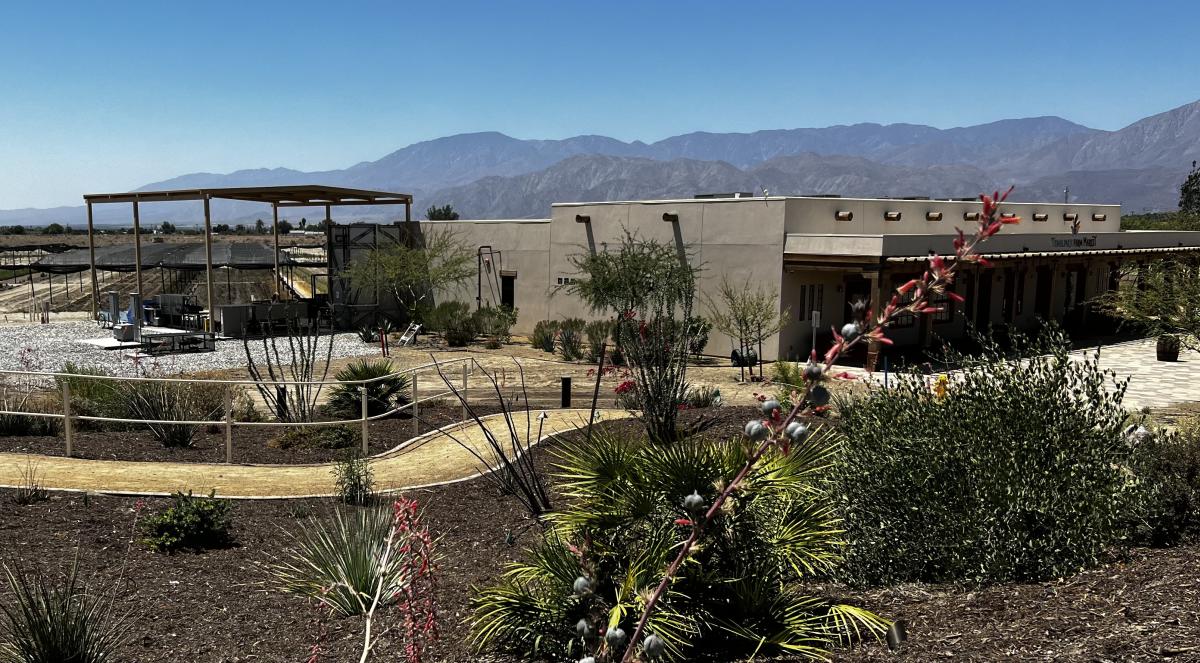 From their field practices to their general operations, the farm — which runs on solar power — is helping Mother Earth by reducing strain on the environment by reducing the food's journey from the farm to your table. 
The farm has a market on site that is open six days a week for a direct-to-consumer experience and also sells with wholesale pricing, directly to local residents, other retail establishments, and restaurants interested in high-quality, organic produce. 
Just outside the market is Seven Feather Hill, an elevated area accessible by stairs or a beautifully landscaped meandering path. At the top is a 360-degree view of the farm and views of Greater Palm Springs. It's the perfect place to grab a selfie or take in the natural beauty of the destination.  
Customers who stop by to either pick up a fresh farm box, grab a coffee or smoothie, or buy some gifts from the market are often impressed by the beauty and accessibility of the farm and its amenities. 
"First of all, they're surprised we are here," said Charlotte Graham, the market lead at Temalpakh Farm. "And the fact that we're on native land and native- and women-owned, as well, is always a plus. The customers are very happy about us and the fact that we're organic, sustainable, and welcoming the community into the farm. It's been a beautiful thing."
The tribe is also close to completing an educational center designed to help students learn about Native American culture and the concept of sustainability and what it means — both on and off the farm — to care about the Earth's future.
 
THE FARM BOX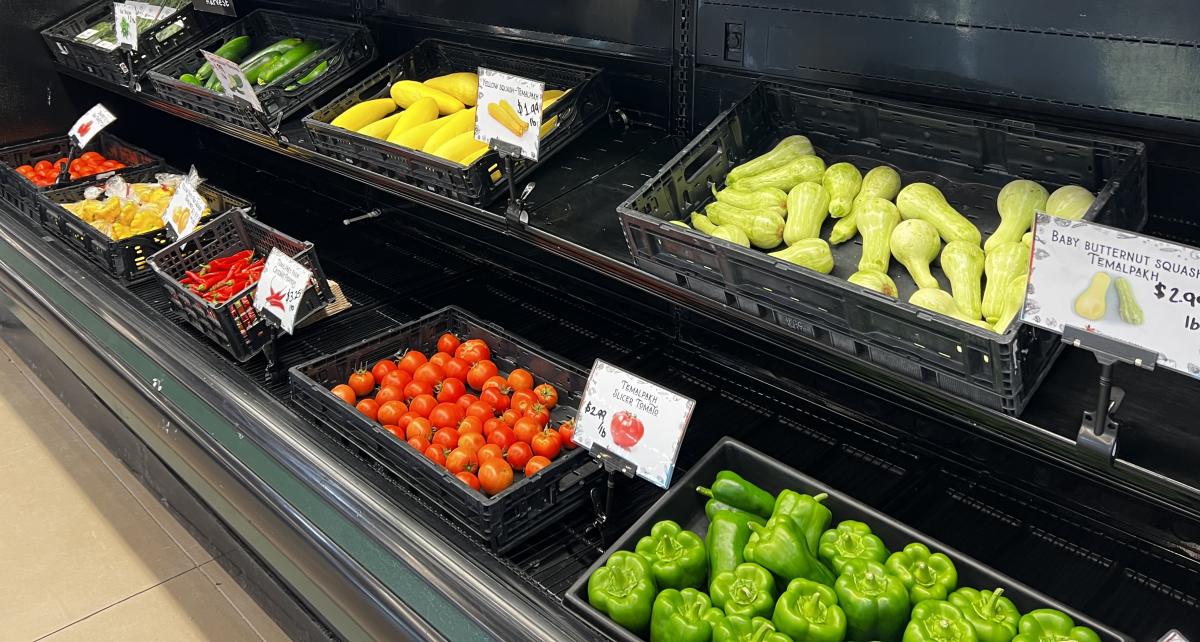 One of the staples of the Temalpakh operation is its "Farm Box." They will put together a week's worth of produce for you from their farms, or you can go on their website and create your own box, and they will put it together. You can pick it up at the farm or three other locations across the valley. It was an idea that came about during the pandemic when they were still producing tons of produce and food but didn't have a simple way to get it to the consumer during that time. 
Here's an example of the ingredients in a recent Farm Box: Beefsteak tomatoes, cherry tomatoes, cucumber, sweet corn, fresh basil, jalapeño peppers, yellow squash, baby butternut squash, zucchini, red cabbage, white/red onions, and carrots. Each Farm Box is $35.
 
AT THE MARKET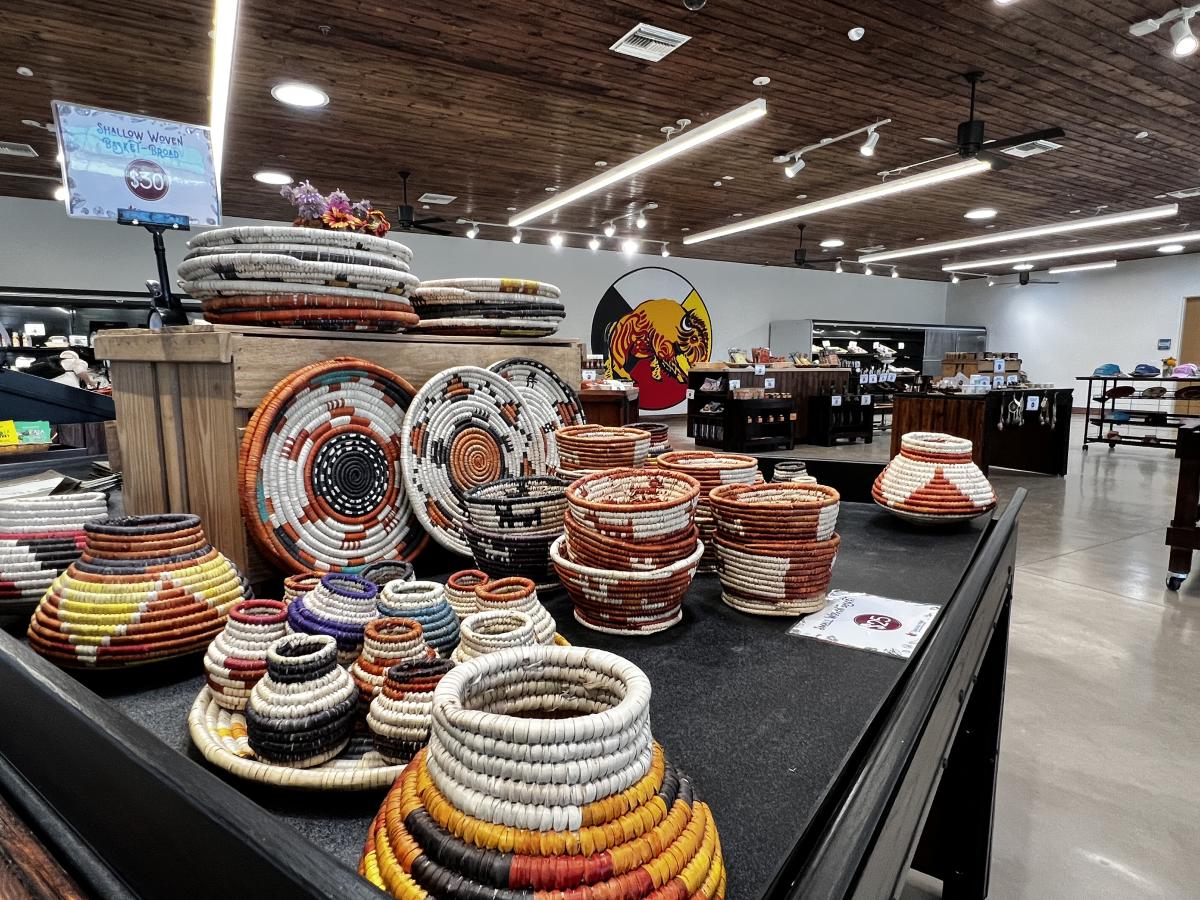 The market is open Monday through Saturday from 9 A.M. to 4 P.M. There you can shop for the freshest seasonal produce, grab a cup of coffee, or enjoy a smoothie from the smoothie bar. 
The smoothie bar options include all the classics — plus a few innovative ones, created by members of the tribe. Here are a few staples: 
Berri Crunch: This treat for the berry lover features mixed berries, strawberries, bananas, honey almond granola, dates, and almond milk or coconut milk.
PB&J: Not a combo you might consider in a smoothie, but once you try the mixed berries, banana, peanut butter, spinach, honey, apple juice, and almond milk concoction you'll be hooked.
Palm Tree Brew: For the coffee lover this smoothie features coffee or cold brew, unsweetened almond milk, banana, dates, mesquite powder, honey, date syrup, and salt. You can also get the same mix without the coffee or cold brew. 
The Farm's Dragon: No, it's not something from "Game of Thrones" but this smoothie is dragon fruit, pineapple, banana, dates, chia/flaxseed milk, lime juice, and coconut milk.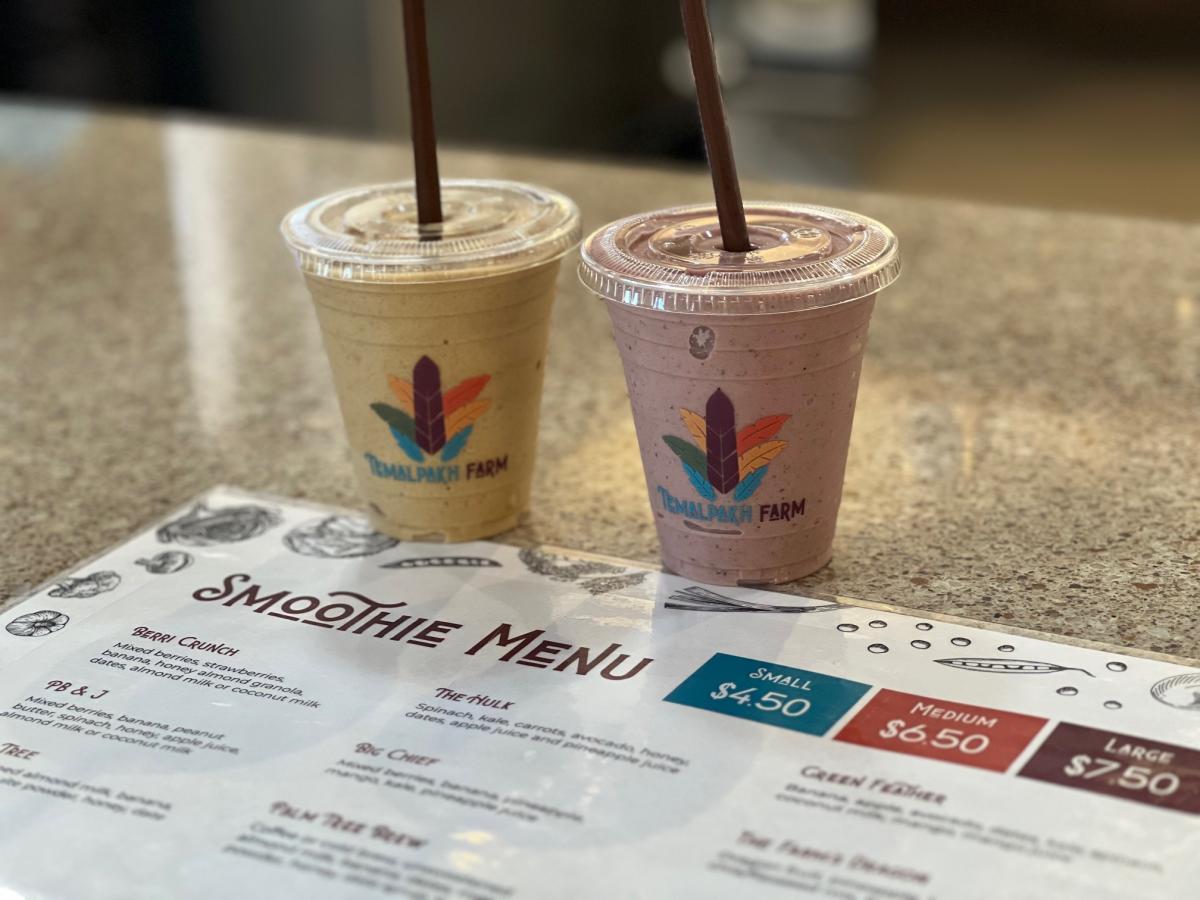 Those are just some of the creative smoothie options you can find at the market with prices ranging from $4.50 for a small to $7.50 for a large. You can also get their Spirit Mountain coffee or Cold Brew.
Shopping for your produce at Temalpakh Farm, as they like to say, is good for your body and mind. It's food that will make you feel good and food you can feel good about.
Temalpakh also offers tours. Just give them 24 hours notice, and you can see behind the scenes of how the operation works and what they're all about. A pro tip: Grab a smoothie first to enjoy on your tour.
How to get there: Temalpakh Farm is located at 1 Roberta Way in Coachella. For more information, email info@temalpakhfarm.com or call 760-391-9576. The farm's website is temalpakhfarm.com.
Learn more about the Native American Culture in Greater Palm Springs..