Head out with some friends to enjoy the beautiful weather, good beer and make great memories at Props & Hops Craft Beer Festival on November 20 at the Palm Springs Air Museum. This festival lasts from 1 p.m. to 5 p.m. and features over 25 craft breweries for the public to enjoy. Props & Hops prides itself on being the only craft beer festival with flying vintage aircraft in Southern California, providing a feast for your eyes with the unique sights and tantalizing your taste buds with each brew. Here's a guide on how to get the most out of this long-awaited festival and some tips and tricks to make it an even more memorable experience. 
The City of Palm Springs has established new COVID-19 safety requirements including face coverings, proof of vaccination or negative COVID-19 test. Please click here for more information. 

What to Know
General admission for the Props & Hops Craft Beer Festival is $40 online and $50 at the door, which includes eight brew tastings. Upgrade to a VIP ticket for $75 and get early admission at noon with rare beer pairings provided by Babe's Bar-B-Que Brewery, plus 12 tasting tickets. While the festival does take place at the Palm Springs Air Museum hangar and tarmac, an additional fee will need to be paid for admission into other parts of the museum. Pre-order and secure a limited Prop & Hops 2021 T-shirt for only $20. Purchase your tickets today and reserve your spot so you can enjoy the flavorful brews, tasty food, and live music. Designated drivers tickets will be available for purchase the day of the event at the gate.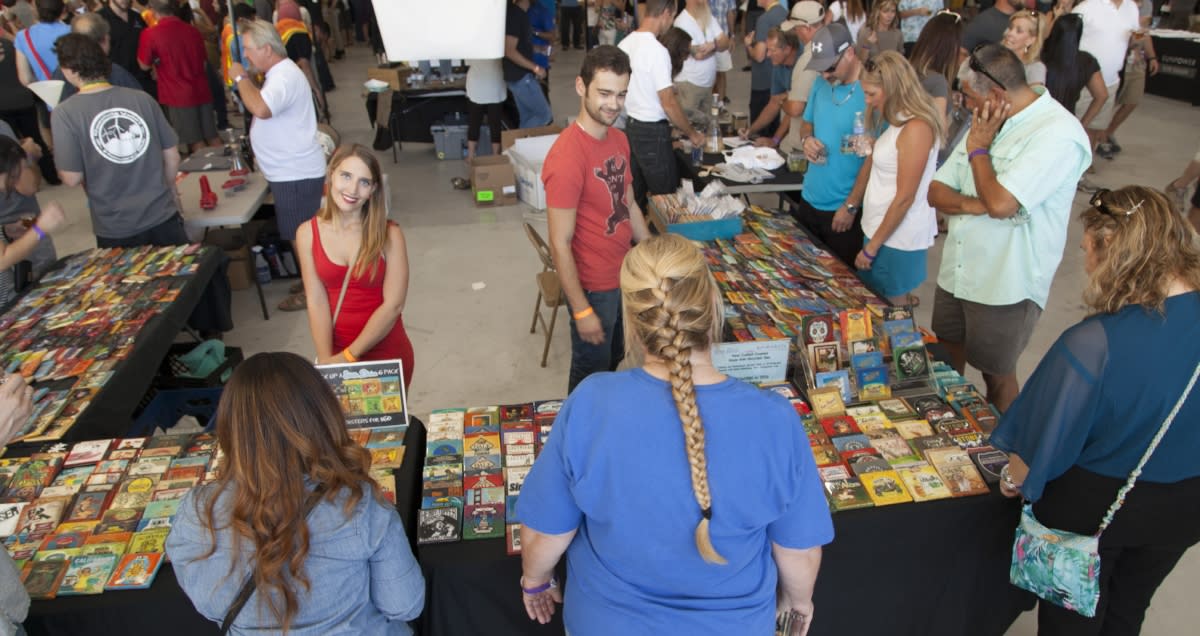 What to Bring
Be sure to bring a valid picture I.D. Furry friends are allowed entry, but all dogs must remain on a leash. Items such as backpacks and outside food and drinks will not be permitted inside. 

What to See
This year's fest takes place in the 20,000 square foot Korea and Vietnam Hangar where the 100-feet wide hangar doors will remain open and provide incredible views of the runway. You will be able to view planes take off and land while still standing inside. The hangar also contains Coachella Valley's largest indoor LED screen, which stands at 18 feet x 10 feet.  
All About the Food and Brews
Back by popular demand is the In 'n Out Burger food truck. Other food options will include The Cone Zone and Fries Galore. The festival will boast a wide variety of brews, starting with the title brewery sponsor, 29 Brews at Taproom 29. Other breweries included are Coachella Valley Brewing, Coachella Valley Homebrewer's Club, Drake's, Firestone Walker, Calidad Beer and Thorn Brewery.
Take Flight 
Attendees will have a chance to ride in one of the Palm Springs Air Museum's signature aircrafts. Aircraft flying and selling rides include the P-51 Mustang, the C-47 Skytrain, T-28 Trojan Ride and PT-17 Stearman Ride. P-51 advance ride ticket purchase includes one VIP admission ticket to the Craft Beer Fest. Rides may be purchased in advance through the Props and Hops website. Keep in mind that buzz flights on the C-47 (which holds five passengers per flight) are recommended to be paid in advance. 
Click this link for more information about the Props & Hops Craft Beer Festival. If you're looking for more fun events happening in this Southern California oasis, check out our full events calendar in Greater Palm Springs.