Air Service
Beginning October 1, Greater Palm Springs is set to welcome new service to six new markets including Boise, ID; Reno, NV, San Jose, CA; Eugene, OR; Fort Lauderdale, FL; and Philadelphia, PA. Two new airlines will be adding to Greater Palm Springs to their destinations; Southwest Airlines and Boutique Air.
For more information on the new service, please visit here.  Hyperlink to press release.
Accommodations
Hyatt Regency Indian Wells – New waterpark and lazy river includes two – 30 ft dueling waterslides and a 450 ft lazy river making the new addition nine pools total – including an adult only pool, a family pool and kids pool. www.indianwells.hyatt.com  Photo credit: Hyatt Regency Indian Wells.
Expected Opening: Open
Number of Rooms: 398
Location: Indian Wells
Margaritaville Resort Palm Springs:  Opening fall 2020 following a renovation and conversion of the pre-existing property, Riviera Palm Springs, just minutes from downtown Palm Springs, the resort will include 398-rooms, multiple Margaritaville-inspired dining options with indoor and outdoor seating, a St. Somewhere Spa, the city's largest resort spa, all-new family-oriented programming, and more than 40,000 square feet of combined wedding, meeting, and event space. www.margaritavillepalmsprings.com
Expected Opening: November 2020
Number of Rooms: 398
Location: Palm Springs
Azure Palm Hot Springs Resort & Day Oasis: Opening January 2021, the only Geothermal Mineral Spring Oasis in California will offer 40 rooms, fresh-flowing mineral spring water, and cleansing, juicing and fasting retreats. www.azurepalmhotsprings.com 
Expected Opening: January 2021
Number of Rooms: 40
Location:  Desert Hot Springs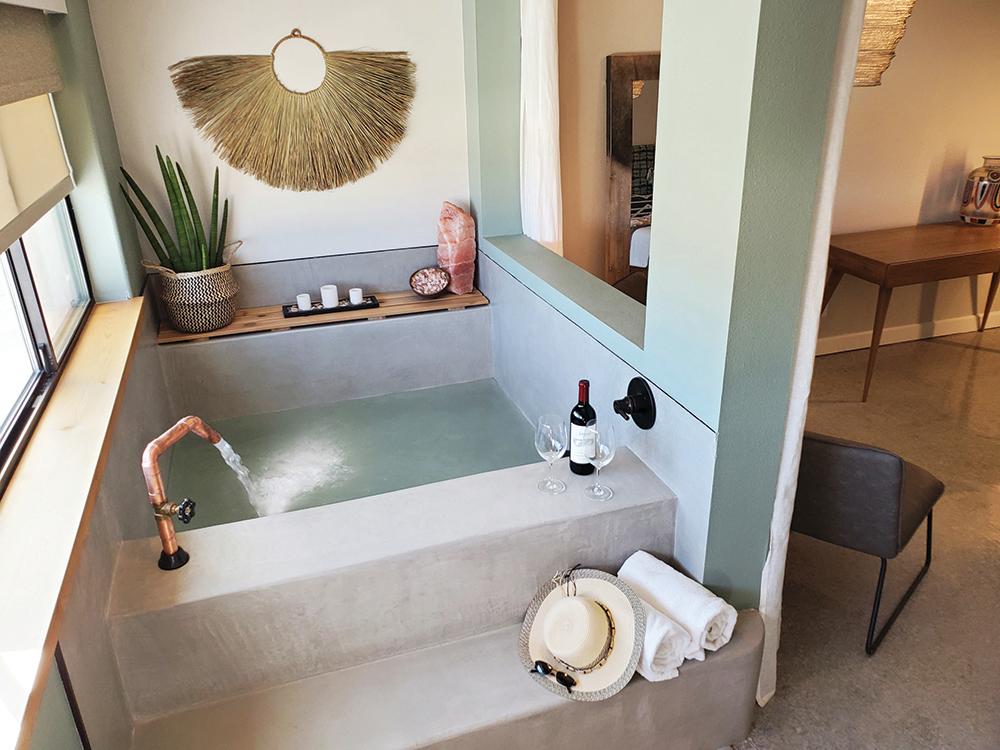 Casa Cody: The 29-room Casa Cody, Palm Springs' oldest operating hotel located in the Racquet Club Estates neighborhood, is reopening late Q4 2020 following a property-wide renovation under the management of Casetta Group. Casa Cody is comprised of historic structures including the Adobe House, California Ranch Home (known as Winters House) and the Olympic Cottage, a home once used to house athletes during the Los Angeles 1932 Summer Olympics. www.casacody.com (website is currently down)
The four-story Residence Inn by Marriott will open near the intersection of Highway 111 and Dune Palms Road near shopping, dining and a state-of-the-art movie theater.
Expected Completion: 2020
Number of Rooms: 108
Location: La Quinta
Eat and Drink
Tailor Shop: A new cocktail bar serving craft cocktails with sights, feel and tastes from around the world along with small bites by one of the world's top sushi chefs Engin Onural. Engin also owns Sandfish Sushi & Whiskey and The Venue Sushi Bar & Sake Lounge in Palm Springs. Opening October 2020. tailorshopps.com
Gabino's Creperie:  Since 2018, Marcel has re-invented his family's traditional South American recipes, constructing a unique crepe that is unlike any other you have tasted or experienced. This new down the alley shop has menu including flavors such as Chicken Pesto, Chicken Ranch, Chicken Ceasar and Veggie crepes. 
Palm Springs Spirits Company: A local Palm Springs distillery which produces premium spirits including Modern Love Vodka, Modern Love Gin, and Modern Love Reserve Gin. A majority of the eight infused botanicals in the gin are locally grown in Greater Palm Springs. Copper pot distilled, then rested in oak barrels once used for Napa Valley Pinot Noir to bring a welcome blush, softening and adding clarity to the undertone of Californian pink peppercorn, without losing this gin's bold character.  https://palmspringsspirits.com/
Venues and Attractions
Agua Caliente Casino Cathedral City:  Opening in late 2020, is the newest gem in the Agua Caliente Casinos' crown and consists of over 30,000 sq. feet of gaming, including 530 slot machines, and eight table games. The 12,000 sq. foot outdoor Agua Caliente Pavilion sets this property apart as it will host live entertainment, an array of special events, and community gatherings, all with an amazing view of desert landscape and picturesque mountain tops. This beautiful property will also boast a three-meal dine-in restaurant, 360 Sports Bar, the sister outlet of 360 Sports Bar in Rancho Mirage, that will amaze sports fans with its state-of-the-art sights and sounds, and the 24-hour Java Caliente coffee shop. https://www.aguacalientecasinos.com/cc/
Agua Caliente Cultural Plaza: Opening in downtown Palm Springs in 2021, the Agua Caliente Cultural Museum includes approximately 48,000 square feet and will feature collections in a main gallery, changing gallery and art gallery.  The plaza will also include The Spa at Séc-he which includes approximately 40,000 square feet to celebrate the ancient healing waters of the Agua Caliente Hot Mineral Spring with treatments rooms, men and women's bathhouses, a tranquility garden, a salon, fitness center and outdoor mineral pools. The water from the Agua Caliente Hot Mineral Spring is estimated to be upwards of 12,000 years old and is truly unique as it contains a mineral make-up that has not been found anywhere else in the world. the museum will celebrate the history, culture and modern times of the Agua Caliente Band of Cahuilla Indians. It will also be the home of the Agua Caliente Hot Mineral Spring. www.accmuseum.org
Arena Update: The H.N. and Frances C. Berger Foundation, a private foundation that generously supports educational and other charitable projects, and Oak View Group (OVG), the global venue development, advisory, and investment company for the sports and live entertainment industries, today announced their partnership to build a state-of-the-art, privately financed sports and entertainment arena on private land owned by the foundation near the City of Palm Desert.
Located on 43.35 acres of land at I-10 and Cook Street, in Riverside County, the new arena will be more than 300,000 square feet and feature 10,000-plus seats and include modern suites and premium hospitality clubs. It will be the home of the Seattle Kraken's American Hockey League (AHL) team and will include an adjoining facility that will serve as a year-round community gathering space and the training center for the AHL team. Live Nation Entertainment, the world's leading live entertainment company, will continue to work as a strategic partner and supply the new arena with its large stable of top touring artists and premium live events. https://www.ahlpalmsprings.com/
Palm Springs Surf Club: Slated to open Spring 2022, the Palm Springs Surf Club is designed for surfers, by pro surfers including Kalani Robb, Cheyne Magnusson, Tom Lochtefeld, Eric Muñoz and the rest of the Pono Acquisition Partners team. It will feature a wave pool with SurfLoch technology, cabana space, a restaurant, gym, spa, surfboard shop, and more. palmspringssurfclub.com 
In addition to the Palm Springs Surf Club, two other surf properties are in the works – DSRT SURF in Palm Desert and Coral Mountain in La Quinta.
Accommodations on the Horizon
The Bode will offer a modern, innovative alternative for group travel in Palm Springs with customized shared spaces and rooftop pools. www.bode.co/palmsprings
Expected Completion: 2021
Number of Rooms: 36
Location: Palm Springs
Located adjacent to Palm Springs' Uptown Design District, Andaz Palm Springs will offer easy access to shopping, dining and nightlife, with its own street-level retailers and restaurants below.
Expected Completion: TBA
Number of Rooms: 150 (13 Suites)
Location: Palm Springs
The Porcupine Creek Retreat is a proposed repositioning of the Porcupine Creek property from a private enclave to a six-star, exclusive guest experience. The Retreat will blend seamlessly into the surrounding landscape and will place Rancho Mirage among the world's most desirable health and wellness destinations. https://porcupinecreek.com/
 Expected Completion: TBA
 Number of Rooms: 50 maximum
 Location: Rancho Mirage
At SilverRock Resort in La Quinta, two new luxury, midcentury modern–inspired properties, Montage and Pendry, are being designed with seamless indoor-outdoor living in mind. Highlights include a fitness center, resort pool, spa and food and beverage outlets.
Expected Completion: TBA
Number of Rooms: 140 (Montage), 200 (Pendry)
Location: La Quinta