Combining the games of golf and soccer is seeing the hybrid sport of FootGolf enjoying a big kick across the nation, with an inclusive welcome to players of all ages and sizes. Since Greater Palm Springs is the home of the American FootGolf League (AFGL), it is fitting that we tell you how to play like a pro.
Here in the Greater Palm Springs' golf nexus, the burgeoning presence of FootGolf is finding ever-enhanced acceptance amidst the golf culture, while helping to provide courses an added source of income. Chances are strong that one of your favorite playing partners has given FootGolf a try, so when you're ready to get kicking, here's a first-timer's guide to get your own FootGolf career underway here in Greater Palm Springs.      
The Basics
Played on a nine- or 18-hole golf course with a regulation No. 5 soccer ball, the objective is to kick the ball in as few strokes as possible into a 21-inch cup.  With rules largely corresponding to golf, the same on-course hazards which challenge golfers are also in-play for FootGolfers, so be sure to avoid those testy sand traps, water challenges and Out of Bounds stakes along the way.
Holes are generally 65-220 yards long, and know that FootGolf courses are typically designed along a course's rough or intermediate areas; while an occasional tee space realm will be employed for both games, FootGolf hole routings do not to disrupt refined grasses of fairways and cups are located yards away from golf greens. FootGolf allows course operators to take full advantage of their real estate, introducing new demographics to their facilities and generating a new revenue stream with an activity that requires no extra maintenance.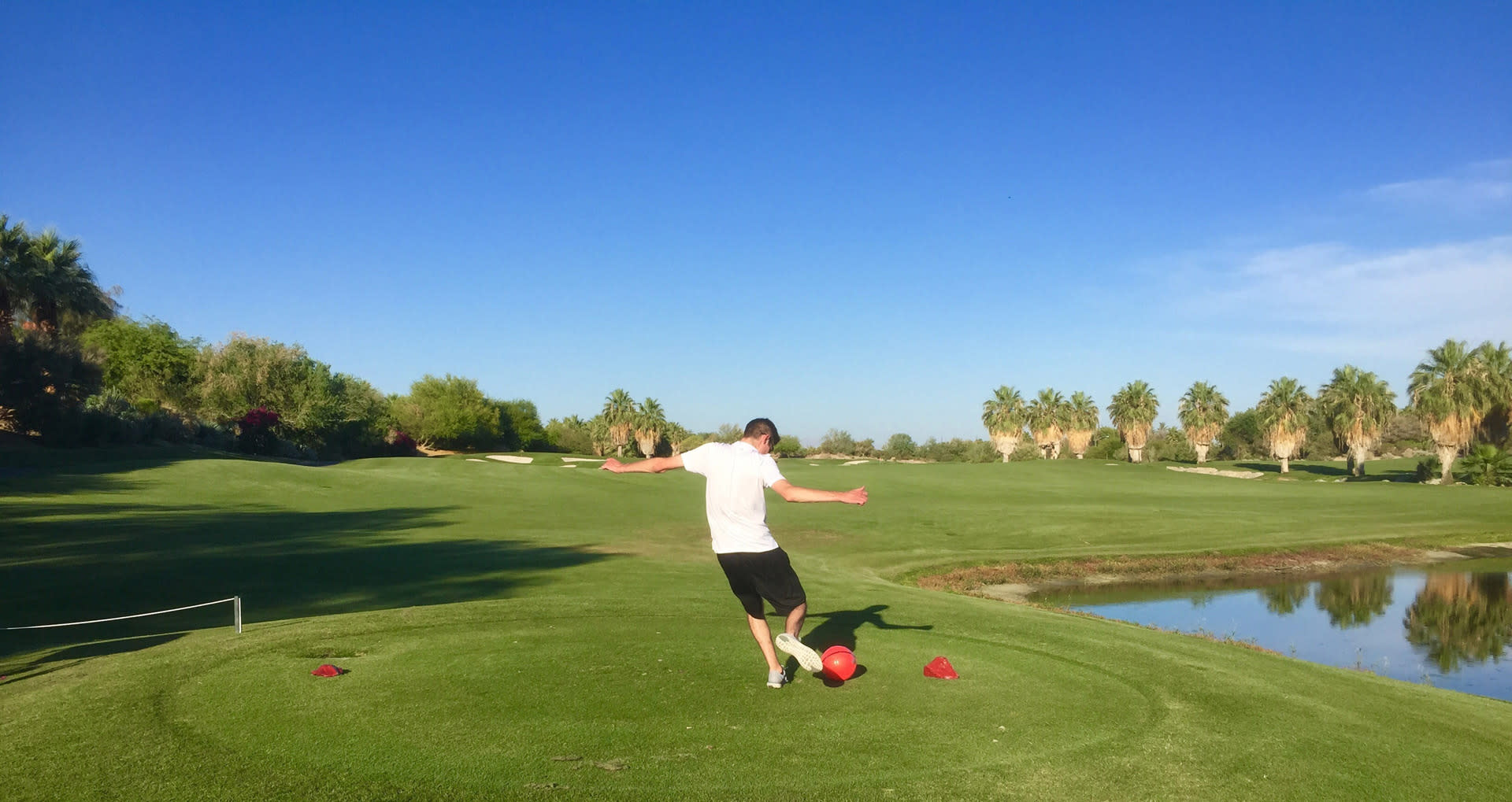 The Time
Along with the fun and inclusive atmosphere often found in FootGolf circles, the game takes about 90 minutes to play for 9-holes and around 2.5 hours for 18-holes.
The Governing Body
When playing FootGolf in the Oasis, know that you're kicking with the game's pulse. The American FootGolf League (AFGL) is headquartered right here in Greater Palm Springs.  Founded in 2011, the AFGL is the governing body for the game in the United States and is the exclusive U.S. member of the Federation of International FootGolf, upon whose rules and bylaws the AFGL exists.
If you're seeking a finite clarification of any FootGolf regulations, simply visit the Rules tab at: www.footgolf.us.
The Attire
FootGolf has earned further footing by paying homage and respect to golf's etiquettes and traditions.
For footwear, indoor turf or soccer shoes are what most wear (though golf shoes with soft spikes are also acceptable).  Be sure not to show up with cleats or metal spikes, as such footwear will damage the grounds and you won't be allowed to play.
Further borrowing from the Gentleman's Game finds FootGolf players wearing collared shirts with golf pants or slacks; for ladies, shorts or skirts are just fine.
Match this appropriate attire with a flat cap and knee-high Argyle socks.
For those seeking to attire themselves in proper gear, the AFGL can easily outfit you with a visit to their Store page located at: www.footgolf.us.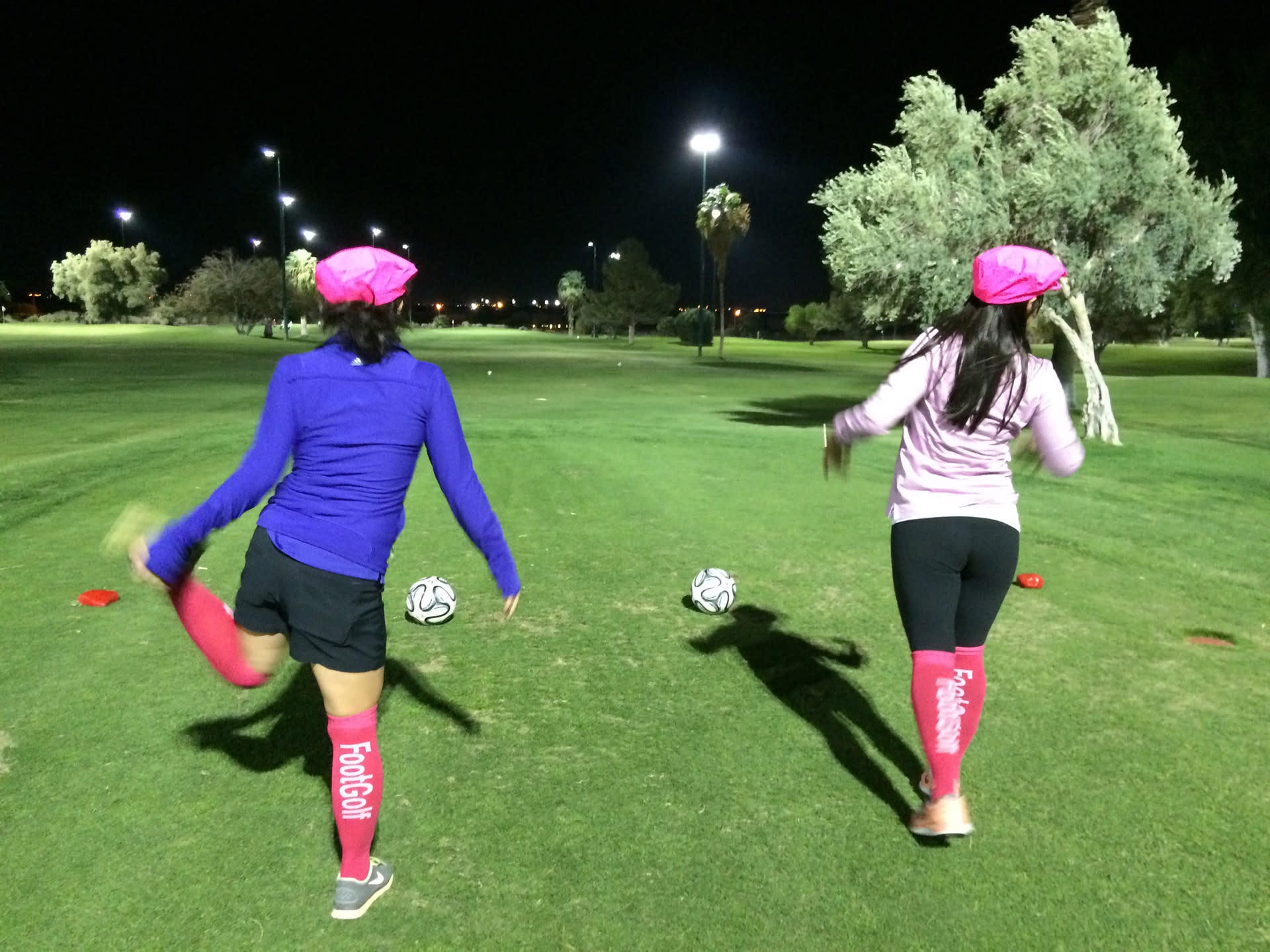 The Courses
Echoing its growing popularity, the AFGL now has hundreds of sanctioned courses in nearly every state, including eight recognized sites right here in Greater Palm Springs.
For leagues and recreational play, please be sure to contact the respective course prior to arrival to ensure cost and availability. In addition, know that sanctioned FootGolf locales have regulation balls on-site for your use. 
Desert Willow Golf Resort
Counted among the most revered municipal golf venues in all of SoCal, the manicured, desert-scaped routing of Desert Willow is the home course of the AFGL and also hosts its own FootGolf League across the calendar year to be played amid the grounds' attractive flora and mountain surrounds.
To learn more, please visit www.desertwillow.com.
The Lights at Indio Golf Course (formerly the Indio Municipal Golf Course)
The valley's first accredited AFGL course allows FootGolfers the unique opportunity for evening play at the only night-lit golf course in all of Greater Palm Springs.
To learn more, please visit www.indiogolf.com.
The Golf Center of Palm Desert
Home to The First Tee of the Coachella Valley also offers FootGolf play across its 9-hole, par-3 course.
To learn more, please visit www.thefirstteecoachellavalley.org and www.myrecreationdistrict.com.
Cathedral Canyon Golf Club
The tree-and-water lined course is having further fun along its rolling turf with the addition of FootGolf for guests.
To learn more, please visit www.cathedral-canyon.com.
Tahquitz Creek Golf Resort
Tahquitz Creek is an official course for American FootGolf League. The challenging and fun course layout is a great FootGolf experience. Tahquitz Creek hosts daily play, AFGL League events and special outings.
To learn more, please visit www.tahquitzgolfresort.com/footgolf.
SilverRock Resort
To learn more, please visit www.silverrock.org.
Indian Palms Country Club & Resort
To learn more, please visit www.indianpalms.com.