April is music month in Greater Palm Springs! With Coachella Music Festival and Stagecoach Country Music Festival hosting a slew of headlining artists, there's little wonder why thousands of visitors flock to Greater Palm Springs every April to enjoy their favorite bands. To kick off this concert season, the Wedbush Garden Jam Music Festival comes to the Indian Wells Tennis Garden on April 5 and 6, showcasing several talents from the world of jazz, blues, rock, and country. Learn more about who to hear, what to see, and where to go with this guide to Garden Jam.
Musical Guests
The Garden Jam Festival lineup offers a homegrown, multi-genre sound for attendees at a venue with the second largest tennis stadium in the world. There will be two stages, the Main Stage and the Second Stage, on the grounds. Headliners that will take their place on the Main Stage are Lukas Nelson & Promise of the Real on Friday and seven-time Grammy award winner blues legend Buddy Guy on Saturday. Lukas Nelson & Promise of the Real have made a name for themselves with soulful southern rock anthems like  "Set Me Down on a Cloud" and "If I Started Over." With 18 solo LPs under his belt, Buddy Guy will give you a case of the blues—in a good way! The 81-year-old performer shines in his dynamic hits like "Bad Day" and "Somebody Up There."
The Main Stage will also be home to the likes of four-time Grammy-winning blues-rock guitarist and vocalist Jimmie Vaughan, Grammy-winning American rock band Los Lobos, British singer/songwriter Lucie Silvas, award-winning multi-instrumentalist Brian Culbertson, and 14-year-old blues-rock guitarist Toby Lee. 
Second Stage talents consist of blues guitarist Kal David accompanying Toby Lee both days from 5:30 p.m. to 6 p.m. Soul guitarists John Carey and Mic Dangerously will also join Lee at 4:30 p.m. to 5 p.m., and 5 p.m. to 5:30 p.m. respectively. The band Pescaterritory will also perform between Main Stage sets, consisting of musicians from the Academy of Musical Performance (AMP)— a music education non-profit program established in the Coachella Valley. Several other young bands from AMP will perform original songs and covers of all-time classics throughout the festival.
What To Know
The gates open at 4:30 p.m. each day and the first act performs at the Main stage at 6:30 p.m. It is better to arrive early to see the sights and get situated before the acts start playing on the Second Stage when gates open. The last act is scheduled to play until 11:00 p.m. each night. All seating for the festival is reserved table seating that puts attendees in direct sight of the performance stage. One-Day table seat starts at $125 for the Silver Section, $175 for the Gold Section, and $195 for the Platinum Section, which is the closest to the stage. There are also a limited number of grounds passes available for $75. Grounds passes are general admission tickets that provide access to the festival site but do not include a table seat. Attendees can seat themselves at one of the unreserved round tables on the grounds or place a blanket on the designated lawn area. Unreserved round table seating is limited and does not guarantee all grounds pass holders a seat. 
Lost or forgotten tickets can be replaced for $10 each. If replacement tickets are ordered over the phone, they will be placed at Will Call and a photo ID will be required to pick them up. Parking is free at the Indian Wells Tennis Garden when entering the Tennis Garden complex at GATE 2 off Washington Street.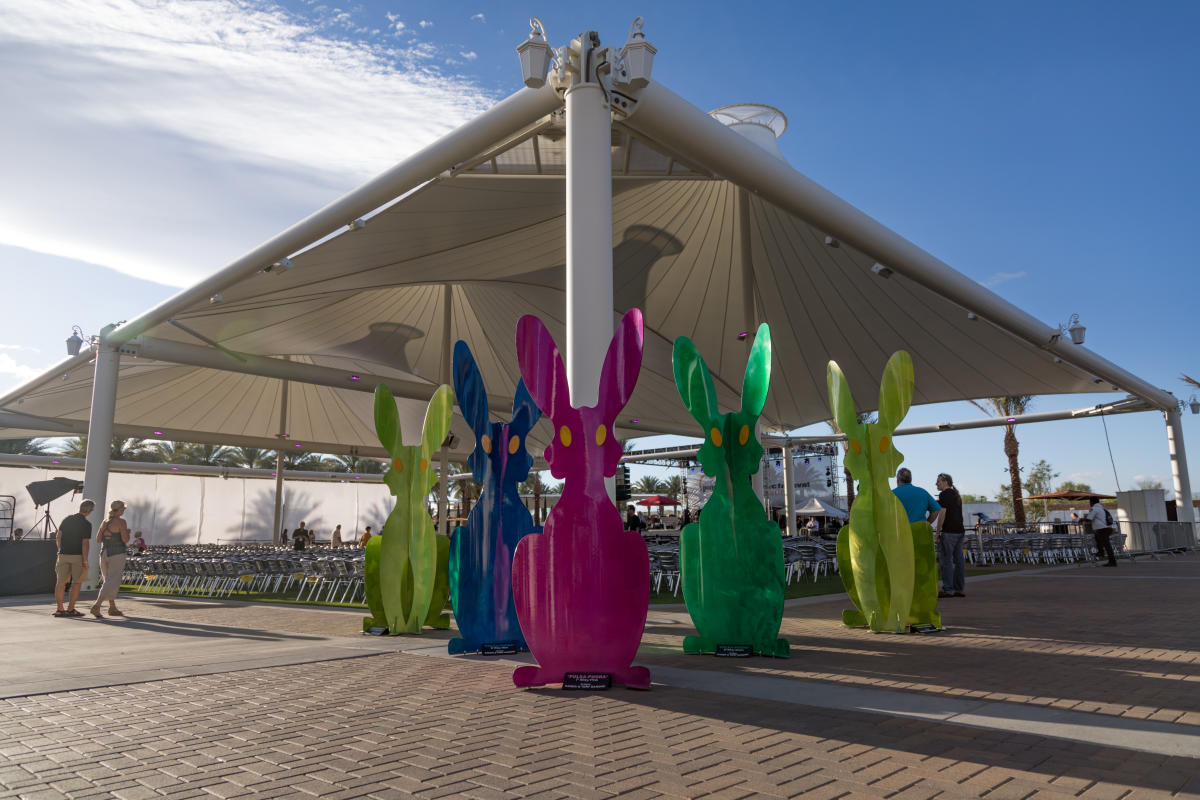 What To See
In addition to concerts, the Wedbush Garden Jam Music Festival will also feature a Lifestyle Village on the grounds. The village will have art installations by sculpting couple Karen and Tony Barone and jewelry designer/ sculptor Time McClendon.The Well Spa at Miramonte Resort will have a booth in the Lifestyle Village, offering chair massages. Other interactive stands will include BG's El Paseo with their eclectic style of fashion, and the Walking Company's comfort footwear featuring Abeo and custom orthotics. Custom-made guitars from Highway 111 Guitars and pinball machines from the Gameroom Gallery will be available for attendees to play as well. Event sponsor Fisherman's Market and Grill will cater to the festival, offering a great selection of beer, wine, spirits, coffee, and treats. Festival attendees will also get the chance to win gifts and discounts from participating sponsors throughout the two days. 
If you're looking for more things happening in the oasis, make sure to check out our full events calendar in Greater Palm Springs.