Every day is a pool day when you visit our SoCal oasis. From hotel day passes and water therapy to local hidden treasures, this guide will show you how to make a splash in Greater Palm Springs.
THE DAY PASS
In Greater Palm Springs, the day pass reigns supreme, granting access to some of the most exclusive and stunning resorts in the area. Below are some of the best pools for snagging a day pass, as well as a few insider tips on each hotel.
Ace Hotel & Swim Club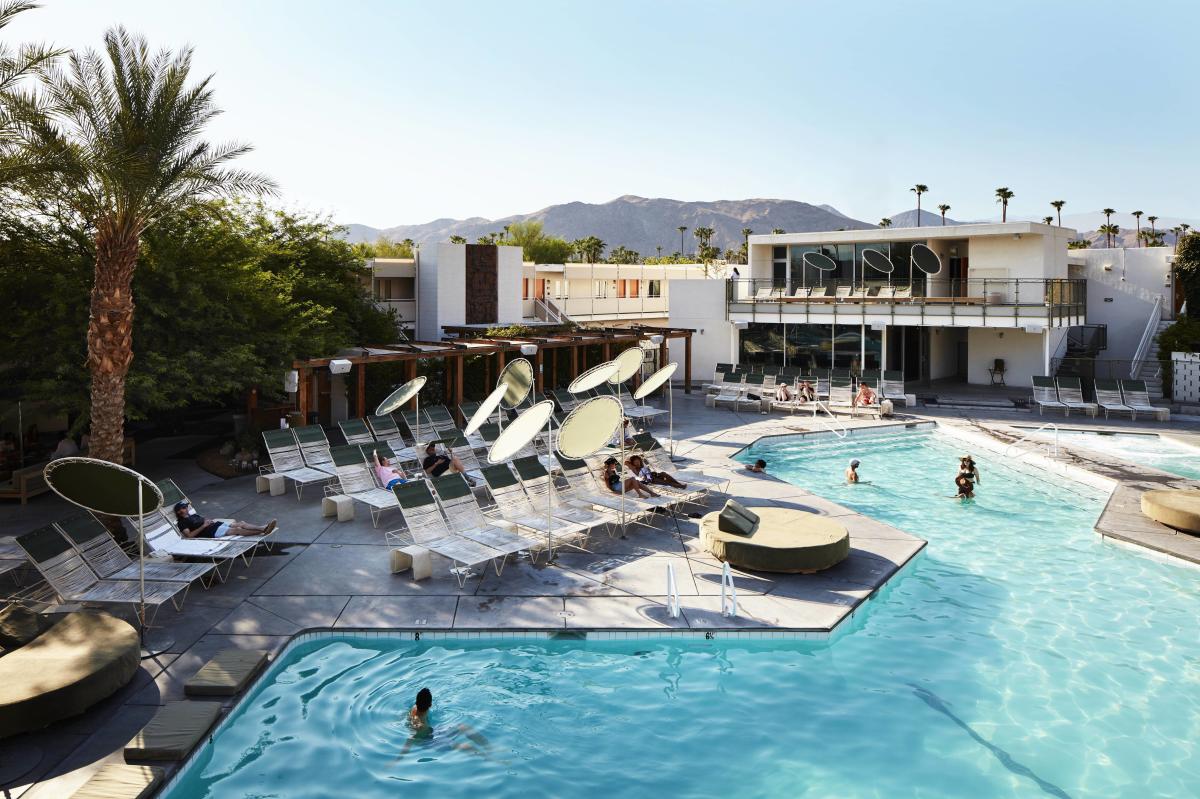 During the weekdays, this popular hipster hangout opens its pool gates to the public for $20 a day. During the weekend, it goes up to $30. Be sure to call ahead as public day passes are limited by the day.
Westin Mission Hills Resort & Spa
This Rancho Mirage oasis has a few great day pass options. A standard day pass will run you $25 per person. Relaxing with friends? Rent a Las Brisas Daybed for $25 per person (4-person minimum). A cabana starts at just $150 for up to 6 guests and includes a fridge, safe, snacks, and drinks.
Waterslides
Omni Rancho Las Palmas Resort & Spa

Surrounded by a 425-foot lazy river and featuring two 100-foot waterslides, Omni Rancho Las Palmas Resort & Spa's newly renovated Splashtopia water park is fun for all ages. Adults can relax in the cliff-side hot tub while the younger ones play at the sandy beach or splash around in the watery-play zones.  

Hyatt Regency Indian Wells Resort & Spa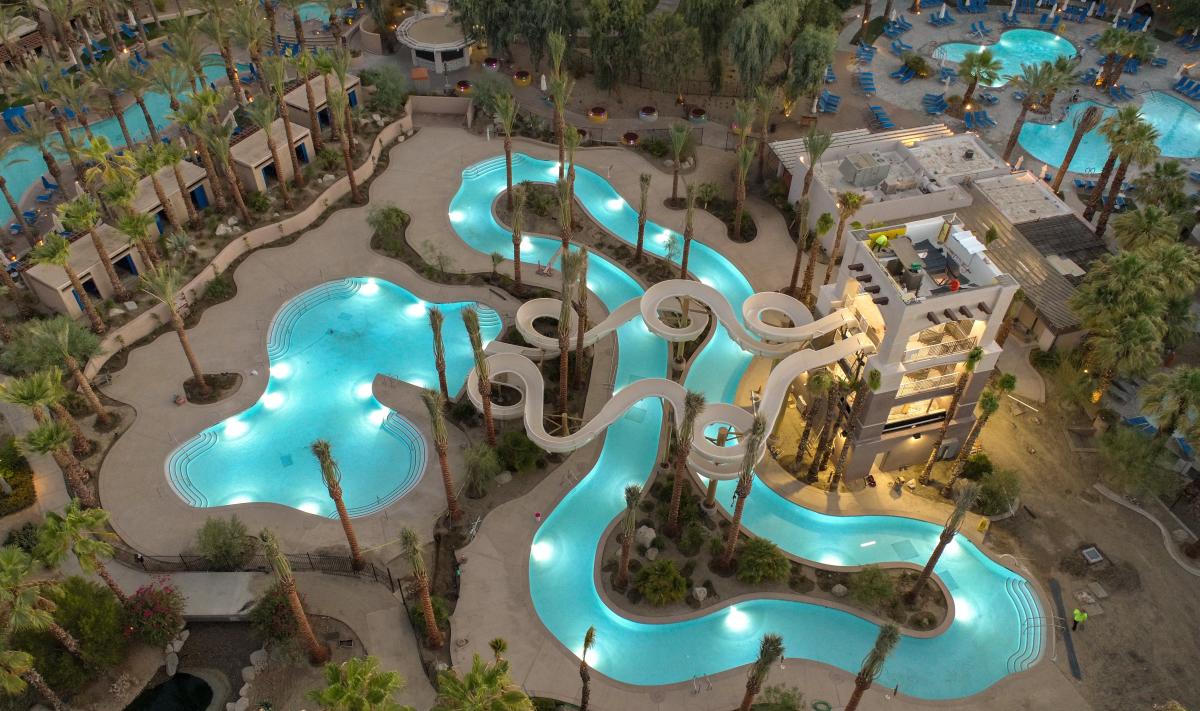 The Hyatt Regency Indian Wells also has an on-site water park, which features a three-story tower with two dueling waterslides plus a relaxing river, making either of these stays perfect for a family getaway.

Cabana Culture

Palm trees, pool floats and good vibes. There are plenty of poolside hangs and chill cabana spots for an adults-only escape to Greater Palm Springs. Relax for a bit at the free-spirited Villa Royale or spend all day at the Renaissance Esmeralda Resort & Spa, Indian Wells, whose exclusive beach room cabanas and many amenities will keep you cool. If you're looking for an outdoor experience near a spa, check out Sunstone Spa at Agua Caliente Resort Casino Spa Rancho Mirage for a more secluded ambiance. And you can't go wrong taking in the breathtaking views of the Santa Rosa Mountains at La Quinta Resort & Club.  
THE HIDDEN TREASURE
Sometimes, the best experiences are the more unique ones. Such is the case with Monarch Hot Springs. Seemingly in the middle of nowhere, a single hot spring sits on several stunning acres of land in Desert Hot Springs and is available through Airbnb. Book 2 hours to watch the sunset, hang out with friends, or spend a little time with the one you love. Monarch Hot Springs is also a private nursery and wildlife preserve.
HEALING WATERS
At the Joshua Tree Retreat Center in Joshua Tree, water is treated as a healing entity and available to all retreat attendees (and locals for $40 a month). Swim yourself to better health and enjoy the mandatory solitude that comes with it. It's a reflective experience—literally.
Start planning your spring getaway with these amazing offers.