One of the greatest parts about going on vacation is finding the perfect place to rent, and there is no shortage of exquisite spots to stay in Greater Palm Springs. Situated in Southern California, there are many lodging options, both old and new, and several of them have quirky swimming pools that visitors won't forget. Below are some examples of vacation rentals with unique pools in the area.
Dolce and Cabana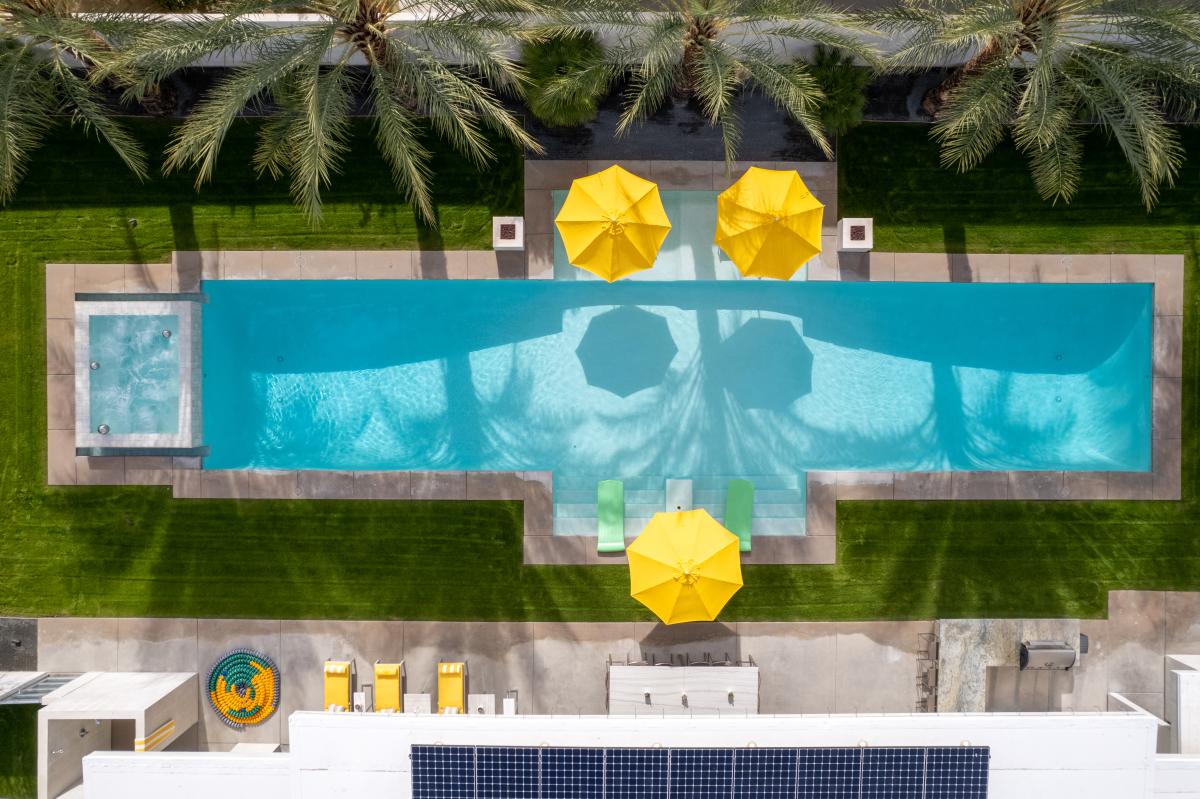 Escape to serenity and enjoy a 25-yard lap pool at Dolce and Cabana, which you can rent through Stay Poppy. The rental estate is located in Palm Springs during your lounge poolside, you'll enjoy breathtaking views of the San Gorgonio and San Jacinto mountains. Recline in sun loungers and take in the sunshine or soak in the oversized jacuzzi. Amenities include a north/south tennis and pickleball court, a full-size bocce ball court, and dueling ping pong tables. Alternatively, guests can simply relax in the evenings and bask in the beautiful Greater Palm Springs sunsets by the firepits. 
5 Palms Estate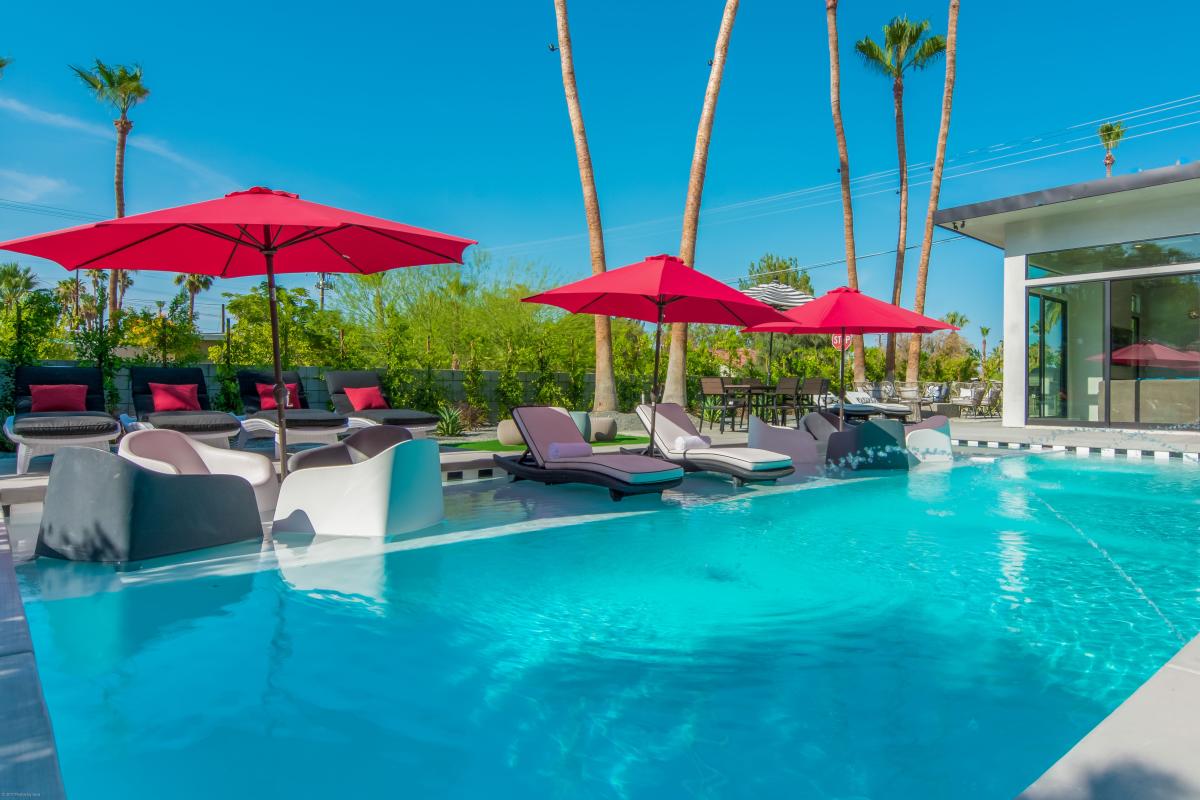 As one of the newest lodging options in the historic center of Palm Springs, this cool pad is surrounded by other mid-century architecture. Just 10 minutes from the airport and 5 minutes to the hip uptown design district or downtown, you'll be in the center of it all — if you can tear yourself away from lounging poolside.
5 Palms Estate was built in 2017 and has become a very popular vacation spot, partially due to the swimming pool. While many residences have pools in the region, most are not nearly as large as the one at the 5 Palms Estate, which spans an impressive 40 feet by 20 feet. Filled with salt water, the pool also features an in-pool wet deck and is situated by an outdoor fire pit that guests enjoy relaxing by in the cool evenings. Book your stay directly on the 5 Palms Estate website. 
Villa Estrella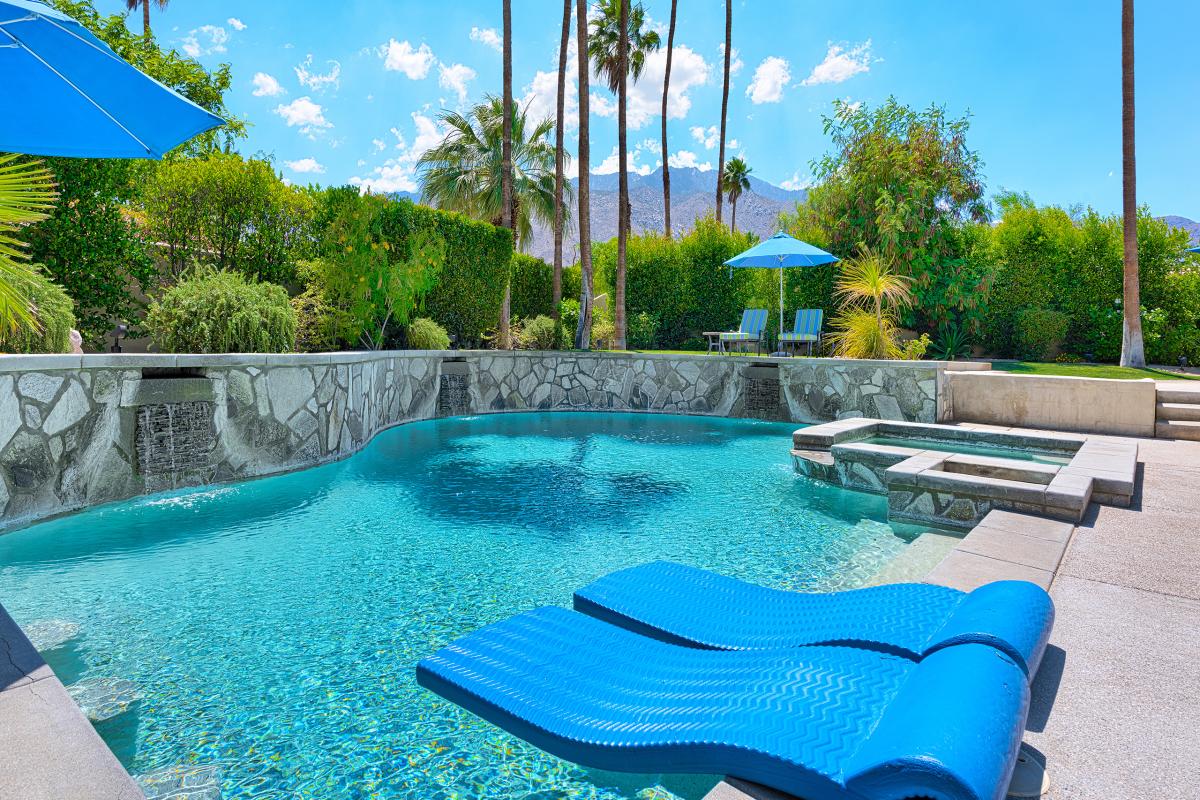 If you want to relax and gaze at the sunsets, the palm trees, and the mountains while listening to the soothing sounds of the waterfalls trickling into the pool, Villa Estrella is your home away from home. The large, free-form pool is stunning, outlined with a winding rock wall with three sheer-descent waterfalls. The adjacent spa can seat 8, and nestled between them both is a gas firepit adorned with decorative glass.  Swim up to one of four built-in concrete bar stools and have a drink at the sunken wet bar complete with a refrigerator and built-in BBQ.  The elevated outdoor sun deck has four comfortable chaise lounge chairs overlooking the pool, and the yard has a misting system too meaning you can keep cool even on the hottest days.
Cool Pool Retreat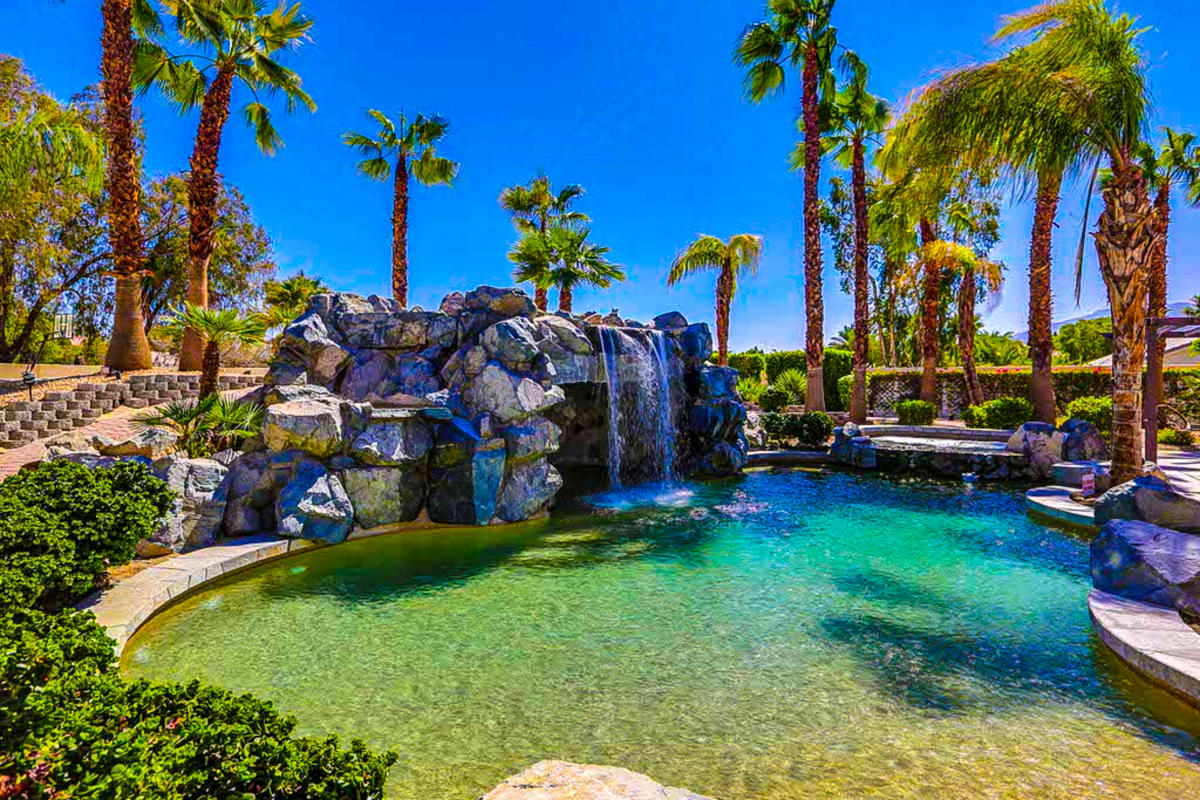 Photo provided by Vacasa
Welcome to your tropical pool escape in Greater Palm Springs. Surrounded by palm trees and with the sounds of a gentle-flowing waterfall, this unique pool will have you feeling like you are on a tropical island. The best part is the heated pool flows seamlessly into an integrated hidden spa and is surrounded by a rock grotto that offers complete seclusion for guests to peacefully soak. You'll never have to leave this peaceful ambiance by utilizing the outdoor kitchen, and end the day with a cozy fire under the stars. You can book this paradise stay through Vacasa.
The Pond Estate
Visitors looking for something to rent in the Greater Palm Springs should not miss checking out the rooms at the Pond Estate. The estate spans over 12 acres and features 11 bedrooms, 19 bathrooms, and of course, breathtaking views of the mountains. The property has a very large pond which isn't for swimming, naturally—just for the views—but there are two beautiful swimming options, including a private, indoor pool (that's big enough to do laps in) plus a jacuzzi attached to the master bedroom. The rectangular, open-air outdoor pool, which is available to all guests, is also lap-friendly and is situated next to a bar and surrounded by ten lounge chairs. 
Walking paths scattered throughout the property as well as other amenities like a tennis court and an enormous terrace to lounge on, round out the key amenities.
The property truly exhibits a typical desert theme with its pink-and-white color scheme and features a very prominent rotunda entrance and several very high ceilings with wide open glass doors. It has a lovely combination of southwestern style mixed with mid-century modern architecture and can be rented through Poppy.  
Glass-walled pool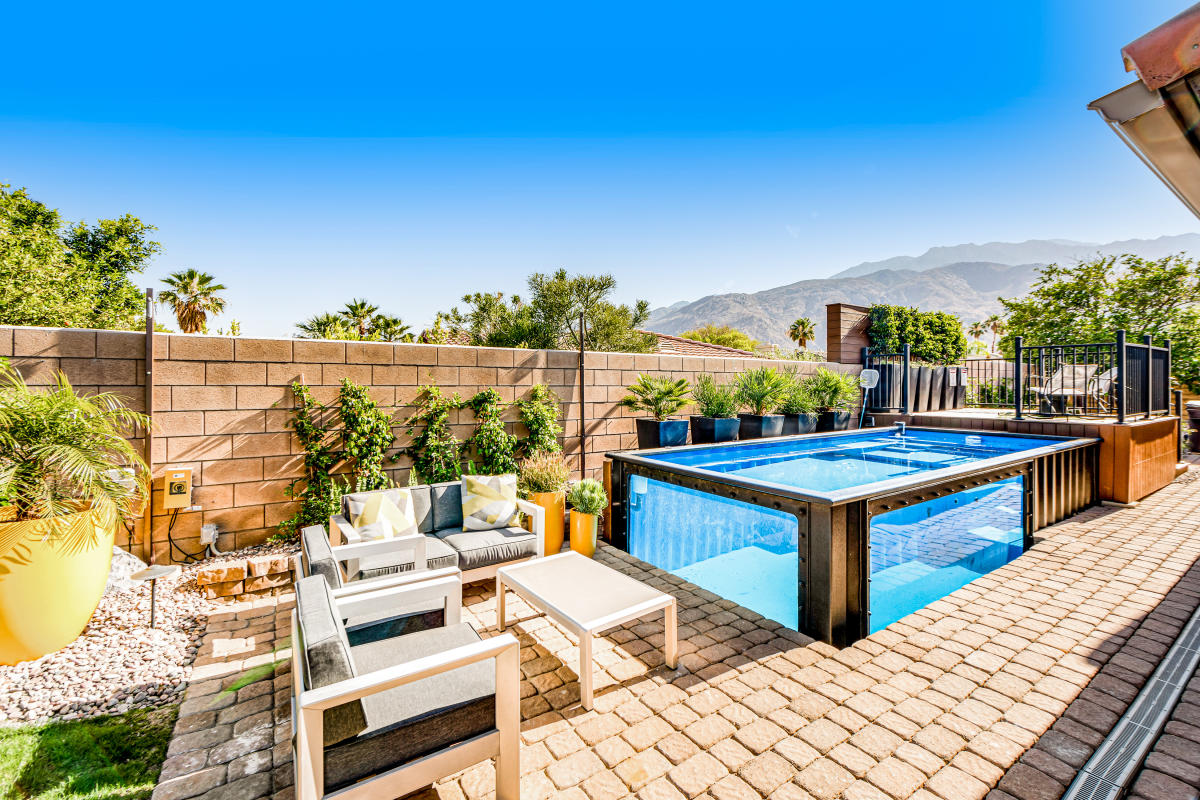 Photo provided by Vacasa
One of the most unique pools in Greater Palm Springs is located at a rental home off of East Vista Chino in Palm Springs. The 3-bedroom, 2-bathroom home gives off a very modern feel with a wide layout, large glass windows and doors, and various hints of retro furnishings such as plush red kitchen chairs and orange and blue decorative pillows. 
But it's the pool that's the home's most standout feature. It's often referred to as a "shipping container," thanks to its corrugated metal and glass sides that makes it look just like the Sea-Can style containers it's built from. This is a newer and rarer concept, as shipping containers are placed onto a concrete slab via a crane and bolted down before being filled with water. According to the rental listing on Vacasa, this is the only glass-walled pool in the city, so you'll want to book it fast if you're interested.  Plus, with a hot tub, outdoor seating, lawn games, a grill, and a sun deck for drying off between dips, the backyard is perfectly set up for a classic pool party with friends and family.
Mineral Hot Springs Desert Oasis
Looking for a pool with water obtained from a private aquifer? Look no further than the Mineral Hot Springs Desert Oasis, which you can rent through Airbnb. The warm mineral water funneled to the pool here makes this place unlike other rentals in the area, and the location of this home (just outside Desert Hot Springs) means guests have much more tranquility and privacy than some other rentals around. The owner replaces the water in the pool before each guest arrives, and you cannot beat lighting a fire under a California sunset like the experience you get poolside at this rental home.
Tachevah Sunrise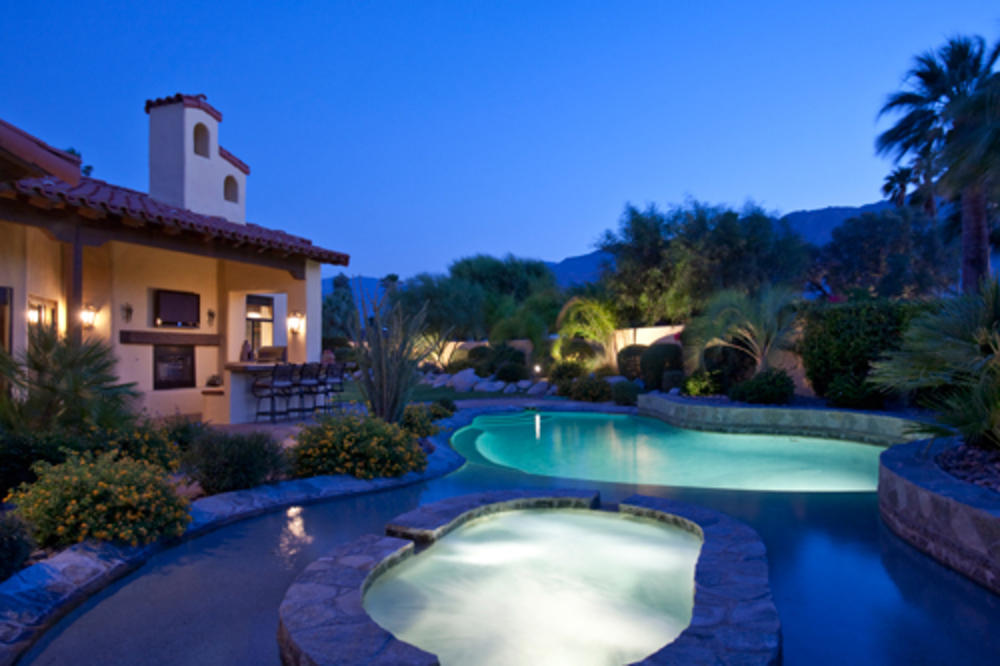 The lagoon-shaped salt-water pool at this comfortable rental property features an inlay spa, tanning shelf, and four deck jets — in essence, it's a pool within a pool, within a pool, plus a hot tub! The entire backyard is decked out for lounging and socializing with a lounge area, fire pit, and bar. It's the ultimate sun-seekers stay in Palm Springs. Find out more from Dry Heat Resorts.
Firefly
If getting closer to nature is what you're after, this property in La Quinta is for you. Firefly feature some of the lushest landscaping in the valley, and the pool seems to emerge from it as if it were a bubbling spring in the middle of a beautiful green oasis. The trees and shrubbery provide ample privacy, and there's plenty of space across the expansive yard to spread out. Dive in the pool or warm up with a soak in the hot tub. You can book through Avantstay.
Frank Sinatra's Twin Palms Estate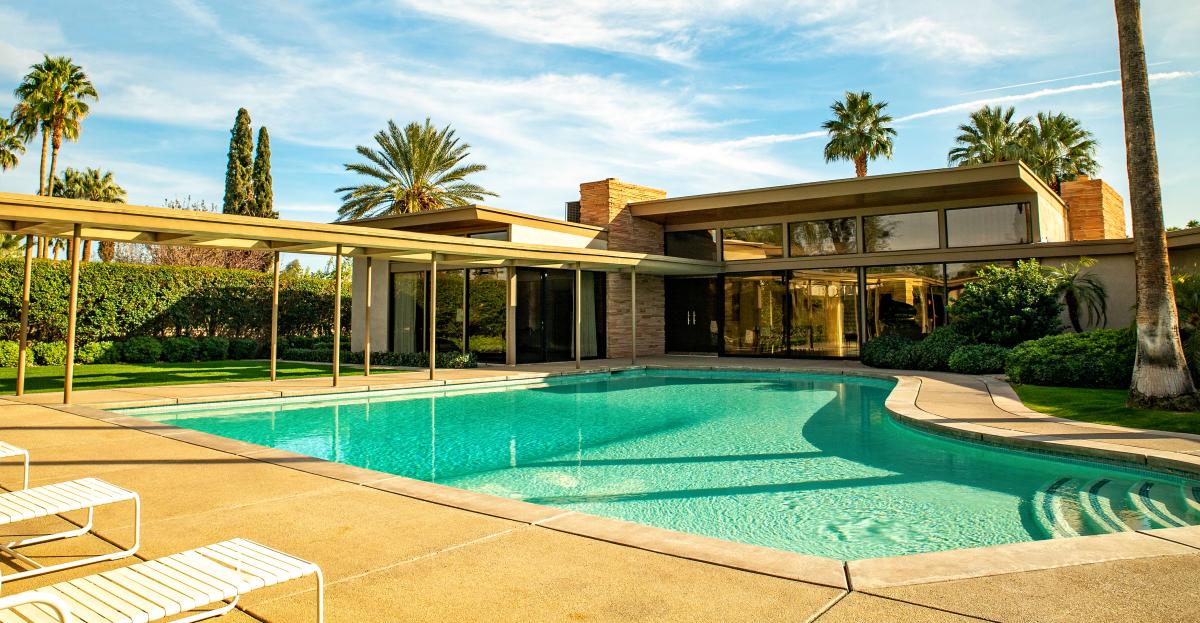 Perhaps one of the most talked about homes in Greater Palm Springs is Frank Sinatra's Twin Palms Estate. E. Stewart Williams, who was another one of the most prominent mid-century modern architects, designed this home for Frank Sinatra in 1947. While many homes in the area that formerly housed famous people have been redone and all remnants of those celebrities of yesteryear residing there have been eliminated, this home features memorabilia perfectly preserved. 
The house gets its name courtesy of the two palm trees in the yard. The pool is probably the most well-known in the area, as it is shaped just like a piano. While the home is mostly designed with clean, perfect lines, the pool features a few longer, more relaxed curves that still provide a minimalist feel. There is also a lavish pool house with a restroom plus a bar and kitchenette. If you're interested in booking a stay, check out the listing on the Natural Retreat website.
We hope these homes with stunning pools have inspired you to book your next visit to Greater Palm Springs. For more vacation rental options, click here.