Enjoy Modernism Week and celebrate midcentury modern architecture, art, interior, landscape design, vintage culture and more in Greater Palm Springs. This 11-day event (February 17-27) will feature more than 350 events and tours, so grab your tickets now!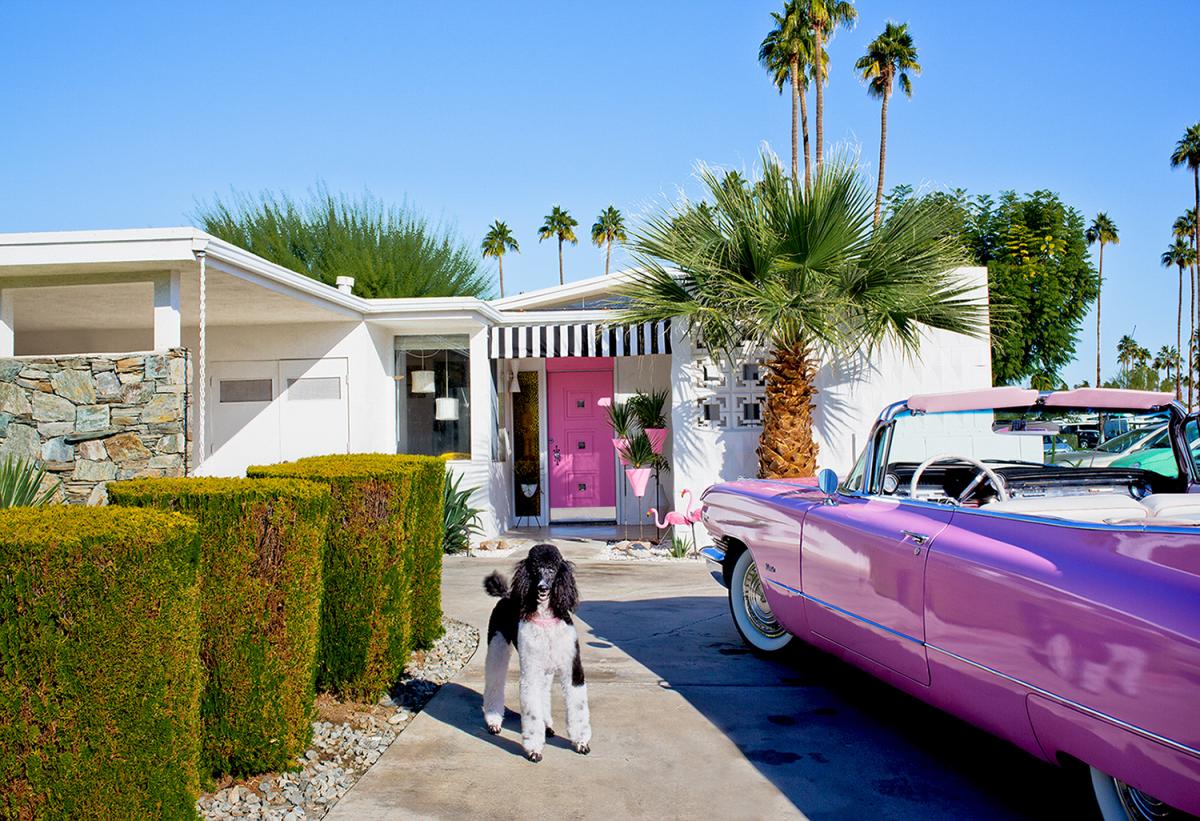 Photo Courtesy of Nancy Baron

A suggested first stop is the CAMP at Hyatt Palm Springs, open from 9:00 a.m. to 6:00 p.m. daily from February 18-27, 2022. Here, you can get answers to your questions, purchase tickets and buy official festival merchandise from the Destination PSP booth. Numerous presentations will be presented in the Camp by our Modernism Sponsors, so be sure to check the posted schedule. All events at the CAMP are open to the public and there is free parking in the nearby garage.

Take a look at the sampling of events that will be taking place:
Neighborhood Tours
Walking tours give you in-depth information on the homes and people who have chosen to build homes at the height of the midcentury modern boom. Your docent will share some Palm Springs gossip with you about people and events of that era.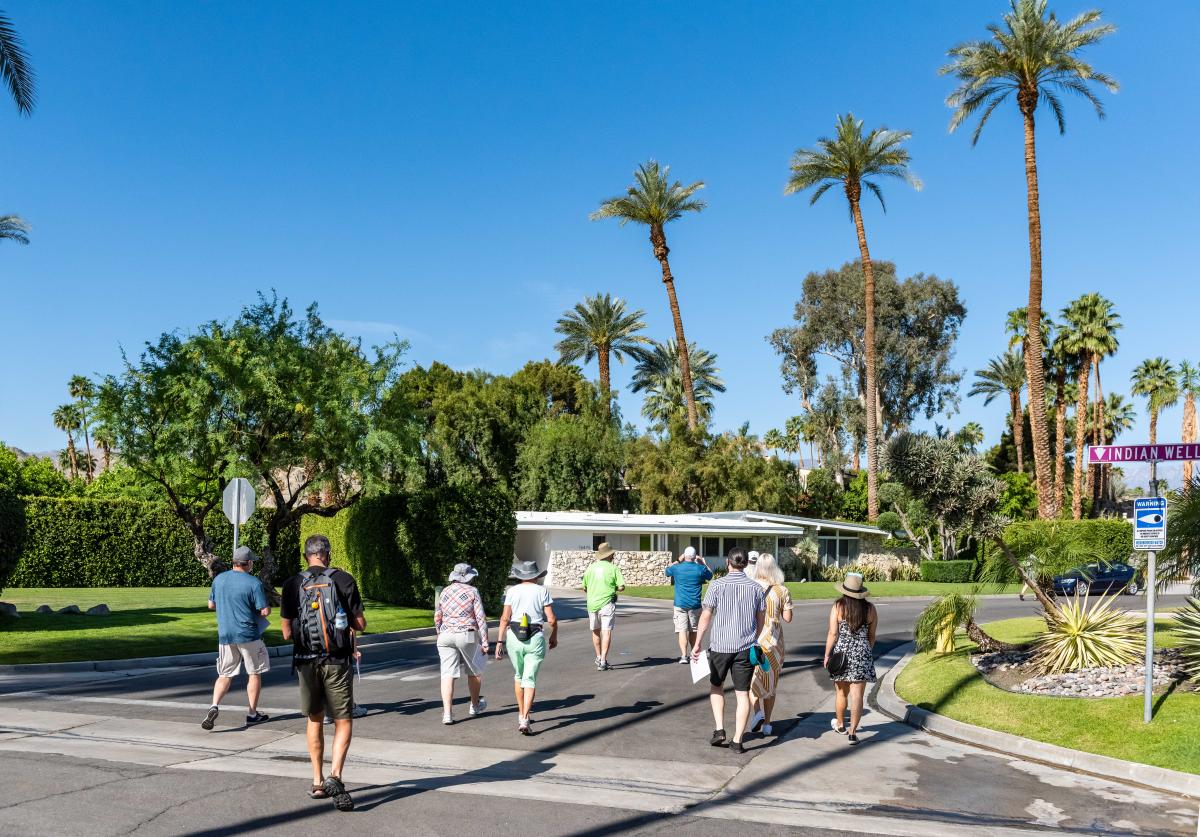 Photo Courtesy of David A. Lee

Follow the footsteps of desert dreamers from 1925 to the present era. Learn about uptown Palm Springs and its revitalization.
Presentations
An internationally acclaimed architect, Jeanne Gang, will present the keynote lecture, who will share information about her Urban Design practice in Chicago, Illinois.
Black designers, builders, and developers helped shape Palm Springs and Southern California for more than a century. This will be a three-part series. 
Tours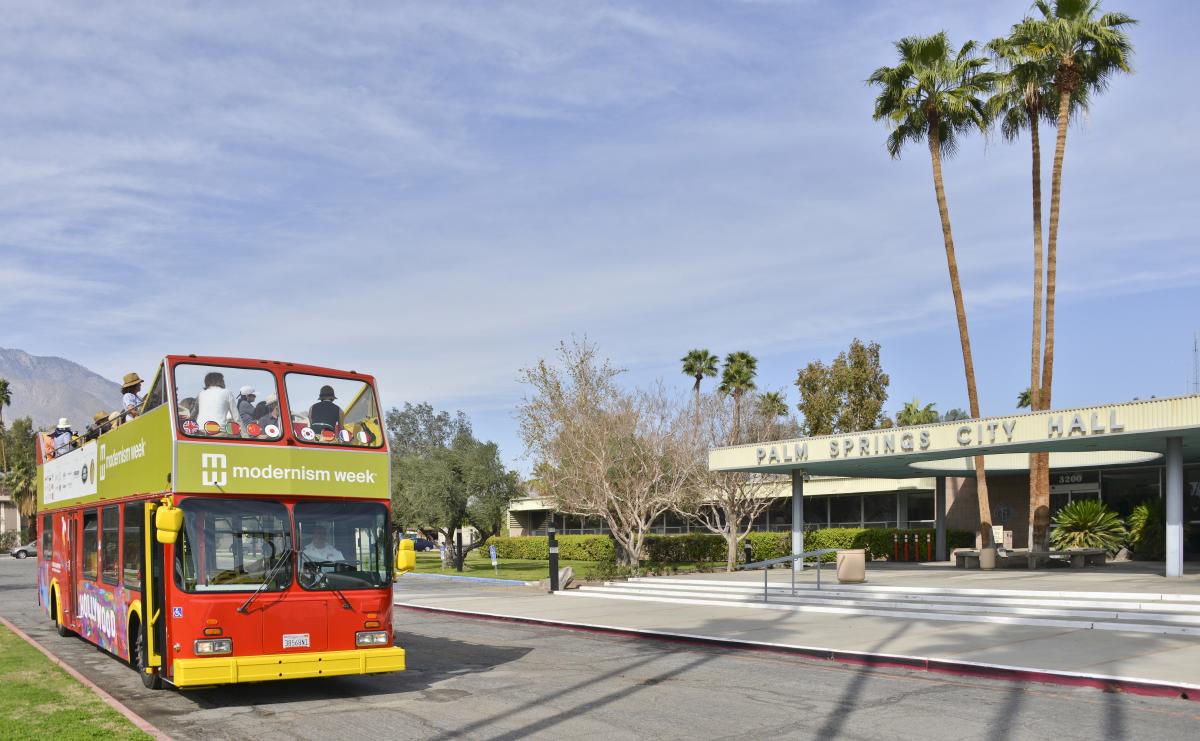 Photo Courtesy of David A. Lee

If you are a first-time visitor to this event, we suggest experience it by taking a Premier Double Decker Architectural Bus Tour. This 2.5-hour tour will give you an overview of the various neighborhoods in the city as well as teach you some of its history.

Visitors look forward to touring a number of stunning homes, generally not open to the public. Examples include Frey House II, Kirk Douglas, Frank Sinatra, William Holden and Lautner Compound.
Vintage Cars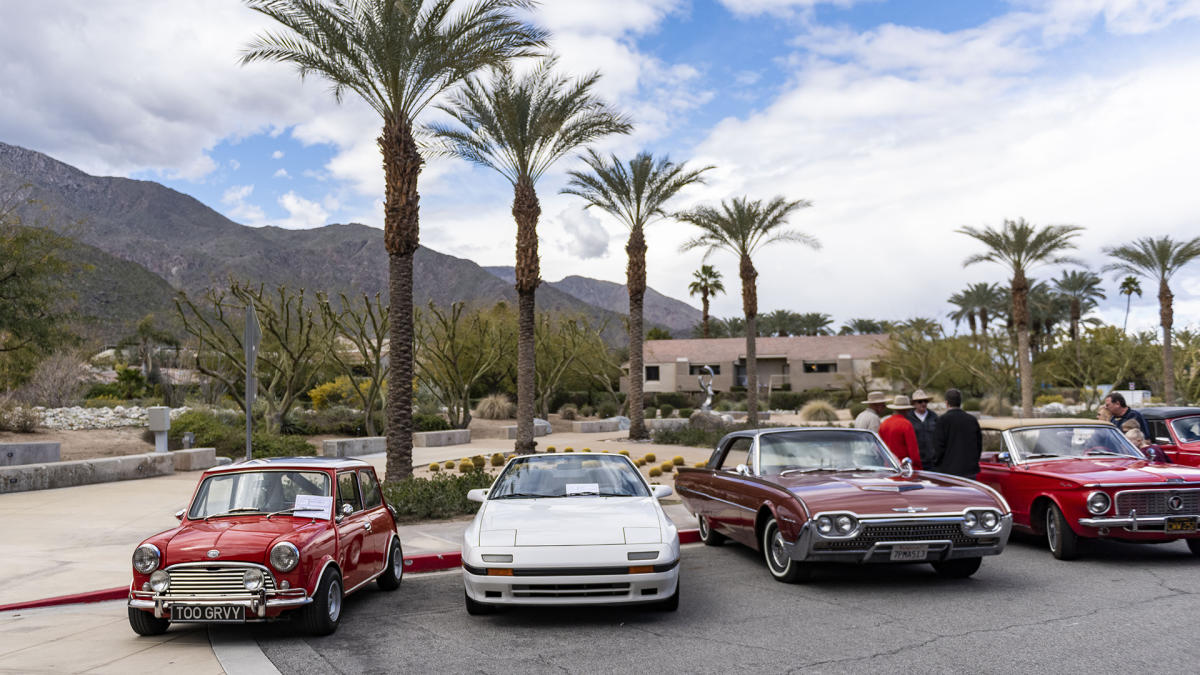 Photo Courtesy of David A. Lee

A private collection of European and American cars.

A special cocktail reception, vintage car show, dinner and private move screening. 
Celebrating Modernism with Parties
Many of the events have cocktail parties connected to them before or after an event. Below is listed the two major parties.
February 17 at 7:00 p.m. 
Guests will enjoy dancing and partying throughout the night at the Indian Canyons Golf Resort Clubhouse, one of the most iconic midcentury modern clubhouses in Palm Springs designed in 1961 by Donald Wexler and Richard Harrison.
Entertainment will be Casino Royal and DJ Mod Girl. Hosted bars, signature cocktails, elegantly presented hors d'oeuvres and full-service dinner stations will be provided by Lulu California Bistro and included in this special evening.
February 18 at 6:00 p.m.
The party is the prime opportunity for participants to shop directly from dealers before the show opens to the public on Saturday, February 19, 2022. Ticket prices include cocktails, hors d'oeuvres, entertainment, and daily re-entry to the show.
The Palm Springs Modern Design Expo will feature 45 plus exhibitors displaying cutting-edge modern home design and items inspired by midcentury modern design in the same building. Both expos are included in the ticket price.
Exhibits
Experience this modern tablescape exhibit, featuring dinnerware from the 30s, 40s, and 50s. 
Shop at the 21st Annual Palm Springs Modernism Show & Sale, featuring 90 premier national and international vendors, vintage furniture, décor, jewelry, fine art and so much more. 
Films
Watch this deep dive into how Airstream became a legendary American brand, featuring exclusive footage and narrated by Kate Pierson of rock band The B-52s. 
Learn about the iconic twentieth-century architect, Marcel Breuer, sharing information from his background of a furniture maker to his large-scale projects. 
Golf
February 27 
The first-time golf event will take place at the private 7 Lakes Golf and Country Club. Scramble is open to all levels. Enjoy an 18-hole Sunday afternoon while supporting Modernism Week. Once the day is over, players will be invited in to enjoy appetizers and cocktails. 
Landscape and Outdoor Living
February 19 at 10:30 a.m.
This presentation highlights the growing climate crisis, bringing solutions and empowering communities to protect natural, living systems. 
February 19 at 3:00 p.m.  
Judith Chafee is recognized for her buildings that fit into the iconic desert landscape. Attend this presentation to learn more about her, her background and have a chance to get your book signed. 
What are you waiting for? Make your hotel and travel reservations to join for an experience you will not forget. You will learn and play under our beautiful blue sun-filled sky while sharing an experience like no place else. All the events and tours are listed at Modernismweek.com.