Greater Palm Springs is renowned for its legacy of midcentury modern architecture and design, drawing aficionados from around the world to appreciate architecturally significant residential, commercial and civic buildings throughout our nine cities.
Desert Architecture Characteristics 
Desert Modernism is characterized by features and elements that are suitable to the desert climate and lifestyle, including expansive walls of glass and windows that showcase views of the natural landscape and open up to outdoor living spaces and materials that hold up well in the harsh heat and insulate the interiors from warm outdoor temperatures.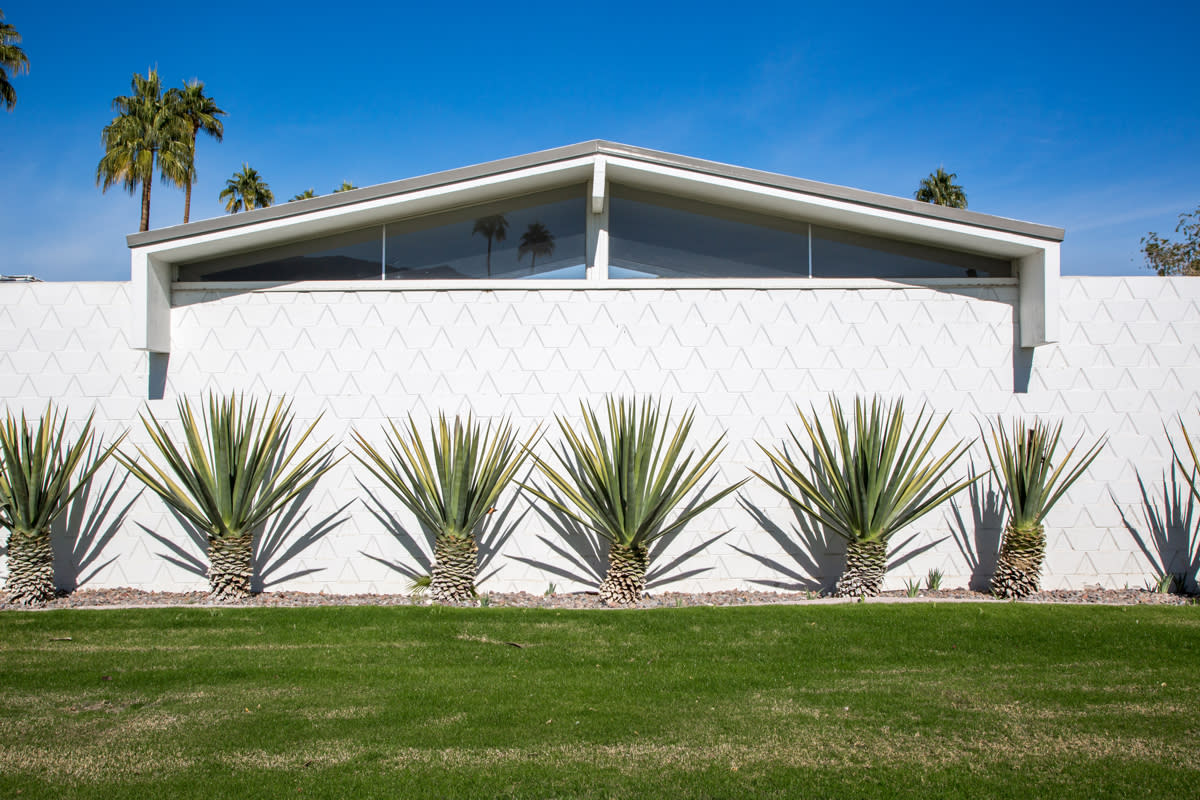 Shadowblock and clerestory windows in Canyon View Estates // photo by Bethany Nauert for Palm Springs Style
Certain rooflines have become synonymous with desert modernism, including the flat shed roof, the butterfly roof and the folded plate roof, and post-and-beam interior ceilings are often found inside. Patterned concrete breezeblocks utilized in many modernist residential projects are both decorative and functional, helping partially block the intense sun and imparting privacy while still allowing for partial views and the flow of air. 
Iconic Desert Modernism
Early desert modernist homes started in the 1930s, including one of just a few designs in the area by revered architect Richard Neutra. Neutra designed the Grace Miller House in 1937 for St. Louis socialite Grace Miller, who wanted a desert house and studio where she could teach exercise classes. The small home was very unusual for the time, with clean lines, lots of glass windows and utilitarian features that would suit Miller's needs.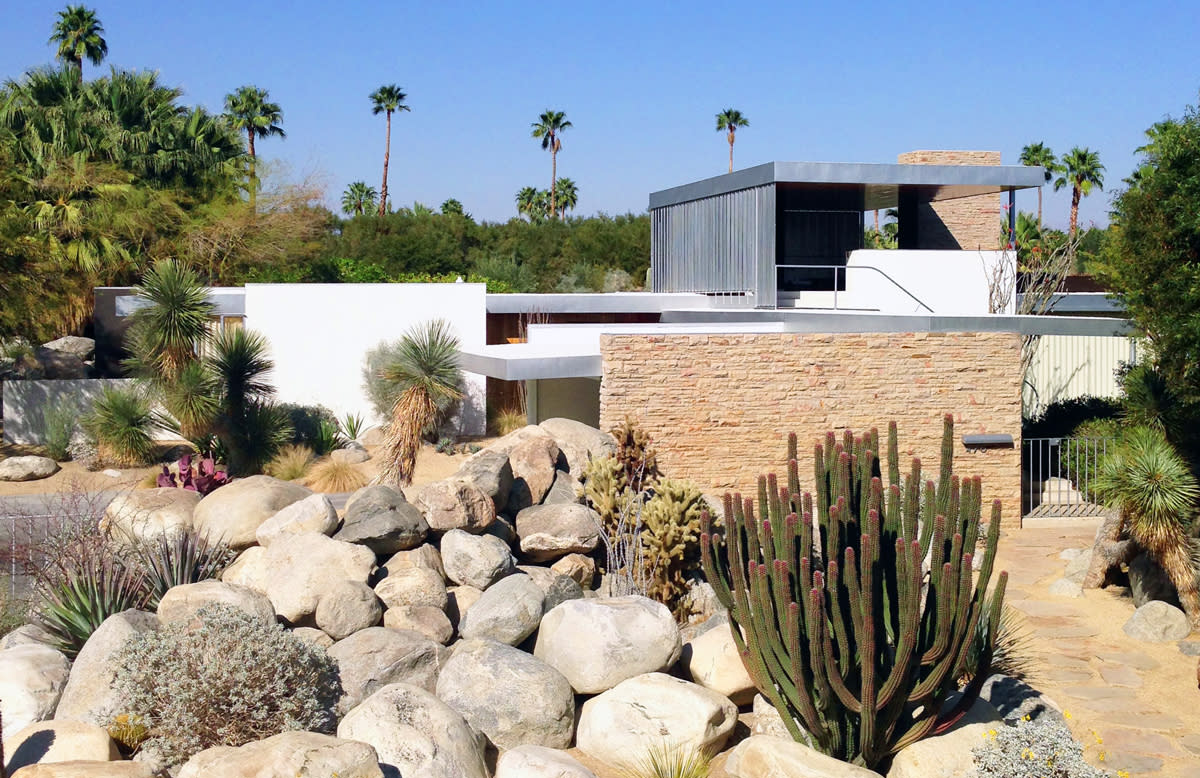 Kaufmann House
Neutra would later be commissioned to design a vacation home for prominent Pennsylvania department store owner Edgar J. Kaufmann Sr. and his family in Palm Springs, completing the home in 1947. Neutra used glass, steel and stone to create a modern home shaped like a pinwheel, with wings branching off from the center of the house and a second-story outdoor living and entertaining space. The Kaufmann House is perhaps best known for serving as the location of photographer Slim Aarons' famous 1970 "Poolside Gossip" image.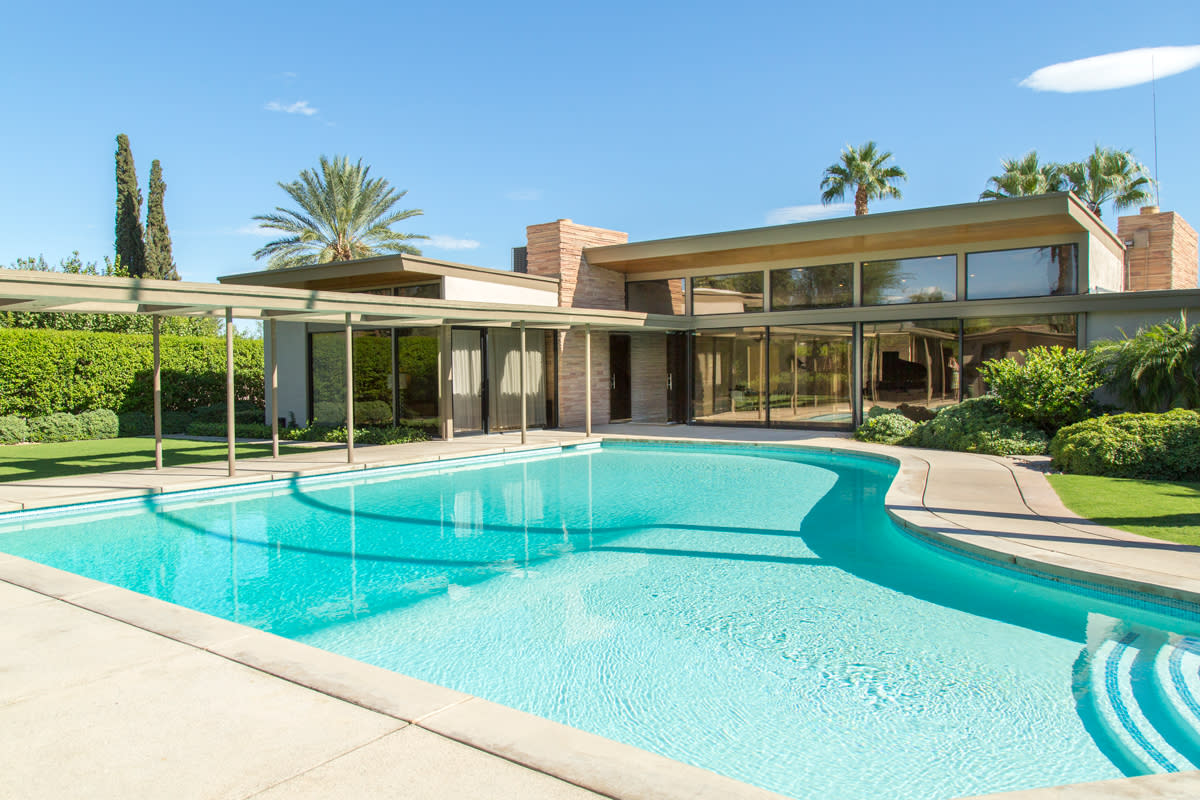 Sinatra Twin Palms Estate // photography by Jeff Mindell for Palm Springs Style
Around the same time that the Kaufmann House was completed, 31-year-old Frank Sinatra unexpectedly dropped in at the office of local architect E. Stewart Williams, requesting a big, Georgian-style brick mansion with columns. Williams drew up two designs, hoping to convince Sinatra to go with a more desert-appropriate style.
One design was Georgian as requested by Sinatra, while the other was completely opposite: sleek and understated with a flat shed roof, clean lines and floor-to-ceiling windows and clerestories (small upper windows that mimic the roofline of a home). The 4,500-square-foot modern design won Sinatra over, with Williams' team quickly completing the home that same year. It was dubbed "Twin Palms" in reference to the two tall palm trees in the yard.
Other notable residential projects by Williams include the Edris House in Palm Springs and the Kenaston Residence in Rancho Mirage, which was the site of Brad Pitt and Angelina Joe's infamous W Magazine photo shoot in 2005. Williams was also the architect behind many of the area's notable commercial buildings, including the Palm Springs Art Museum, Coachella Valley Savings and Loan #2 (now Chase Bank) and Santa Fe Federal Savings (now the Palm Springs Art Museum's Architecture and Design Center).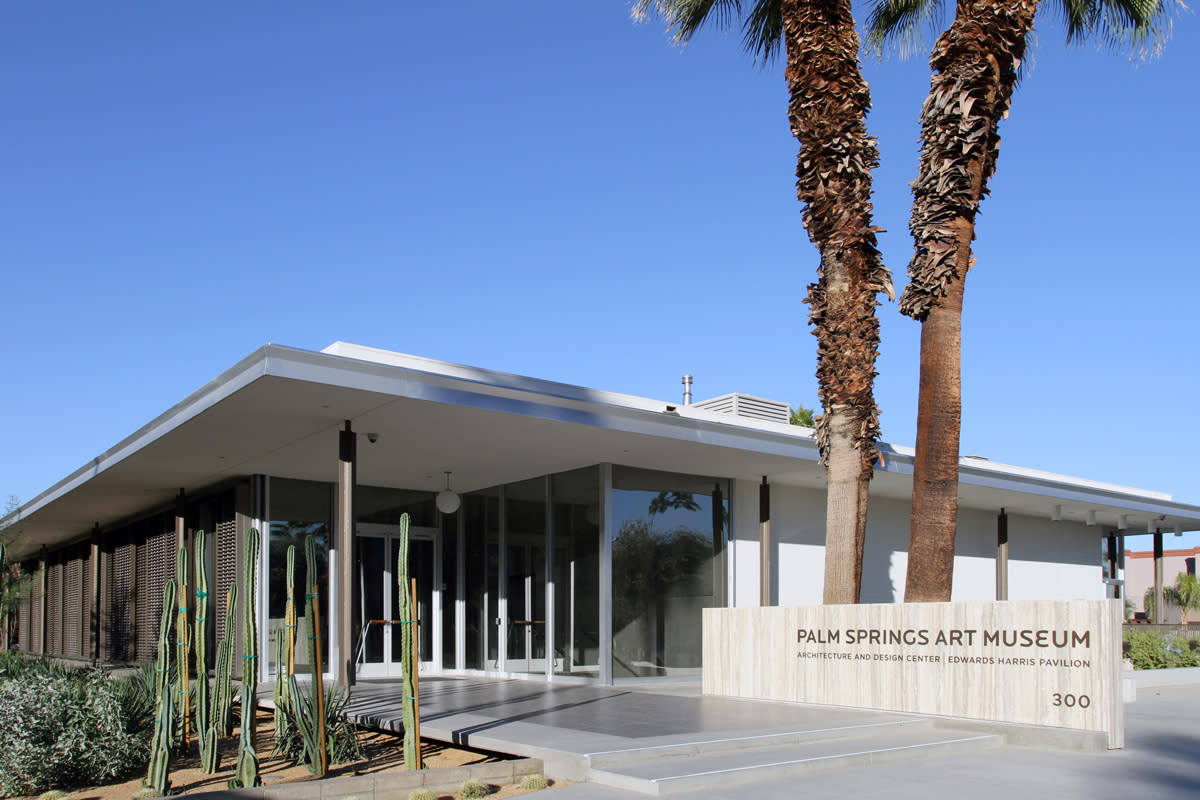 Palm Springs Art Museum Architecture and Design Center
The Palm Springs Art Museum now oversees the upkeep of another influential desert architect's personal home, Frey House II. Construction of the Albert Frey-designed home began in 1963 after he spent a year studying the sunlight's effect on the home's mountainside location. Steel framing, ribbed aluminum sheets and glass walls were the primary materials employed, with the roof of the carport featuring the home's swimming pool and deck.
Frey used numerous built-in features to save space in the 800-square-foot home, and rather than remove a large boulder on the lot, he chose to incorporate it into the design, making it a natural partition between the living area and sleeping quarters. Frey lived in the home until his death in 1998, at which time the property and its contents were bequeathed to the Palm Springs Art Museum, along with an endowment for its preservation so that others could study and experience this example of desert modernism.
Frey had been working in Palm Springs since the mid-1930s and his early projects were collaborations with architect John Porter Clark, including the San Jacinto Hotel in Palm Springs (subsequently called the Movie Colony Hotel) and the Wright Ludington House in Rancho Mirage. The duo officially joined forces when they opened the Clark and Frey architectural firm in 1939 and worked together for nearly 20 years to create important buildings such as Palm Springs City Hall and the Lower Station of the Palm Springs Aerial Tramway. The pair parted ways professionally in 1957, after which Frey completed the design of the 1965 Tramway Gas Station (now the Palm Springs Visitor's Center) in partnership with architect Robson C. Chambers.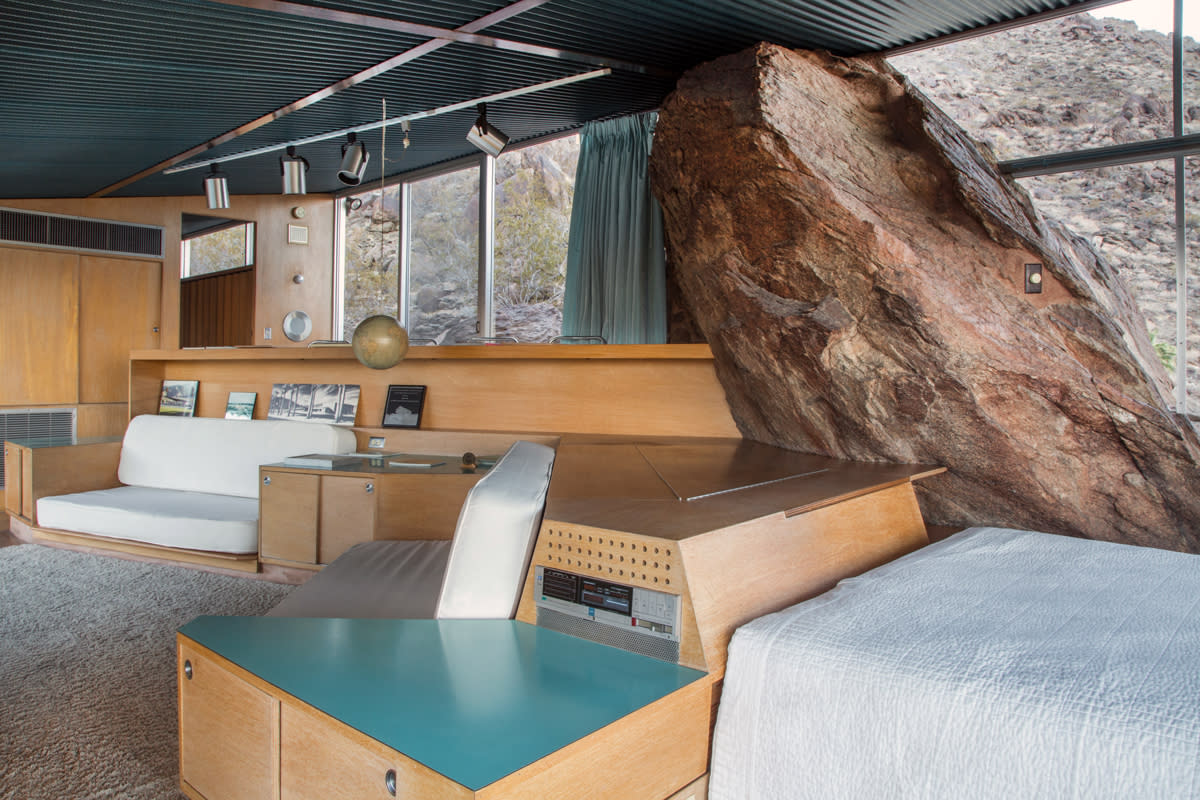 Frey House II // photography by Bethany Nauert for Palm Springs Style
During the 1950s there was a surge of celebrities and regular folks seeking small desert homes for vacation getaways. The Alexander Construction Company built over 2,000 homes in the Palm Springs area during the 1950s and 1960s, bringing modernist design to homebuyers at an affordable price. The Alexander's first big project in the desert was the construction of the Ocotillo Lodge in 1956, with architects Dan Palmer and William Krisel creating the design.
Ocotillo Lodge combined short and long-term residential living with the conveniences of resort-style amenities, with over 100 apartment-style units featuring private patios. Ocotillo Lodge was a favorite spot for many celebrities, including Elizabeth Taylor, Betty Grable, Errol Flynn and Rock Hudson. The Alexander Construction Co. continued to collaborate with Palmer and Krisel, building modern tract homes in Palm Springs with clean lines, efficient production and reasonable prices. They began with the Twin Palms Estates neighborhood of south Palm Springs, building 1,200 square foot homes with in-ground swimming pools and two palm trees in the yard (the origin of the Twin Palms name), priced at $30,000 and under. 
The development was well-received and successful, leading to the creation of additional tracts of homes throughout Palm Springs, including large numbers in Racquet Club Estates and Sunmor Estates, and other smaller pockets of Alexander homes. Common features included clerestory windows and abundant walls of glass; post-and-beam ceilings, interesting rooflines, including the now-iconic butterfly roof; exterior details like concrete blocks, stone and wood panels; breezeways; carports and almost always an in-ground pool to take advantage of the desert weather.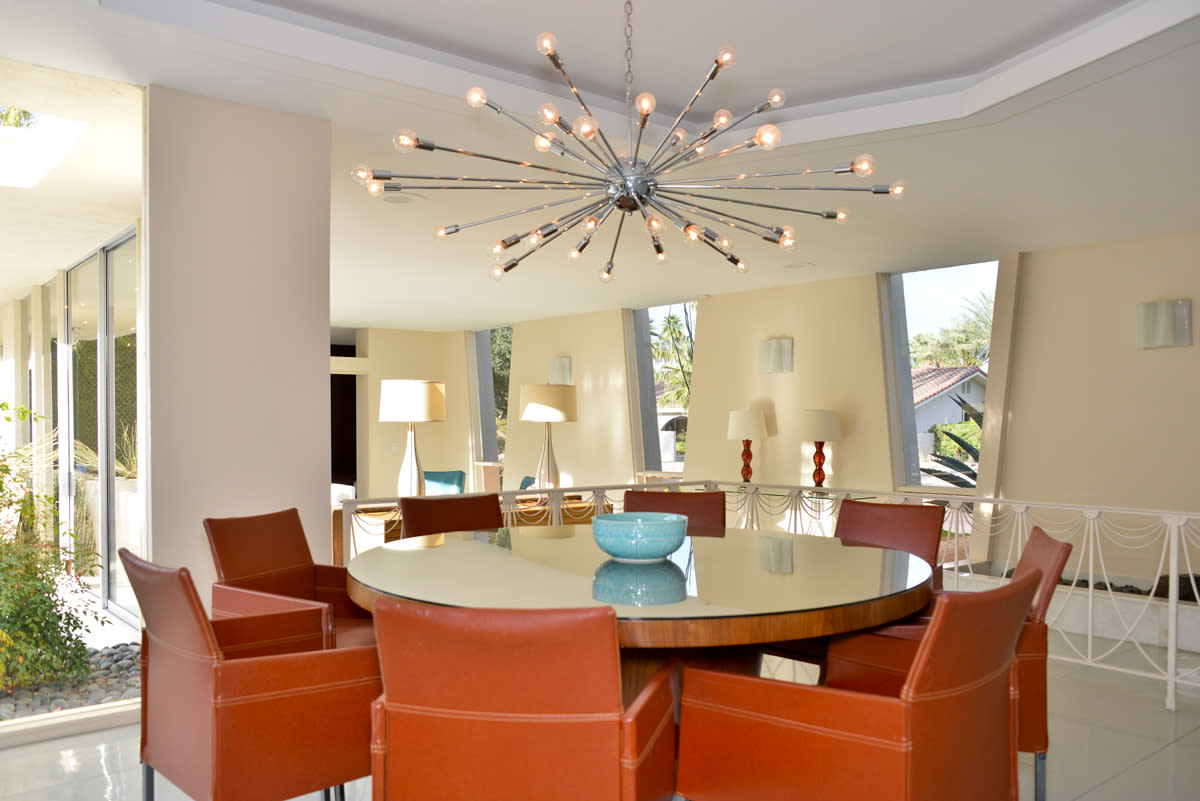 Midcentury dining room // photography by David Lee via Modernism Week
In the late 1950s, the Alexanders began building homes in the Las Palmas neighborhood, which was the area of choice for many Hollywood stars. Many of these homes were larger (at least 2,000 square feet), and the majority were designed by Krisel, with the exception of the A-frames known as "Swiss Miss" homes, which were designed by Charles DuBois. Peter Lawford, a member of the Rat Pack, had an Alexander house in Las Palmas, which purportedly lodged President Kennedy and facilitated a rendezvous with Marilyn Monroe, who stayed in a home nearby.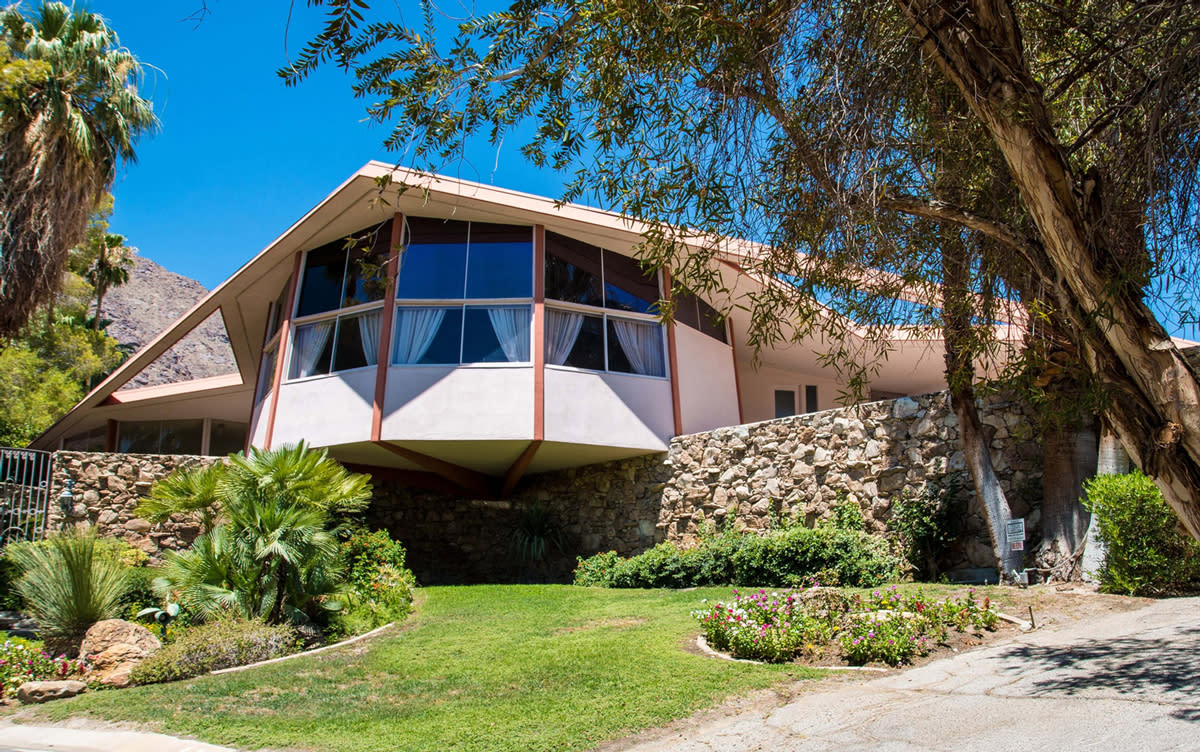 Elvis Honeymoon Hideaway House 
In 1961, the Alexander Construction Co. began building steel development houses designed by architect Donald Wexler, which were primarily made of steel and glass and used a combination of off-site prefab and on-site assembly. Originally intended as a larger development of steel homes in north Palm Springs, ultimately only seven homes were built due to the rising cost of steel.
The "Honeymoon Hideaway" house where Elvis and Priscilla Presley honeymooned in 1967 was originally built by Bob Alexander for his own family in the early 1960s. The home, designed by architect William Krisel, is located in the Vista Las Palmas neighborhood of Palm Springs and was dubbed "the House of Tomorrow" at the time for its futuristic shape.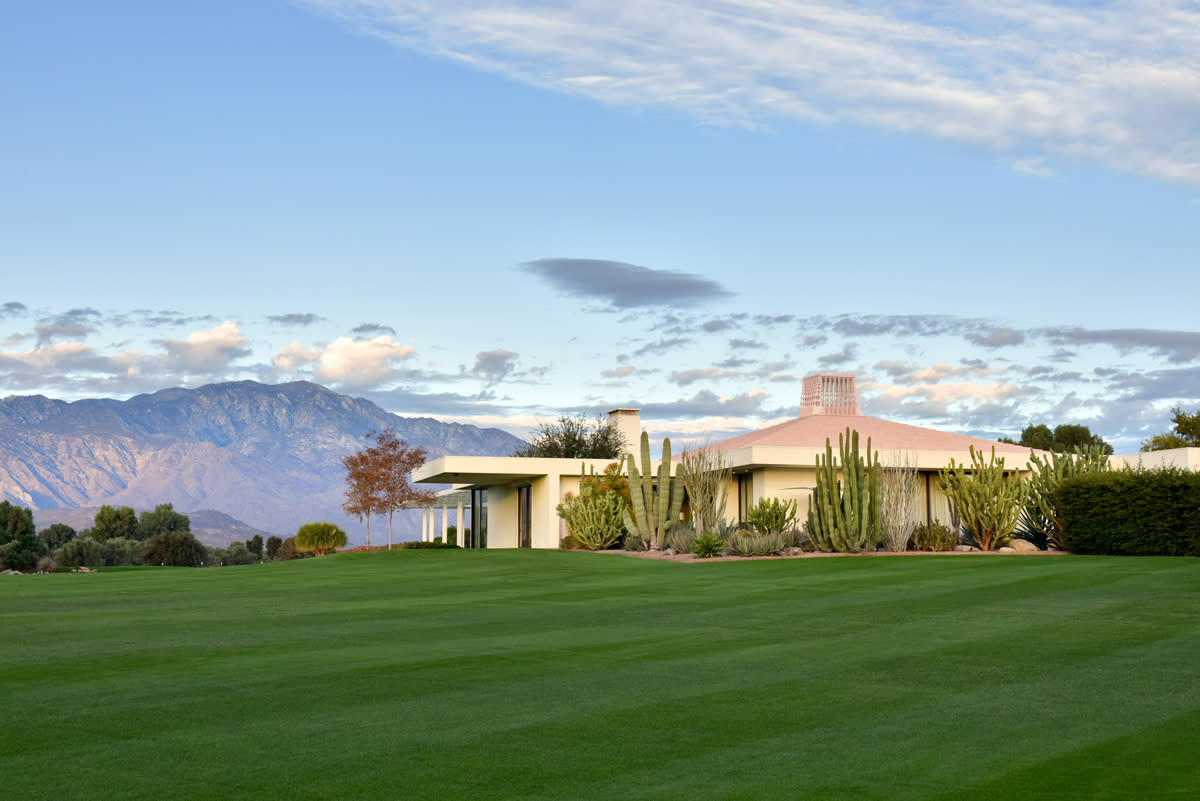 Annenberg Estate // photography via Sunnylands
Another 1960s residential project was the expansive Annenberg Estate at Sunnylands in Rancho Mirage, designed for the publishing magnate by architect A. Quincy Jones with interiors by William Haines. The home incorporates elements that reference Mexican design, including a pyramid-inspired roofline and a large Mayan column sculpture at the entrance. The 200-acre estate has hosted U.S. presidents and international leaders, as well as many celebrities.
Other notable modernist residential projects in Greater Palm Springs include: The Miles Bates house in Palm Desert, completed in 1955 and featuring architect Walter S. White's signature wave roof; architect John Lautner's Arthur Elrod House, which has a domed concrete rood and a wrap-around pool that was famously featured in the 1971 James Bond film, Diamonds Are Forever; William F. Cody's designs in Rancho Mirage's Tamarisk Country Club; and Hugh Kaptur's Palm Springs designs for actors William Holden (built in 1956) and Steve McQueen (built in 1964).
Other influential desert modernist architects include Herbert Burns, Paul Revere Williams, James McNaughton, Hal Levitt, Barry Berkus, Howard Lapham, Stan Sackley and more.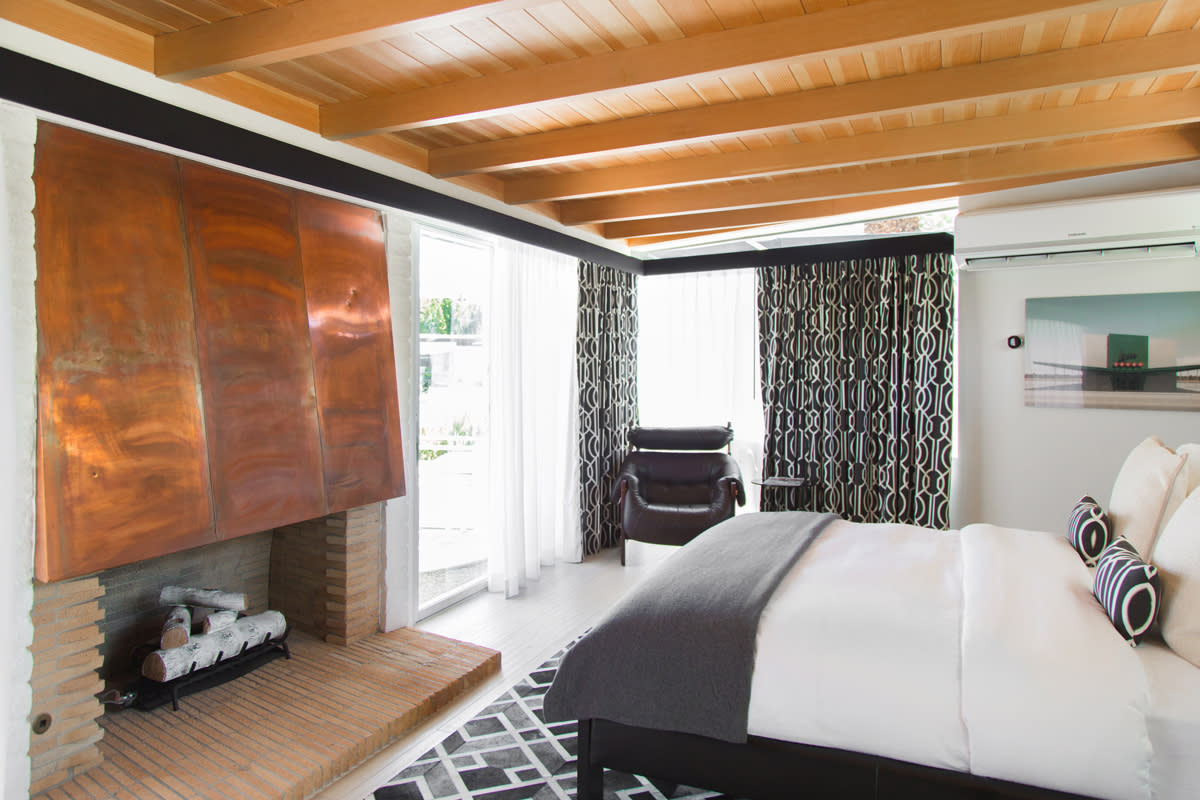 L'Horizon Resort & Spa // photography by Jeff Mindell for Palm Springs Style
Greater Palm Springs is a treasure trove of modernist architecture, but now you're probably wanting to know how to experience it yourself! There are a number of ways, including staying at a midcentury modern hotel (some options include L'Horizon Resort & Spa, Orbit In, Del Marcos Hotel, Holiday House and the Lautner Compound), or renting a midcentury vacation rental home (even Sinatra's Twin Palms Estate is available to rent!).
Modernism Week in Greater Palm Springs
You can take guided architecture tours year-round through companies like Palm Springs Mod Squad and The Modern Tour. For the ultimate concentration of midcentury architecture and design events, you'll want to visit during Modernism Week (held each February) or Modernism Week – October weekend (held each October), during which hundreds of events are held throughout Greater Palm Springs.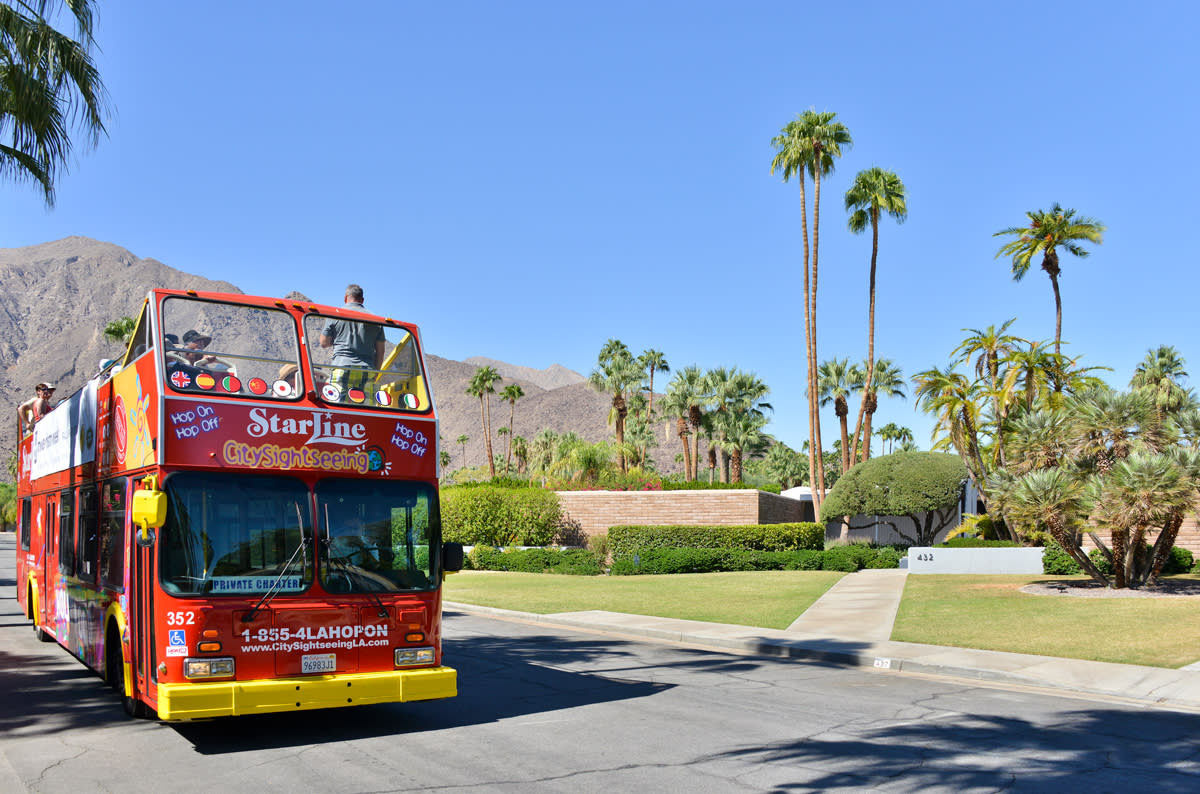 Modernism Week Double Decker Bus Tour // photography by David Lee via Modernism Week
Many midcentury commercial buildings are open to the public and can be visited and photographed easily, such at the Palm Springs Aerial Tramway Stations and City Hall. Interior tours are available throughout the year for Frey House II (through Palm Springs Art Museum and The Modern Tour) and the Elvis Honeymoon Hideaway House, as well as the Annenberg Estate at Sunnylands. If you're up for a self-guided tour, check out the Palm Springs Modern Committee's Modernism Tour app (available in the app store), featuring 80 local midcentury landmarks.