When it comes to pizza, there is nothing more satisfying than devouring the gooey cheese that clings to the warm slice as you pull away. From brick-oven baked Neapolitan to deep dish Chicago styles and everything in between, there are plenty of places to satisfy your pizza cravings in Greater Palm Springs. 
Here is a round-up of 10 awesome pizza places you need to try, based on word-of-mouth, social media and online reviews.
Bill's Pizza 
With 22 different pizza options to choose from you can't go wrong at Bill's Pizza - a local favorite because of its plethora of options and mouth-watering combinations.
A fan favorite is the Elton John, made with garlic infused olive oil, artichoke hearts, tomatoes, cooked spinach, red onions and feta cheese. If you prefer red sauce or a pizza with a different celebrity moniker, try the Nicolas Cage or Charlie Sheen. Still can't decide? Pick two of your favorite flavors and have them side by side on the same pizza - half & half style. Now you're covered. 
Find it here: 119 S. Indian Canyon Dr., Palm Springs and 73196 Highway 111, Palm Desert
Stuft Pizza
Stuft Pizza has two locations in Greater Palm Springs, La Quinta and Palm Desert. Stuft Pizza is known for its expansive menu and having something for everyone - even gluten-free thin-crust pizza. A favorite and award-winning pizza is their Stuff Pizza, featuring Canadian bacon, smoked Applewood bacon, caramelized onions, mushrooms, slow-cooked apples, mozzarella and brie cheese - all garnished with a mango drizzle. Do all those ingredients go together? Yes! And quite magnificently. 
Find it here: 78015 Main Street. #100, La Quinta and 2840 Highway 111 #465, Palm Desert 
Pizzeria Bambinos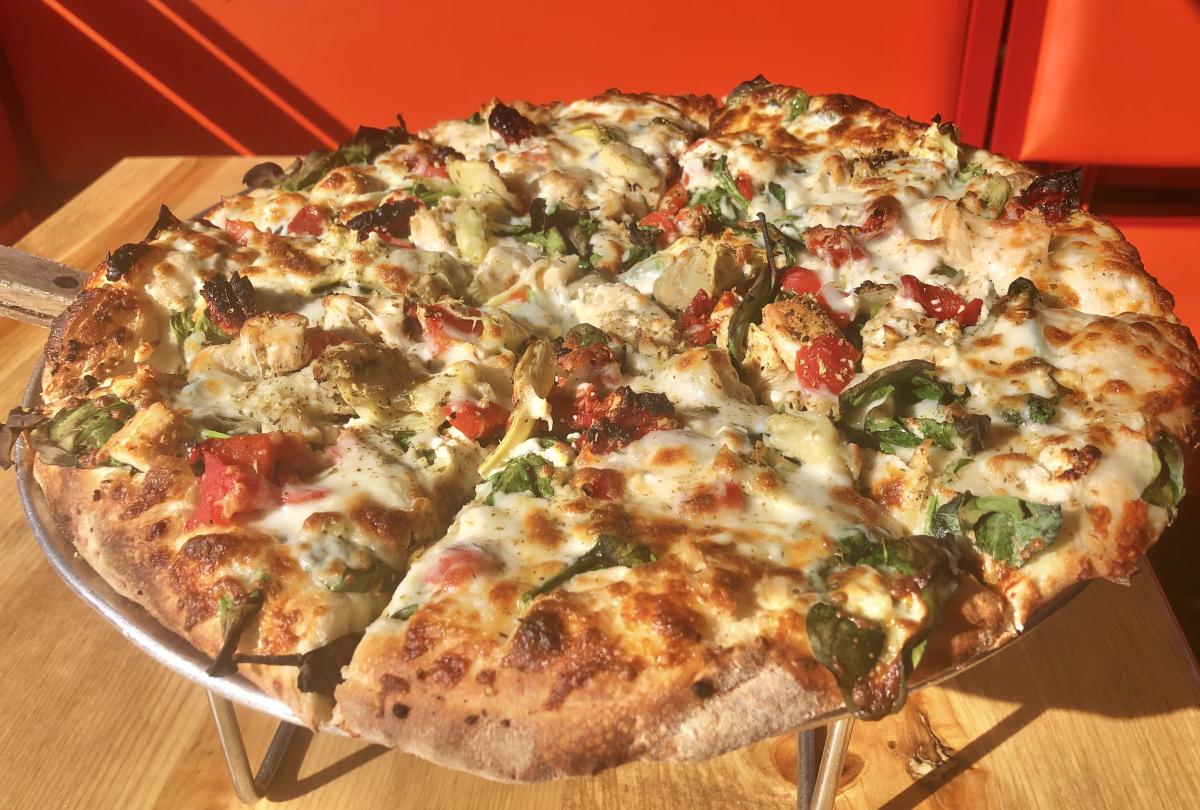 If you're torn between pizza and Mexican food, then your answer is the Santa Fe at Pizzeria Bambinos. This taco flavored pizza has refried beans, chorizo, red onions, jalapeño, cherry tomatoes, cilantro and cheddar cheese.  As described by fans of the eatery, it is "to die for." 
Another unique favorite is the Florida Chipotle Pizza which comes with a homemade chipotle sauce. A local favorite and most popular combination is the white-sauced Tuscan Chicken Pizza. They also offer cauliflower and gluten-free crusts.
Find it here:  69040 E. Palm Canyon Dr. Suite A, Cathedral City
Billy Q's 
Billy Q's in Palm Desert has been around since 2012 and already establishing itself as a neighborhood favorite. They don't skimp on the toppings and aren't afraid to try some outside-the-box pizzas. They like to experiment and if the experiment works it stays on the menu.
Case in point, the Mac & Cheese-Za, a pizza with macaroni and cheese and hickory-smoked bacon on it. Delicious! 
A customer favorite and the most popular is "The Works," a medley of five different meats and a few veggies. They also feature some alternative crust options like a gluten-free crust, a broccoli cheddar crust or a cauliflower crust. 
Find it here: 36901 Cook St., Palm Desert
The Slice Italia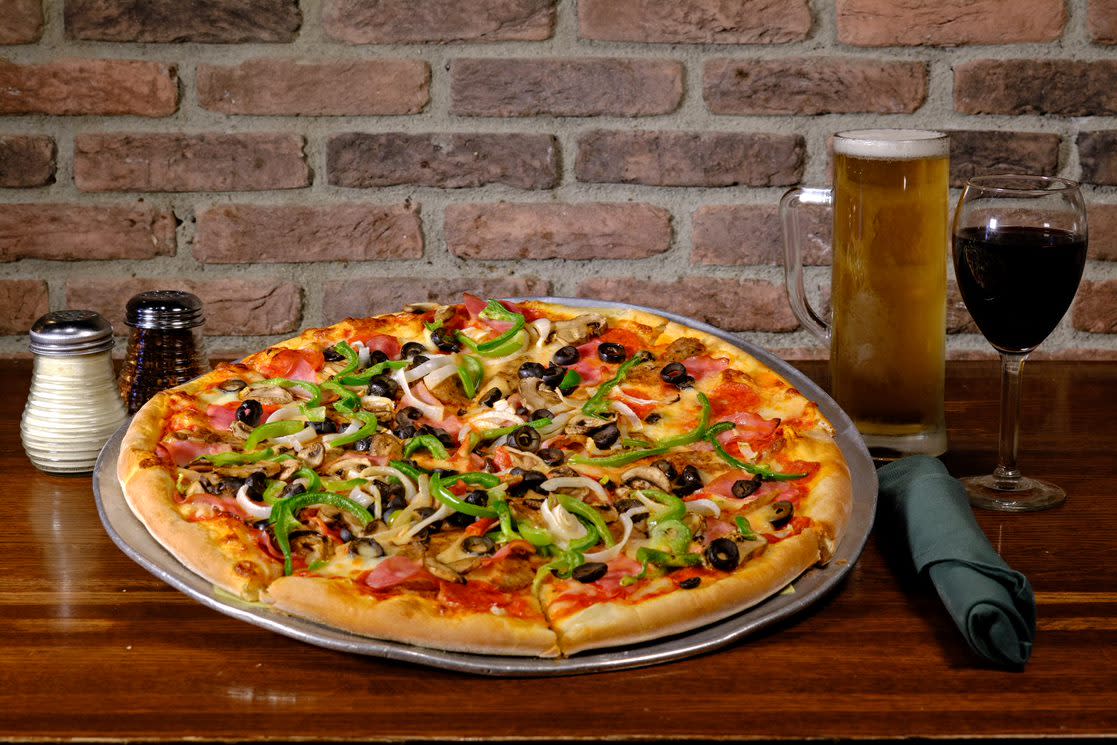 Slice Italia is a perfect place to eat before you hit the movie theater next door in Rancho Mirage. Slice Italia dishes out some of the best New York-style pizza in the desert.
The restaurant is split into two distinct vibes, with brick walls and white checkered tile for a classic Big Apple pizza joint flavor on one side, and a traditional Italian restaurant date-night vibe on the other. Wherever you sit, it's the pizza you'll want to try. They have one called "Favorite Pizza,' topped with pepperoni, sausage, mushrooms and onions. For something a little different and a lot more filling, try the double crust stuffed pizza with a crust on the top and bottom. 
Find it here: 72775 Dinah Shore 107, Rancho Mirage
Piero's PizzaVino 
If you want your pizza experience to feel like you're in Italy, try Piero's PizzaVino on El Paseo. Piero's menu is made up of recipes that started in old Italy and have been passed down for generations before finding their way here. This upscale pizza joint has a full menu, but you've got to try the pizza. They have two pizza categories Pizza Bianche (white sauce pizza) and Pizza Rosse (red sauce pizzas).
Local favorites include the Bubba Bubba, which features Piero's white sauce, mozzarella, crumbled Italian sausage, mushrooms and caramelized onions, and the classic Margherita pizza. There won't be a speck left on your plate, especially if you order the Speck pizza loaded with speck, which is an Italian smoked and cured ham.
Find it here: 73722 El Paseo, Palm Desert
Barrel District Pizza, Bar and Kitchen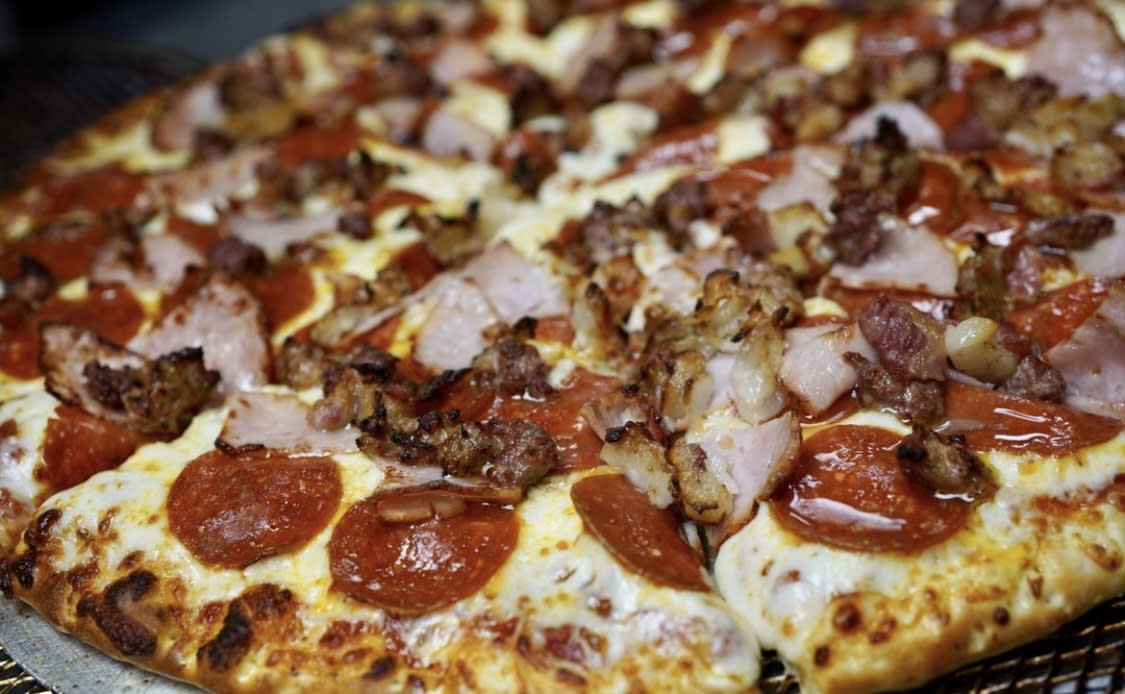 Barrel District Pizza, Bar & Kitchen offers most of their signature pizzas vegan style. Take the District Supreme for example, with mozzarella, pepperoni, sausage, bell peppers, onion, tomatoes, mushrooms and olives. You can get the same pizza from its extensive plant-based menu with vegan mozzarella, vegan pepperoni and vegan sausage to go with those veggies.
The "bar" section of Barrel District Pizza, Bar & Kitchen isn't lost in the shuffle. You can have some beer on tap with your pizza or bring in your growler to get filled. It is a fun, vibrant atmosphere that's part bar and part restaurant.
Find it here: 35939 Date Palm Drive, Cathedral City
Spaghetteria
Sometimes you want a simple old-fashioned pepperoni pizza - nothing fancy. That's what's great about Spaghetteria, a mom-and-pop Italian restaurant. They keep it simple, but phenomenal. 
Their pepperoni pizza is tomato sauce, pepperoni and mozzarella, but the quality ingredients, coupled with their time-tested technique make for a memorable and tasty pie. At first you may wonder if they forgot the pepperoni, but don't worry, it's just hidden underneath all that fabulous gooey cheese.  
Find it here:  611 S. Palm Canyon Drive, Palm Springs
Kitchen 86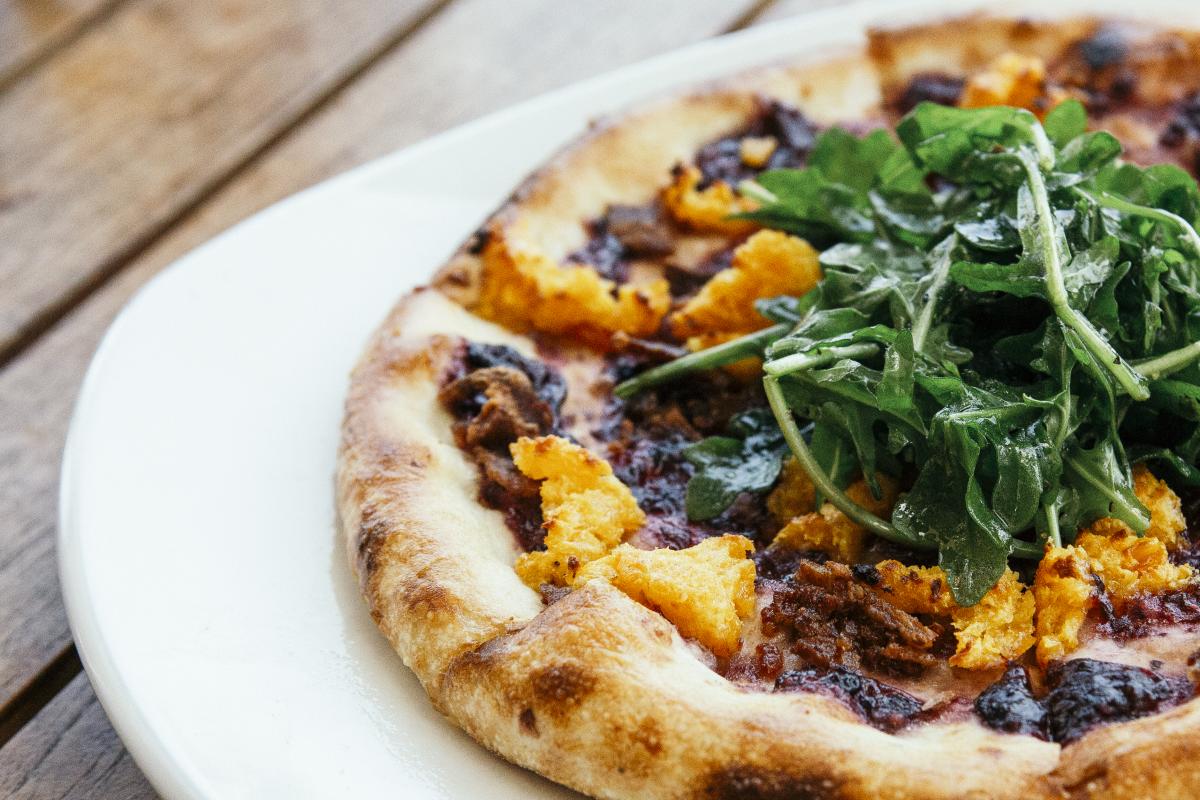 Experience a slice of culinary paradise at Kitchen 86 in the heart of Palm Desert, California. Their pizzas are more than just a meal; they're a journey for your taste buds. Crafted with love and the finest ingredients, their artisanal pizzas are cooked to perfection in a wood-fired oven, creating a crispy yet tender crust that's simply irresistible. 
Whether you're a traditionalist who craves the classic Margherita with its fresh basil and creamy mozzarella, or an adventurous foodie seeking unique combinations like the Fig & Prosciutto masterpiece, they have a pizza to delight every palate. They even a blackberry pizza with blackberry sauce, apricot ricotta, applewood smoked bacon and arugula. With locally sourced, farm-fresh ingredients and a dedication to culinary excellence, Kitchen 86's pizzas are a delicious tribute to the California lifestyle. Nestled in the vibrant dining scene of Palm Desert, Kitchen 86 offers a cozy and inviting ambiance, making it the perfect spot to savor your pizza with friends and family. 
Find it here: 73-130 El Paseo Suite I, Palm Desert
Dine under palm trees and on perfect patios in Greater Palm Springs.
See More