Experience a little piece of Greater Palm Springs from home with these delicious healthy recipes from some of our top restaurants. With the new year upon us, it's a great time to focus on wellness and put your cooking skills to the test. Enjoy!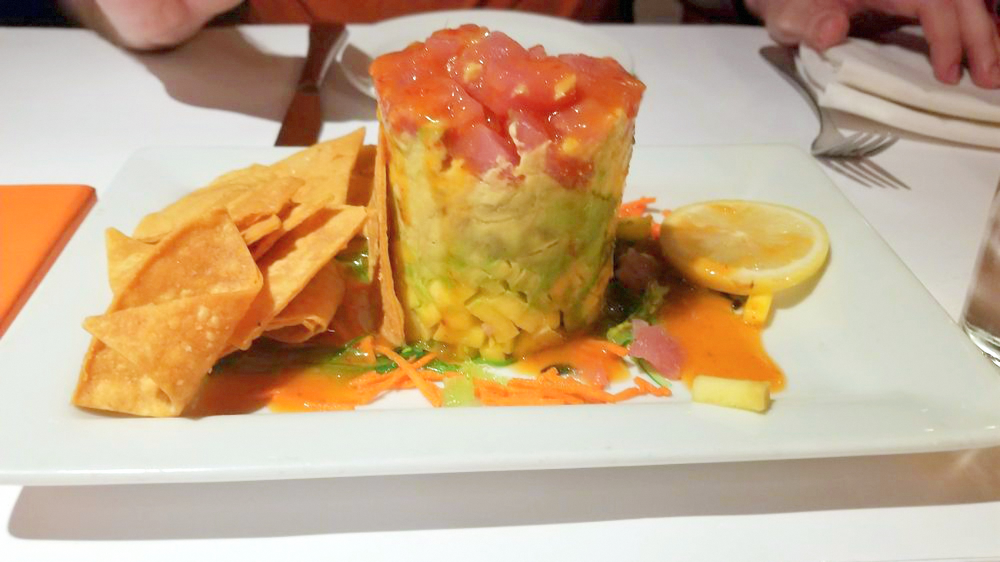 Ingredients:
6 oz Ahi Tuna
2 oz Wakimi Salad
½ Ea. Fresh Avocado
½ Ea. Fresh Mango
1 oz Wasabi Ginger Sauce (recipe to follow)
Directions:
In a bowl, medium dice the tuna and set aside. Small dice the avocado and set aside separately, and small dice the mango and set aside from tuna and avocado. In a small bowl rehydrate wakame salad and set aside. To the diced tuna pour in the wasabi ginger sauce. Gently stir together to incorporate the sauce throughout the tuna. On a chilled plate add the wakame salad first and then add a 2x3" round ring on top of the salad and begin building with the first layer of mango, followed with avocado, then mango again and topped with the ahi tuna. Carefully remove the ring and top with any remaining liquid on top.
Wasabi Ginger Sauce
2 Tbsp Wasabi Powder
½ Cup Soy Sauce
½ Cup Sweet Chili Sauce
2 Tbsp Pickled Ginger
2 Tbsp Mango Chutney
Directions:
Add all ingredients to a bowl and mix thoroughly. Once incorporated place in the refrigerator to chill.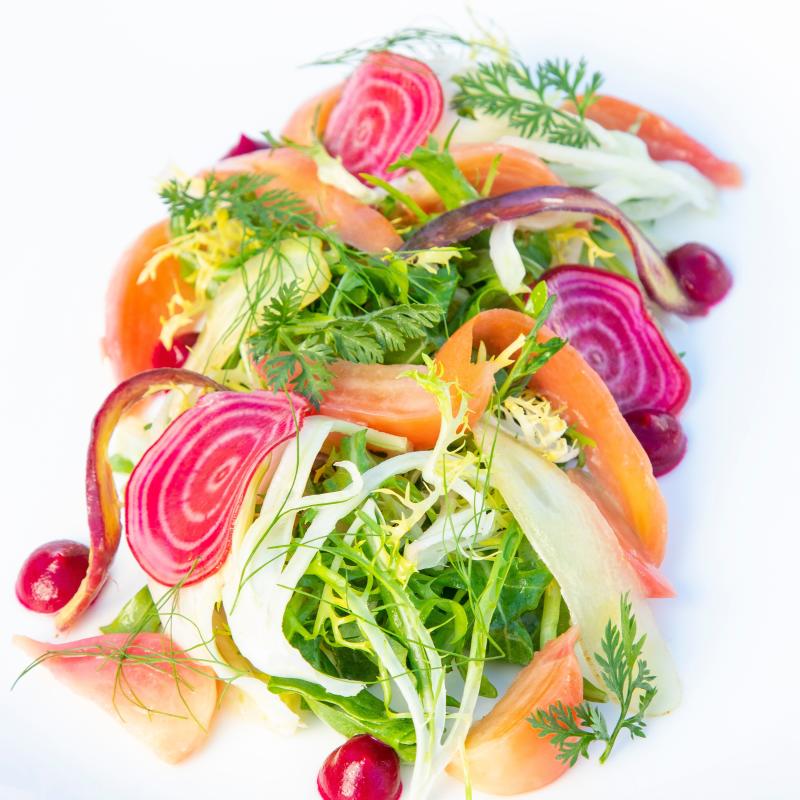 Ingredients:
2 Yellow Baby Carrots
2 Orange Baby Carrots
2 Purple Baby Carrots
4 oz of Baby Frisee Salad
4 oz of Baby Arugula Salad
1 Fennel Bulb
10 Chioggia Beets
2 big Red Beets Cooked and peeled
1 Lemon
2 oz of Red Wine Vinegar
1 Tsp of Salt
5 oz of Extra Virgin Olive Oil
Directions:
Cook 8 Chioggia beets in water with a bit of salt. After cooking; cool, peel and quarter them, and put them in a bowl. Cook the 2 big Red Beets in water till they are soft.  Peel them and cut them in sixths.
Blend 3 oz of the olive oil, the salt and the red wine vinegar.  Blend until smooth. Shave 2 Chioggia beets thin on a mandolin and put them on ice water. Shave the 3 kinds of baby carrots thin on a mandolin and put them in ice water. Cut the Fennel fronds of the Fennel bulb and save it for garnish.
Shave the Fennel thin on the mandolin and put in ice water. Squeeze one lemon into a bowl and add the remaining Extra Virgin Olive Oil, mix well together. Clean the arugula and frisee salad rinsing thoroughly. Put in a bowl and mix the 2 salads together.
Divide the salad among 4 plates and garnish with the carrot and fennel shavings. Put some dots of the red beet puree around the salad. Garnish the salad also with 8 quarters of the cooked Chioggia beets. Put a couple of the thin-sliced Chioggia beets on top of the salad, and top with fennel fronds. Drizzle Lemon/Olive oil vinaigrette on and around the salad.
Ingredients:
6 Cucumber, peeled and diced
1 cup Green grapes
1 oz Rice wine vinegar
2 leaves Basil
Pinch Lemon zest
Salt & pepper TT
10 oz water
Directions:
In a small mixing bowl, combine gazpacho ingredients together and let marinate for 3 minutes. Using a blender, Blend all ingredients together on high speed until smooth. Refrigerate and reserve.
Tomato Fondue
Ingredients:
2 Cups Heirloom cherry tomato
4 Garlic cloves
2 Sprigs lemon thyme
2 Cups of Olive oil
Salt & pepper to taste
Directions:
Preheat olive oil to 350 degrees. Blanch tomatoes in hot oil for 2 minutes and shock immediately in ice water. Remove oil from the flame and reserve. Peel off the skin of the tomatoes. Return oil to the flame and add the rest of the ingredients. Cook on low heat for 20 minutes (without stirring). Remove from flame and let cool for another 10 minutes. Scoop out the tomatoes and garlic from oil and smashed to a creamy paste. Adjust seasoning as desired
Lemon Oil
Ingredients:
1 lemon, Thin Sliced
2 Garlic Cloves, crushed
1 cup olive oil
Salt, to taste
Directions:
Bring lemon, garlic, oil, and salt to a low simmer in a small saucepan over low heat and cook (without stirring) until the lemon is just tender, 20–30 minutes. Let cool and strain oil. Reserve oil.
 Garnish with thinly sliced fresh cucumber, tomato fondue, micro-greens and lemon oil.​
Ingredients: 
2 Avocados
1 Tomato, diced
1 Onion, diced
2 Fresh limes
1/2 Cup of cilantro
1 Teaspoon of garlic
1 Teaspoon of salt and pepper
1 Tablespoon of fresh jalapeño 
Tortilla chips
Directions: 
Gather all ingredients. Squeeze lime into a bowl or molcajete and add the salt and pepper. Add the peeled avocado. Using two forks, roughly mash avocados, keep it chunky. Add the rest of ingredients and mix. Serve with tortilla chips.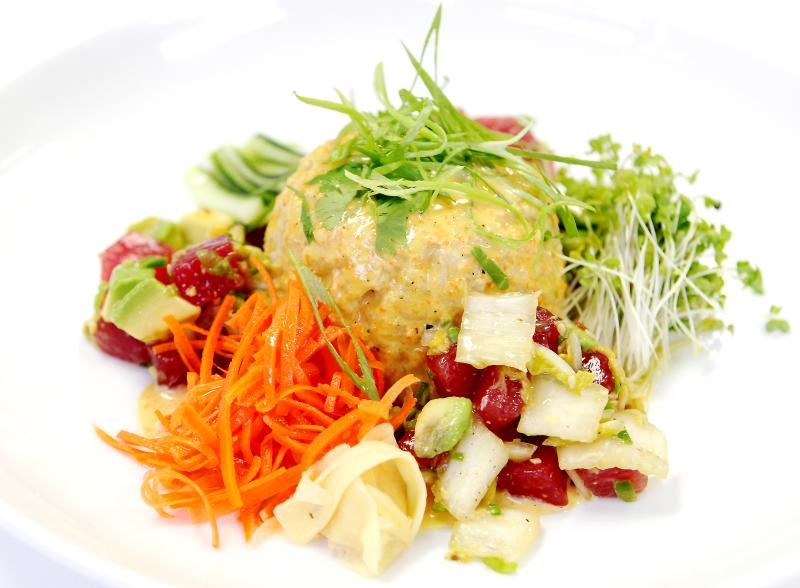 Ingredients: 
1 lb fresh ahi tuna (find at local grocery store) 
1 ½ cup Kimchi, drained
3 Tablespoons of sesame oil
1 Tablespoon of shallots, diced
1 Tablespoon of scallions, diced
½ Teaspoon Kosher salt
1 Avocado, diced
1 Carrot, julienned
1 Cucumber, julienned
1 container Horse radish sprouts or celery
Brown rice
1 Cup of miso ginger sauce
Bowl Assembly: 
Dice tuna in small cubes (dice to liking). In a bowl, mix tuna, kimchi, sesame oil, shallots, scallions, salt, and avocado until tuna is well coated and set aside. On a plate, place carrots, cucumber and horseradish sprout and arrange as illustrated. Do the same with tuna. Place brown rice at the center of the plate and top with miso ginger sauce.
Kimchi
Ingredients: 
1 Napa Cabbage, chopped
2 Scallion stems, chopped
½ Cup of sesame oil
4 Cup of rice vinegar
¼ Cup of fresh ginger (minced)
¼ Cup of sesame seed
½ Sambal (add more if you like heat)
Directions: 
Using gloves, combine; cabbage, green onions, sesame seeds and fresh ginger in a large bowl. Pour together; Rice vinegar, sesame oil, sambal into a bowl, making sure that all dry ingredients are covered in liquid. Mix all ingredients together. Set at room temp for 24 hours to initiate the fermentation processes and store in the refrigerator.
Enjoy Kimchi in soups, ahi poke, fried rice and so many more dishes.
Miso Ginger Sauce
1 Tablespoon of Miso paste 
1 Cup of mayonnaise
1 Tablespoon of fresh ginger, minced
Directions: 
Combine all ingredients and whisk in a bowl until well incorporated.
Ingredients: 
Two 1/2 Pound lobsters
3 Tablespoons of rice vinegar
1/2 Teaspoon of soy sauce
1/4 Teaspoon of finely grated ginger
Pinch of sugar
3 Tablespoons of canola oil
Salt and freshly ground pepper to taste
1 Bunch of watercress
1 Avocado, cut into chunks
Directions: 
In a large pot of boiling water, cook the lobsters until they become bright red, about 13 minutes. Drain and let cool. Twist of the tails and claws. Crack the claws and remove the meat; Cut into large pieces. Using kitchen scissors, slit the shells lengthwise up the center and remove the tail meat. Remove the black intestinal tract and discard. Cut the tail meat into 1-inch medallions. Cover and refrigerate lobster meat.
In a large bowl combine the vinegar with soy sauce, ginger and sugar. Whisk until oil is emulsified, then season with the salt and pepper. Add the watercress and lobster and toss gently. Add avocado and toss until dressed. Serve chilled.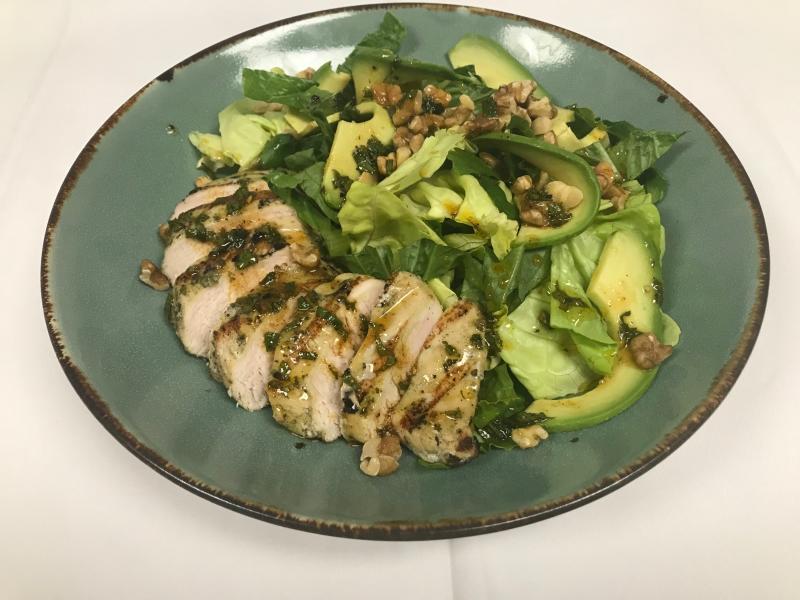 Ingredients: 
2 Whole small boneless fully cooked smoked chicken breast
1/4 Cup of salad oil
1 Tablespoon of sugar
2 Tablespoons of white wine vinegar
2 Teaspoons of minced parsley
1/2 Teaspoon of garlic salt
1/2 Teaspoon of seasoned salt
Oregano leaves
1/8 Teaspoon of seasoned pepper
1/2 Large head of iceberg lettuce
1/2 Large head of boston lettuce
2 Large avocados, peeled and sliced
1/2 Cup of California walnuts
Directions:
Slice smoked chicken breasts and set aside. To make the dressing, in a large bowl, mix the salad oil, sugar, white wine vinegar, minced parsley, garlic salt, seasoned salt, oregano leaves and seasoned pepper. Tear iceberg and Boston lettuce into bite-size pieces and add into the dressing. 
Add avocados and gently toss to coat the avocados and lettuce. Place coated salad on serving plates, and gently arrange the sliced smoked chicken breast on to each plate. Garnish each serving plate with California walnuts.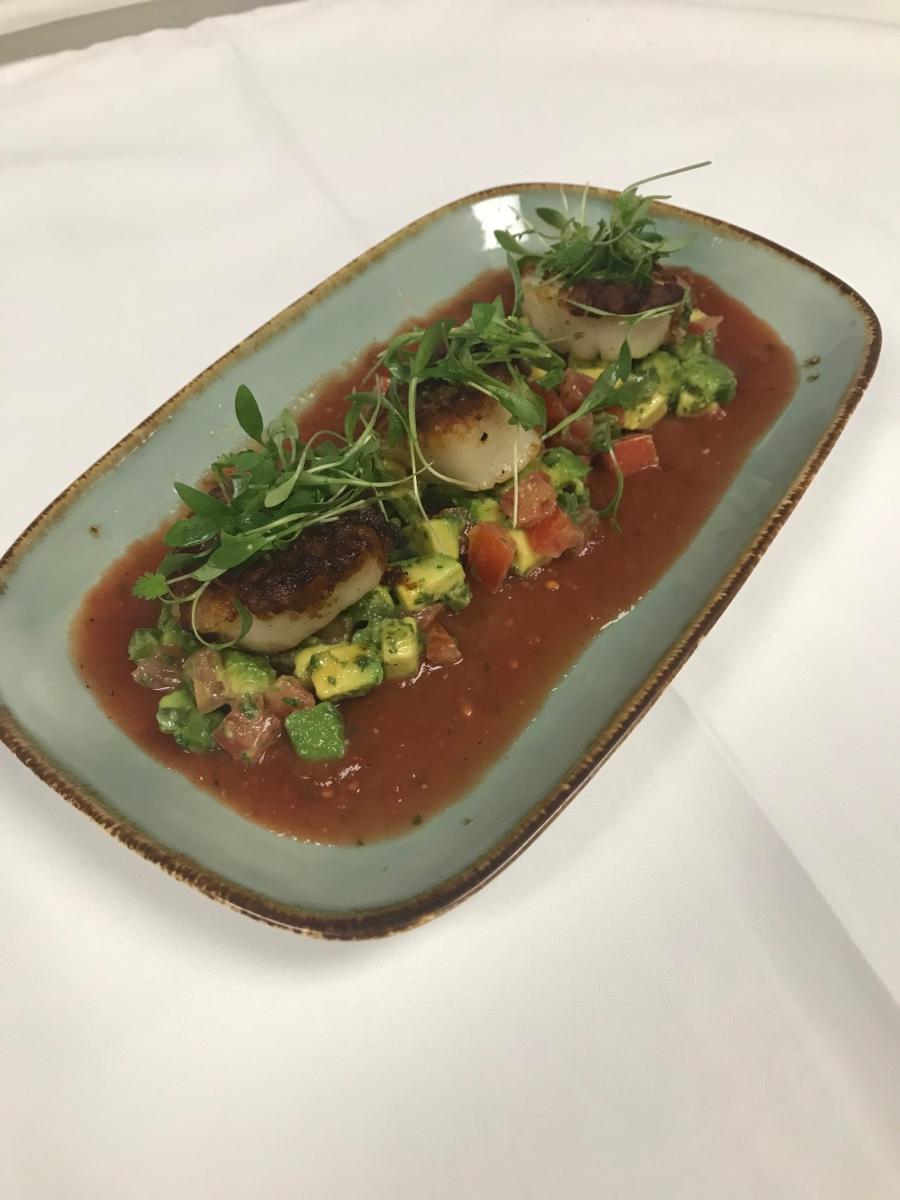 Ingredients:
1 Tablespoon extra-virgin olive oil
2 Tablespoons of finely diced red onion
1 Tablespoon of minced seeded jalapeño 
4 Plum tomatoes, 3 coarsely chopped, 1 halved, seeded and finely diced
1 Tablespoon of hot water
3 1/2 Teaspoons of fresh lime juice
Salt and freshly ground pepper
1/2 Avocado, peeled and finely diced
1 Tablespoon of finely chopped cilantro
12 large sea scallops (1 pound)
Directions: 
Heat 1 teaspoon of the olive oil in an 8-inch skillet until shimmering. Add 1 tablespoon of the diced red onion and 1/2 a tablespoon of the minced jalapeno and cook over moderately high heat, stirring constantly, until the onion is golden about 4 minutes. Add the coarsely chopped tomatoes and the hot water and cook, stirring until the tomatoes are just softened about 3 minutes. 
Transfer mixture to a blender or food processor and puree until smooth. Strain the sauce through a fine sieve set over a bowl pressing on the solids. Stir in 1/2 a teaspoon of the lime juice and season that tomato sauce with salt and pepper. In a small bowl gently toss the diced avocado with the diced tomatoes, chopped cilantro and the remaining 1 tablespoon of red onion, the remaining 1/2 tablespoon of jalapeño and the remaining 3 teaspoons of lime juice. 
Season the avocado salsa lightly with salt and pepper. Heat the remaining 2 teaspoons of olive oil in a large, heavy skillet until shimmering. Season the scallops with the salt and pepper and cook over high heat until the scallops are browned and crisp on the bottom for about 3 minutes. Turn the scallops and cook until just cooked through about 2 minutes longer. 
Spoon the tomato sauce into the center of a 4 dinner plate, and mount the avocado salsa in the center. Arrange 3 scallops around the mounds of avocado salsa. Serve. 
Ingredients: 
5 Medium/small beetroot - (not baby)
3 Tablespoon of runny honey
3 Tablespoons of olive oil
2 Teaspoons of balsamic vinegar
2 Teaspoons of sea salt
2 Teaspoons of ground black pepper
1 Large sweet potato or kumara, cut into chunks
500g Pumpkin, cut into wedges
1 bunch baby carrots - about 8-10, scrubbed and trimmed
2 Large red onions, peeled and cut into 8 wedges
2 Oranges, zest and juice
1 Teaspoon of ground cumin
1 Teaspoon of ground coriander
1 Whole red pepper - capsicum/bell pepper, top stem removed
Pesto Dressing Ingredients: 
1/2 Cup of extra virgin olive oil
1/8 Cup of lightly toasted pine nuts
1/8 Cup of lightly toasted almonds
1/4 Cup of grated parmesan
1 Clove of crushed garlic
1 handful of fresh coriander, cilantro leaves
1 handful of fresh basil leaves
Sea salt and ground black pepper
To Serve: 
3 Handfuls of watercress, rocket or baby spinach
1 Handful of baby watercress or microgreens
1/2 Cup of pomegranate seeds
1/4 Cup of lightly toasted pine nuts
1/4 Cup of goat cheese (optional)
Directions: 
This salad is very easy to prepare, a little time consuming but well worth the effort. Preheat the oven to 375 degrees Fahrenheit. Put the unpeeled beetroot in a pot and cover with water. Bring to a boil, reduce heat to a simmer and leave to cook for 30 minutes, making sure water level stays covering the beetroot.
While the beetroot is cooking prepare the other vegetables. Lay them all out (apart from the red pepper) in a single level on a large roasting pan. Drizzle with oil, orange zest, juice and honey and sprinkle with spices. Cook in the oven until just tender, about 30 minutes.
When the beetroot has had 30 minutes simmering, drain and leave to cool for 5 minutes. Peel off the skin (wear gloves if you don't like beetroot colored fingers) and cut into halves or wedges. Put in a separate oven dish and drizzle with honey, oil and vinegar and season with salt and pepper. Put in the oven on a separate oven rack for the last 15 minutes of the other vegetables' cooking time, or just cook separately for 15 minutes (still at 375 degrees Fahrenheit) 
When the vegetables are finished and cooling in their delicious juices, crank the oven up to 425 degrees Fahrenheit and pop in the red pepper. Bake for 20-25 minutes until there's blackening on the outside. Put straight into a glass bowl or jug and cover with plastic wrap. Leave to cool for 15 minutes then peel off the skin and cut into strips. While this is cooling mix all of the Pesto Dressing ingredients in a food processor.
Time to assemble-- Start with a layer of watercress then top with all of your lovely vegetables. Garnish with baby watercress, pomegranate and pine nuts. Spoon over Pesto Dressing to serve.  If you would like protein with this - add crumbled soft goat cheese, or serve with seared lamb fillet or lamb racks.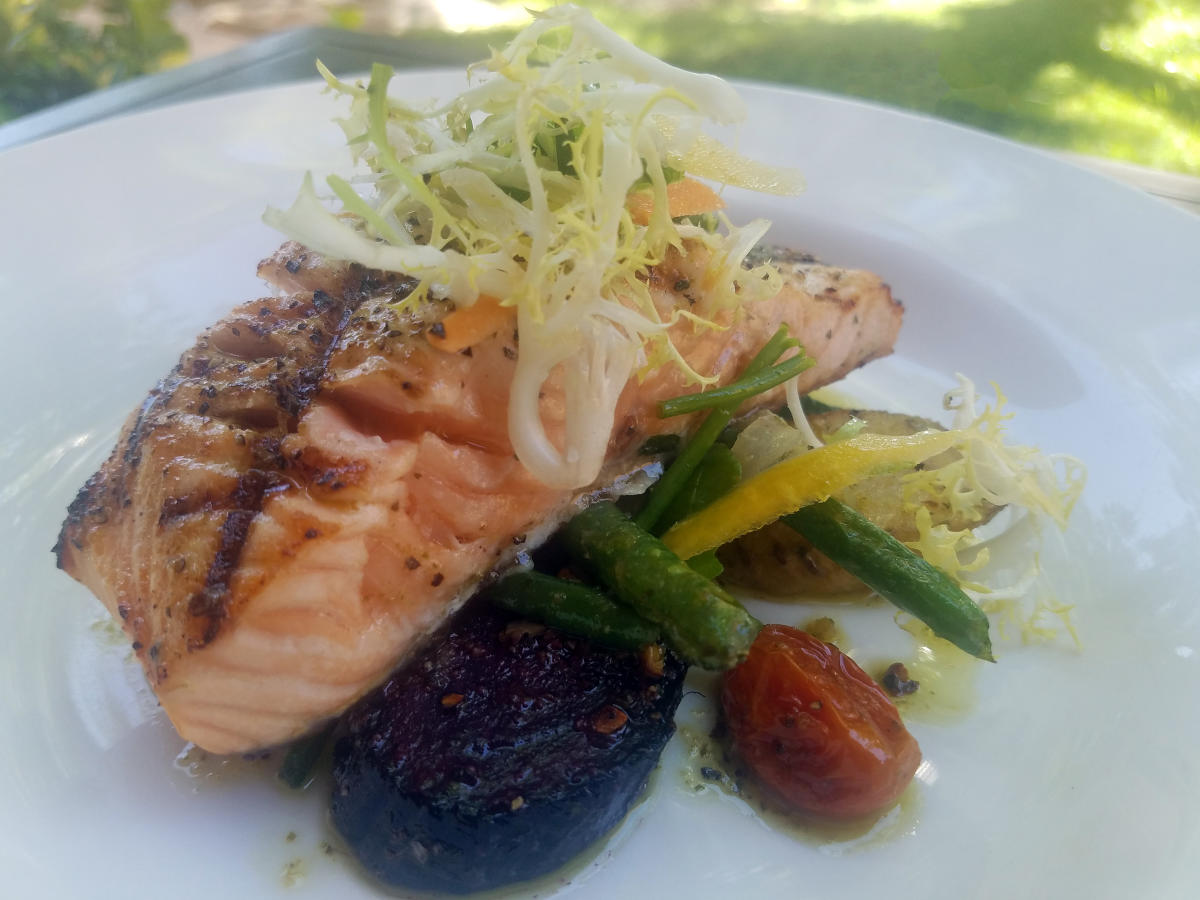 Ingredients (Per Serving): 
7 oz Salmon filet
½ Cup of heirloom carrots
½ Cup of green beans
¼ Cup of grape tomatoes
Chermoula Sauce Ingredients: 
½ Bunch of parsley
½ Bunch of cilantro
3 Sprigs of rosemary
3 Sprigs of thyme
3 Cloves of garlic
2 Tablespoons of lemon juice
3 Tablespoons of.cumin powder
1 Cup of olive oil
Salt and pepper
Directions: 
Wash Heirloom carrots well (do not peel). Cut off ends of green beans. Coat carrots and green beans with cooking oil, salt and pepper. Place in a single layer on a baking dish and roast in the oven at 350 degrees Fahrenheit for 20-25 min (adjust the time depending on the size of your carrot) until carrots are soft with a little bite to them. Cut carrots into half-inch pieces and place them to the side.
Season salmon with salt and pepper, place on grill skin side up (does not need to have skin) until a grill mark is achieved. Remove salmon from grill and transfer to a baking dish. Bake in the oven at 350 degrees Fahrenheit for 10-12 min, for a medium cooked filet, adjust according to preference. 
In a blender, mix all Chermoula sauce ingredients together, remove rosemary from the stem, until a smooth texture is achieved, like chimichurri sauce. Add salt and pepper as preferred. In a medium pan, sauté grape tomatoes with olive oil until they become soft. Add green beans and carrots to tomatoes with about two-thirds of the Chermoula sauce until all ingredients are even temperature. Place veggies on a plate with salmon laying over the veggies. Drizzle Chermoula sauce over the salmon.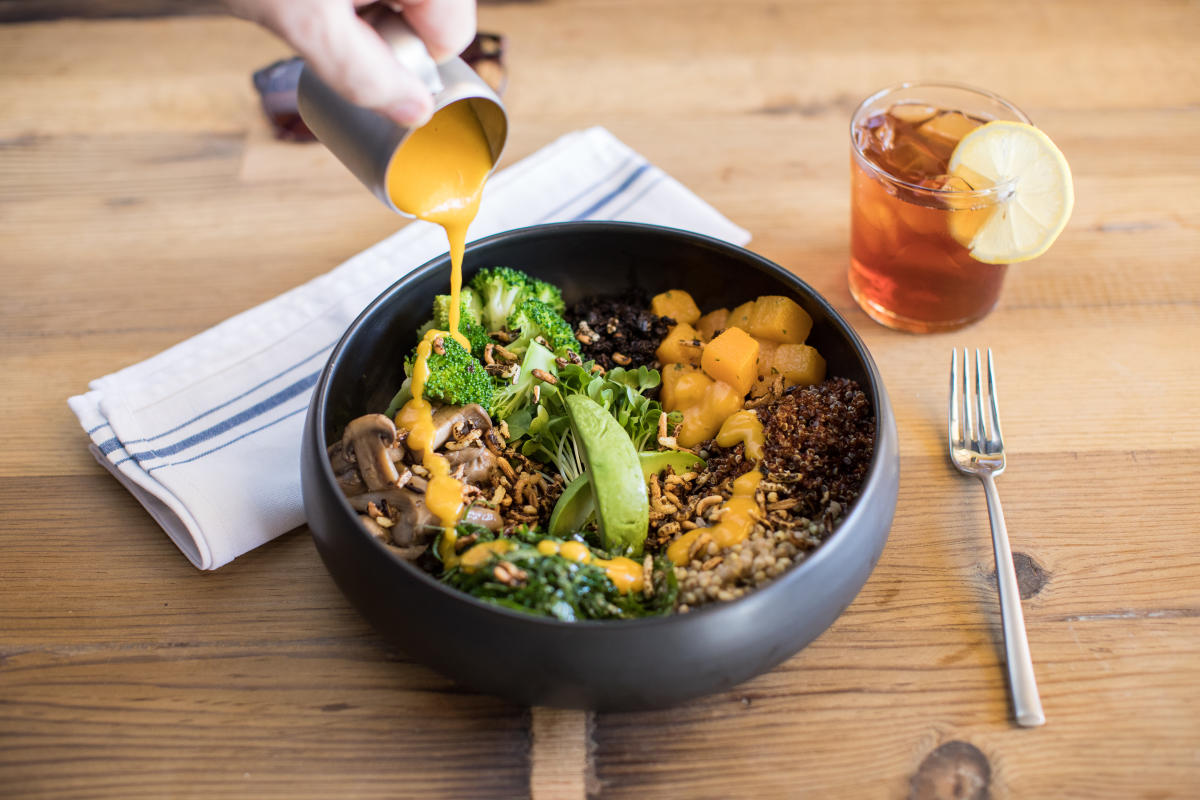 Ingredients: 
2.00 oz of Red quinoa
Kosher salt or sea salt
2.00 oz of Buckwheat 
0.50 oz of Wild rice
4.00 oz of Garbanzo beans 
1.00 oz of Currants 
3.00 oz of Broccoli
2.00 oz of Mushroom conserva
1.00 oz of kale
1 portion of roasted carrot and ginger dressing 
0.10 oz of Watercress 
1.14 oz of Avocado 
Directions: 
For one grain bowl please follow these portions, you can adjust as you like also. Simply cook each grain individually. Here at Citrus & Palm, we cook quinoa like rice, apply one part grain to two parts salted water under a lid for steam and low heat for about 20 minutes or until cooked. Use your favorite brand of garbanzo beans for a quick and easy addition. See mushroom conserva recipe below.
Blanch the broccoli in salted boiling water, then strain and toss into a bowl of ice water to chill. Drain thoroughly. For the wild rice, use 2 cups of grapeseed oil and heat till 380 degrees Fahrenheit. Prepare a pan with layered paper towels to drain the oil. Have a spider scoop available or a skimmer.
Add two tablespoons of wild rice into the hot oil very cautiously. Within 4 to 5 seconds it should puff to the top of the oil. If not, discard as your oil is not hot enough. If it does float to the top, working very quickly while it turns golden brown scoop out while draining and lay over the paper towels on your baking pan, spread evenly as possible as it continues to cook. Sprinkle with Kosher salt.
Serve all ingredients sectioned off and top with toasted wild rice that provides crunch like a crouton. Drizzle with carrot ginger dressing (see recipe below) and enjoy!
Mushroom Conserva
Ingredients: 
2 Pounds of mushrooms – button/trumpet/crimini
2 Cups of extra virgin olive oil
2 Bay leaves
4 Sprigs fresh thyme
1 sprig of Rosemary, 6-inch
Directions:
Just before cooking, rinse the mushrooms to remove any dirt. Leave small mushrooms whole. Cut larger mushrooms into pieces or into slices; or slice mushrooms with meaty stems, such as porcini or trumpet mushrooms, lengthwise in half, then use the tip of a paring knife to score the inside of the stem in a crosshatch pattern. The pieces of mushroom will shrink as they cook, but the finished pieces should not be larger than one bite. You should have about 10 cups of trimmed mushrooms.
Combine the olive oil, bay leaves, thyme sprigs, rosemary and Espelette in a large, wide pot, put a deep-frying thermometer in the pot, and heat over medium to medium-high heat until the oil reaches 170 degrees Fahrenheit (it may be necessary to tilt the pot and pool the oil to get a correct reading on the thermometer). Add the mushrooms to the pot and gently stir them in the oil. When the oil reaches 170 degrees Fahrenheit again, adjust the heat as necessary to maintain this temperature and cook for 5 minutes, gently turning the mushrooms from time to time. The mushrooms will not initially be submerged in the oil but will wilt as they steep.
Remove from the heat, stir in the vinegar and salt and pepper to taste, and let the mushrooms steep in the oil for 45 minutes. Transfer the mushrooms, oil and herbs to a covered storage container; the mushrooms should be covered by the oil. Label and date.
Carrot Ginger Dressing
Ingredients: 
4 Orange carrots, trimmed, washed
2 oz Ginger, peeled
1 Cup of honey
½ Cup of rice wine vinegar
2 Teaspoon of red miso
1 Quart of oil blend
1 Quart of cold water
½ Teaspoon of xanthan gum
Directions: 
Cut the carrots down to the same size as the ginger. Toss carrots and ginger in oil and roast at 350 degrees Fahrenheit until soft. Put carrots and ginger into the walk-in to cool down. Once cool, split the recipe in half and blend separately; place all ingredients except for xanthan gum into the Vitamix. Turn Vitamix on and blend on high speed until completely smooth. Add the xanthan gum and blend on high for 30 seconds. Combine the two batches and season with kosher salt. Place dressing in an appropriately sized container, cover and label, store in the refrigerator.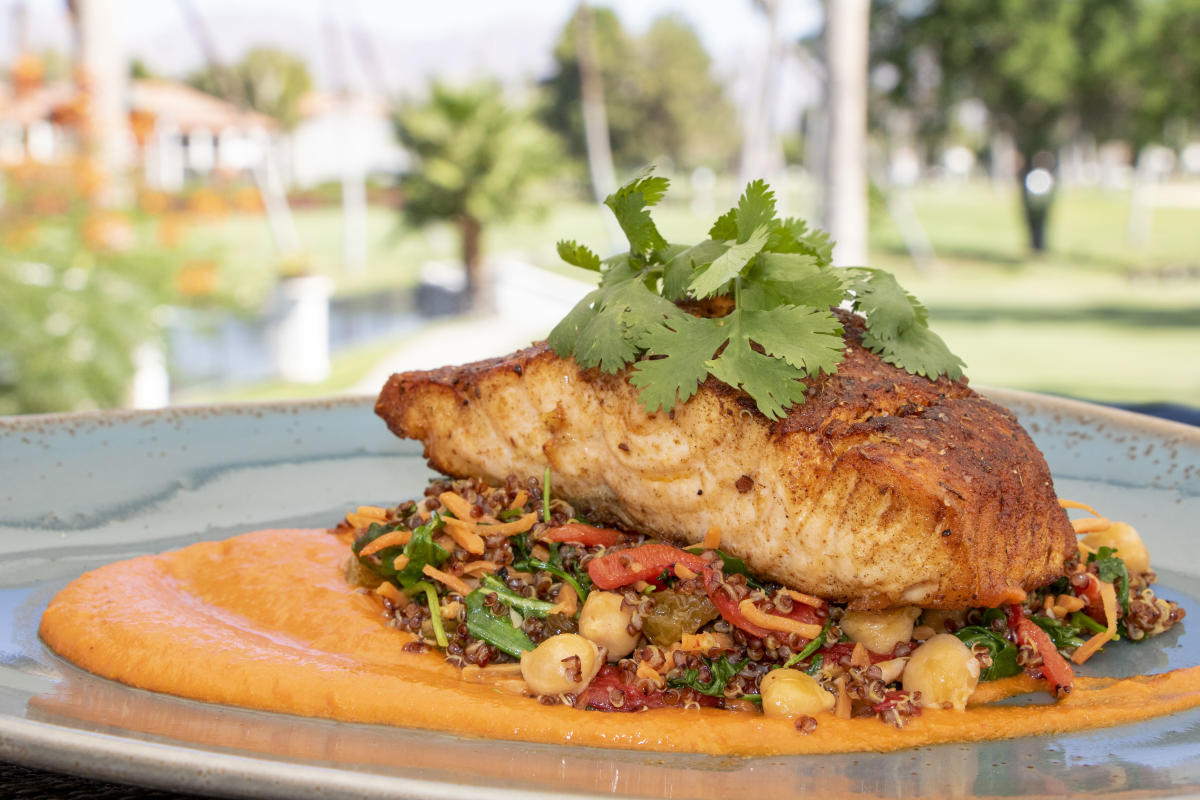 Ingredients: 
4 6 oz Pieces of salmon
1 oz Ras al hanout spice
2 oz Harissa romesco
Quinoa & vegetable saute
Prepare the harissa romesco (recipe below.) Season salmon with salt, pepper and ras al hanout. Heat a large saute pan and sear salmon. Bake in oven at 400 degrees Fahrenheit until medium. During that time, make the quinoa and vegetable saute (recipe below.) Artfully lay harissa pesto on a plate. Place quinoa and vegetable saute in the middle. Place salmon on top and garnish as you wish.
Harissa Romesco
Ingredients:                                                                 
1/2 Jar Mina brand harissa, hot or mild by preference
1/2 Cup of almonds
1.2 oz of Garlic
2 Roma tomatoes
1 oz White balsamic vinegar
2 oz Olive oil
Blend all ingredients together in a blender, add oil slowly with emulsify.
Quinoa & Veggie Saute                                                                     
Ingredients:                                                                 
½ pounds of cooked quinoa
4 oz of Arugula
1 Small can of garbanzo beans
4 oz Shredded carrots
4 oz Golden raisins
½ oz Chopped garlic
2 oz Diced onion
2 oz Roasted red pepper strips
2 oz Olive oil
Sweat garlic and onions together until translucent. Add garbanzo beans, bell pepper strips and shredded carrots. Add arugula and cook until wilted. Add raisins and quinoa. Season to taste.
Looking for more guilt-free and delicious dining in the oasis? Dig into these health-conscious dining options in Greater Palm Springs. Bon appetit!