On June 2, 2021, the first shovel hit the dirt in the 43.5-acre plot of land that would become the 300,000-square-foot Acrisure Arena.
Eighteen months later, the newest entertainment venue in Greater Palm Springs sprang to life on Dec. 14 with its first event, a comedy concert starring Dave Chappelle and Chris Rock.
The 10,000-seat venue will be the home to the desert's first professional sports team, the Coachella Valley Firebirds, an American Hockey League team whose season runs from October to April. Still, the arena will be used for so much more.
Expect around 120 events to take place at the arena each year - roughly 40 hockey games, 40 concerts, and 40 other events that include family shows and sporting events. 
"It's going to be a very active and busy facility that I think will really change the culture, so to speak, for Greater Palm Springs," said John Bolton, General Manager of Acrisure Arena.
Here are five things you need to know about it.
 
A New Concert Option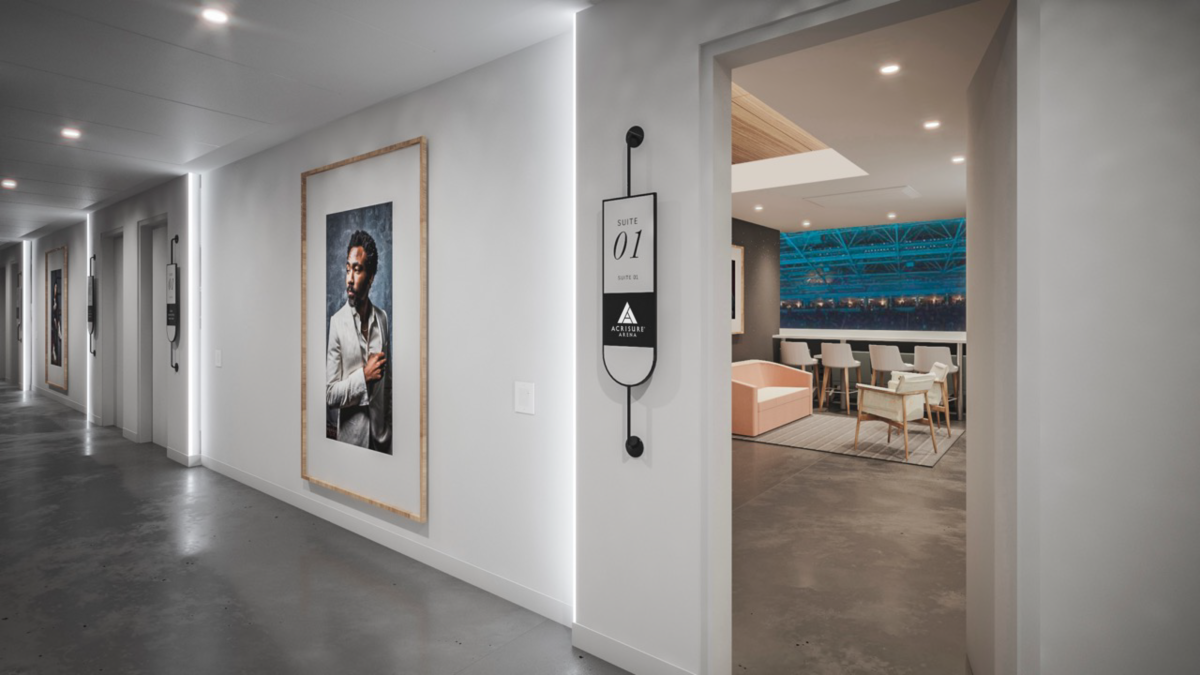 Acrisure Arena hits the sweet spot in size for concert-going. It's big enough to attract major artists, with more seats than any other desert entertainment venue, but it's not so big that your experience is diminished by sitting so far away. Nose-bleed sections do not exist here. 
"There's really not a bad seat in the house. You enter at ground level and 90 percent of all the seats in the venue are in that one lower bowl. It's a very intimate, tight arena. It should be truly amazing for concerts as well as sports," said Bolton.
Several high-octane concerts are already in the books and more are seemingly added every week. Concert tickets are available exclusively at Ticketmaster. The arena is also designed specifically for high-quality sound at concerts. Expect to have unusually crisp sound for the arena shows.
 
The Hockey Team
Acrisure Arena is home to the oasis's first professional sports team, the Coachella Valley Firebirds. But what are the Firebirds exactly, and what level of hockey do they play? The Firebirds play in the American Hockey League. There are 32 teams in the league and 10 in the Pacific Division including the Firebirds.
The Firebirds are pretty much the same as a Triple A baseball team in that the players on the Firebirds are one step away from being in the NHL. The desert team is an affiliate of the Seattle Kraken, so players can play for the Firebirds on Tuesday and be on the Seattle Kraken on Thursday. So the level of hockey is quite high.
Attending a hockey game, much like the concerts, will put you close to the action because there is no upper deck at Acrisure Arena. Hockey games are fast-paced and there is an energetic mascot named Fuego. Expect to see Fuego fluttering around. 
 
Public Ice Rink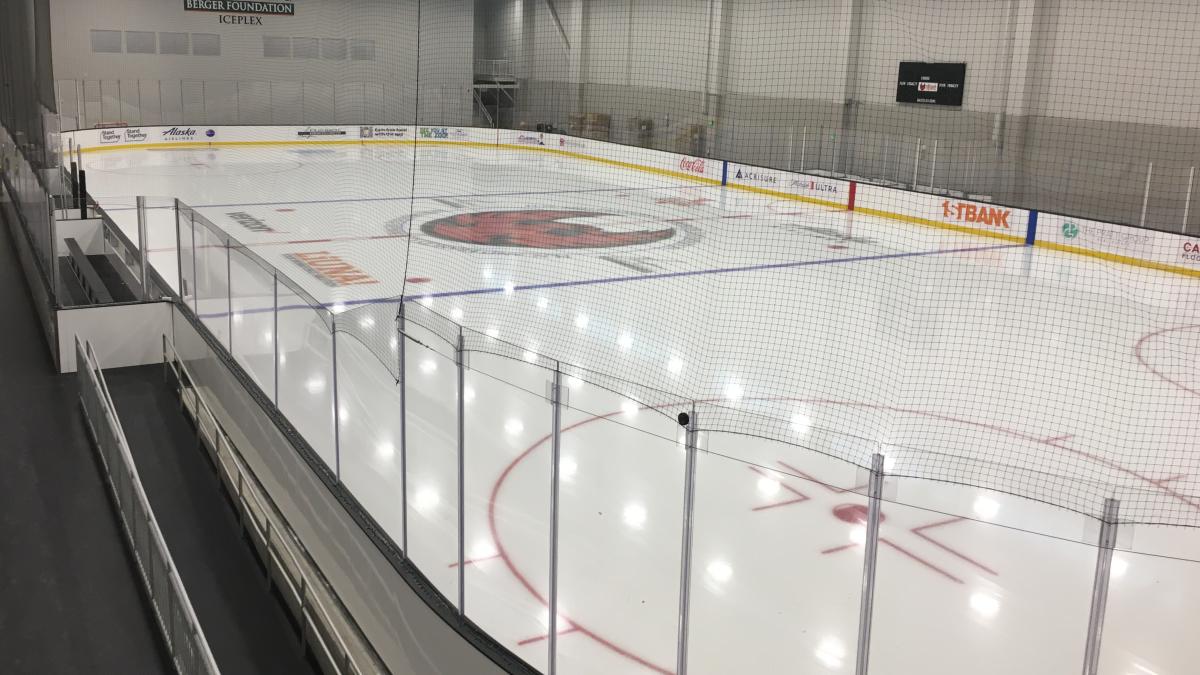 One of the best parts of the addition of Acrisure Arena for locals and visitors alike is the introduction of the attached Berger Foundation Iceplex. That is the second sheet of ice, on which the Firebirds practice, but it will also be open to the public, filling a void in a desert that hasn't had a public rink since 2020.
At the Iceplex there will be skating lessons for toddlers to adults. There will be general public skating with a DJ and theme nights. There will be pick-up hockey games, season camps, and clinics. You can rent out the rink for a private event. And there will be youth hockey leagues and adult hockey leagues.
Details on how to join a league or go to an open public skate can be found at BergerFoundationIceplex.com or by calling 760-835-5000.
 
Food, Glorious Food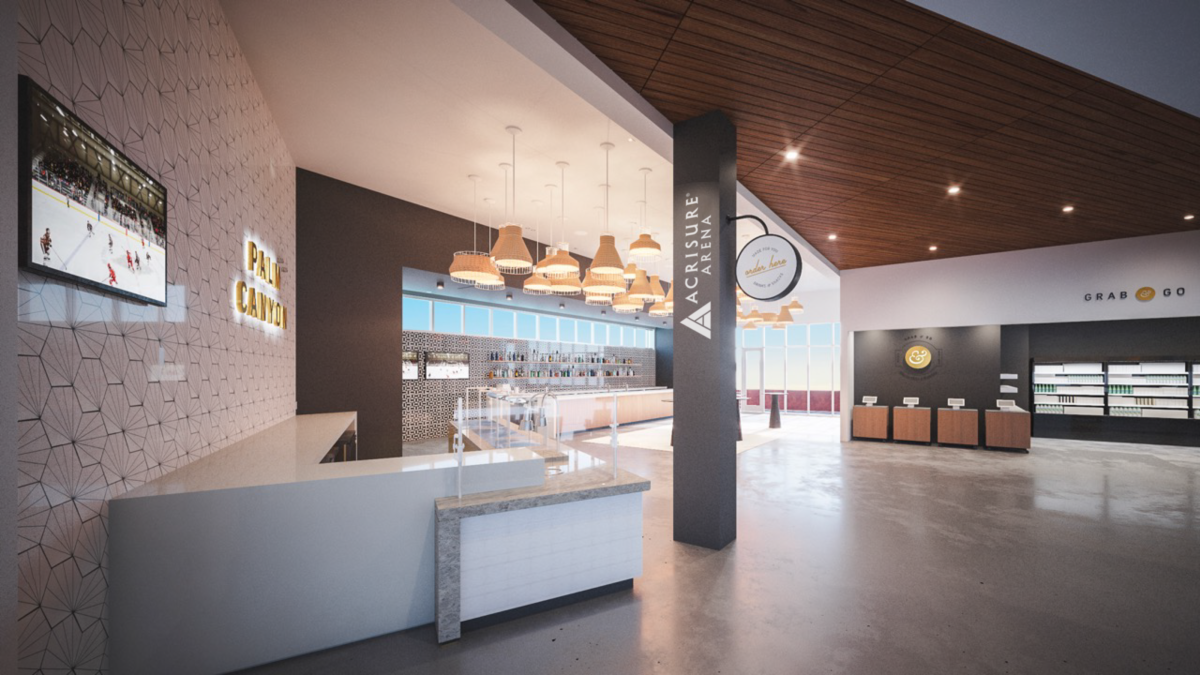 The food options at Acrisure provide a tasty mix of yummy and healthy, and it starts before you even walk in the door. The entrance area to the arena, or outdoor promenade, includes five portable restaurants, a couple of which feature some big names. Shaquille O'Neal's Big Chicken is serving up fried chicken, and Giada De Laurentiis of Food Network fame has a spot for sophisticated pizzas.
Once inside, the options overflow. Desert residents and frequent visitors will recognize some of the options. Fisherman's Market & Grill will be selling their fish and chips. Indio-based barbecue spot CV BBQ will have some tri-tip and smoked pork and E&E Pels, a Cathedral City-based lemonade operation will help keep you cool.
You also won't have a problem finding a drink. Michelob Ultra and Anheuser-Busch are sponsors so their products will be available as well as Garrison Brothers Whiskey and the Indio-based cocktail-in-a-box establishment BuzzBox.
 
Need-to-Know Info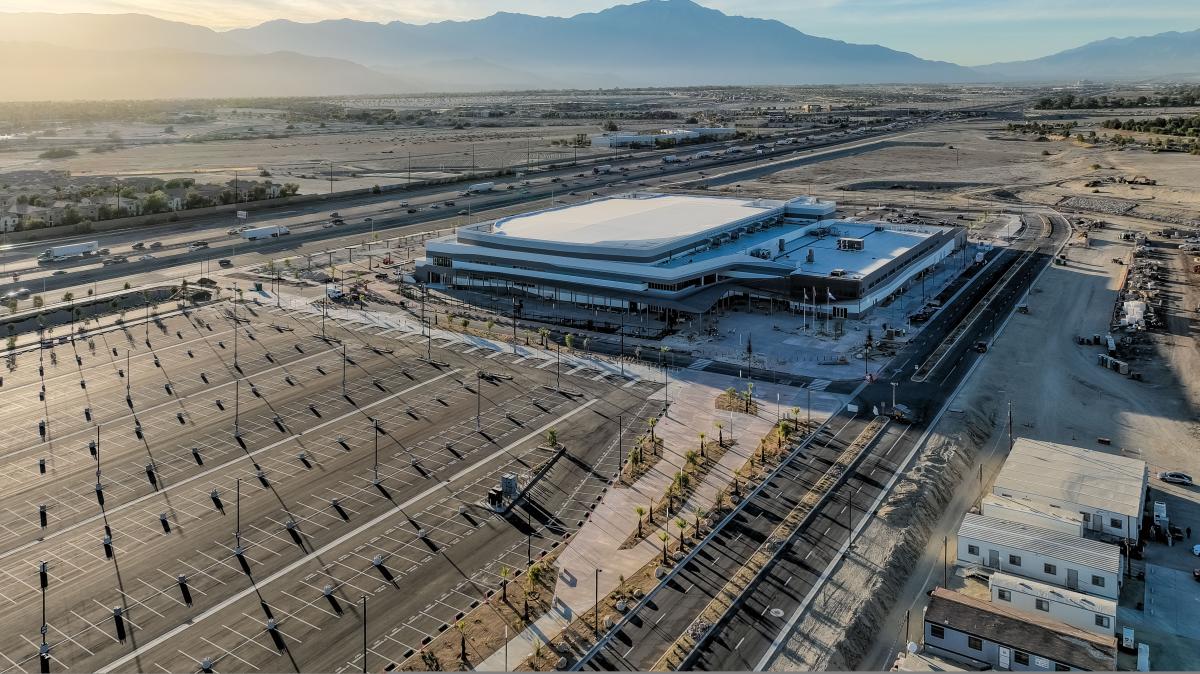 There are a few essential things to know about your trip to Acrisure Arena and these hold true for concerts and hockey games.
The arena is located at 75702 Varner Rd, Palm Desert. 
The arena is a cashless operation, so all your purchases inside will be through credit cards, leave your paper money at home.
All ticketing is through Ticketmaster and you can purchase tickets at the Ticketmaster website or at acrisurearena.com or cvfirebirds.com. There is a ticket window at the arena but it is only open on show days or hockey game days. There are no paper tickets.
The arena staff recommends pre-purchasing your parking. Doing so will include a 20% discount over buying parking at the arena. Parking costs vary based on the concert or show. Using ride-share services like Uber and Lyft as well as carpooling are all encouraged.
There is a clear bag policy, but small clutches and purses are allowed. No backpacks or large bags or purses with straps are allowed.
No outside food or beverage can be brought into the arena.
Want to know about more entertainment in Greater Palm Springs? Check out our full list of upcoming events happening this month.