Beyond the natural beauty of the California desert are those surprising attractions—a town or a place—imagined for visitors seeking recreation and fun. A few of these still exist, although their intent might be slightly recycled. Still others continue to fade under the desert sun as fond memories of times gone by in the ever-changing desert scape.
Take a tour of these six astonishing destinations, unlike others you are apt to discover anywhere else but in the California desert.
Pioneertown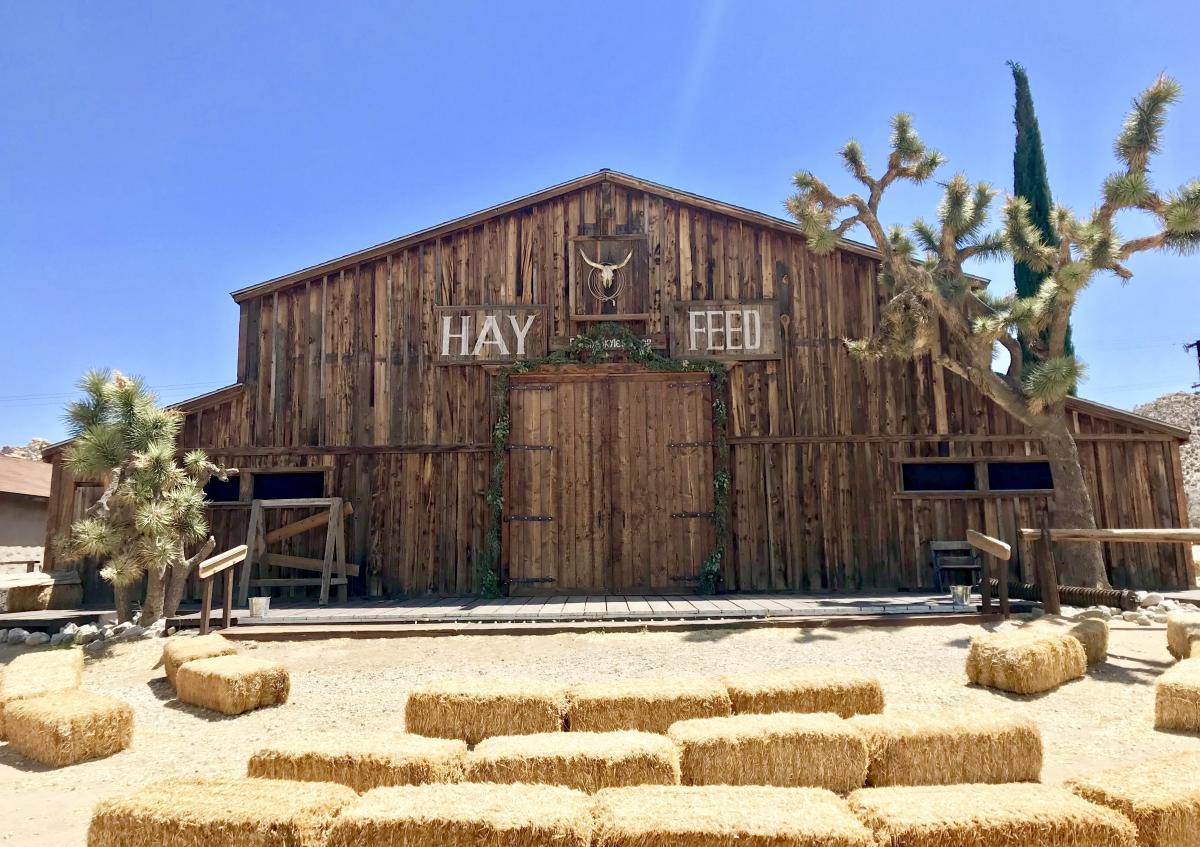 As Highway 62 reaches Yucca Valley reaching up from Palm Springs, a left turn on Pioneer Road takes you straight into a piece of the Old West. The roadway winds through hills stacked high with balancing boulders and studded with Joshua trees, sagebrush and jutting cacti. You might expect to see Gene Autry or Roy Rogers galloping along the landscape; and, in fact, you probably have. Pioneertown, an occupied "ghost town" of former Western movie sets, was built by the two cowboy stars in the 1940s for location filming of their movies and television shows. Today some location work still goes on, but the railroad tie and adobe structures are inhabited by a few residents who buy real food at the little general store, mail real letters at the post office and live in the little houses on "Mane Street." The popular saloon and casual restaurant Pappy & Harriett's Pioneertown Palace fits right in with the vintage western motif of the town and adds its own popular draw to this remote getaway. Pappy & Harriett's has become a favorite place for both local and internationally famed musicians to jam, from country to rock. Occasional reenactments of Old West gunfights take place some weekends. The free shows on Mane Street give the town a real feeling of the Wild West.
Cabot's Pueblo Museum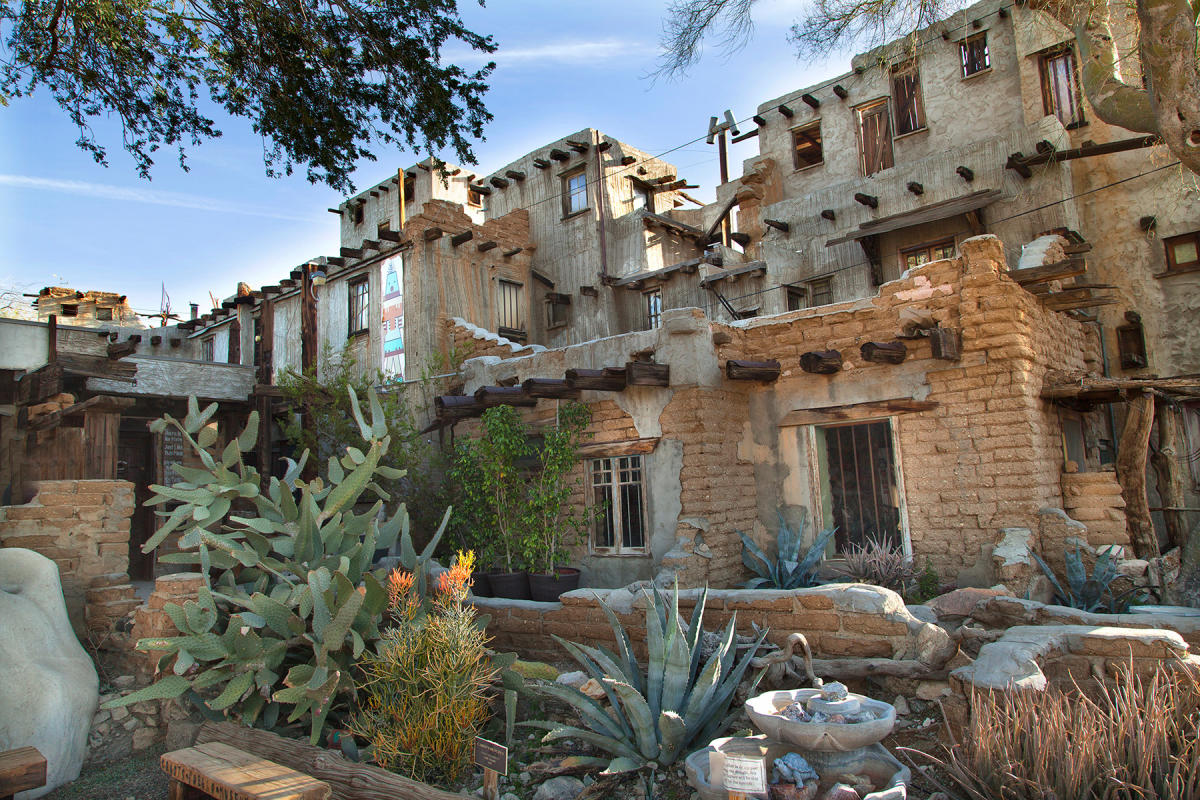 Cabot's Pueblo Museum in Desert Hot Springs is a thirty-five-room adobe built entirely by one somewhat eccentric man. The four-story pueblo with 65 doors and 150 windows was built by Cabot Yerxa decades ago, using abandoned materials he collected in the open desert. A visit to the museum is a little like going on an archaeological dig—layer upon layer of amazing and diverse finds. It is a museum dedicated to much more than one person (although Cabot's legacy could fill a small Smithsonian), one period of history or one genre of artifacts. It is all of that combined, plus a unique gift shop with one-of-a-kind jewelry and art.
Cabot Yerxa, who is considered the "Guiding Light of Desert Hot Springs, " was an adventurer, artist, naturalist, utopian and conservationist. Though bred from Boston culture and society, he was born on a Sioux reservation in 1883 and eventually traveled to Mexico, Cuba and Alaska. After losing a fortune in the 1913 California citrus frost, Cabot headed to Desert Hot Springs to homestead. He discovered what he considered healing and spiritual hot mineral waters on his homesteaded property in 1914, when the city's population was only 20, and encouraged his developer friend, L.W. Coffee, to open the first spa. Cabot, deeply entrenched in his early roots, built the museum to honor all Native Americans and created an art colony on the premises. Although there is a small charge for a tour, entrance to the gift shop and grounds is free.
Zzyzx
Your eyes aren't playing tricks on you when the sign for Zzyzx Road pops up on the I-15 in the Mojave Desert. Follow the 4.5-mile road and you will reach an incorporated city that was once known as Soda Springs and is the home to Lake Tuendae. What you'll discover at Zzyzx today is the Desert Studies Center, a research facility operated by the California State University system. Though the biological studies of the Saratoga pupfish happening now are interesting and important, they are not nearly as fascinating as the crazy history of the locale known as Zzyzx.
Curtis Howe Springer, a radio evangelist and self-proclaimed medical doctor and minister, founded and named the Zzyzx Mineral Springs Resort here. As a fact, he named the settlement Zzyzx as a gimmick to ensure that it would be "the last word" in health. He may have been one of the last old-West medicine men because he was neither a doctor or a minister which led to his eventual eviction from the land and brief imprisonment.
In 1944, Springer filed a mining claim on the federal land that contained the remains of an 1860 Army post and a railroad station on the defunct Tonopah and Tidewater Railroad. Springer created a bogus hot spring by using a boiler to heat several pools. In time, Springer erected a sixty-room hotel, a church, a health spa with mineral baths, a radio broadcast studio, a private airstrip and several other buildings—even a castle.
From Zzyzx, Springer continued his syndicated radio program, at one point carried by 221 stations in the United States and 102 more abroad, mixing religious music and his own radio evangelism. Along with his broadcasts came his requests that listeners send him "donations" to get his special cures for everything from hair loss to cancer. The potions were actually little more than a blend of celery, carrot and parsley juices
Lake Dolores Waterpark
There may be nothing sadder than an abandoned amusement park haunted by the laughs and shrills of past visitors. Take the Hacienda Drive exit on the I-15 near Newberry Springs and you'll soon spot the sun-faded ruins of what might have once been a brilliant idea: a water park in the middle of the desert. Originally built in the early 1960s by a local businessman, the Lake Dolores Waterpark included a man-made lake, a campground and a series of tall slides that deposited riders into the lake. But, by the 1980s the endeavor was proving unprofitable, and the park closed officially in 1990.
Not to be missed for long, a new owner turned the defunct park into Rock-A-Hoola, a 1950's modernism version of the water park with the addition of 50's architecture, new waterslides and a lazy river. Coined the "Fun Spot of the Desert," the re-imagined water park was unfortunately ill-fated. After an after-hours employee accident, a lawsuit settlement forced the closing once again. Now trespassing signs are posted, but the abandoned water park has been featured in a recent skate video. Currently, new use of the property is being considered by a group of investors who may elect to resurrect the laughs and shrills.
Mitchell Caverns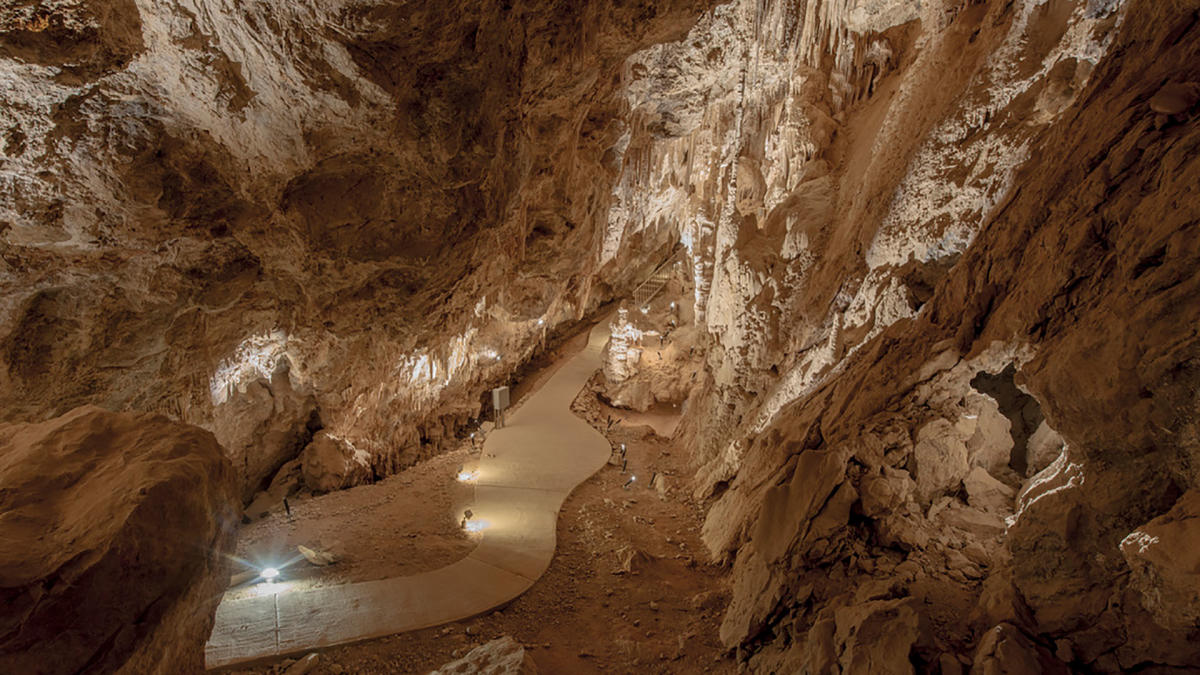 The Providence Mountains nestled within the state-run recreation area, in a region otherwise surrounded by National Preserve land, is its own unique desert destination, distinguished by a range of mountains that bring cooler air and a botanic garden of cacti and pinyon. The bright red rhyolite in the higher elevations is home to Bighorn sheep and pinyon pines. Edgar Peak soars 7,000 feet above the desert floor and is populated by oak trees. Although a coveted hiking area, it might not be the mountain temperatures and flora that bring you to this remote haven. It will most likely be the re-opening of a California treasure—Mitchell Caverns.
Numerous paleontological and archaeological finds, from prehistoric animals (namely the sloth) to Chemehuevi Indian tools and fire pits, have been made through the years both in the caves and in the surrounding area. Considered a sacred place for the tribe, the Chemehuevi referred to the caves as "the eyes of the mountain" due to the two prominent entrances atop the mountain. But most visitors say it resembles a very large nose with nostrils.
However, the caverns did not acquire their name from the tribe but from the caves' first owner, Jack Mitchell, who operated the caves from 1934 to 1954 as a rest stop and attraction magnet for travelers on Route 66. Mitchell took visitors on cave tours and also held mining rights to the property, digging holes and tunnels that can still be seen. The enterprising Mitchell leaned about the caves while prospecting for silver and moved his family from Los Angeles to live on the property. Although Mitchell later built a series of paths through the main cave for his tours, his first brave tour-goers were lowered on ropes to reach some of the most scenic chambers. During WW II, the rationing of gasoline meant few visitors for Mitchell's Crystal Caverns, and, after the war, Mitchell approached the State to take over 82-acre site as a state park.
Since the state stepped in to make the Mitchell Caverns available for public tours again, you don't need to worry about ropes and stomach-crawling passages. The tours are both easy to access these days and extra spectacular with LED lighting effects and fascinating historical stories and information by your ranger tour guide. As the only limestone caves in the California State Park system (and only one of two you can enter), the natural attraction offers fascinating stalactite and stalagmite formations going back to the Pleistocene epoch when ground water ate into the surrounding marble and sedimentary limestone. There are three caves in all, but only two are available to the public. Winding Stair Cavern has long been regarded as unsafe for most explorers, but El Pakiva (Devil's House) and Tecopa (named for a Shoshone Indian chief) caves that are connected by a man-made tunnel reward present-day explorers with a rare desert experience. Reservations are required by phone only on Mondays between 8 a.m. and 5 p.m.
Find more tips on touring Mitchell Caverns here.
Calico Ghost Town
Early human beings may have wandered the hills that make up Calico Ghost Town off Calico Road in Yermo, given its proximity to the Early Man Site nearby. But we do know for a fact that Wyatt Earp once walked the streets of the 1880's silver-mining boomtown. As you wander through town, you are bound to wonder why Calico became a ghost town. It wasn't due to fire like many others, although part of the town had experienced fires and been rebuilt. And, it wasn't due to an illness that spread through so many other towns during the era. The reason Calico closed down was simply economics. The price of silver declined to the point that mining was no longer practical.
Calico was resurrected in 1950 by Walter Knott of Knott's Berry Farm fame. The ghost town could have become a Knott's Berry Farm in the desert, but he later donated the town to San Bernardino County as a regional park. The "quasi-tourist attraction" does see a fair share of tourists on the weekend, unlike other ghost towns that populate the Mojave, but the town is far from a commercial attraction.
One-third of the original structures of the hillside town exist; others have been recreated. The main street of Calico, lined in wooden sidewalks, is populated by shops, a few informal eateries and people decked out in period costumes. It is not unusual to catch a gunfight here at any time. On top of one hill overlooking Main Street is the one-room schoolhouse; hills on the other side are the site of former miners' shacks and numerous abandoned shafts. Take a "Ghost Tour" to absorb all of the local history; Maggie's Mine is an interesting walk through one of Calico's rich silver mines. A narrow-gauge railroad carries passengers out to the heavily mined mountains.
Pioneertown photo courtesy of Hillary Jones