When you're looking for a fun and fabulous place to stay, there are so many amazing homes and properties to choose from. While the main goal is always comfort, sometimes it can be fun to choose a place to stay based on how your vacation photos might look. In Greater Palm Springs, you'll find a few different styles of homes and architecture. While the picturesque destination is known for its midcentury architecture, there are plenty of more modern homes too. And of course, the Spanish style, influenced by Mexico abounds throughout Greater Palm Springs.
If you're an architecture buff or have just always wanted to enjoy the comforts of a luxurious rental, these rental properties are sure to provide a cool and lavish backdrop, plus all the comforts of a five-star resort. Consider the style of architecture that speaks to you most and then check out these curated picks.
 
MIDCENTURY ARCHITECTURE STAYS
Midcentury or Midcentury Modern is without a doubt the architectural style Greater Palm Springs is known for all over the world. Greater Palm Springs has unique access to Los Angeles but just far enough away to make it a "get-away," which meant that Greater Palm Springs architecture could both evolve to the weather conditions and at the same time develop its own aesthetic style. As movie stars made the town the place to be, the designs and plans became more grandiose, and a style was born.
Midcentury Modern homes feature clean lines, the use of the outdoors as part of the design and living space, open floor plans, and the use of steel and lots of glass—think big walls of windows. They were also built with the weather in mind, and the use of cantilevered roofs and overhangs to help provide shade.
Wave House in Palm Desert
The Miles C Bates "Wave" House (in the Instagram post above) is so named for its uniquely curved and undulating roof, designed to mimic the soft line of the San Jacinto Mountains. It was built in 1955 and has been used in the past as an artist studio. It's been added to the National Register of Historic Places. This house is suitable for up to three guests and features a Mid-Century design both inside and out. Recently renovated and restored to its midcentury glory, it now features clean lines and meticulously chosen furniture.
Dry Heat Rentals: Mid-Century Rancher
This four-bedroom ranch-style house was built in 1962 and is located in the Indian Canyon Golf Resort neighborhood. It sits on ⅓ acre parcel overlooking the golf course, with views in all directions. There's lots of space for everyone and a sizeable pool and lounging area. Book or inquire directly on its website.
The Lautner Compound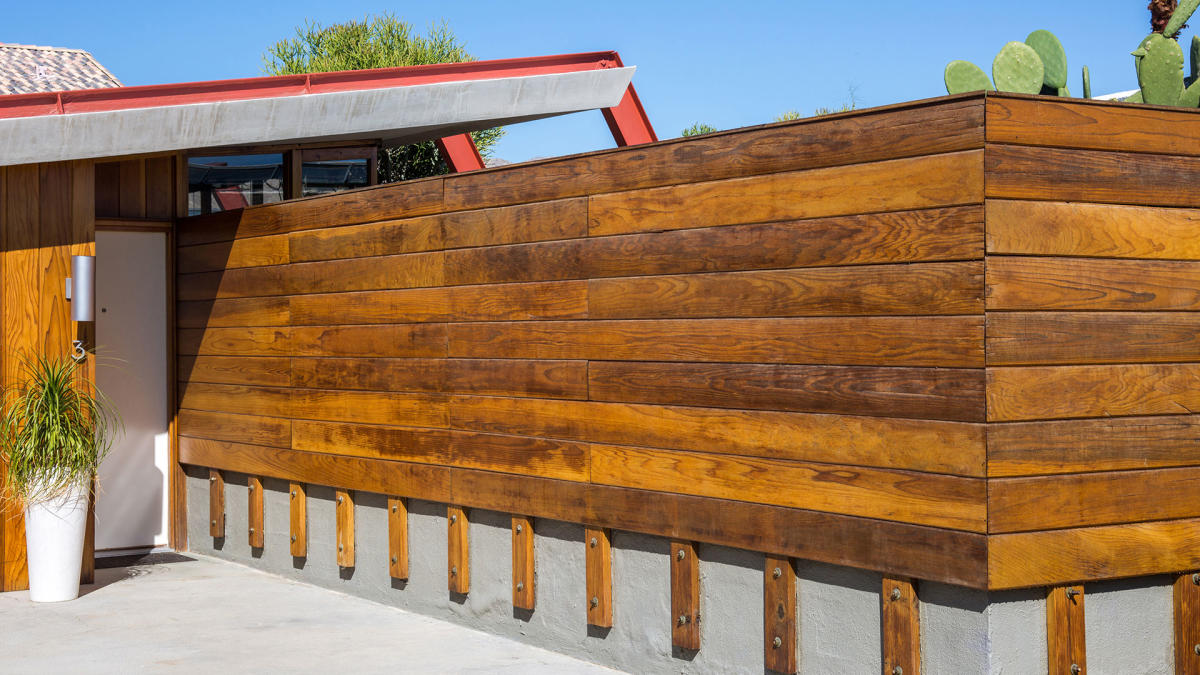 Photo by Katy Carrier
If you're a fan of Mid-Century Modern, you won't want to pass up on this John Lautner residence compound in Desert Hot Springs. Rooms range from a bachelor pad to the "Redwood Lounge," a sumptuous space with immaculate design, drawing from Lautner's plans and featuring original furniture from the '70s.
MoSa
The MOdern SAncturary house in Greater Palm Springs is a striking Mid-Century Modern design built to accent its surroundings. With a long low roofline, plenty of cooling white brick, and a desert landscape, this ranch-style bungalow is suitable for up to four guests with two bedrooms and two baths. Both bedrooms feature King beds, and there is private parking available. The location is perfect for those who want to explore nearby shops and restaurants. If you're looking for a home that is quintessentially mid-century modern, this is it. Find out more on Airbnb.
Elrod Estate, offered by Natural Retreats
The Elrod Estate in the Old Las Palmas neighborhood of Greater Palm Springs is billed as an "architectural dream". Once owned by famed midcentury designer Arthur Elrod, it has four bedrooms and offers a luxurious outdoor space that is complete with a sun cover, lounging space, and vintage-style furniture. The interior is decked out in Mid-Century Modern with greens and oranges galore. The dining room features full-length decorative screens and a nearby sunken bar — both of which will pop in your TikTok videos! A spacious kitchen will have you staying in and hosting a dinner party or two when you are not out enjoying its proximity to all the downtown action. Learn more on Natural Retreats' website.
 
MODERN ARCHITECTURE STAYS

Modern style architecture is widely found in this Southern California oasis, as home builders and owners draw from midcentury influence, but with more modern updates.
Modern-style homes tend to be larger and have larger living spaces, and simple lines with soaring ceilings, and lots of decorative stone.
5 Palms Estate
5 Palms Estate is a large rental home in the center of historic Palm Springs (in the photo, above). It features huge ceilings with clerestory windows placed high up on the walls to capture mountain vistas. It has six bedrooms, each meticulously decorated, with its own ensuite bathroom. There's a large common area with a dining table for twelve, couches, and a fireplace. It also features an outdoor area with a pool and lounging chairs, and each bedroom opens to the gardens or pool area.
Polo Villas by Avantstay
These elegant villas are located moments away from the Empire Polo Fields, home to the Coachella Music Festival. They're made for larger parties, having five to six bedrooms; perfect for 12-14 guests. Each villa has a pool, hot tub, large patio, and spacious dining room, and they even allow pets for a fee. Learn more on Avantstay.
Modern Oceo by Dry Heat Resorts
This redesigned pool house offers three bedrooms in a community called Oceo Palm Springs in the Twin Palms Estates neighborhood. OCEO stands for Office of the Chief Executive Officer. The exterior is eye-catching, with a distinctively modern look, thanks to large-scale brickwork and plenty of angles. It has a solar power system, a private two-car garage, a private kidney-shaped pool, and the landscaping is done up Polynesian style.
 
SPANISH-STYLE ARCHITECTURE STAYS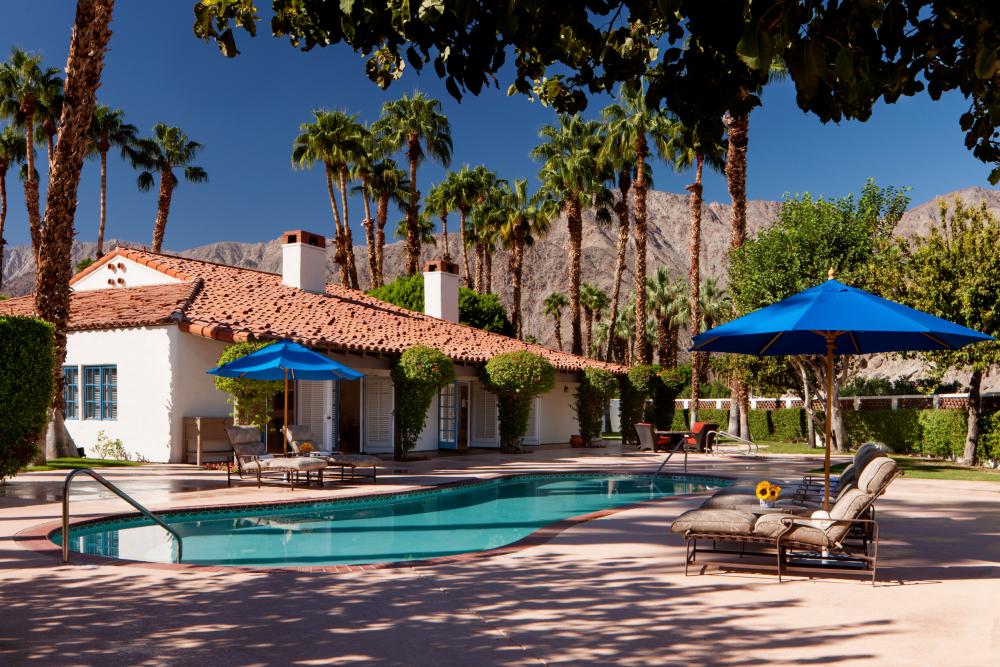 Hacienda-style homes are found in Greater Palm Springs. The area's climate is similar to parts of Spain and Mexico, so it makes sense that the architecture shares some functional similarities. Features like white exterior stucco walls, smaller windows (to reduce the heat entering the house), clay tile roofing, and archways are trademarks of hacienda-style homes.
Similarly, you'll find homes in Greater Palm Springs drawn from Mediterranean influence. Elements such as lower pitched tile roofing, courtyards, bright patterned tiles, and using decorative and secure iron grilles for windows and gates, plus well as statuary and fountains, create the feel of the Mediterranean. You're also likely to find balconies, patios, terracotta or cast stone decorative elements, and exterior walls with plaster. A small mission-style tower also isn't unheard of!
Vista del Monte
Vista del Monte, a 1940's style hacienda home, has been featured in Palm Springs Living. It's been renovated to include modern conveniences while keeping the vibe of the 1940s. The house has two wings for the bedrooms, an open dining room, a backyard saltwater pool as well as a regulation-sized bocce court. You can search rates from the listing on Houfy.
Whichever type of accommodation you choose, you've selected one of the most beautiful getaway destinations in California. There's so much to do in the Southern California oasis and make sure to put plenty of pool time and lounging into your schedule.

Do you have an eye for midcentury and modern design? Plan a visit to immerse yourself in more of these architectural designs in Greater Palm Springs.