Palm trees, mountain views and hot springs draw millions of visitors to Greater Palm Springs each year, and hundreds of hotel options offer a wide range of lodging experiences. For travelers seeking privacy and tranquility at venues that cater to adults only, these are the top spots in the oasis for relaxation…and a little bit of romance.
Prior to visiting, you'll want to call ahead to ensure the businesses you are planning to visit are open with regular hours, as well as view our blog on traveling safely, which includes wearing face masks and practicing social distancing. We are committed to doing our part to keep you safe. You can read more about our Safer Together Greater Together destination pledge at gpsPLEDGE.com.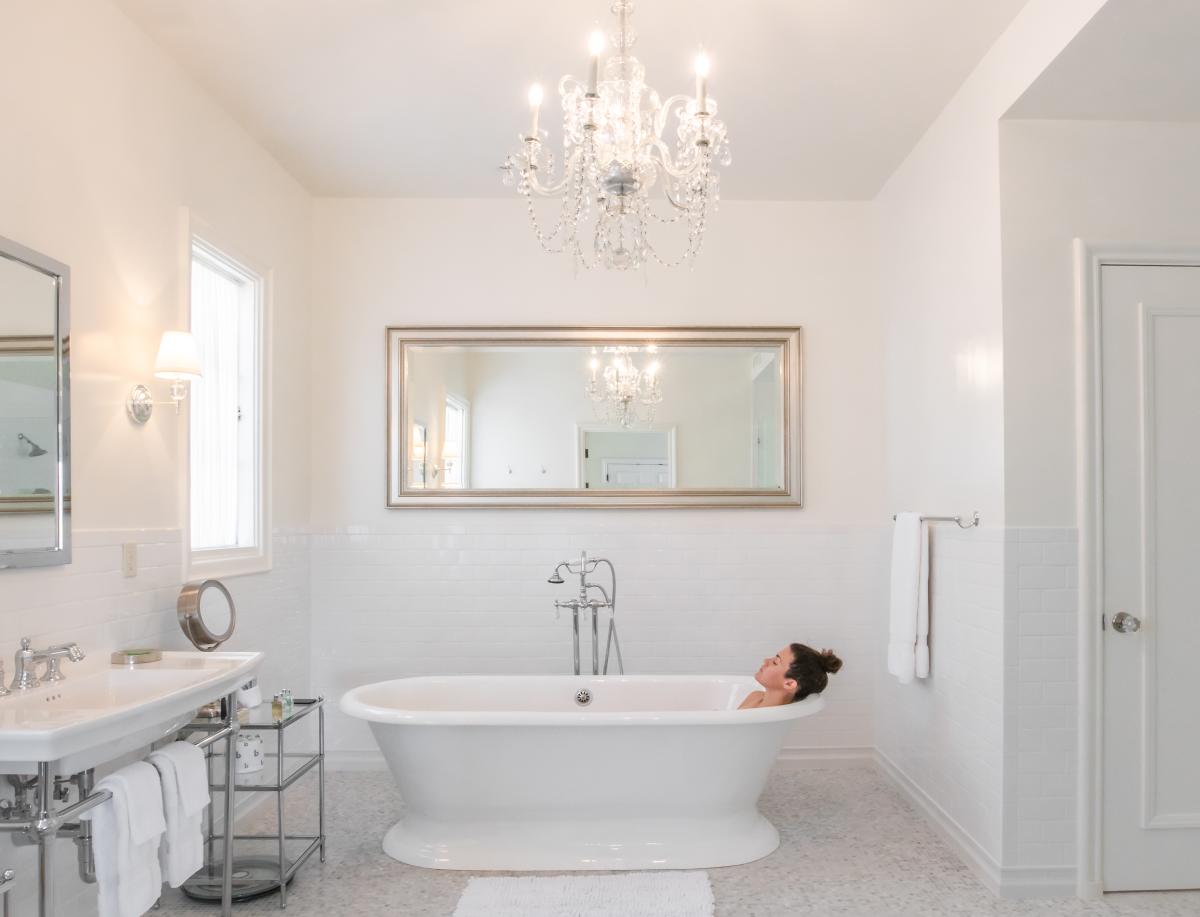 Built in the 1920s as two private luxury estates, The Willows has a storied past—and an impressive roster of guests, including the late Albert Einstein, who had his own room at the Mediterranean-style inn. Many of the 17 suites have exquisite claw foot tubs and chandeliers, and a stone path wanders above the 50-foot waterfall in the garden, rewarding guests with stunning views of the mountains.
A delicious three-course breakfast is included, and wine and hors d'oeuvres are served at 5 p.m., with room service available from Le Vallauris, across the street. The property is secluded and quiet, but also walking distance from the Palm Springs Art Museum and dozens of restaurants downtown.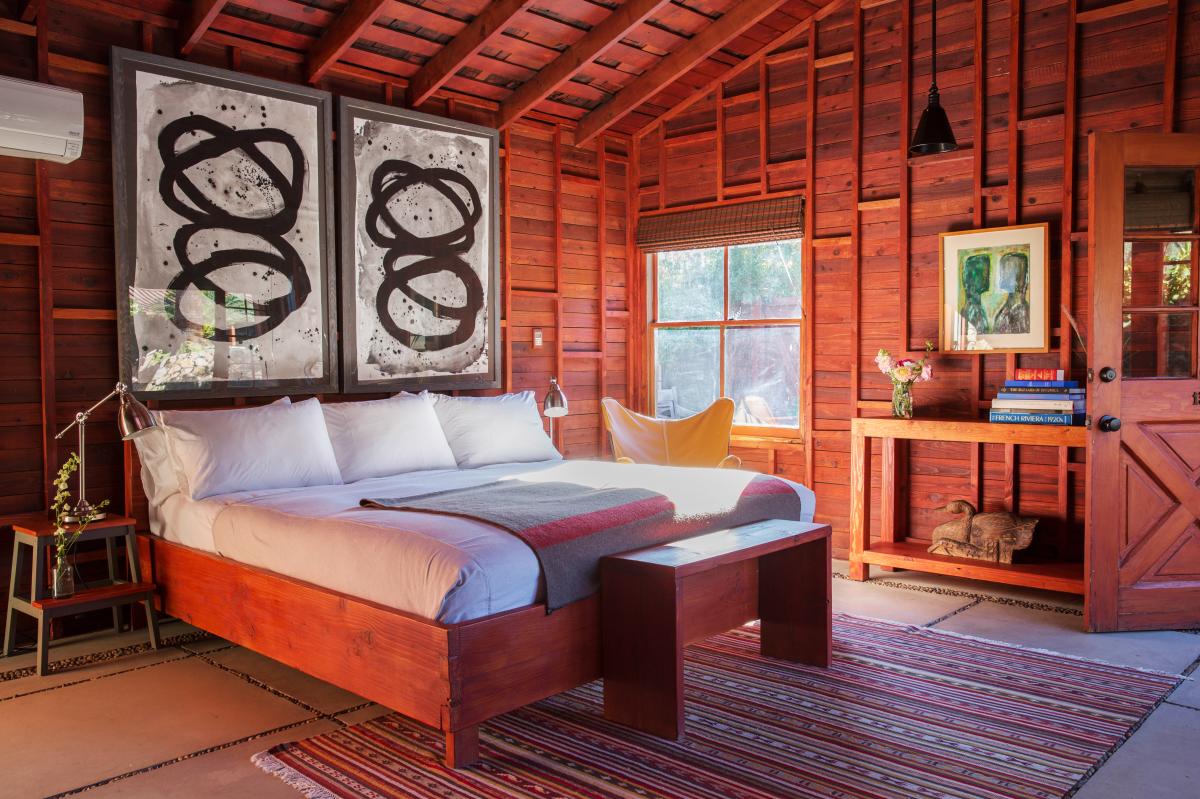 In a town dominated by mid-century modern architecture and Spanish villas, the rustic-chic Sparrows Lodge is just as unique as it is charming. In addition to a pool and a hot tub, the property has several outdoor seating areas, a fire pit and a cozy fireplace. Most of the 20 guest rooms have private patios and large steel horse trough bathtubs, along with gorgeous exposed beam ceilings.
Breakfast is complimentary, and The Barn Kitchen serves lunch from 11 a.m. to 6 p.m, and cocktails until 11 p.m., with dinner on Wednesdays and Saturdays. Check out is at noon, and if you want to lounge in the Barn and enjoy a bite before you leave, no one is going to rush you out the door.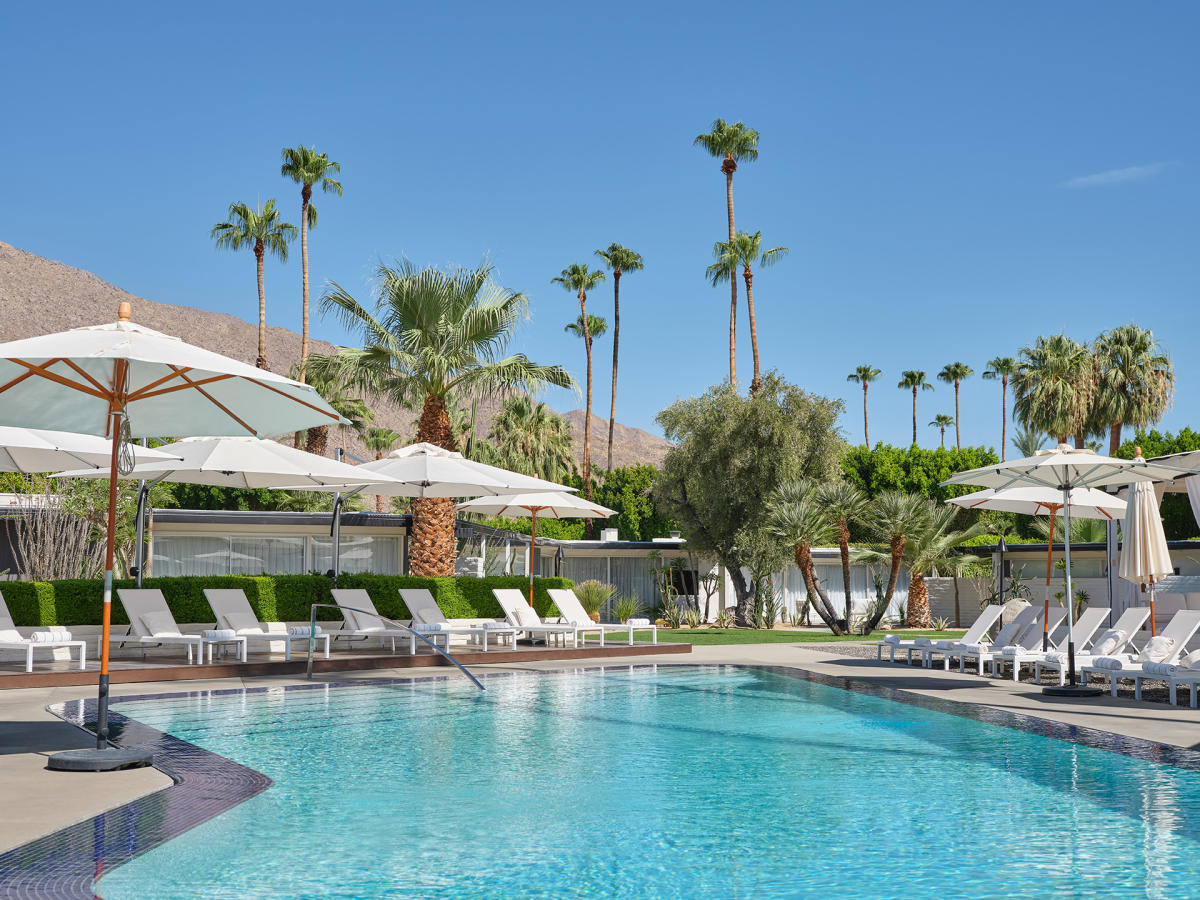 The sleek design at L'Horizon Hotel and Spa will surely catch your attention, but it's the exclusivity that makes this one of the best spots in town for the ultimate romantic getaway. From couples treatments at the onsite spa to dinner at the world-class SO•PA Restaurant, everything you could possibly want is at your fingertips once you check in to one of the property's 25 rooms. "Whether lounging poolside or in your private bungalow, you'll find luxurious details at every turn," adds General Manager, Beckie Bruffey.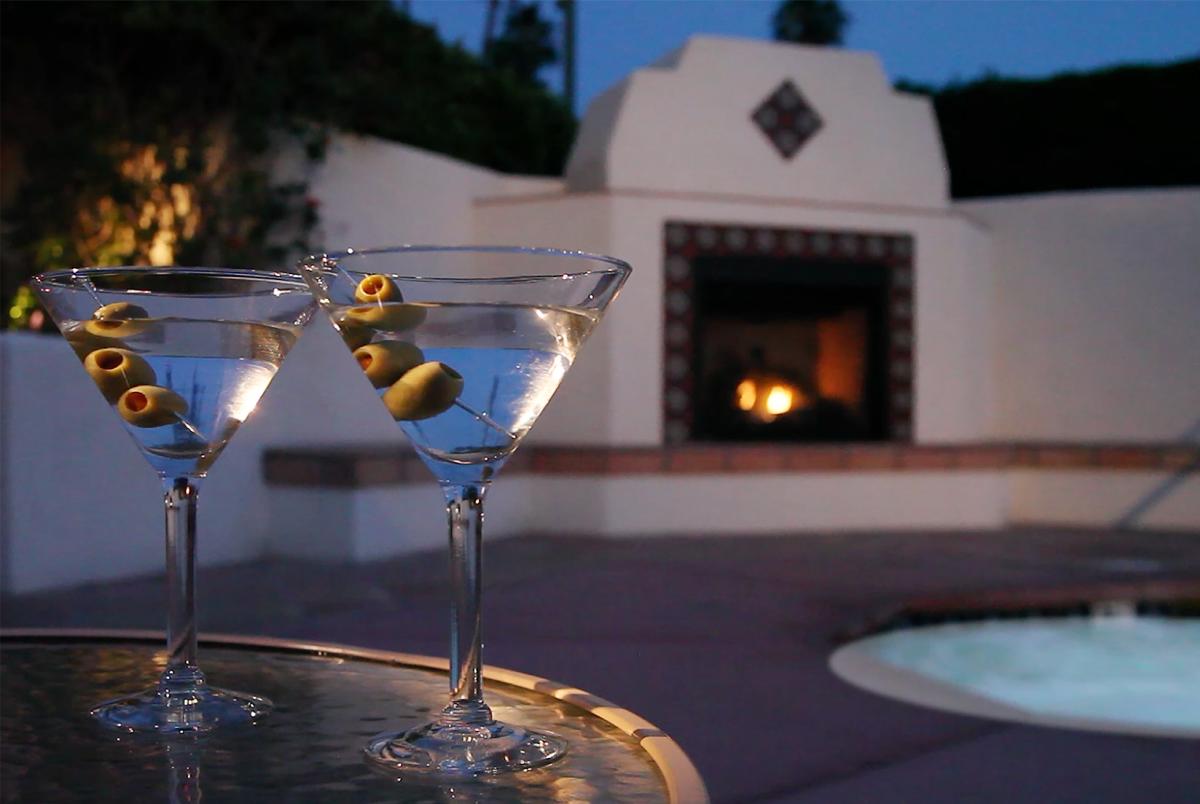 The clothing-optional Hacienda at Warm Sands is recognized as one of the best gay couples resorts in the world, and it's a perfect place for celebrating honeymoons, anniversaries and birthdays. "Staying at The Hacienda at Warm Sands is a romantic, pampered experience like no other," says General Manager, Steve Siehl, adding that they see plenty of very happy repeat customers. The staff to guest ratio is one-to-one, and if you have any requests pre-arrival, their team will stock rooms with everything from preferred snacks to flowers. Complimentary breakfast and lunch are served daily, either poolside or en suite.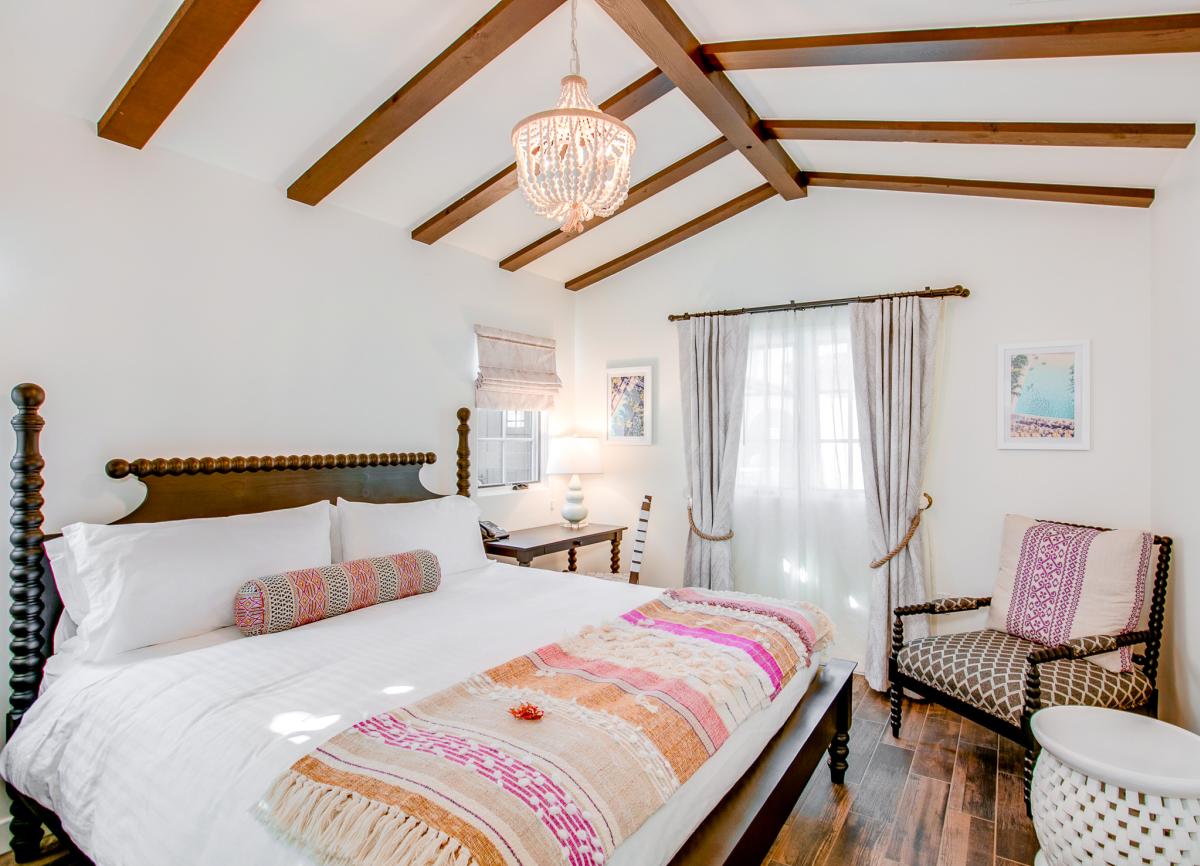 If you're looking for a luxurious, intimate setting but also want easy access to the top attractions in Palm Springs, La Serena Villas is the best of both worlds. The onsite restaurant, Azucar, serves amazing breakfast, lunch and dinner, and their drink list is just as impressive as their menu, with a large selection of wines and handcrafted cocktails.
This opulent boutique hotel also has a spa and a rooftop lounge on site, so you don't need to leave, but it's only one block away from countless eateries on Palm Canyon Drive if you want to mix it up. Each of the 18 villas have private patios, complete with claw foot tubs, fire-pits and built-in benches.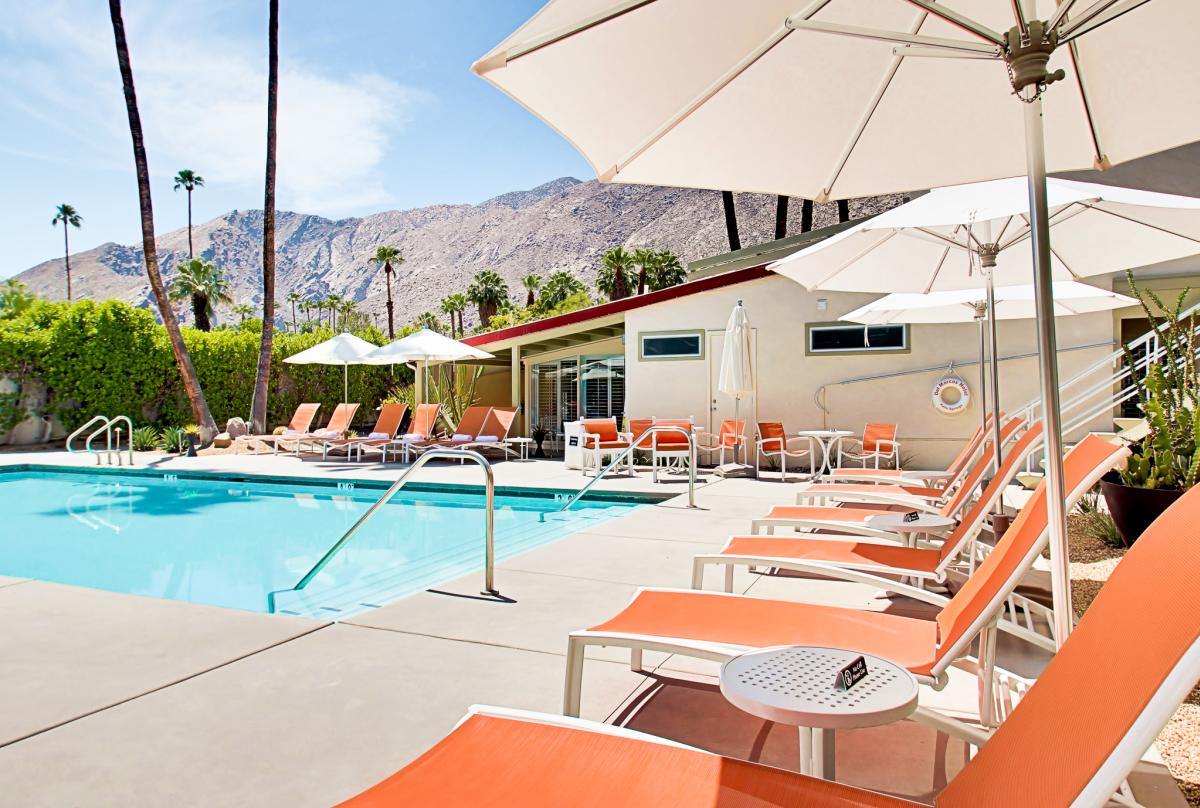 Right next door to La Serena Villas is the Del Marcos, which was William F. Cody's first independent commission in Palm Springs—and something many architecture enthusiasts will recognize as a post-modern masterpiece.
The hotel has a more casual feel than its sister property, but its bright and minimalist design make it one of the most popular spots in town, as does its proximity to dozens of shops, galleries and restaurants. Breakfast and happy hour are complimentary, as is the use of hotel bicycles. Several of the rooms are pet-friendly and include kitchenettes, and all rooms have fridges.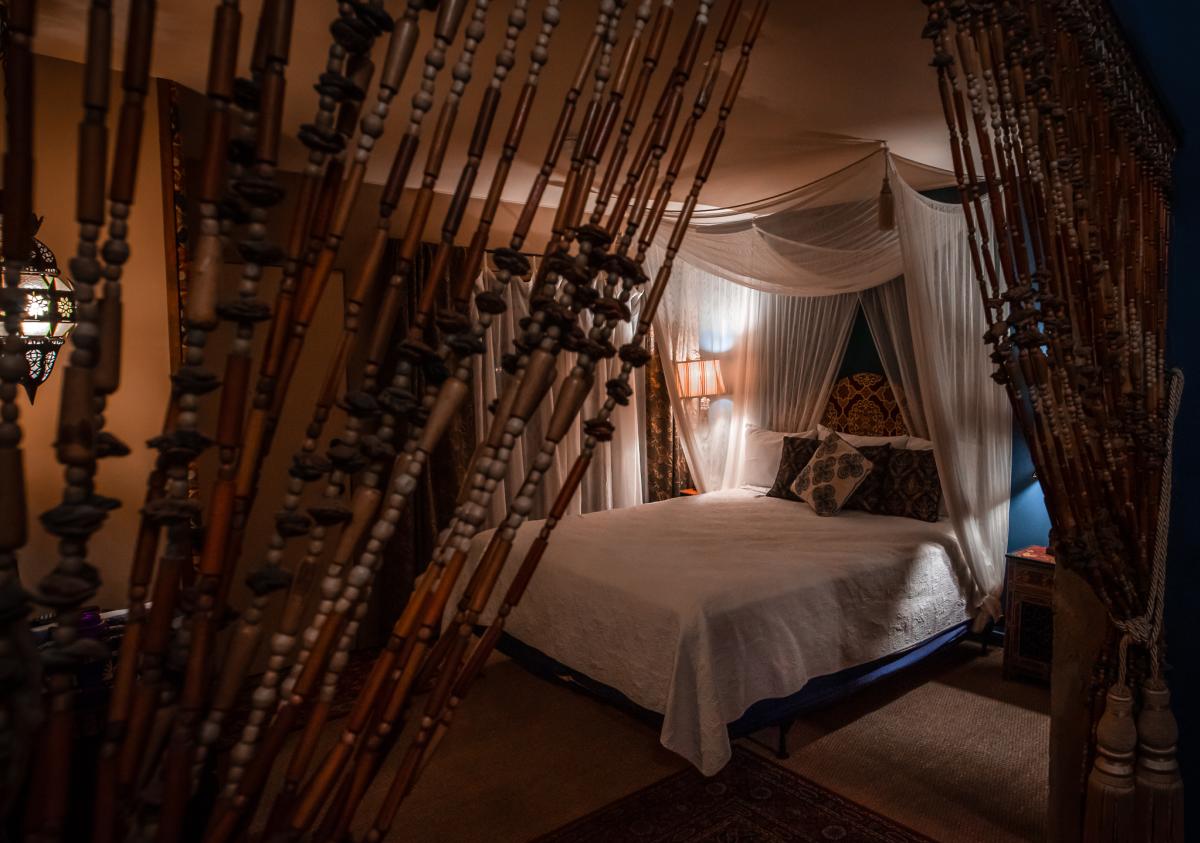 With its funky decor and just 13 guest rooms, El Morocco Inn and Spa truly feels like a stay at someone's home. The natural mineral waters in the outdoor pool are heated to 94 degrees year-round, with a covered (and even hotter) pool just steps away.
The outdoor common space behind the guest rooms features hammocks, a giant chessboard and cabanas, so relaxing in the shade is an option for those who don't wish to bask in the sun (or sit in the property's saunas). The spa offers a range of treatments, and this is the kind of place where you can lounge around in your plush robe all day long.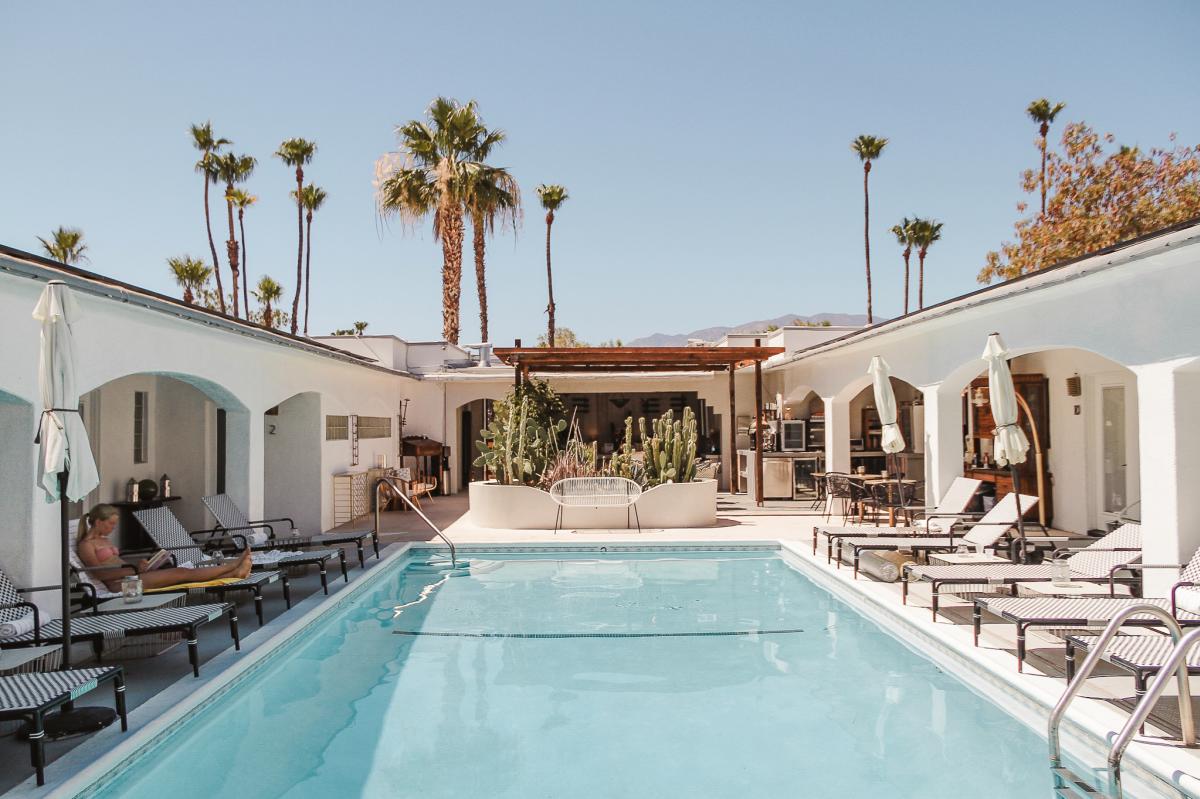 This 1930s Art Deco oasis combines original features with a wealth of modern amenities, making it the perfect stop for folks who enjoy simplicity and sophistication. Owner Mathew Westcott notes that the boutique hotel offers guests an experience that is "like a private members club," and for the upscale amenities (and recently renovated rooms), this property is surprisingly affordable. Breakfast is included, snacks and drinks are available 24/7, and cocktail hour starts at 5 p.m.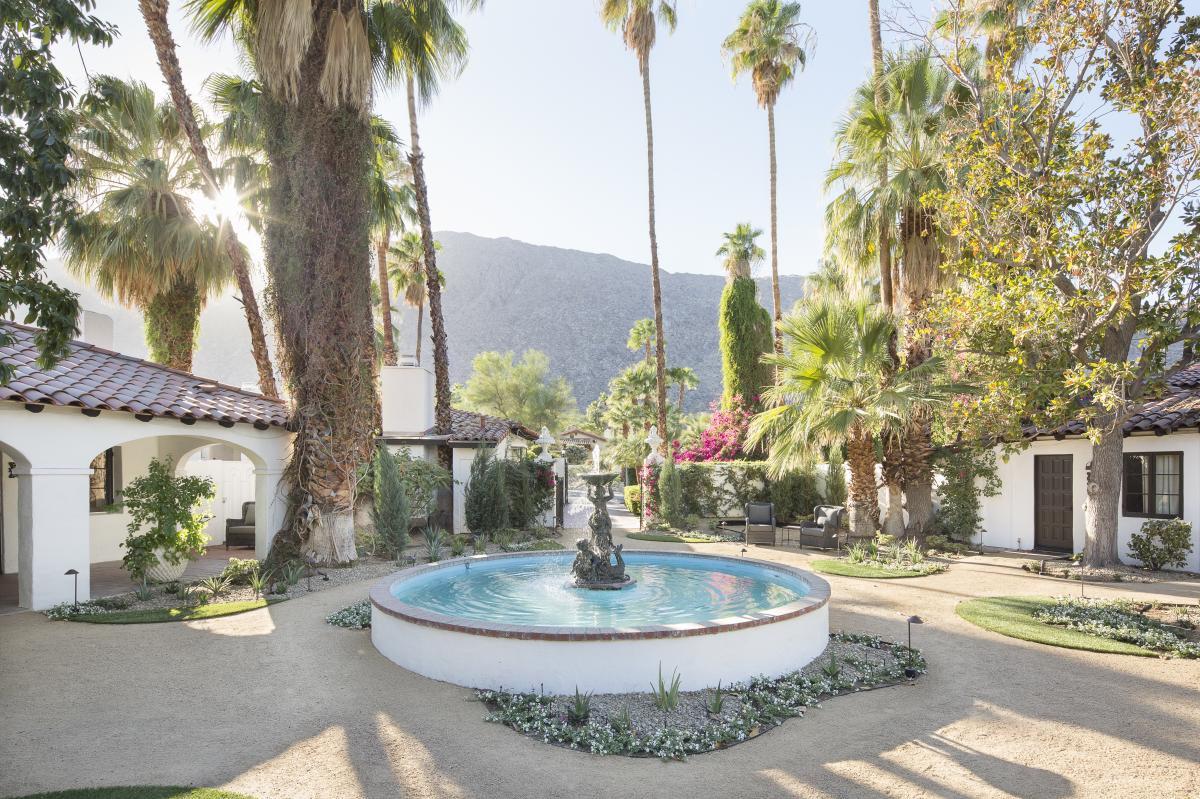 Despite being a hotspot for the Hollywood elite in the 1930s and 40s, the Ingleside Inn changed hands in 1965 and nearly fell by the wayside before being snapped up by Melvyn Haber in 1975. From there, the property was restored to its former glory days, and Haber also added his namesake restaurant.
Frank Sinatra and Barbara Marx held their pre-wedding party at Melvyn's in 1976, and the iconic eatery is still one of the best in town. With mountain views, a large pool, a hot tub, a fire pit and hammocks, the Inn gives guests a serene setting to kick back and relax. The property has 30 rooms with standard, deluxe and premium options, plus the Haber Suite, Melvyn's Suite and the Hardy House, the latter of which has a private pool and full kitchen.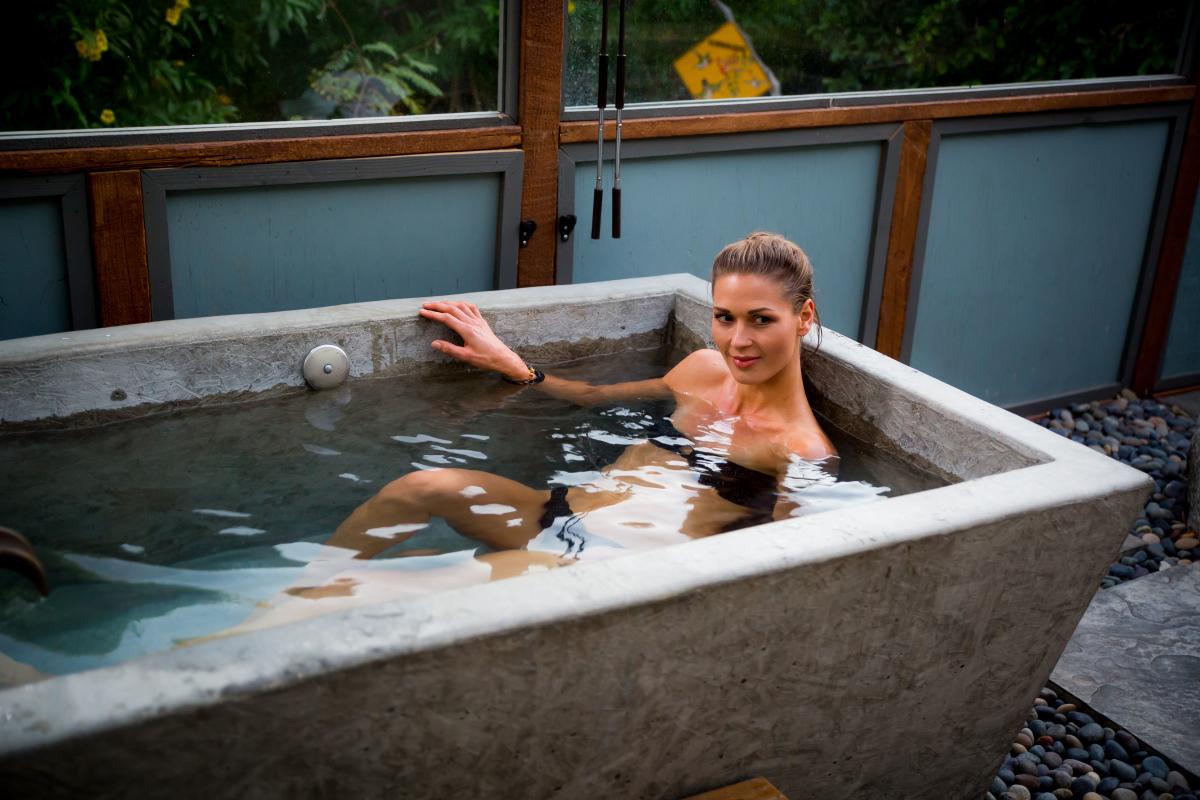 Pure, sparkling mineral water emerges from the ground at 170 degrees at The Spring Resort and Spa, and with three pools and private soaking tubs in select rooms, this is a true haven for hot spring enthusiasts. In addition to a full-service spa, The Spring offers Finnish and Infrared saunas and yoga classes, making it a top choice for anyone focused on a wellness-themed vacation.
Breakfast is included, and prior to arrival, guests can submit a grocery list to hotel staffers, who will stock the room's fridge full of personal selections.

When asked what the mood is like at The Hotel California, their manager replied with a smile, "Here, every day is like Valentine's day." The classic Spanish mission hotel has a lush courtyard with banana palm trees and birds of paradise, and from the sparkling pool to the mountain views, it is the epitome of serenity and romance.
The hotel's 14 rooms vary in size, as some have two bathrooms and balconies, though all have kitchenettes and fridges. The property has plenty of personality while also giving guests ample privacy, so it is the ideal spot for unfussy couples craving a quiet getaway.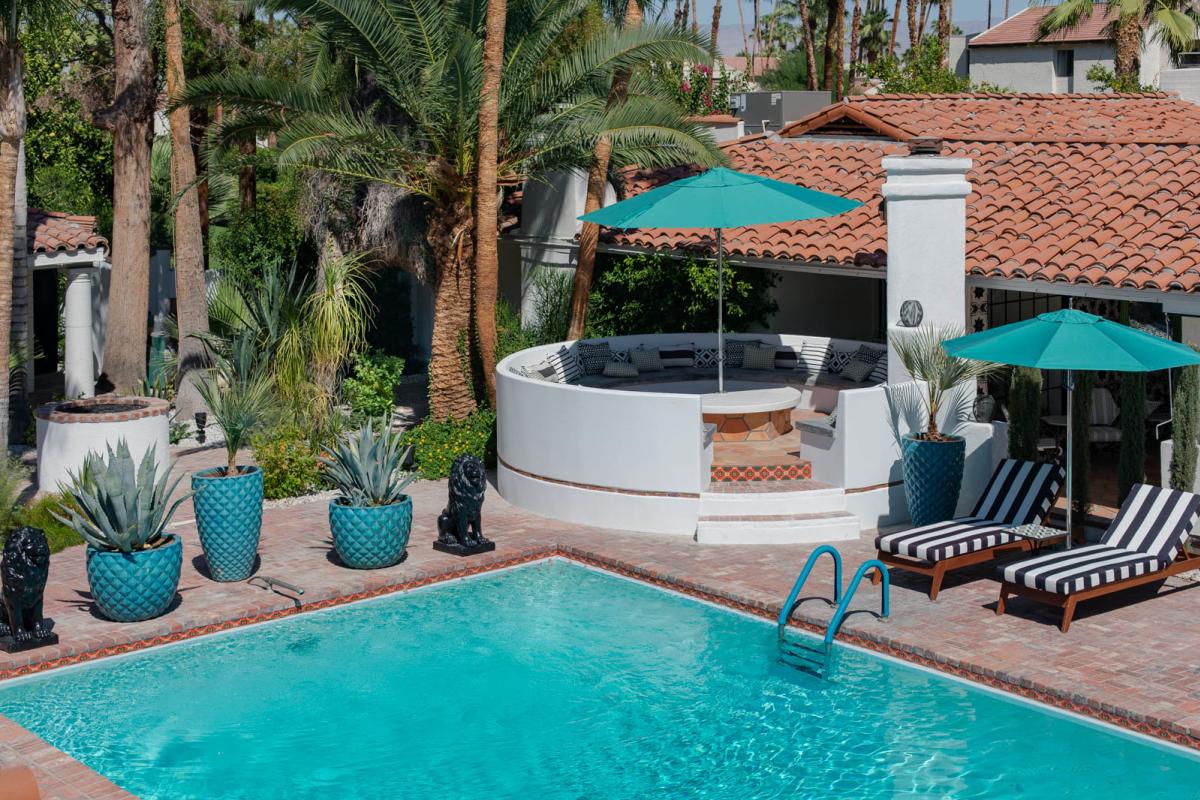 Built in 1947, Villa Royale is recognized as one of the first small hotels in the oasis, and thanks to a recent restoration, the property now features many modern upgrades in its 38 rooms. Most premier rooms have either a fireplace or patio, and not only is the property set at the base of the San Jacinto mountains, but it has three pools.
"Channeling Palm Springs' eccentric history and the raw beauty of the surrounding desert, Villa Royale is the ideal setting for an intimate couples escape," says General Manager, Phillip Conner. On top of that, the onsite restaurant, Del Rey, is the perfect spot for a dinner date, serving tapas-style fare and a large selection of cocktails in a charming lounge.
For those seeking St. Tropez vibes in the desert, the newly opened Dive Palm Springs (formerly Colt's Lodge) is the place to stay. Each of the 11 rooms are bright and spacious, and one even has a private hot tub that can hold up to six people. "Our Orchard Suite is perfect for couples who don't want to leave their room, with magical elements such as a private outdoor hot tub, indoor movie theater, and three hole putting green in the patio," says owner and General Manager, Abdi Manavi. "We've created a desert oasis to offer each guest personalized and high touch service."
A historic Libott-designed pool is surrounded by comfy lounge chairs, with plenty of additional outdoor seating, swings and cabanas, plus a koi pond and a fire pit. Organic breakfast is included, and all rooms have refrigerators and snack offerings.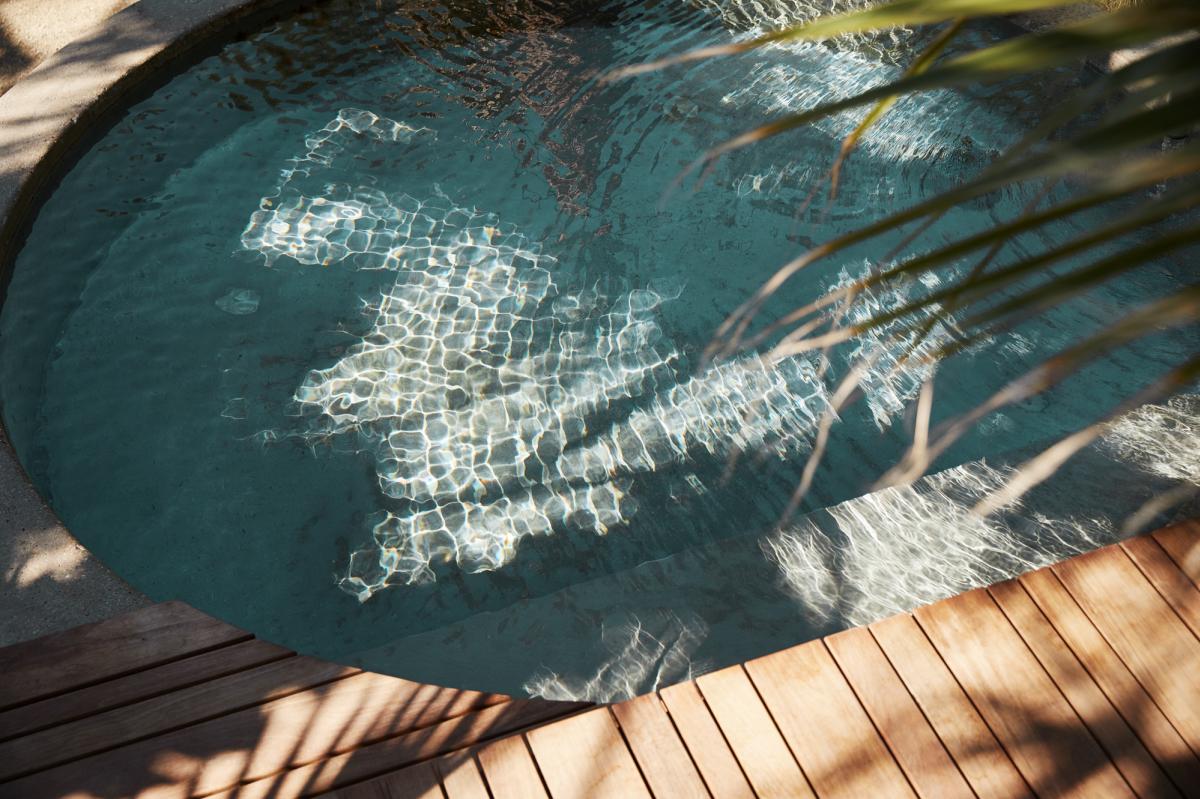 If you value sustainable travel experiences and love soaking in natural mineral waters, look no further than Two Bunch Palms. The luxe property is one of the first carbon-neutral resorts in the United States, and it runs entirely on solar power. In addition to soaking in at least one of the half dozen hot mineral pools or private tubs on the hotel's impeccably manicured grounds, the spa is well worth a visit.
Though Two Bunch Palms has 70 rooms, you won't often bump into other guests, so if you're trying to escape the stress of city life, this resort is pure paradise. With locally sourced fare, plus vegan and gluten-free options for breakfast and dinner, onsite restaurant The Restaurant at Two Bunch Palms, is regarded as one of the best eateries in town.
Ready to plan your getaway to the oasis? There's no shortage of things to do, events, and dining opportunities guaranteed to make your time in Greater Palm Springs unforgettable!