When people think of the Coachella Valley Music and Arts Festival, the first thing that comes to mind for many is the music. 
Let's not forget about the "arts" part though. The often oversized artwork on the field helps create the iconic imagery that the festival is known for, acting as both an Instagram-ready backdrop and a useful meet-up spot. But you don't have to go to the festival to see some of the art installations that have dotted the festival grounds over the years. 
Many of the most iconic pieces are now beautifying various cities across Greater Palm Springs, as they have been relocated and can be enjoyed without an expensive festival ticket. As you start your art journey, be sure to download the ArtsGPS app to see all these Coachella Art pieces and more. 
Sarbalé Ke | Indio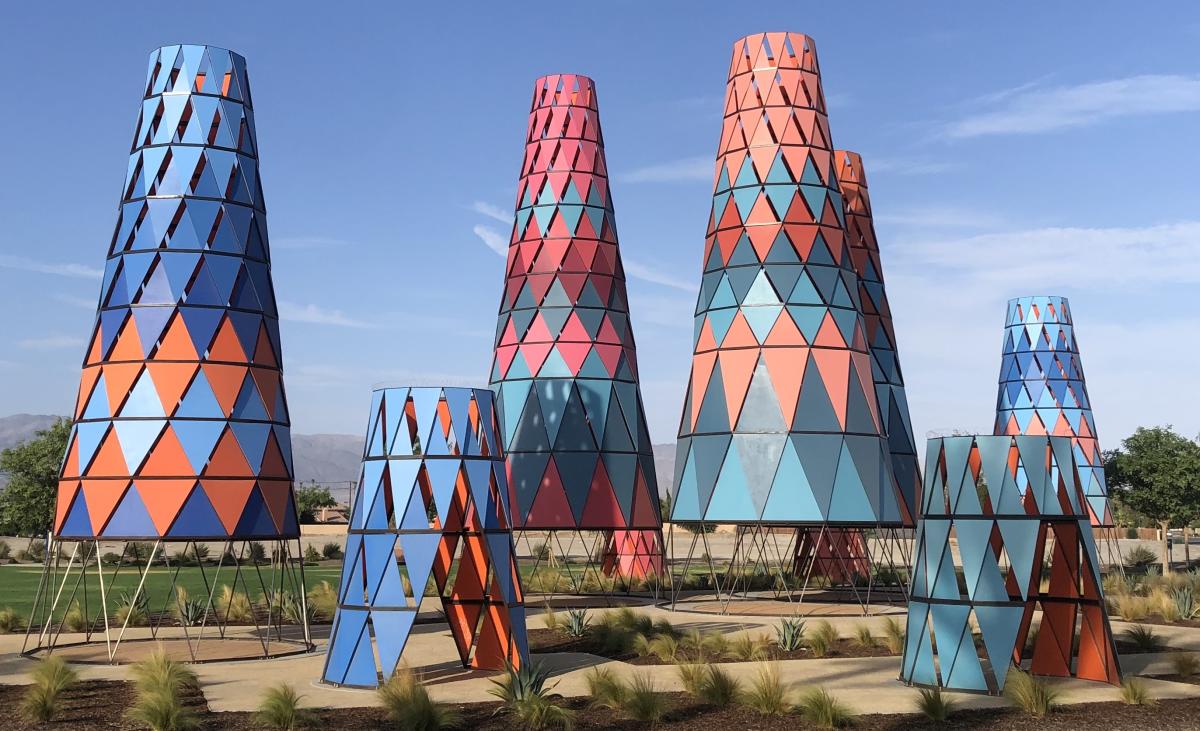 This colorful series of towers inspired by the baobab tree was featured at the music festival in 2019 and now calls Dr. Carreon Park in Indio home. 
Sarbalé Ke means "House of Celebration" in the Bissa language of Burkina Faso. It was created by Kere Architecture located in Berlin, Germany. 
The cone-shaped towers in various sizes and shades of blue, orange, red, and pink provide shade and play with shadows as the light changes throughout the day. It was installed at Dr. Carreon Park in 2021. 
People can stand underneath the tall towers which provides an interior perspective of the artwork and creates a geometric skylight.  
Where to find it: Dr. Carreon Park, 82200 Dr Carreon Blvd, Indio.
Etherea | Coachella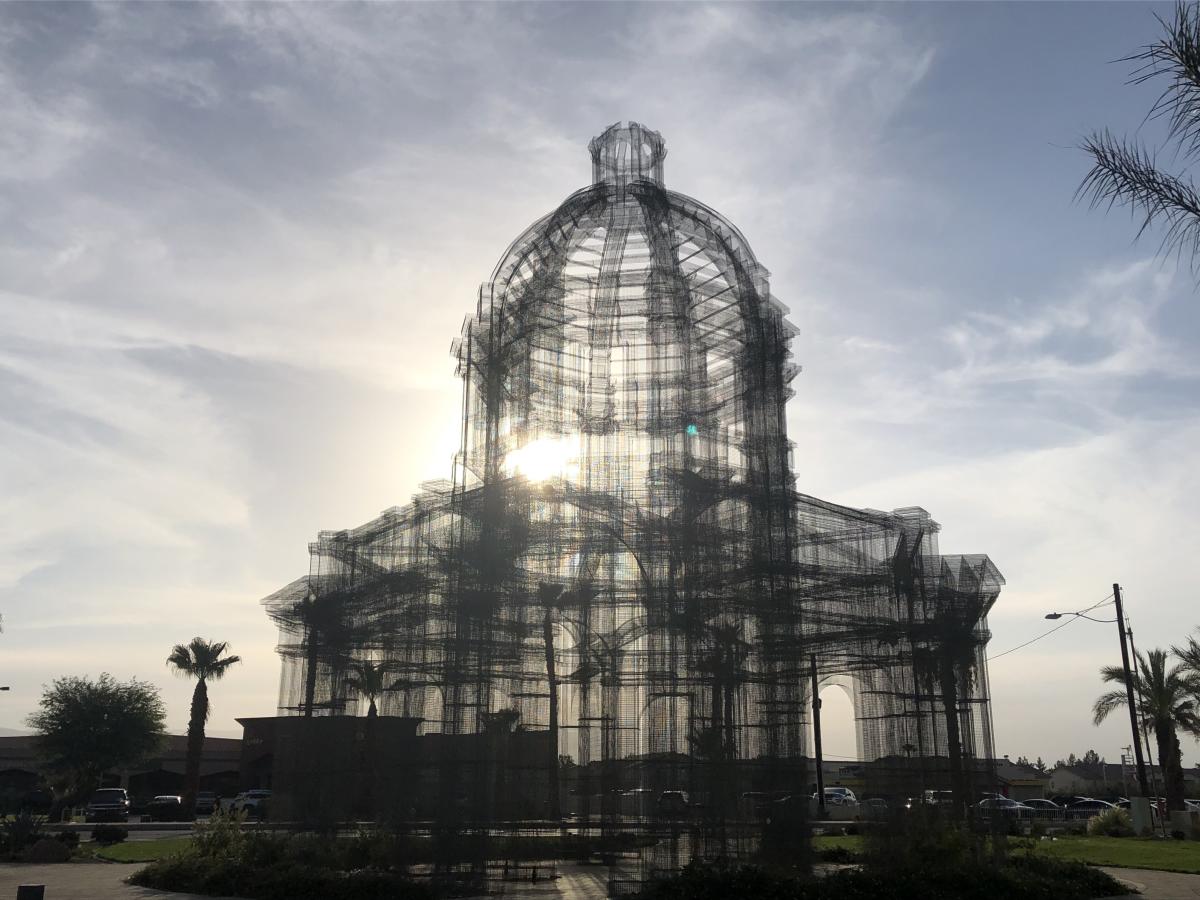 This wire mesh sculpture by Edoardo Tresoldi, an Italian artist, was part of the 2018 music festival and was installed in downtown Coachella in 2019. 
Etherea originally consisted of three identical transparent Neoclassical and Baroque-inspired structures in varying heights of 36, 54, and 72 feet. 
A park in Coachella's Pueblo Viejo neighborhood houses the 54-foot sculpture which has a trippy and ethereal effect - hence the name. 
Where to find it: Corner of Cesar Chavez and Sixth streets in the city of Coachella. 
Colossal Cacti | Indio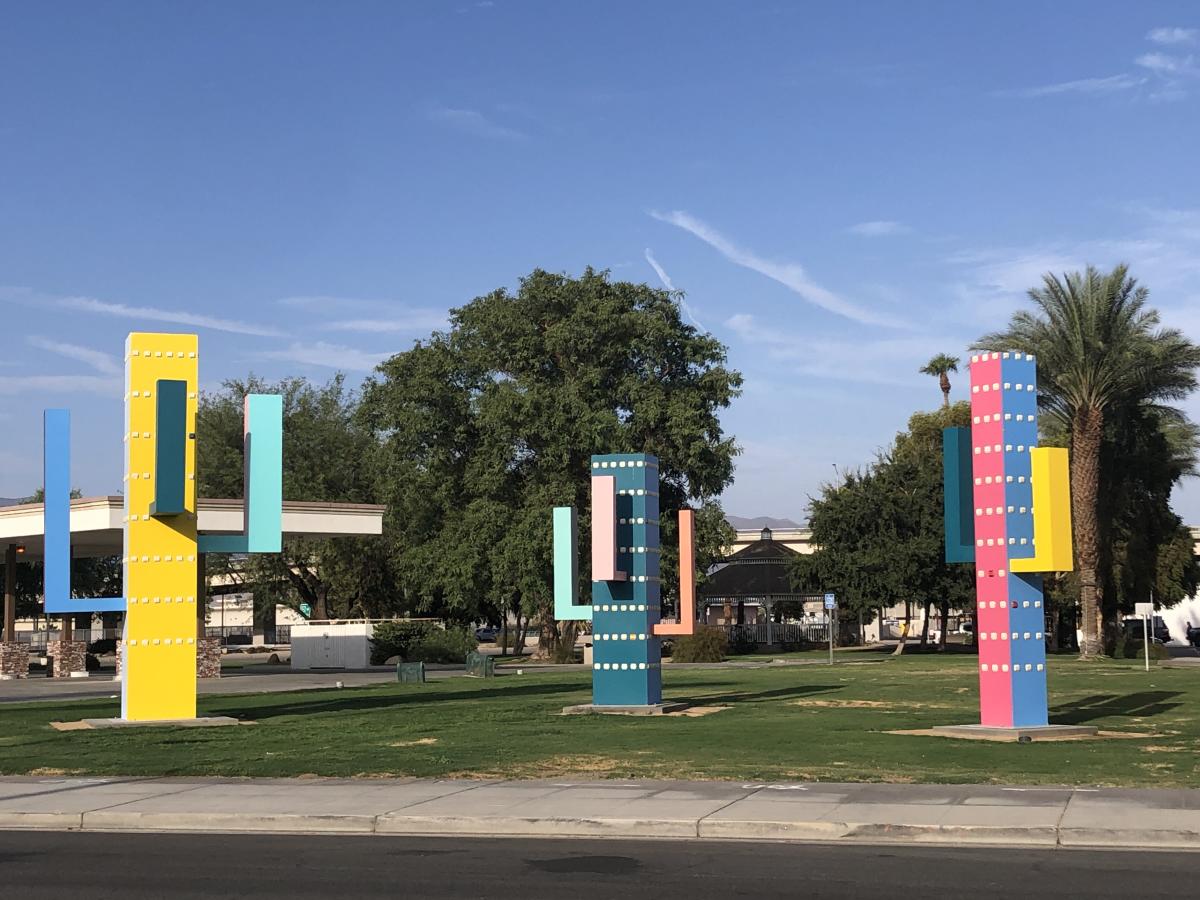 With the cactus serving as a ubiquitous desert symbol, it's fitting that the Colossal Cacti sculpture which debuted at the music festival in 2019 now calls downtown Indio home. 
The original sculpture consisted of seven rectangular-shaped cacti in varying colors and sizes that also resembled a skyline from a distance. 
Three of the seven sculptures that range in height from 14 to 20 feet were added to an empty grassy area next to the Indio Chamber of Commerce in January 2022, creating a whimsical and welcoming area. 
The sculptures are made of metal and include road reflectors that serve as the "spine" of the cactus. They were created by artist Andrew Kovacs with Office Kovacs design studio based in Los Angeles. 
Where to find it: Smurr Street in downtown Indio near Miles Avenue. 
Spectra | Indio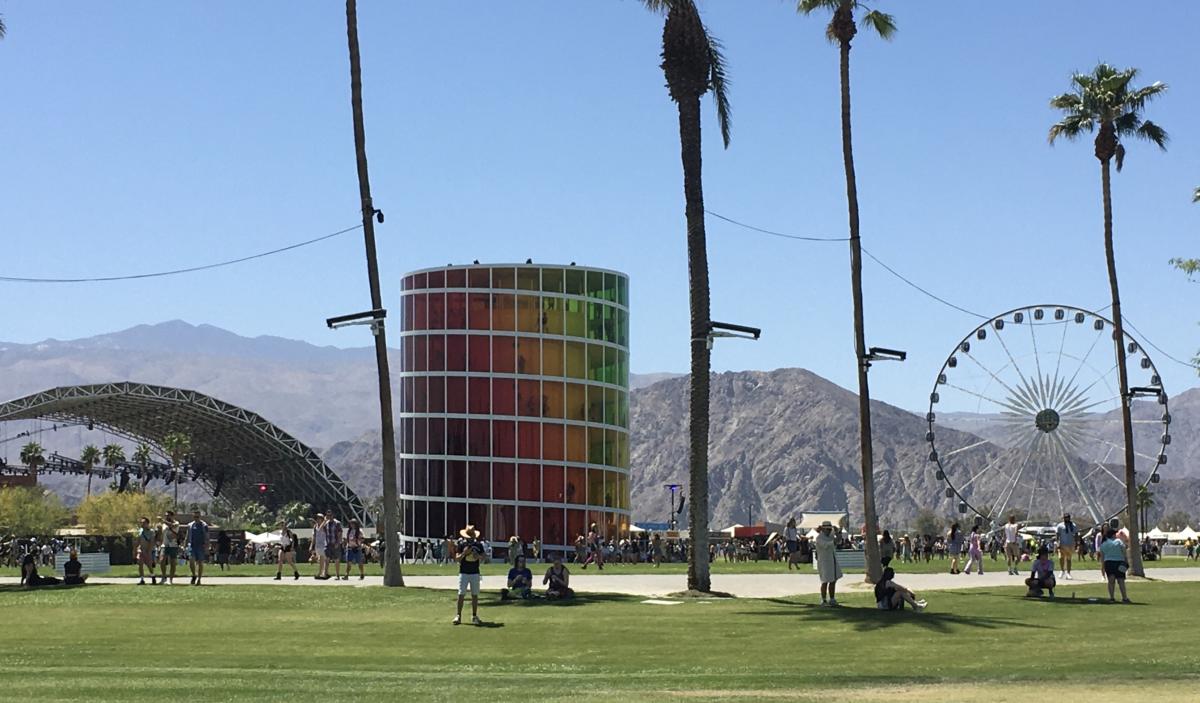 This cylindrical seven-story structure created by UK-based design studio NEWSUBSTANCE is inspired by the area's sunrise and sunset. It made its debut at the festival in 2018.  
Since then it has become a permanent part of the polo grounds landscape and is an iconic fixture at the festival and a favorite IG spot for festival-goers. The walls/windows of Spectra are tinted with different colored hues that create an ever-changing panorama of the grounds. As people ascend the circular walkway they see the grounds bathed in various vivid colors.  
The top of Spectra serves as an observation deck and provides phenomenal elevated views of the festival grounds.
Where to find it: Empire Polo Club, 81800 51st Ave, Indio.
Something to consider: Spectra is located on private property and is viewable in person during music festivals and events. However, this is best viewed from the Cantina at El Dorado off 51st Ave or you can drive by the grounds and see it from a distance. 
Road Trip | La Quinta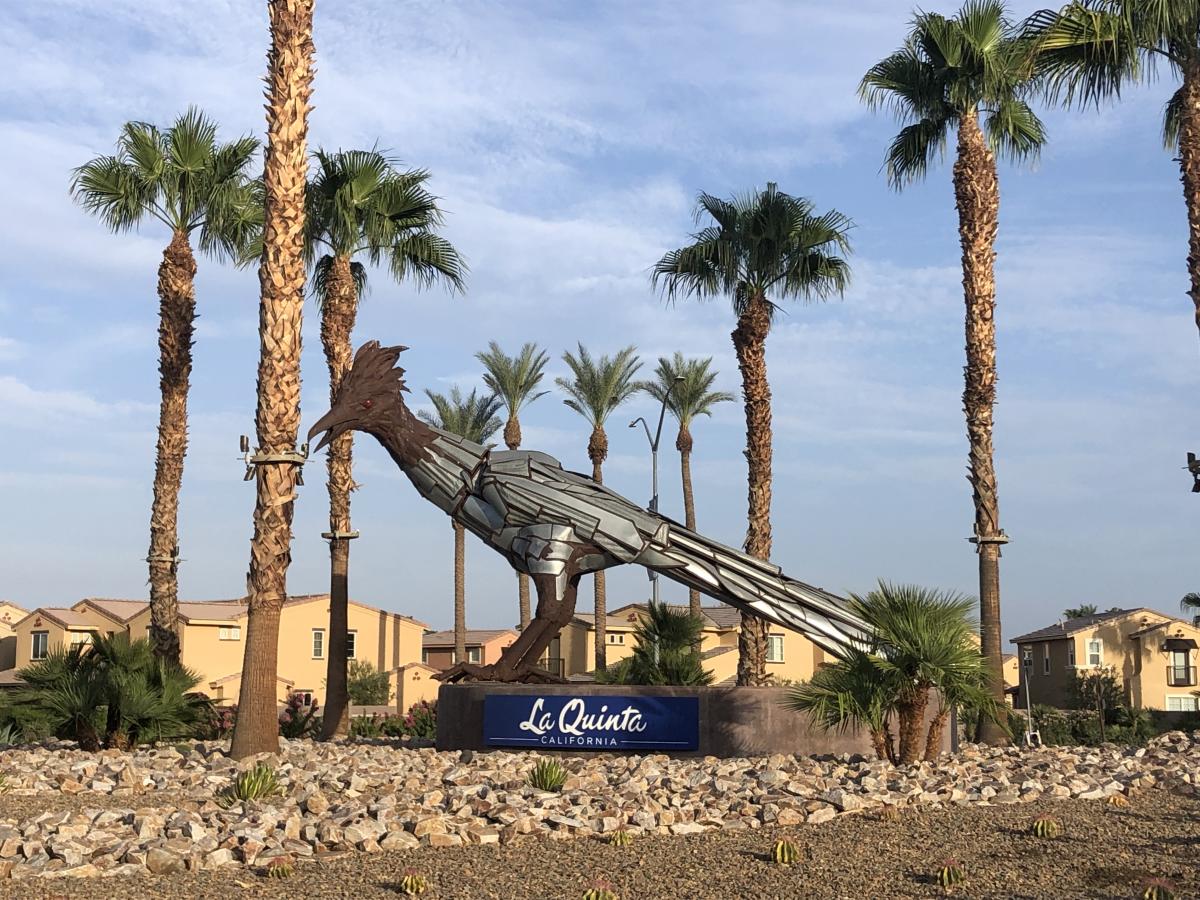 This massive roadrunner that held a swing from its beak on the festival grounds in 2014 now serves as a focal point at the center of a traffic circle in La Quinta, just down the street from the festival grounds. It moved to La Quinta in 2015.
The 14-foot-tall Roadrunner has hand-blown glass eyes and a body made from steel and galvanized sheet metal that resembles armor. 
The sculpture was created by Don Kennell of New Mexico and is one of several pieces he's created for the festival over the years.  
Where to find it: Avenue 52 and Jefferson Street. 
Yard Dog | Indio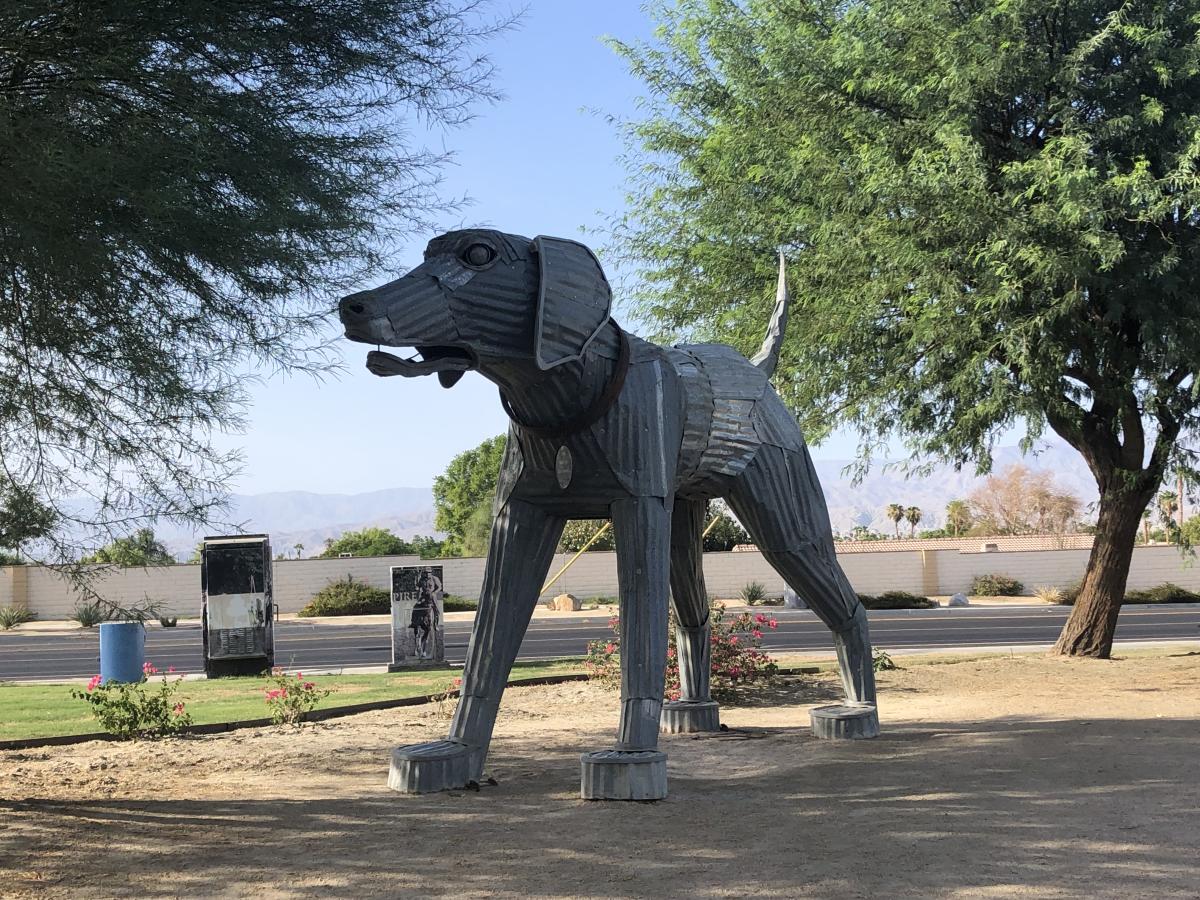 This Don Kennell sculpture of a yard dog stands 12 feet tall and is made of steel and recycled corrugated tin. It made its Coachella festival debut in 2013 and is now fittingly located at a dog-friendly park in Indio. 
While located at the festival, it held a custom porch swing underneath its belly and provided a place for festival goers to rest at the campgrounds.
Where to find it: Hjorth Park at the corner of Ave 48 and Hjorth St. in Indio.
Big Bear | Coachella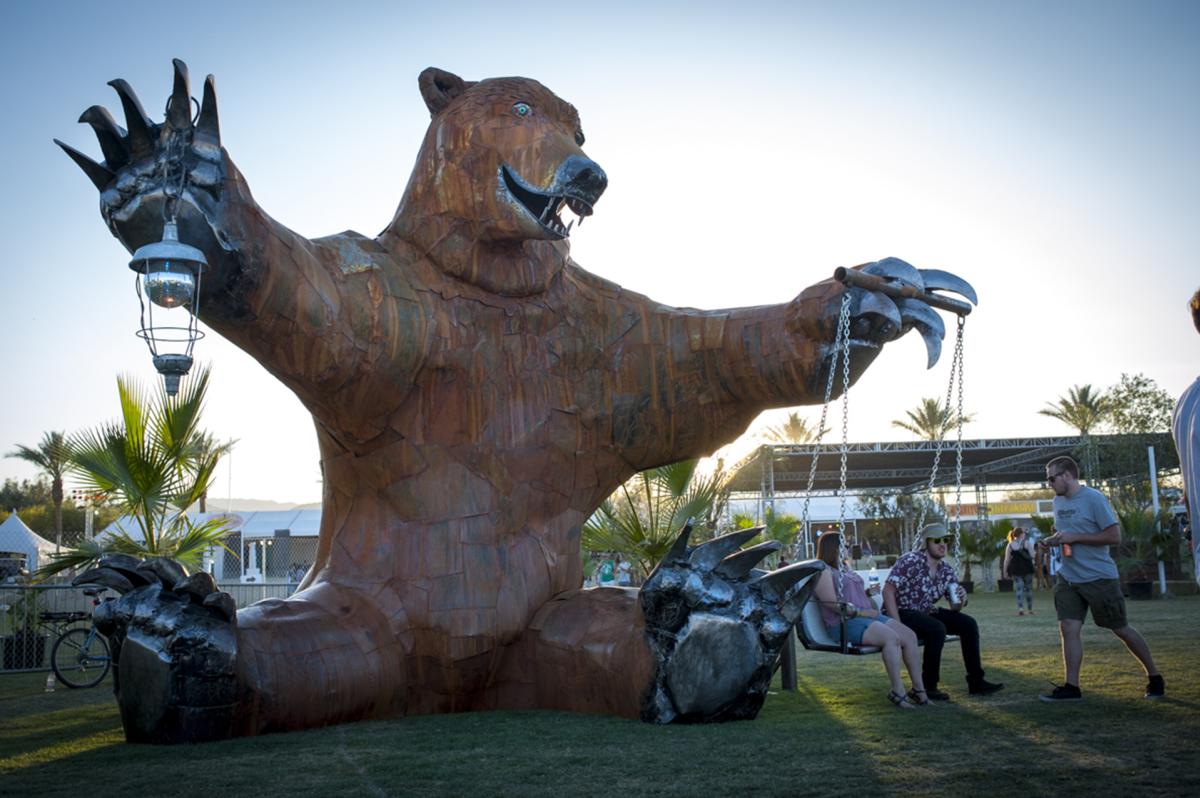 This 24-foot tall bear showed up at the festival in 2015 in the campground holding a custom porch swing from its left paw and a disco ball in its right. It is now located at a park in the city of Coachella. 
Created by Don Kennell, it is made from steel and has hand-blown glass eyes.
Where to find it: Shady Lane Park, corner of Shady Lane, and Avenue 52 in Coachella. 
To explore are in Greater Palm Springs be sure to check out our ArtsGPS app on iPhone and Android.