With so many unique and authentic coffee shops found in the oasis these days, Greater Palm Springs has much to offer caffeine enthusiasts looking for the best in cold brews, cappuccinos, lattes, teas and delicious sweet treats. Read ahead for a list of cafés and establishments offering the most satisfying java and espresso concoctions around.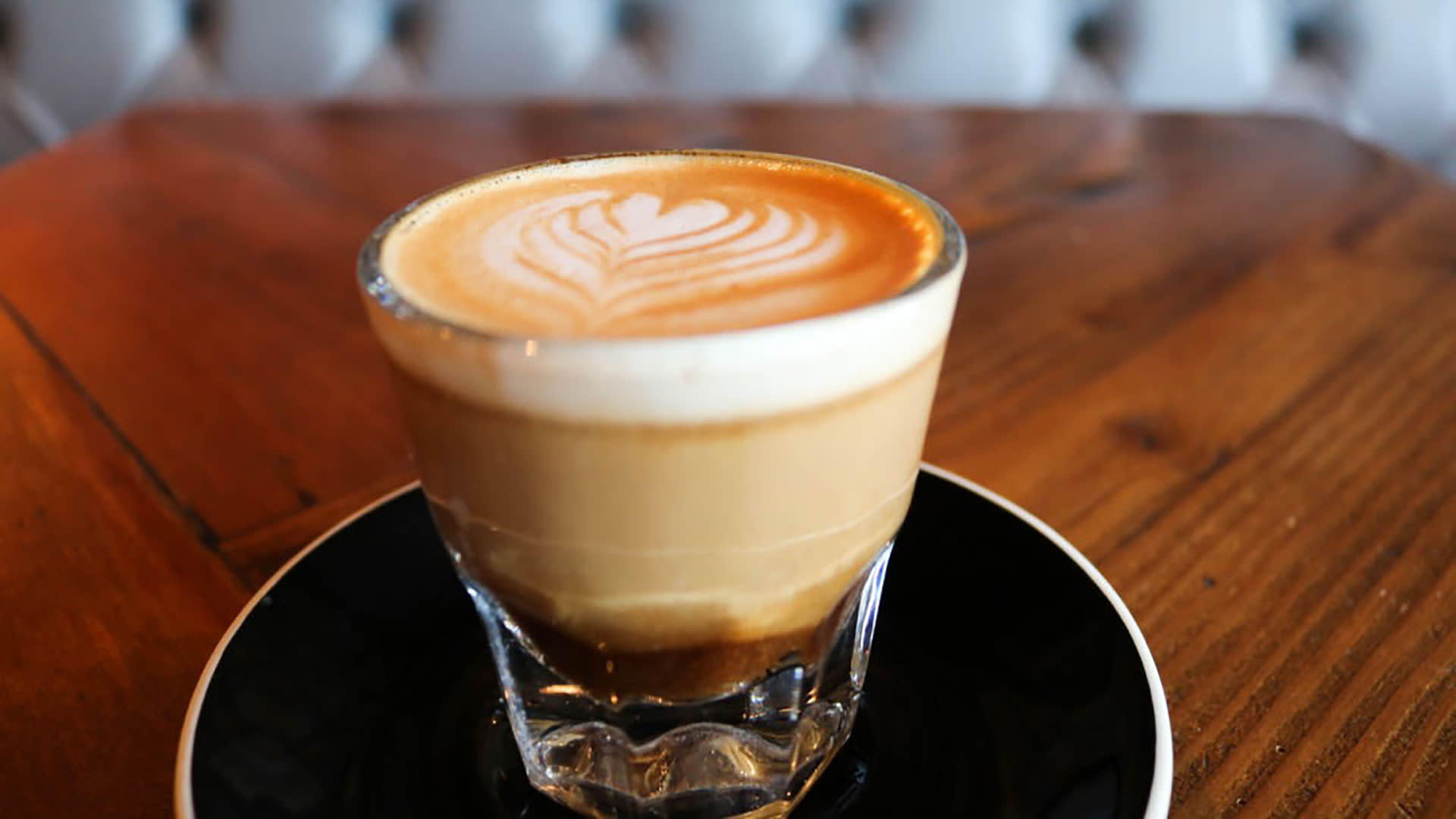 Image by Cynthia Serna.
Ernest Coffee is a must-visit for coffee lovers near and far. The beloved coffee establishment is Palm Springs' only independent coffee bar serving Stumptown Coffee, providing guests with an assortment of seasonal drinks and coffee favorites to choose from. Connected with the very cool and popular Palm Springs bar Bootlegger Tiki, Ernest Coffee also offers a selection of fine wine, beer and spirits, as well as an exciting "Boozy Board" that changes every month. Guests coming into Ernest Coffee can also enjoy fresh baked pastry goods, including gluten-free and vegan options, quiches and yogurt parfaits, while taking in the gorgeous mountain views on the outdoor patio area or within the shop's trendy indoor space.
Ernest Coffee is open daily, from 6:00 a.m. to 7:00 p.m. It is located at 1101 N Palm Canyon Drive, Palm Springs.
Just Java is a popular breakfast hangout and an even more popular coffee destination in Bermuda Dunes, providing visitors with appetizing food and caffeine options to keep them going all day long. The locally owned coffee shop has a delicious cream cheese, tomato and avocado bagel that is unrivaled, and signature drinks include their malt mocha frost and satisfying iced coffees. A standout for exceptional customer service, Just Java is a comfortable and enjoyable place for all java junkies coming in for a taste. In addition to this, a unique feature to the shop is their drive-thru, which is especially handy for those who are in a hurry and need their coffee fast!
 Just Java is open Mondays through Saturday from 5:30 a.m. to 4:00 p.m., and Sundays from 5:30 a.m. to 2:00 p.m. It is located at 42102 Washington St, Bermuda Dunes.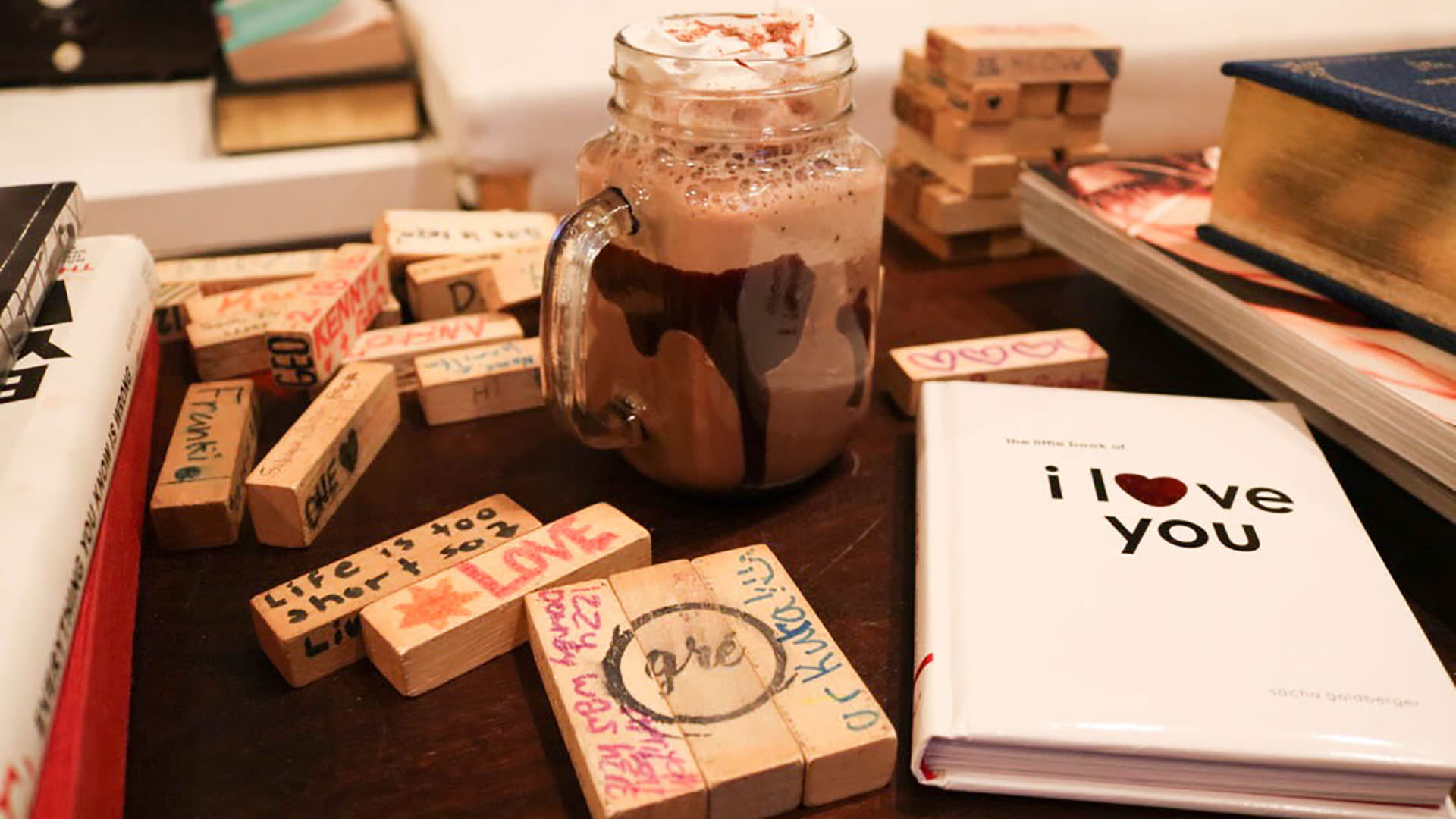 Image by Cynthia Serna.
Gré Coffeehouse & Art Gallery is a place where caffeine admirers and lovers of the arts come together to collaborate, share moments and catch up over a cold (or hot) cup of brew. The midcentury, beatnik-inspired coffeehouse in downtown Palm Springs is the only independent coffeehouse in the area that's open in the evenings, offering visitors a number of activities to take part in past traditional café hours. Gré Coffeehouse is also known and respected as a hub for contemporary and photographic art, and offers an impressive collection of novels, poetry, art books and board games for all to enjoy. In addition to this, the coffee shop plays music from mixed tapes and classic vinyl records, hosts open mic nights on the first and last Friday of the month and offers game nights every Monday.
Popular drinks on their menu include their frozen hot chocolate (pictured here), the upside down vanilla cappuccino (served hot or cold) and the comeback (an iced drink with espresso, cold brew, chocolate, vanilla and a little caramel). These drinks can all be found on their "Specials Board," which is updated periodically.
Gré Coffehouse & Art Gallery is open at 8:00 a.m. daily, closing at 6:00 p.m. on Tuesdays, and at 9:00 p.m. Wednesday through Monday. It is located at 278 N Palm Canyon Drive, Palm Springs.
If you are looking for a new coffee shop to visit while in the Indio area, you need to check out Vintage Coffee Shop. With all its great offerings, this place will become a favorite of yours in no time! The shop provides an inviting, warm atmosphere and great service all around. The family-owned business includes spacious indoor and outdoor seating, as well as an abundant amount of options for coffee lovers and an extensive menu with tempting selections. Vintage Coffee House also offers boba tea, a rare find in Greater Palm Springs, but always a sweet treat for boba fans.
Vintage Coffee House is open daily, from 6:00 a.m. to 6:00 p.m. It is located at 49990 Jefferson Street, Indio.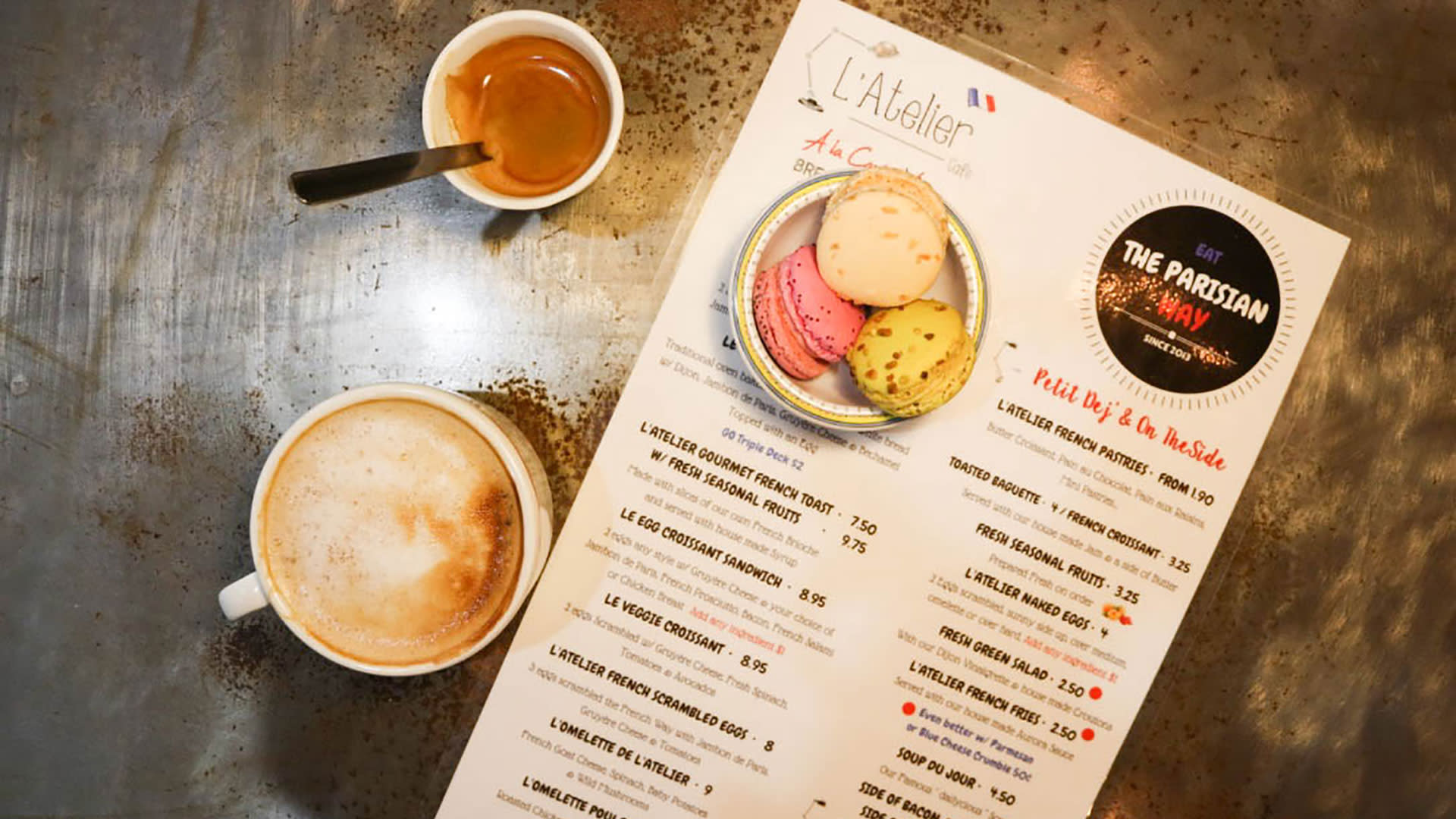 Image by Lesley Guardia.
For a Parisian experience that is unique to the desert, check out L'Atelier Café in downtown Palm Springs and take in the local sounds and tastes of France. The quaint cafe boasts an impressive European ambiance that is heard and displayed throughout the restaurant. This includes the sounds of French music playing in the background, savory breakfast and lunch delicacies, enticing pastry options and French-inspired drinks. L'Atelier also serves up Italian-imported Pasquini Coffee, and works only with the French roast. Their cappuccino is a favorite for many who come into the establishment, which is served both short and strong in true European fashion. Other popular drinks include espresso shots, lattes, French iced coffee and their famous French mimosa. If you're planning on grabbing some dessert while there, try a macaron de Paris, made in-house and available in several flavors including lavender, raspberry, passion fruit, pistachio, chocolate and coffee.
L'Atelier Café is open Tuesday through Sunday, from 7:30 a.m. to 3:00 p.m., and is closed on Mondays. It is located at 129 La Plaza, Palm Springs.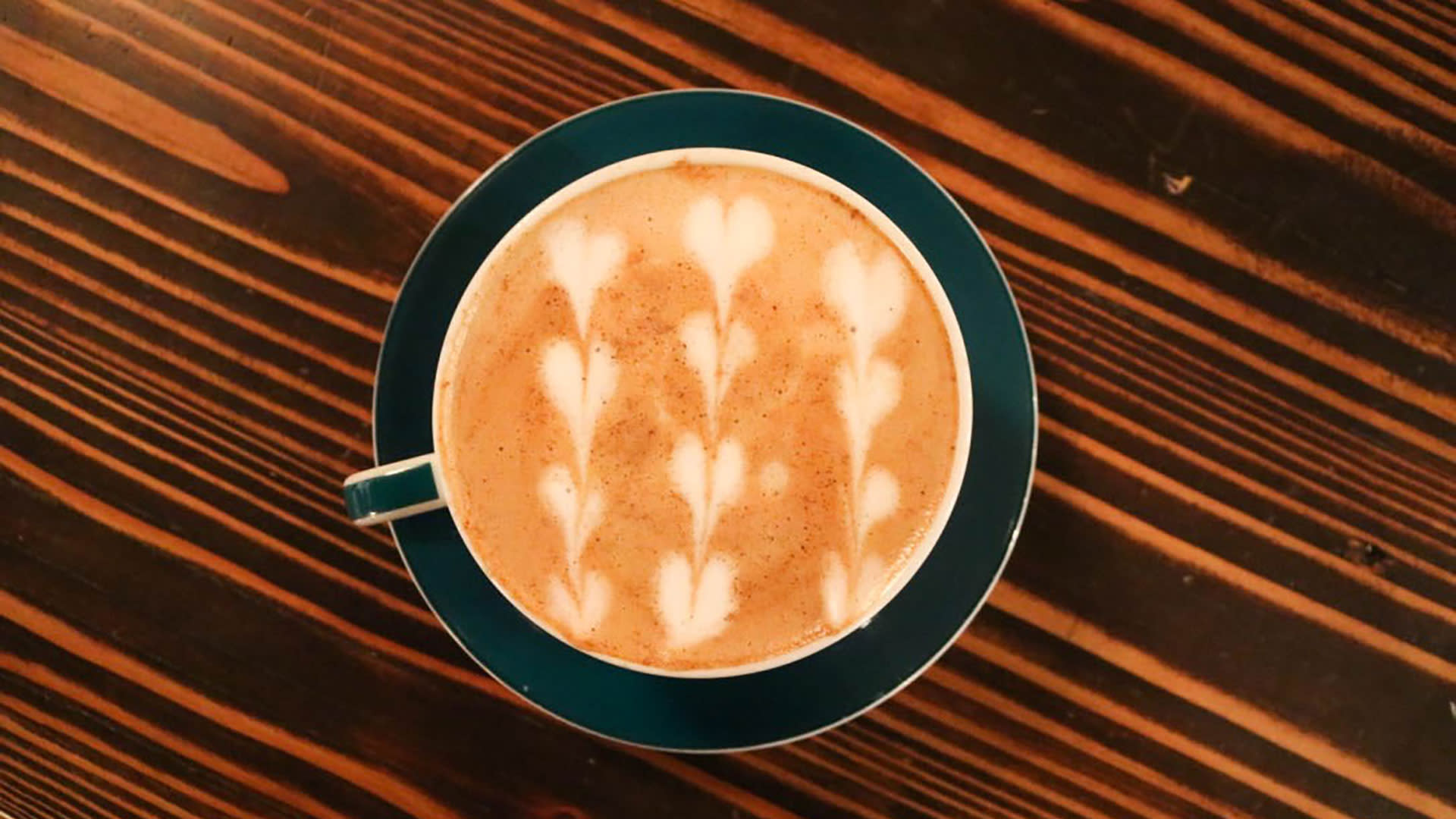 Image by Lesley Guardia.
For a chic coffee experience that is both aesthetically pleasing and deliciously satisfying, visit IW Coffee in Indian Wells. A local favorite for many reasons, IW Coffee offers superb coffee drinks using local and fair-trade Joshua Tree Coffee. The café also provides visitors with holiday specials, organic iced teas and pastries baked fresh every morning, including gluten-free and vegan treat options. A top drink of choice for many customers is their honey cinnamon latte, made hot, cold or blended. Another drink to indulge in is their nitro-black cold brew, infused with nitrogen for a frothy feel, which provides a good way to cut out milk or sugar from your morning or afternoon pick-me-up. For those looking for an extra kick in their drink, try the chaitro, the chai tea version of the nitro cold brew. In addition to this, all food is made-to-order, and new options are added to the menu about once a month. Come into IW Coffee for an early morning wake-up call, visit throughout the day for a tasty snack or swing by for a workshop in the evening. The stylish coffee space can also be booked after hours for events and parties.
IW Coffee is open daily, from 6:30 a.m. to 7:00 p.m. It is located at 74-995, CA-111, Indian Wells.
A gem in La Quinta, Old Town Coffee Company is located within the city's beautiful historic village area, surrounded by prominent shopping boutiques, salons and restaurants. The café provides savory breakfast, healthy lunch options, ample fresh-air seating on the patio and comfortable indoor lounging. It also provides customers fully organic brewed drinks that include espresso, loose-leaf teas, chai lattes and many more. As an added bonus, the coffee shop offers the Sidewalk Café on Friday and Saturday nights from 6:30 p.m. to 9:00 p.m. for guests wishing to come by after dinner.
Old Town Coffee Company is open daily, from 6:00 a.m. to 6:00 p.m. It is located at 78100 Main Sreet, La Quinta.
Fresh is best as they say at Koffi, where local caffeine aficionados come to enjoy freshly brewed, organic bold house blends, mild select coffees, Seattle-style and Milano-style espressos, whole leaf teas and pastry sweets made daily. In total, there are three coffee locations for the distinguished brand. The first, opened in 2002, is in the northern end of downtown Palm Springs. Their second shop opened in 2008–Koffi South– and is located next to the Ace Hotel, while their third (café and roasting facility) opened in 2013 in Rancho Mirage. A fourth location is set to open soon in Palm Springs' Tahquitz Plaza.
What makes Koffi a staple coffee shop for locals and visitors alike is their uniqueness to freshness and commitment to flavor. Koffi is the only specialty caffeine retailer with a roasting facility in Greater Palm Springs, which allows customers the opportunity to watch the process take place from Monday to Friday, between 9:00 a.m. to 5:00 p.m. For unforgettable Koffi coffees, try their dark roast latte, iced honey vanilla latte or their mocha freeze–and while you're there, don't forget to try their quiche!
Palm Springs Koffi North is open daily, from 5:30 a.m. to 7:00 p.m. It is located at 515 N. Palm Canyon Drive, Palm Springs. Palm Springs Koffi South is open daily, from 5:30 a.m. to 7:00 p.m. It is located at 1700 South Camino Real, Palm Springs. Rancho Mirage Koffi and Roasting Facility is open daily, from 6:00 a.m. to 6:00 p.m. It is located at 71-380 Highway 111, Rancho Mirage.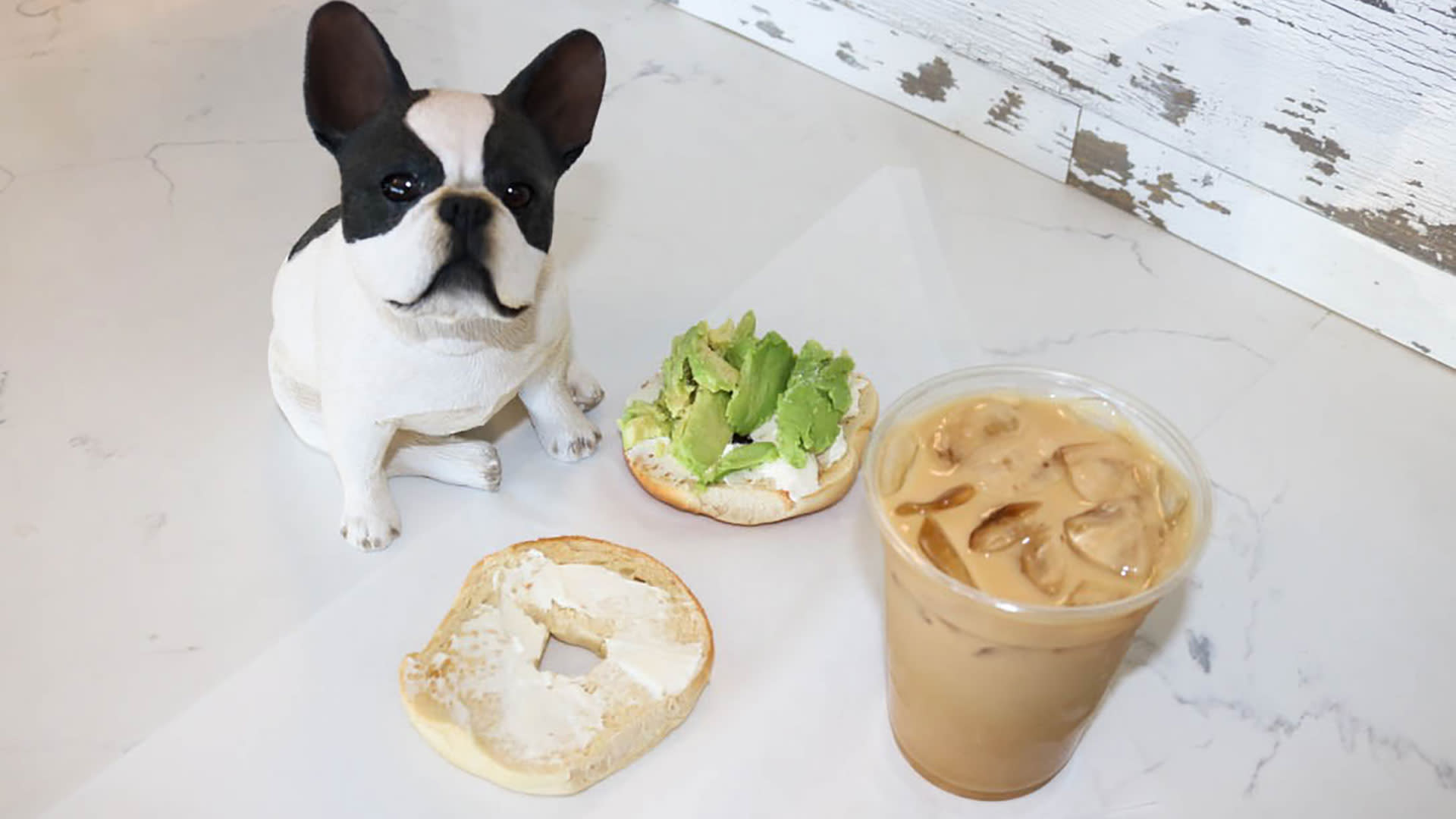 Image by Lesley Guardia.
New to the Palm Springs area, 4 Paws Coffee Co. is a service-dog friendly café that is serving up quality Farmer Brothers Coffee and some of the tastiest brewed drinks around. The coffee shop is also known for offering furry visitors doggie treats and pup cups (coffee cups filled with whipped cream)! The establishment is led by coffee extraordinaire Lanette Howard, who opened up the café due to her love of coffee, people, animals and food. Her passion for all these things is evident throughout the shop's space, incorporating pet art into the décor and providing a book sharing program for guests.
Bestsellers on their menu include turkey and veggie sandwiches, house-made cookies, avocado toast and bagels. Top drinks include their popular cold brew, honey latte, tropical tea lemonade with blue berry and their green tea lemonade with lavender, which come directly from their "Palm Springs Specials" menu. In addition to serving great food, delicious coffee and providing an open space for visitors, the company's ultimate goal is to donate to local animal shelters in need and give back to the Greater Palm Springs community for years to come.
4 Paws Coffee Co. is open every day, except Thursdays, from 6:30 a.m. to 5:00 p.m. It is located at 2500 N Palm Canyon Drive– Suite A5, Palm Springs.
For more unique coffee, food and dessert finds in the oasis, check out these must-try brunch spots in Greater Palm Springs.