With well preserved, midcentury modern architecture and a march-to-my-own-beat sensibility, Greater Palm Springs is unanimously applauded for staying original—and it's no stranger to atypical, non-mainstream interests. Incidentally, the Oasis is teeming with unique attractions you can't find anywhere else in the world, blessed with quirky sites that have made the area and around Greater Palm Springs one of a kind. From the odd to the eccentric, these can't miss, curious attractions are celebrated for keeping Greater Palm Springs utterly unique.
Cabazon Dinosaurs | Cabazon
They may be thousands of years old, but these dinosaurs have aged quite gracefully. Made famous by the T-Rex cameo in the cult classic "Pee Wee's Big Adventure," the Cabazon Dinosaurs are a popular roadside attraction just outside Greater Palm Springs. Since the 1980s, these two massive dinosaur sculptures have greeted visitors driving to the destination and are now unarguably a top highlight on all road tripping adventures.
Cabot's Pueblo Museum | Desert Hot Springs
Cabot's Pueblo Museum is an architectural delight and a true time warp to centuries past. The four-story, 5,000-square-foot historic house exemplifying Pueblo Revival Style was completely built by hand, constructed exclusively from reclaimed and found objects and dazzling with its aesthetics and history. Museum junkies are in for a treat with the artwork and artifacts of American Indian and Alaska Native cultures.
Frank Sinatra's gravesite  | Cathedral City
Frank Sinatra brought tons of fame to Greater Palm Springs, where he spent time crooning, drinking and charming throughout the desert's most cherished establishments (like Melvyn's). It's not uncommon to trace his steps, but many die-hard fans make the trek to Desert Memorial Park in Cathedral City where Sinatra was laid to rest. After passing away at the age of 82 in 1998, Sinatra was buried here with a bottle of Jack Daniels and a pack of Camel cigarettes tucked into his suit. The cemetery is also home to Sonny Bono, one of Palm Springs' best celebrity mayors!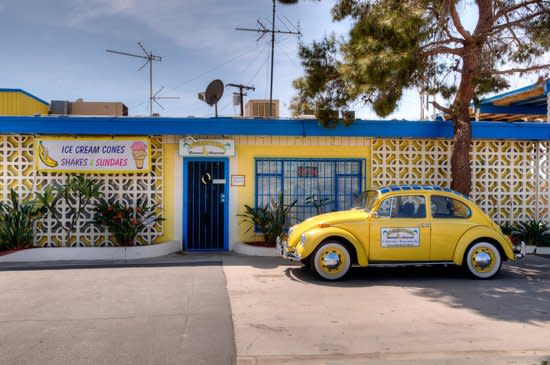 Banana Museum | Mecca
There's no other place in the world you can get a potassium fill like the Banana Museum. In Fact, Guinness Book of World Records appointed it the largest museum dedicated to a single fruit. With more than 17,000 banana-related items, banana lovers will, well…. go bananas over this oddball attraction that takes obsession to a whole other level!
Salvation Mountain  | Niland
Colors truly pop in the desert landscape at Salvation Mountain. No, it's not a mirage but a manmade mountain painted over in a beautiful palette of eye-engaging art. It's crowned with a message in red and pink letters "God is Love" (hence the "salvation"), and intrigues visitors from all over the world. Salvation Mountain is such an anomaly that it's been featured in TV shows like "Ripley's Believe it or Not" and on the Discovery Channel.
Noah's Purifoy's Desert Art Museum | Joshua Tree
While Greater Palm Springs is home to excellent museums—from Palm Springs Art Museum to Palm Springs Air Museum—Noah's Purifoy's Desert Art Museum is truly oddball inspiring, luring visitors obsessed with outside-the-box, larger-than-life art. Outside the town of Joshua Tree, this randomly located, outdoor art museum is eighteen years in the making by artist Noah Purify. Dozens of art installations can be viewed in the middle of the desert, all made from recycled objects, from mannequins and old TVs to lots of toilets.