If shedding your stress could be as easy as shedding your clothes, than these clothing-optional boutique hotels in Greater Palm Springs may become your ultimate chilling destinations. You could even call them "natural" tranquilizers!
Clothing-Optional Resorts
This Mediterranean-style nudist resort is built on five landscaped acres in the historic Movie Colony of Palm Springs. The resort offers three swimming pools, two whirlpool spas, pool volleyball and night-lit tennis courts. The couples-only resort offers guest rooms, villas and condos for stays; day passes are also available. Guests enjoy a spa with full spa menu, a cozy conversation fire pit and a café and bar.
Hot Mineral Water Clothing-Optional Resorts
This luxury-awarded, celebrity nude spa and resort hotel offers guests exclusive spa massage packages, 24-hour whirlpool, a 24-hour dance lounge and four-star hotel rooms for couples and women only.  Daily amenities include unlimited coke products, munchies, teas, juices, gifts and breakfast. Providing a Zen experience for the day, night or overnight, the romantic retreat was ranked Best of by Maxim, FHM, Playboy and The New York Times.
Living Waters was ranked one of the Top 10 clothing-optional resorts in the world by TripAdvisor and featured by The New York Times, Washington Post, The Tennis Channel, Los Angeles Times and USA Today. Combine the healing, warm mineral waters that have made Desert Hot Springs famous with the freedom of going clothing-optional at Living Waters Spa. The European-style resort offers poolside rooms as well as spa condos—and tranquil vistas stretching over the valley. What everyone talks about here are the amazing massages. Book a room or come for the day; massage packages available.
Anahata Springs Spa and Retreat is a clothing-optional, hot springs-fed, boutique spa and resort for adult couples and women who want to "love more and wear less."  Named "Anahata" in honor of the fourth energy point of our higher chakras, the resort's name also refers to the Heart Chakra. Relax in one of 15 guest rooms; day use and massages available, as well.
The serene, clothing-optional bed and breakfast is located on a turtle-shaped mesa 25 miles from Palm Springs. This modern, spacious adobe with more than 400 turtle artifacts provides a wonderful getaway for couples and singles. The property includes 130- degree natural hot mineral water pumped up from 425 feet underground into a large outdoor swimming pool and two separate hot tubs where it's cooled to the perfect temperatures. Soak in the pool or hot tubs while enjoying unobstructed views. Wake up to a delicious breakfast and take a hike in the desert tortoise country.
LGBT Clothing-Optional Resorts
Desert Paradise" perfectly describes the beautiful, tropical, romantic, clean clothing- optional men's resort, created with you in mind. From the second you enter the gate, you will be treated as if you are in your second home, as part of the family, and experience more then you expected.
This clothing-optional resort is located on a palm-lined street where you can relax and enjoy yourself in a neighborhood that is all your own. Two sparkling pools are the centerpiece of the courtyard gardens with mountain vistas. Warm sunshine and cool water caress every inch of your being.
This beautiful 1950's property is one of the longest running clothing –optional resorts serving the gay community in Palm Springs. Escape is proudly gay owned and operated, welcoming all but catering primarily to and seeking to provide the perfect destination for the gay male traveler.
Santiago Resort is a private, swimsuit-optional escape for gay men resting at the foot of the San Jacinto Mountains. Santiago is a place where the stillness and serenity of the desert infuse everything; where the bubbling spa, rustling palms, and singing birds become your personal soundtrack. Santiago's professional staff effortlessly provides attentive service while allowing you just the right degree of solitude.
CCBC is one of the largest four-star clothing-optional resorts in Southern California. The 3.5-acre resort features a sparkling pool, Jacuzzi, waterfall and grotto. CCBC provides both privacy and security so you feel free to fulfill those fantasies. Enjoy a relaxing weekend with your partner or come and play with others. At CCBC, the possibilities are endless.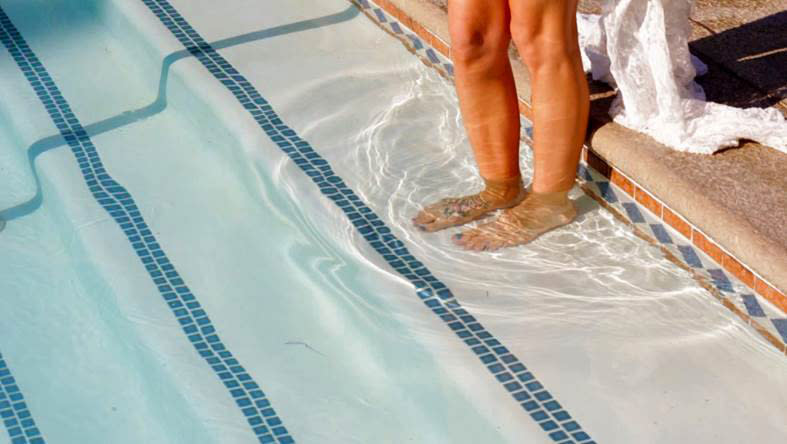 A resort hotel for gay men, INNdulge offers clothing- optional and nude sunbathing with the pool and Jacuzzi open 24-hours. Amenities include free Wi-Fi, front desk service and assistance with bookings, guest laundry, gym, air conditioning, outdoor misters and complimentary breakfast. INNdulge is located just a few minutes from the center of Palm Springs with restaurants, shopping and hiking at the top of the aerial tramway.
Triangle Inn promises a private, comfortable space to relax, unwind, and discover the freedom of clothing- optional living for gay men. Explore the sun-drenched tropical gardens, go for a refreshing swim in the pool, relax and unwind in the Jacuzzi, or simply soak up some sun while enjoying the breathtaking mountain views. A four-bedroom, two-bathroom house is also available for rent.
El Mirasol offers the style, comfort and ambiance sought by today's gay traveler. Walled and gated, this private clothing -optional resort in the Warm Sands area is only blocks from downtown Palm Springs featuring gay nightlife, shopping and gourmet dining. Meandering garden paths lead to bungalows and studios, two gorgeous clothing- optional pools, a steam room and an in-ground Jacuzzi with an outdoor shower.
This gay hotel is a modern, hip and comfortable place for you to enjoy this truly beautiful desert location. The heated pool and spa, the professionally designed and landscaped grounds, and the beautifully appointed common room are here for your total comfort and enjoyment.
This premier gay men's resort in Palm Springs provides a place to kick off your shoes (and your swim suit) and make yourself at home. Scenic views, lavishly appointed guestrooms, sexy gay men from around the world and interesting environments for you to explore are at Helios.
This gay, clothing-optional hotel with unique architecture and lush grounds grants guests 24-hour access to the pool and hot tub, sunny roof deck with unobstructed views of the San Jacinto Mountains and the surrounding area. You will feel at home as you walk in.
Vista Grande is a premium clothing-optional gay men's resort with beautifully appointed rooms, as well as two sparkling swimming pools, a bubbly hot tub, dry sauna, spacious steam room and breathtaking waterfalls.
The clothing- optional hotel catering to gay men offers 32 rooms, some with private patios and full kitchens. Offering affordable rates in a great downtown location, the hotel is within walking distance to local gay bars, shops and dining. Enjoy the large, sunny courtyard and grounds that are landscaped so you don't have to move your chair to stay in the sun.  A continental breakfast is served every morning.
Casual and elegant, yet masculine, this midcentury inn has been faithfully restored and upgraded so you can relax and be yourself. The only gay clothing-optional resort in the historic Movie Colony, located within walking distance to great restaurants and Palm Springs' gay district.
The resort is located within walking distance to amazing restaurants, fun shopping and exciting nightlife. The resort's southwestern decor and lush indigenous landscape create a tranquil and serene setting. This clothing-optional property has beautiful palm and citrus trees, Zen bougainvillea garden and breathtaking mountain views.
Chaps Inn offers a gay, clothing- optional resort where you can swim in or laze by the heated saltwater pool, enjoy the spa, cool misting system and steam room. The inn is close to downtown Palm Springs, but far enough away to afford the peace and quiet of the desert oasis.