There's no better place to shop, dine and experience the leisure and extravagance that Greater Palm Springs has to offer than El Paseo Shopping District in Palm Desert. Here, visitors can spend their day browsing through an incredible collection of upscale and unique-to-market stores, while also enjoying delicious bites, unique gallery art and chic hotel stays all on the same street!
Check out our guide for El Paseo Shopping District and you'll soon be setting your sights on the destination this season!
Where to Shop & Dine
Known for being the Rodeo Drive of the desert, El Paseo Shopping District is comprised of The Shops on El Paseo and The Gardens on El Paseo. Together, these shopping centers create an impressive mile-long retail experience that is unlike any other locale in the region, providing customers with a large selection of locally-owned boutiques, high-end shops, and prestigious international brands.
The Shops on El Paseo
Start your day exploring the El Paseo Shopping District by taking a stroll through the region's premier luxury shopping destination, The Shops on El Paseo. Visit world-renowned brand stores like Gucci and Ralph Lauren. If hungry for some brunch, be sure to stop by the Daily Grill for some amazing American-style classics like Fried Chicken & Waffles or Texas French Toast with Berry Compote. Those in the market for some new eyewear can step inside Oliver Peoples, where you will find trendy collections of iconic sunglasses and eyeglasses.
The latest in women's classic styles can be found over at Chico's. Shop everything from designer tops, pants and dresses to beautiful accessories and must-have items at both of these fashionable boutiques. You'll find yourself amazed at boutiques Blonde and Decades in addition to the contemporary and specialty curated clothing boutiques during your stroll through the shops. Brighton is known for its exquisitely crafted women's handbags, jewelry, and charms for bracelets, along with many other stylish accessories. Conveniently located by the shops is California Pizza Kitchen, a go-to establishment in the region for appetizing pizzas, plates of pasta, salads and more!
The Gardens on El Paseo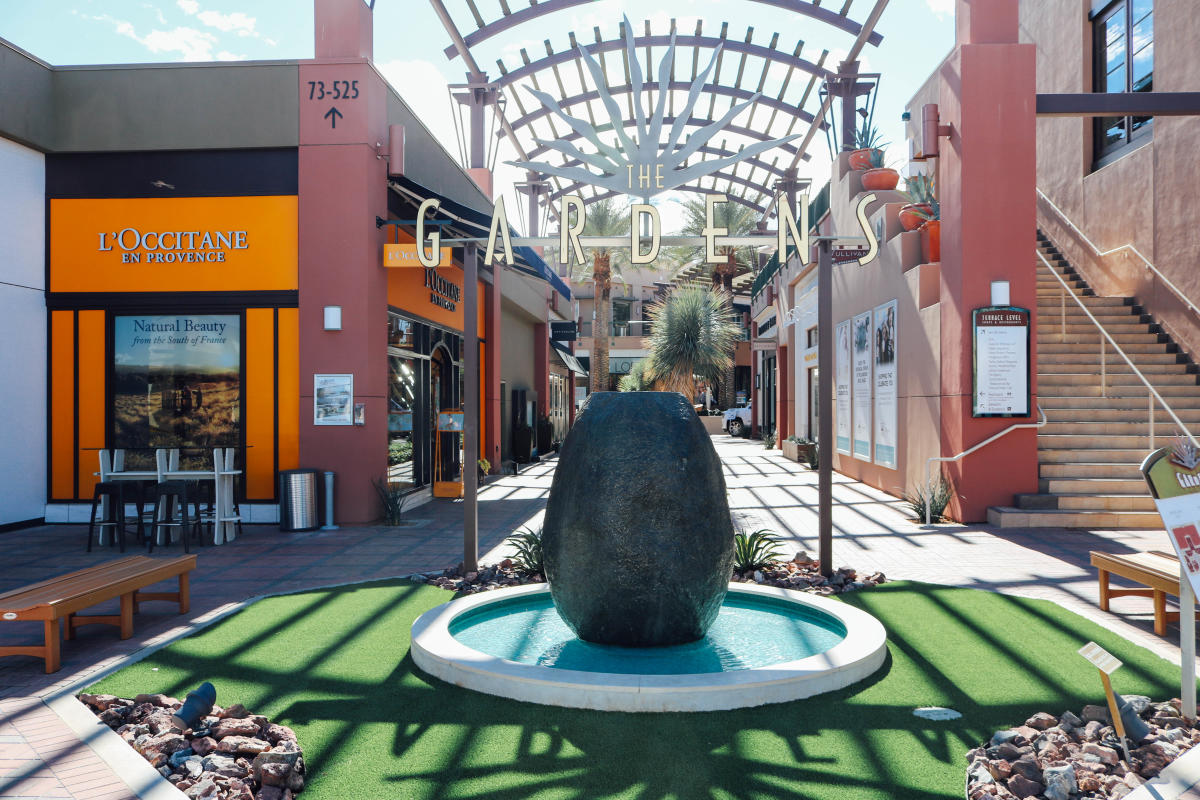 Continue making your way down the El Paseo shopping strip to experience even more store hotspots and incredible restaurant tastes!
Delicate and pretty finds are also available for purchase at Anthropologie showcasing modern elegance and bohemian-inspired women's looks in fashion, accessories and gifts. While nearby is Loft which is a women's apparel brand known for its career wear, dresses & separates in contemporary styles. For those looking for a more bold and colorful approach to style, check out Trina Turk at their Palm Desert boutique which carries Trina Turk and Mr Turk men's and women's clothing, dresses, swimwear, accessories, and select home decor. Find styles suited for your weekday to weekend wardrobe, including casual to cocktail attire, everyday separates, professional men and women's suiting, and of course, vacation-ready clothes, swimwear, and cover-ups. A popular and prominent stop along the way is Sundance. A leading lifestyle shop that offers a carefully chosen assortment of distinctive, high-quality clothing and accessories for men and women, as well as jewelry, home decor, and accessories. Sundance transforms the customs of genuine American heritage into a timeless and innovative style.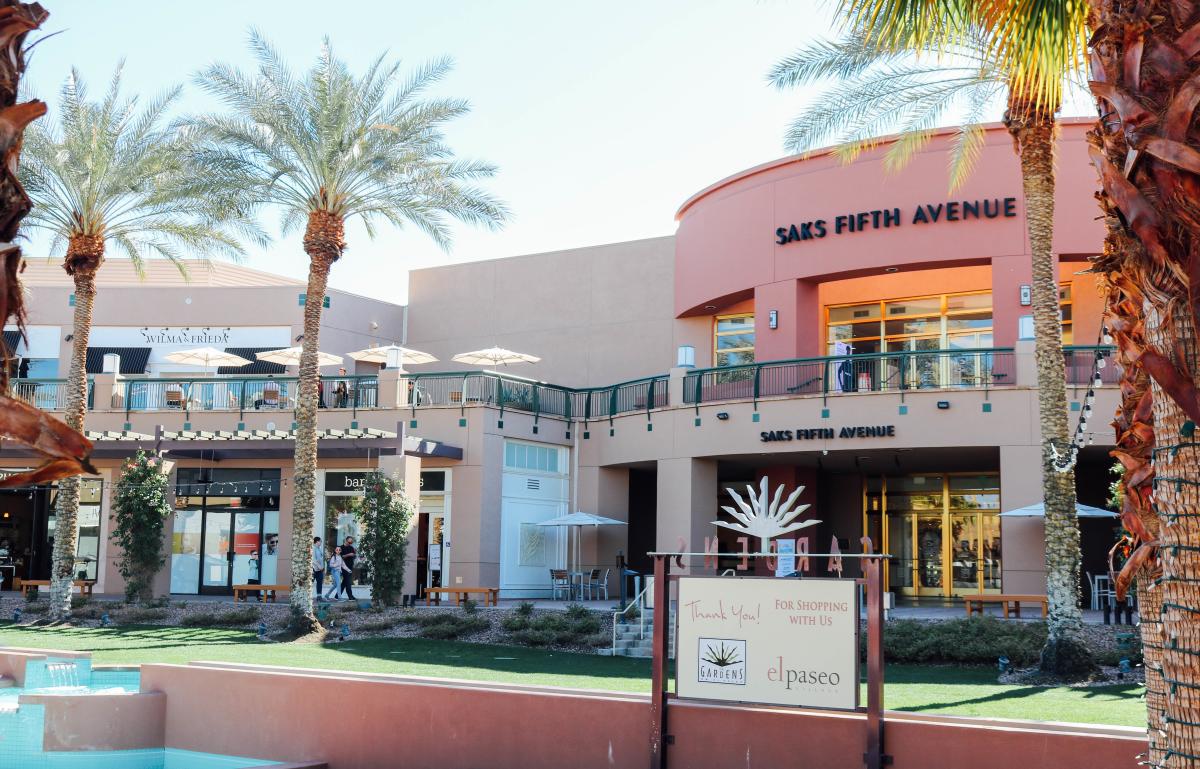 Located in the center of The Gardens on El Paseo is Saks Fifth Avenue, a stand-out luxury department store that offers the finest in designer collections and cosmetics. Close by are also ever-popular brands like Louis Vuitton, Johnny Was, Pottery Barn and Sarit. Or how about you make it a getaway to remember and treat yourself to something sparkly and new while visiting Tiffany & Co. Then afterward, stop by Tommy Bahama to get away from it all and shop their island-inspired attire. Once you've made your selections, head upstairs to the Tommy Bahama Restaurant & Bar for a relaxed, tropical drink or two!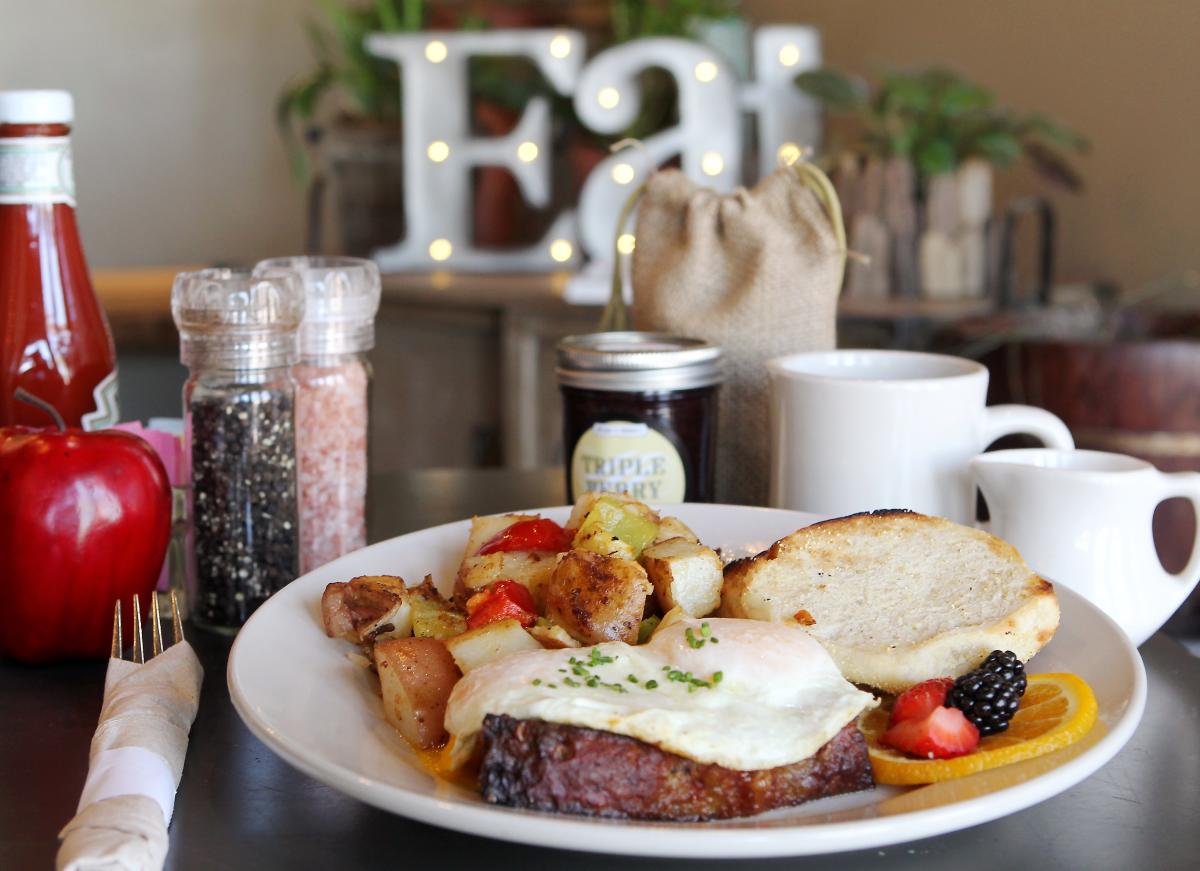 With all this shopping you'll be doing on The Gardens on El Paseo, you'll surely work up an appetite! If you're craving home-style cooking with a fun and unique twist, head into Wilma & Frieda. We recommend trying the café's Churro Waffle or their Signature Griddled Meatloaf & Eggs for brunch, as each is equally enticing and savory!
More mouth-watering  options await you at The Hideout Kitchen + Bar which offers flavors and inspirations of American food and drinks with a twist. Piero's PizzaVino in Palm Desert is another great option if you're craving Neapolitan pizzas from a wood-burning oven, plus pasta, antipasti, wine and more. If international cuisine is more your thing, then you're welcome to enjoy a charming Parisian meal at Café des Beaux-Arts. The French-inspired bistro provides must-try entrees like Crepes stuffed with ham and cheese or strawberries for breakfast, savory Spinach Quiche Lorraine for lunch and Duckling á l'Orange for dinner.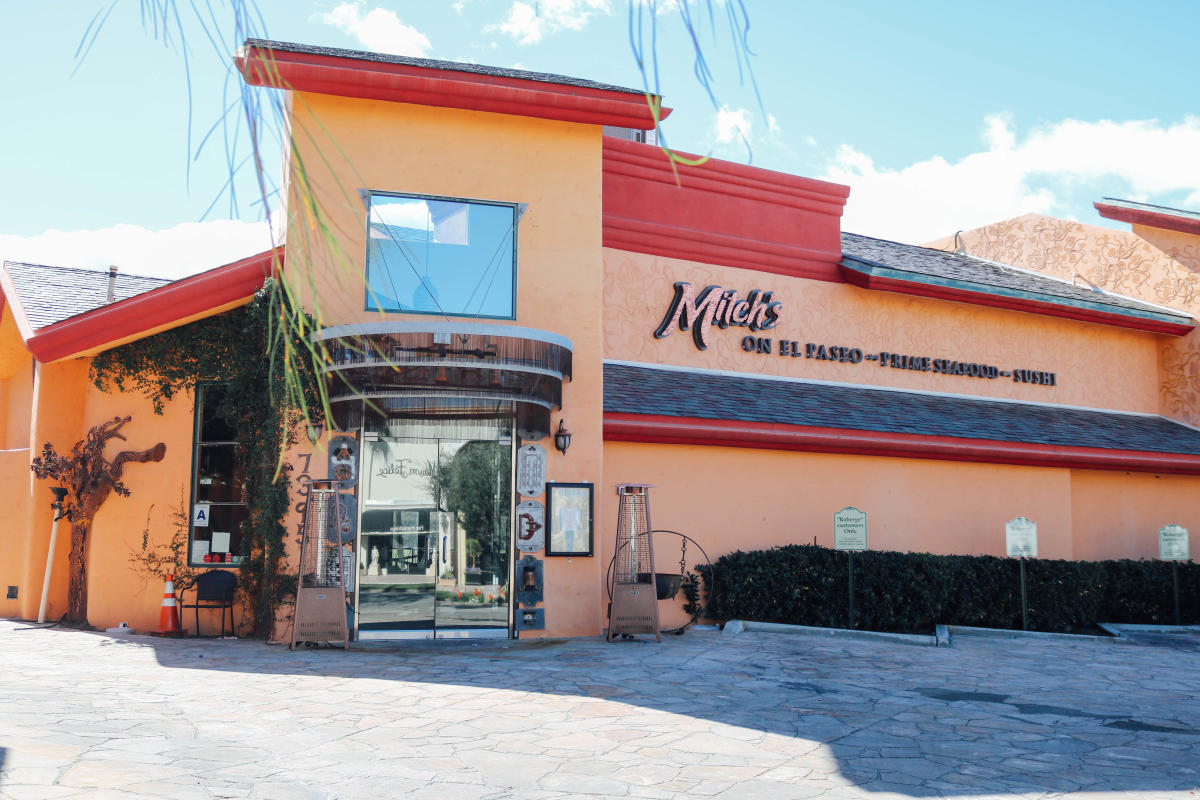 You can also try out other restaurant favorites like Armando's Bar & Grill or Mitch's on El Paseo Prime Seafood, which serves up signature prime steaks, sushi, seafood, fresh fish selections and much, much more. Come in for a tasty lunch, or opt for a stellar dinner under the stars at Mitch's. However, if you're going to visit a steakhouse while in Palm Desert, go to Mastro's Steakhouse on El Paseo. Everything from their superb service to their award-winning cuisine offerings will leave you feeling happy and full. Finally, finish off your time on El Paseo Shopping District by satisfying your sweet tooth at FIX, A Dessert House.
What to Experience
El Paseo Courtesy Cart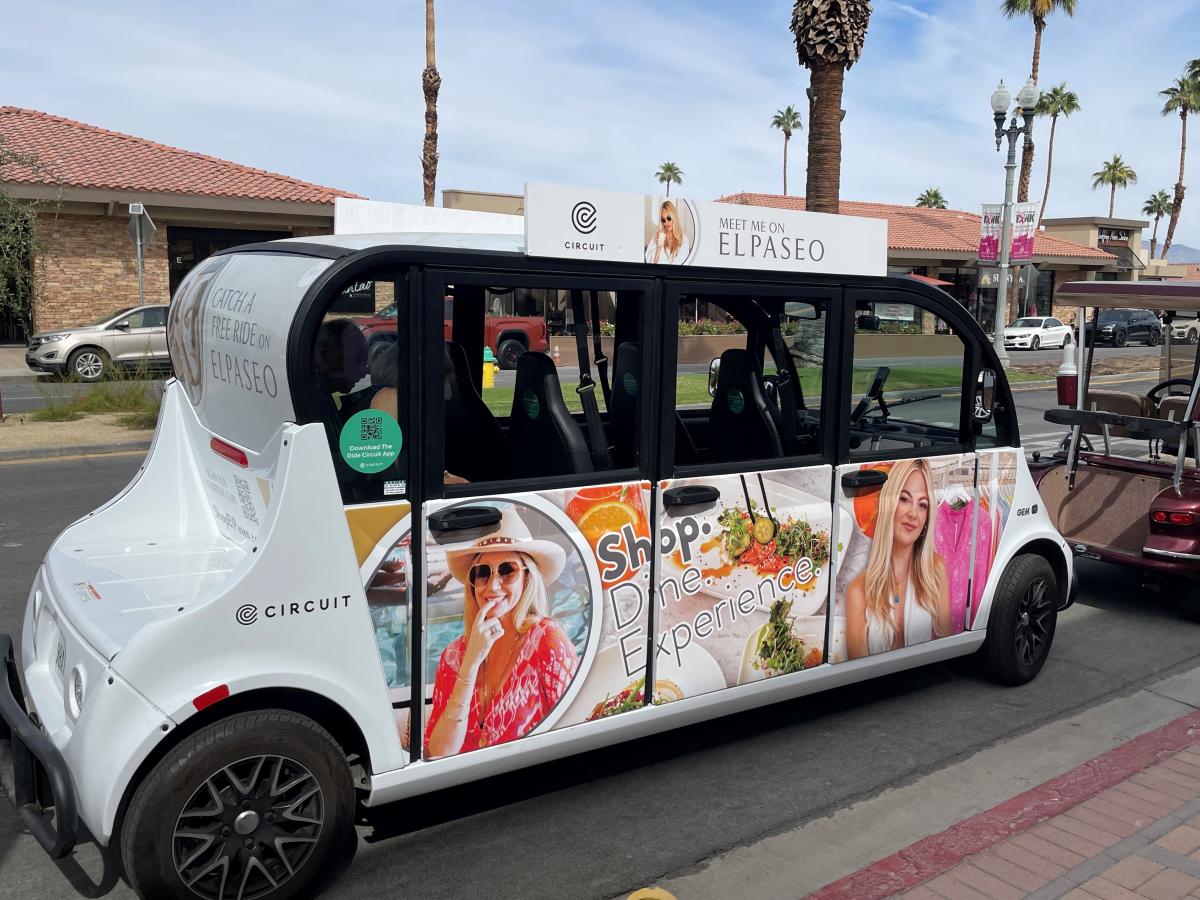 See everything on the El Paseo shopping strip by traveling in style on the free golf cart-style El Paseo Courtesy Cart. To catch a ride, simply flag down a driver and they will come to pick you up wherever you're at!
Fashion Week El Paseo
Celebrate fashion and style in Greater Palm Springs during Fashion Week El Paseo! The annual event takes place at the Gardens at El Paseo, featuring designer runway shows, exclusive meet and greets, as well as trendy trunk shows.
Palm Desert Food & Wine Festival
Happening in the heart of the El Paseo Shopping District is the Palm Desert Food & Wine Festival.  Experience good eats and informative cooking demonstrations from acclaimed chefs from across the county during the event. While there, also check out the many appetizing food booths and fine-dining restaurants that will be showcased at the festival this year.
El Paseo Art Walk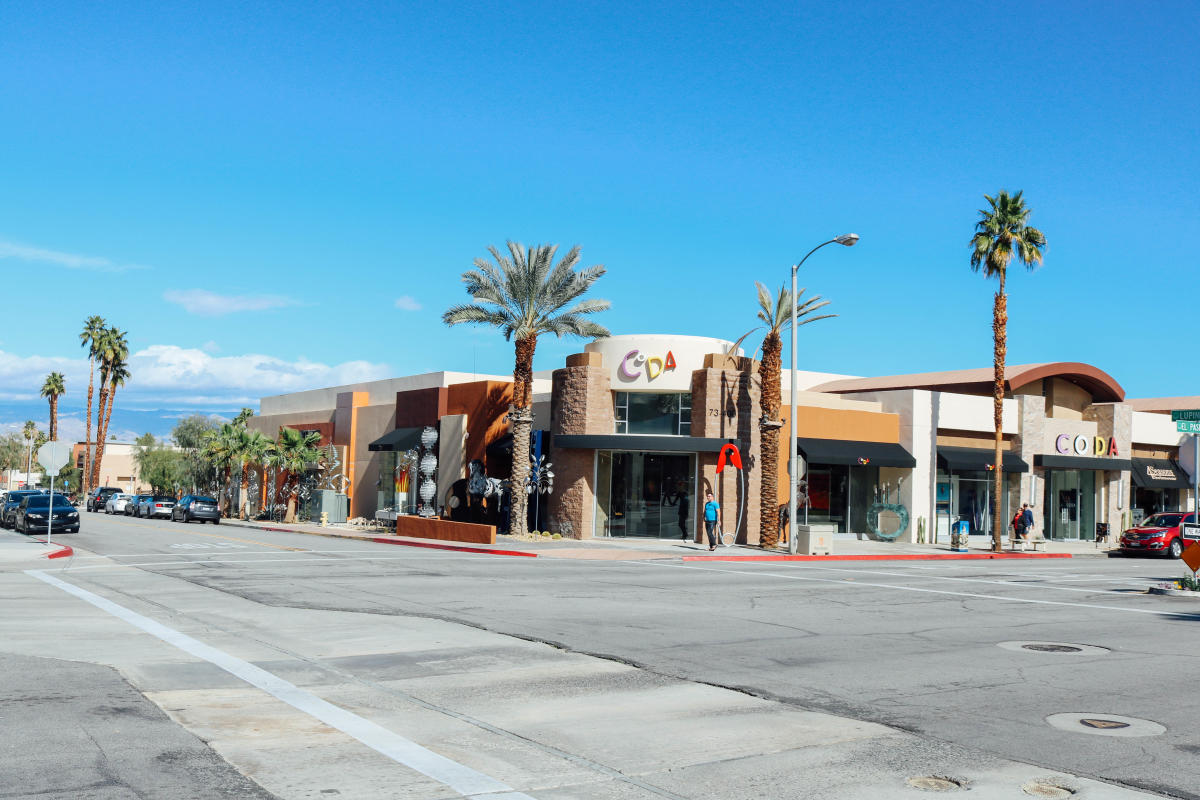 Join the distinguished El Paseo Art Walk on the first Friday of every month, November through May, from 4 p.m. to 8 p.m. Take in the sites at art galleries throughout the shopping district as you check out exhibit openings, artist receptions, public street art and more.
Get even more out of your trip to El Paseo Shopping District by booking a stay at Hotel Paseo, one of the newest, chic properties in the oasis! If you 're looking for more unique boutiques and vintage finds, check out our Shopping in Greater Palm Springs page.
Experience one of Palm Desert's newest and most unique hotels near El Paseo.