Greater Palm Springs is a popular spot for honeymooners because it offers nearly year-round sunshine and a diverse slate of experiences for couples. From highbrow to lowbrow, radical to conservative, no-frills to finery-filled, or classic to eclectic, there is something for everyone in the oasis.
What kind of honeymoon are you in the mood for?

For an elegant taste of Italy, the Miramonte Resort in Indian Wells offers full resort amenities amongst an environment tailored towards sensory delights. Stroll stone pathways lined or enjoy wine on the sprawling outdoor Piazza terrace with expansive views of the Santa Rosa Mountains. Soak up days spent poolside in your own private cabana for two, waited on by attentive staff. And when you want to venture out, you'll find world-class golf, tennis, hiking and shopping on the prestigious El Paseo Drive just a few miles away.
Many moons ago, Ruby Montana lived in Seattle as the proprietor of the renowned palace of kitsch that was Ruby Montana's Pinto Pony; an emporium of furnishings and curios for the vintage collector. Later, when she moved to Palm Springs and bought the historic pink 1950s hideaway The Coral Sands Inn she furnished it with inventory from her bygone store creating the ultimate in eclectic, museum-quality themed rooms.
Decked out in western furniture, folk art and contemporary work by famous artists worldwide, the Roy Rogers and Dale Evans Suite, Liberace Room, Yiddish Cowgirl and Poodle Rooms now await guests around a pristine and original peanut-shaped swimming pool at the midcentury modern property. Hipsters, cultural creatives, artists, celebrities, modernism buffs and those looking for something out of the norm love to visit Coral Sands where Ruby is always available with an unparalleled smile known to whip up impromptu lemon meringue pies on a whim.  Honeymooners can relax down to earth style with their own fully-equipped kitchenettes, wireless internet and other accouterments of home including the accompaniment of their pets all in walking distance from downtown's Design District, vintage stores, the Las Palmas neighborhood and tennis, golf and hiking.

For honeymooners looking for a one of a kind and all-inclusive location, the world-renowned Two Bunch Palms offers tranquility at an authentic desert oasis. The reflective and sacred environment for adults where cell phones are an extreme taboo offers authentic healing waters in two large grottos, a combination of Western and Eastern spa services, meditative moments on a rainbow path, walks within a labyrinth, and dining in a garden house observatory overlooking a pond.
There are many desert trails on the property as well as opportunities to feed and commune with the fish, duck and turtles that dwell on the premises. Couples will find many special packages designed for two like massages, a custom Roman Bath ritual, Watsu a Deux and a Bask and Bake experience that alternates between mud bath and sun deck.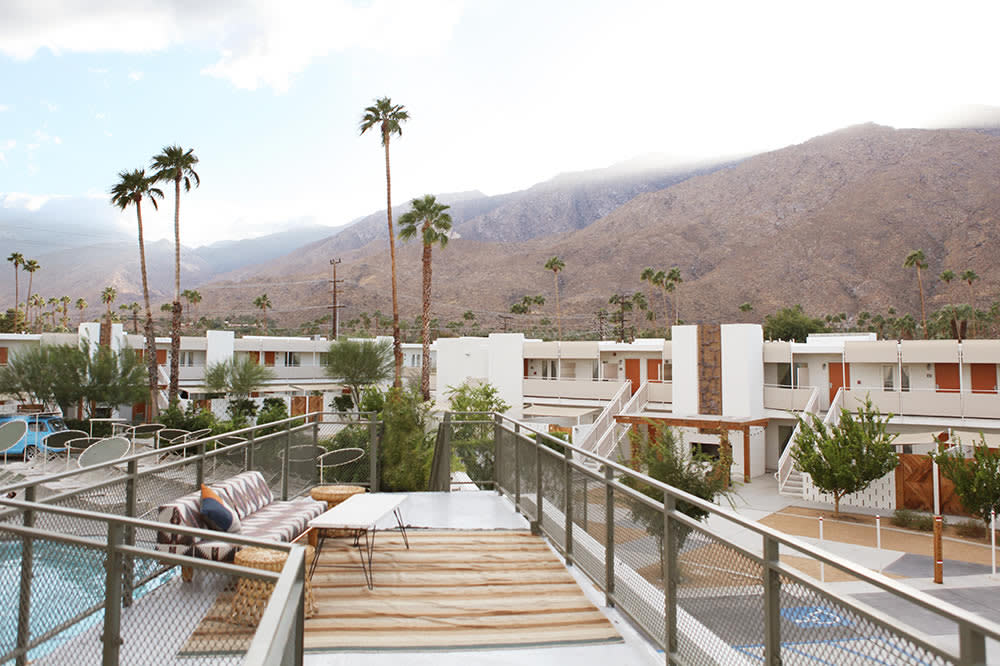 The Ace Hotel and Swim Club is an arbiter of cool for DIY-loving, independent hipsters who prefer to eschew glamour for a more tribal, communal experience with fellow travelers beneath the sun. The 170-room hotel features large pools where DJs are known to spin the afternoon away, an Amigo Room bar with weekly games of bingo, a restaurant serving addictive whoopie pies and ricotta pancakes, a Feel Good Spa and a fully equipped gym with sauna.
Extend the wedding party by listening to real vinyl records in your room and ordering a taco party delivered right to your door or spend time in front of your own private outdoor fireplace to people watch your time away. Koffi next door provides great newspaper time for two and within a few blocks, you can take off on your own nature walks or ride bikes into downtown.
Korakia Pensione was birthed in 1989 through a merge of three historic properties: a Moroccan-inspired villa owned by a Scottish painter; a 1930s Mediterranean Villa owned by an early silent screen star; and a 1918 California Adobe Orchard House. Today the resort rests on 1.5 lush acres with bungalows, guesthouses and pools creating all the ambiences of Morocco in its exotic arches and architecture, tiles walls, Moorish doors, custom decorated rooms and stone waterfalls. Honeymooners can find the ultimate privacy here amongst grounds ripe with citrus and olive trees, oleander bushes, date palms and bougainvillea vines. Small and distinctly intimate, it's the perfect hideaway for those seeking solitude and together time without the crowds of bigger resorts but still within walking distance of downtown Palm Springs' restaurants, museum and nature hikes.
Find more romantic places to stay in Greater Palm Springs with our searchable hotel listings.