Greater Palm Springs has so much to offer that making sure you experience it all can be a challenge that you're willing to accept.  These LGBTQ+ owned and operated tour operators have you covered for a sampling of what Greater Palm Springs has to offer. 
Whether indulging in midcentury modern architecture, biking the city, or sampling our nightlife is on your to-do list, these local businesses will take you on desert adventures of a lifetime.
Bike Palm Springs Rentals & Tours
Biking is a breeze in Greater Palm Springs with miles of bike paths to take you to the best sights in the valley. With the CV Link opening new routes all the time, there are even more areas to explore.
BIKE Palm Springs Rentals and Tours has everything you need to rent to enjoy your day. Tony Torres and Rocky Wood have established a partnership with the Palm Springs Historical Society to expand their rental business to include tours. The synergy between the non-profit and their rental business has produced a one-of-a-kind experience that can't be missed.
"The motivating factor for opening a bike rental shop in Palm Springs when it was established was the lack of bike rental shops and realizing that the best way to see the city is on a bike," explains Tony. The partnership with the Historical Society made sense for the expanding bike company. "It was a great fit from day one," says Tony. "The Palm Springs Historical Society is a nonprofit organization, and all of their docents volunteer their time to lead the tours."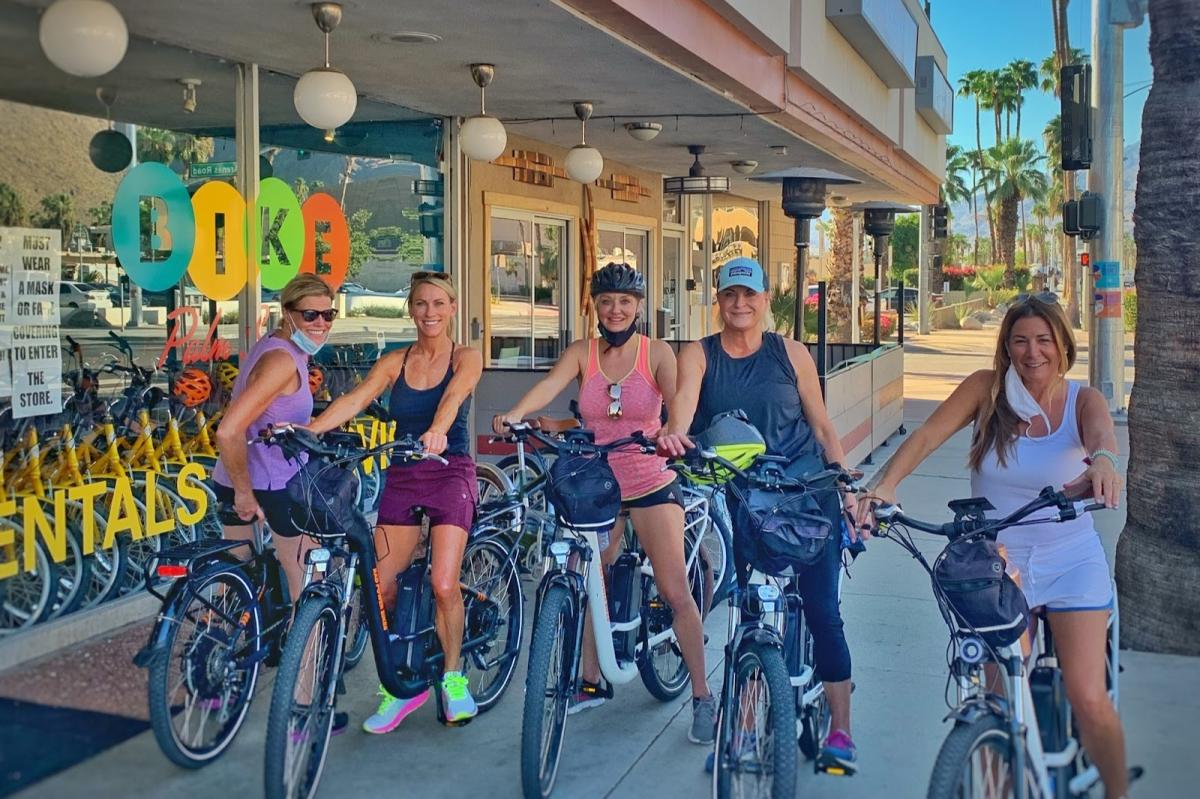 In addition to architectural sightseeing, Greater Palm Springs offers stunning scenery and interesting historical anecdotes. 
It's a touring option that appeals to all demographics. "We welcome everyone and anyone who shares the love for bikes and the outdoors," says Tony. "We love our LGBTQIA+ community and allies. Our services are perfect for families and friends.
We like to make it a memorable time for those who visit us, we are known for being fun, friendly, colorful and receive great satisfaction out of hearing folks rave about their visit to BIKE Palm Springs."
Sunny Cycle Palm Springs
Change up your cycling and beverage game with Sunny Cycle Palm Springs, a luxury electric limousine cycle that incorporates everything that best represents Palm Springs – sunshine, music, food and beverages!
Jen Banford and her partner Shannon Miller have been vacationing in Palm Springs since the early 2000's. They would rent the eco-friendly cycles in their hometown of Minneapolis and recognized the potential for the business in their newly adopted hometown with year- round sunshine and bike friendly streets. Six years later, the Sunny Cycle has become a familiar and entertaining part of the landscape on Palm Canyon and Indian Canyon and the go-to tour for locals with out-of-town visitors.
Jen and Shannon are full time residents in Palm Springs and active participants in the Coachella Valley, in addition to working for the Chamber of Commerce, Palm Springs Police Association and Coachella Valley Arena.  "We call it Heaven on Earth", says Jen, and their love of the community shows.  
The Sunny Cycle tour takes place on a 14-seat custom created cycle that features pedal and motor power and non-stop music.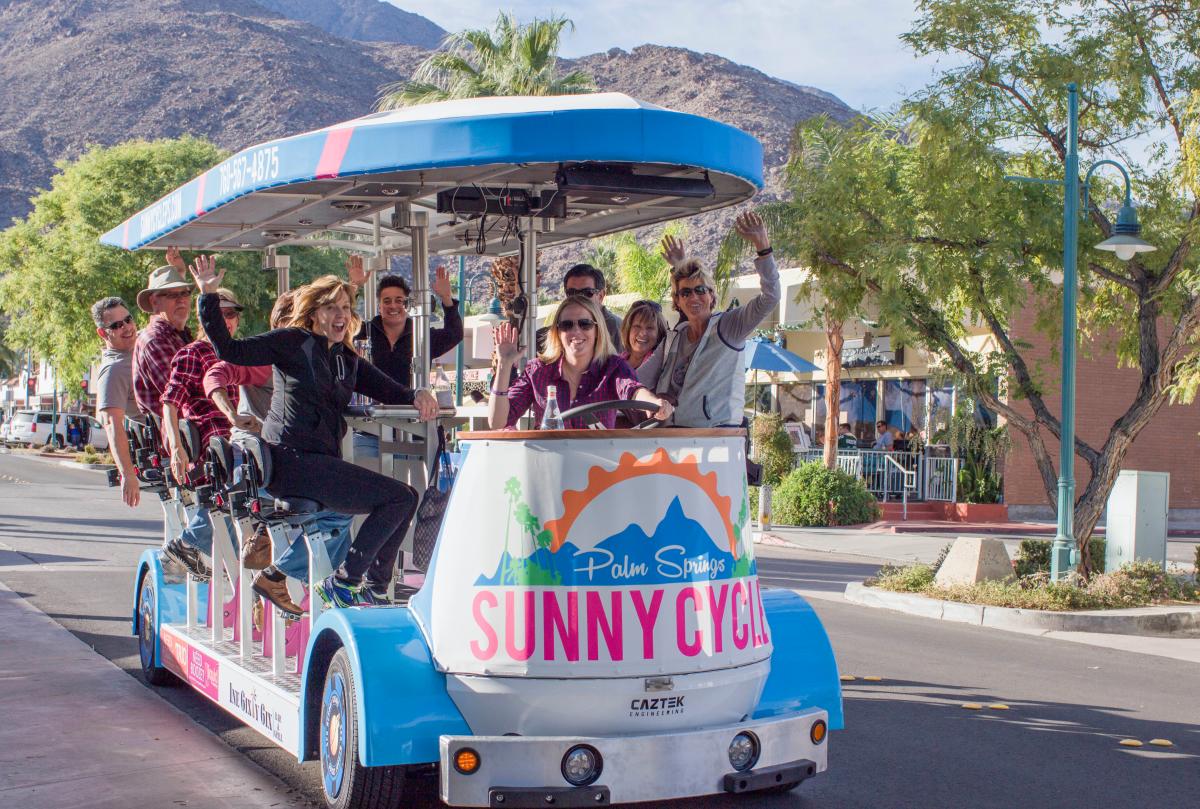 Jen and Shannon have made the tour even more special by partnering with local restaurants, such as Lulu California Bistro and Brickworks Bistro to provide discounts and reservations to Sunny Cycle customers. The regular tour incorporates two stops at the partner restaurants and includes complimentary food and discounts. This collaboration is a great representation of the community in Palm Springs.
Some custom tours that Sunny Cycle can provide are scavenger hunts, modern tours, and Instagram-inspired tours. They will also customize a tour for any occasion including birthdays, corporate events or family reunions. The inclusivity of Sunny Cycle tours is also reflective of the community of Palm Springs. "We find a way to make it work so everyone is included", says Jen and this results in guests as young as toddlers to 98-years-old.
Palm Springs Mod Squad
But don't just ride by those midcentury houses, get your architecture education with a one-of-a-kind experience with PS Mod Squad. With the Modernism Week schedule just recently released, there is no better way to prepare for the premier annual event in Palm Springs than with these remarkable tours.
Owner Kurt Cyr brings his designer background and experience to every tour with insightful information and historical references that will inspire you to finally purchase that 1960's coffee table. Kurt's tourism career began when he provided tours for the world-renowned Modernism Week in Palm Springs.  
"I had been guiding tours atop the double decker buses during Modernism Week for several years," recalls Cyr.  "I really enjoyed it and my buses were sold out and then people started requesting my bus. I thought there was something there! Could I do it year-round? I decided I could. So I got my license from the state and began conducting tours in 2015."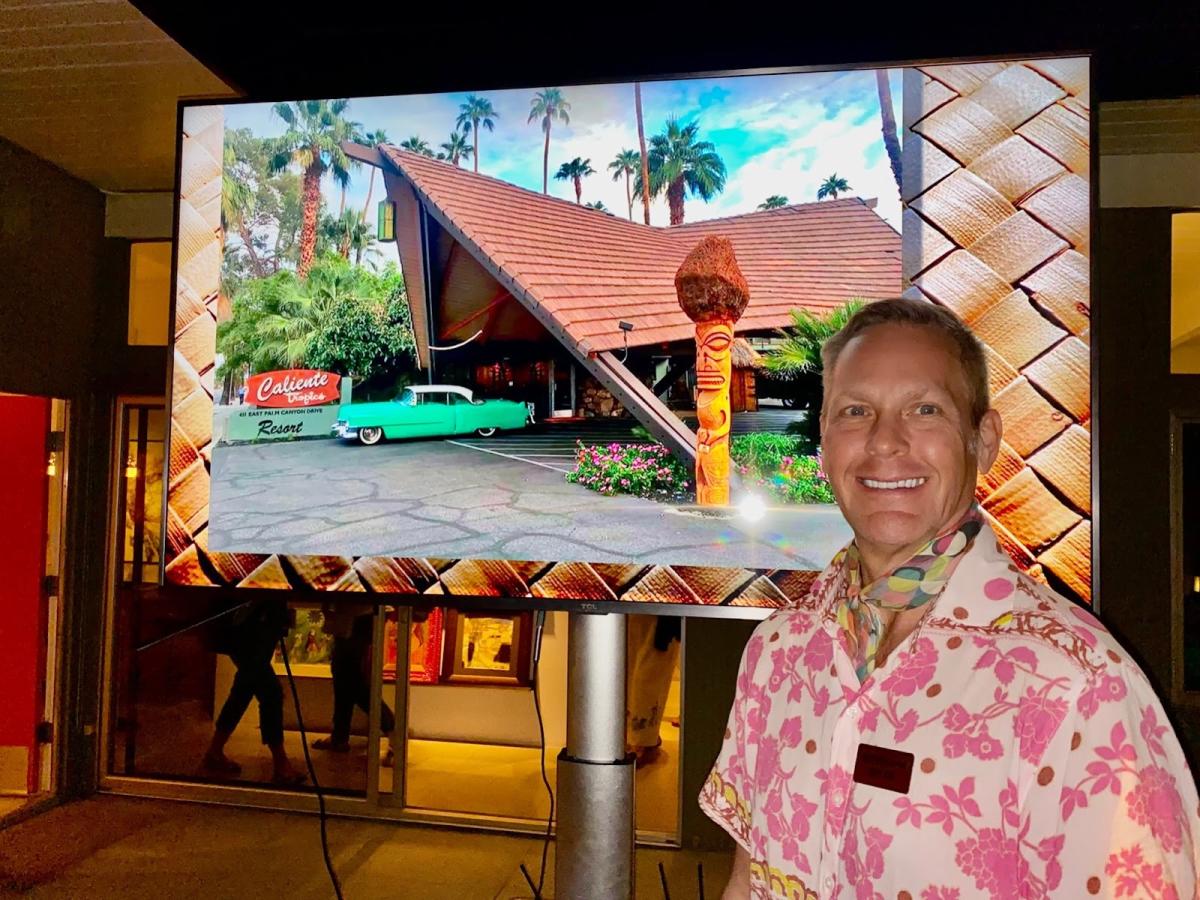 PS Mod Squad's motto is 'See Palm Springs through Modern Eyes' and the best way to do that is with their three distinctive tours: Interior, Essential and the Rat Pack Martini Tour.  
As Cyr explains, "The Interior Tour takes you into three different homes so you can see what it is like to live a modern life in midcentury modern homes."
Architects are the rockstars of Palm Springs design and PS Mod Squad's Essential Tour is a great introduction. Cyr describes it as an "architecturally focused tour that explains the who, what, why and how of our Desert Modern architecture - the architects, the signature elements and why both the early settlers and the Hollywood set came here to Palm Springs. " 
Palm Springs and The Rat Pack are commonly associated with one another and PS Mod Squad takes you to the ultimate cocktail party experience or as Cyr says, "the intersection of Palm Springs, Las Vegas and the Rat Pack."  A tour of celebrity homes is followed by a martini at one of Frank Sinatra's favorite desert hangouts.  
So where would these experts in Greater Palm Springs sightseeing take their visiting friends? Tony wouldn't let his guests miss the Marilyn statue while Jen and Shannon would head to Indian Canyons for a picturesque hike and Kurt would be found touring around downtown Palm Springs to explore the public art and the newly built park. In addition to their own tours, all worthwhile excursions!
Once you have those stunning social media photos, be sure to tag your favorite tour operator and the always exciting location of Greater Palm Springs!
Instagram: BIKE Palm Springs Rentals and Tours: @bikepalmsprings
Sunny Cycle Palm Springs: @sunny_cycle_ps