Zigzagging through Greater Palm Springs to see every Desert X art installation can be an all-day excursion. 
Desert X 21 runs from March 12 through May 16 and includes projects by 13 artists from all over the globe who use the desert landscape and local culture to create spectacular site-specific works that celebrate the area and highlight its history, as well as greater social issues.   
With pieces spread across the destination, you'll want to be sure to fuel up on food before, during or after taking in the awe-inspiring artwork—and there's no shortage of Greater Palm Springs restaurants offering outdoor dining and takeout along the way. 
Here are some you won't want to miss:  

King's Highway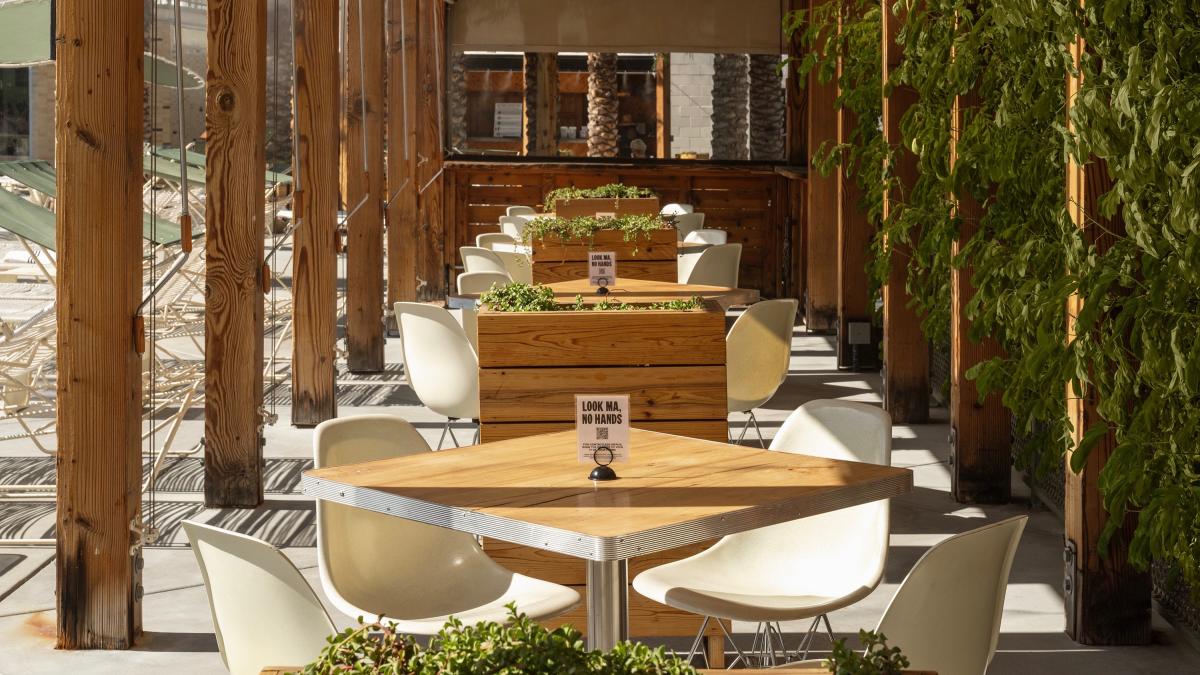 We recommend kicking off your Desert X tour at Ace Hotel & Swim Club for some munchies and a map. 
The popular Palm Springs hotel is a Desert X "hub" for info and maps of the art installations. The property also offers outdoor patio dining and takeout from its bohemian-inspired King's Highway restaurant. If you stop by during breakfast, King's Highway serves up a variety of delicious pastries that pair perfectly with their Stumptown coffee—a great start for a day of art. 
If you go: King's Highway, 701 E. Palm Canyon Drive, Palm Springs. Offers patio dining and takeout. 

Sherman's Deli & Bakery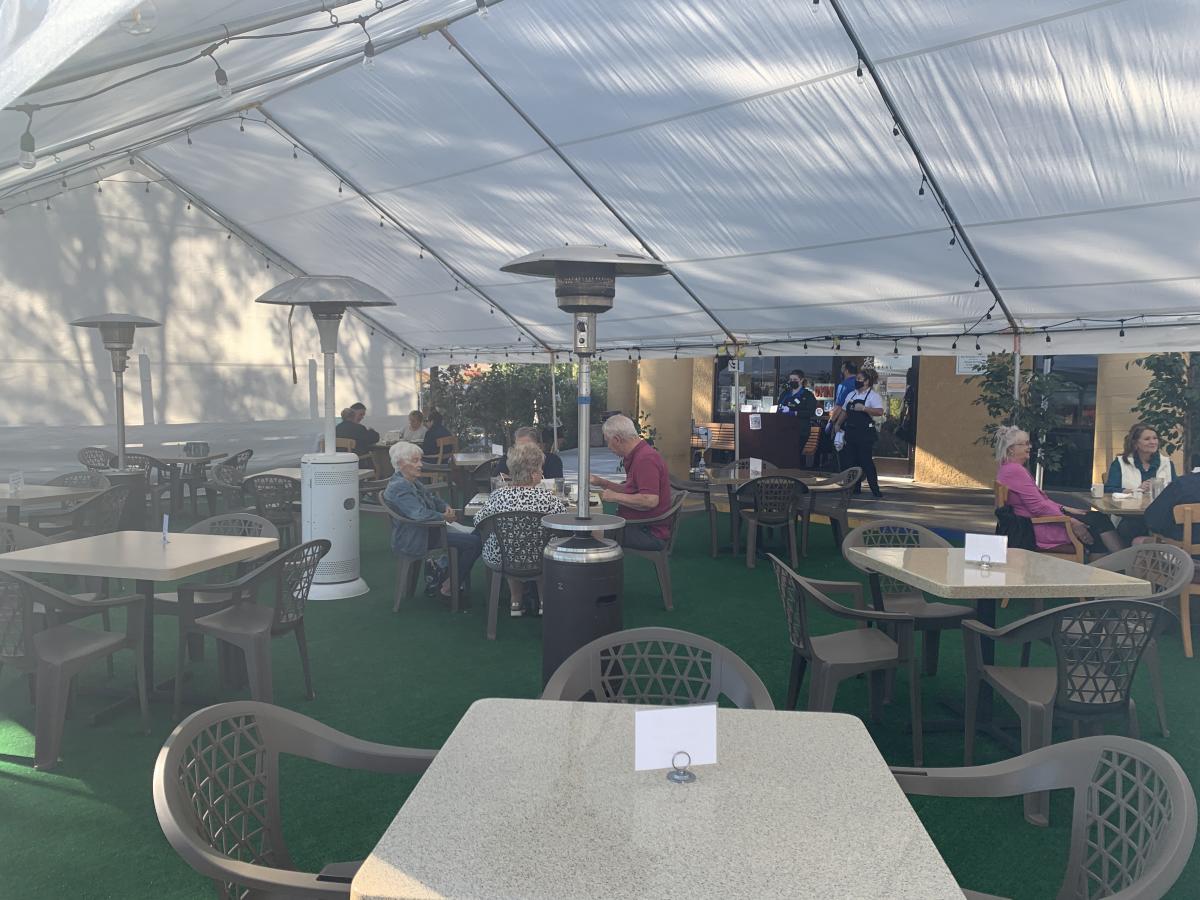 Sherman's Deli & Bakery has been a Greater Palm Springs staple since 1963. Both locations (one in Palm Springs and another in Palm Desert) offer patio dining and takeout. 
This New York-style deli is known for its home-cooked meals and delectable desserts. It also boasts a hearty turkey pastrami sandwich that was featured on Food Network's "Diners, Drive-Ins and Dives" several years ago. But their generously portioned salads, like the Oasis—piled high with dates, avocado, feta cheese, almonds, corn, cornbread croutons and creamy citrus vinaigrette—are just as filling.  
And if you eat at the Palm Springs location on Tahquitz Canyon Way, you can sneak a peek at the Christopher Myers installation "The Art of Taming Horses," which features various sculptures located along the road's median. 
If you go: Sherman's Deli & Bakery, 401 E. Tahquitz Canyon Way, Palm Springs; 73161 Country Club Drive, Palm Desert. Both locations offer patio dining and takeout. 

Kitchen 86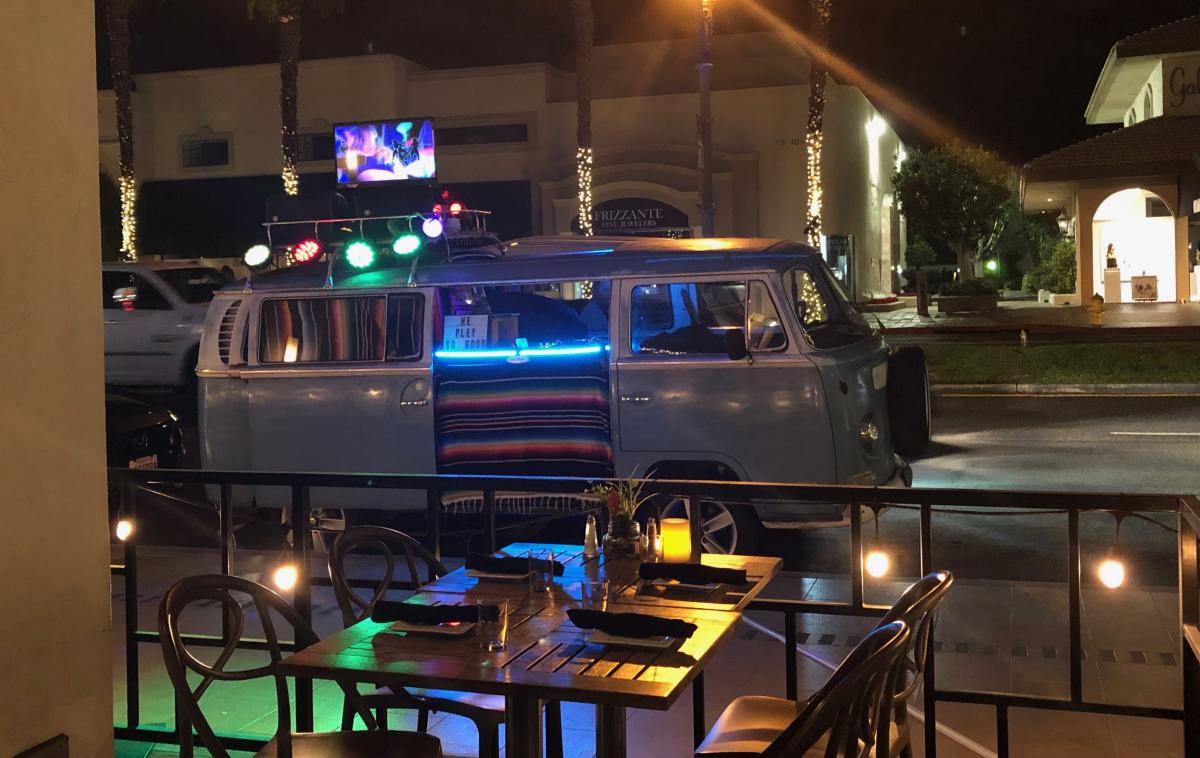 Kitchen 86 opened along El Paseo in Palm Desert in 2019 and is a great late-night spot for food or cocktails. Enjoy everything from shareable small plates and pastas to ramens and pizzas.  
The restaurant also offers an impressive happy hour and craft cocktail menu; the Bee Sting, which uses rosemary-infused tequila, packs a nice, refreshing punch. And try to plan a visit when the Super Sonido Pop-Up is there, with DJ Alf Alpha spinning tunes out of his vintage VW bus.
If you go: 73130 El Paseo, Suite 1, Palm Desert. Offers patio dining and takeout. 

Delicias Mexican Cuisine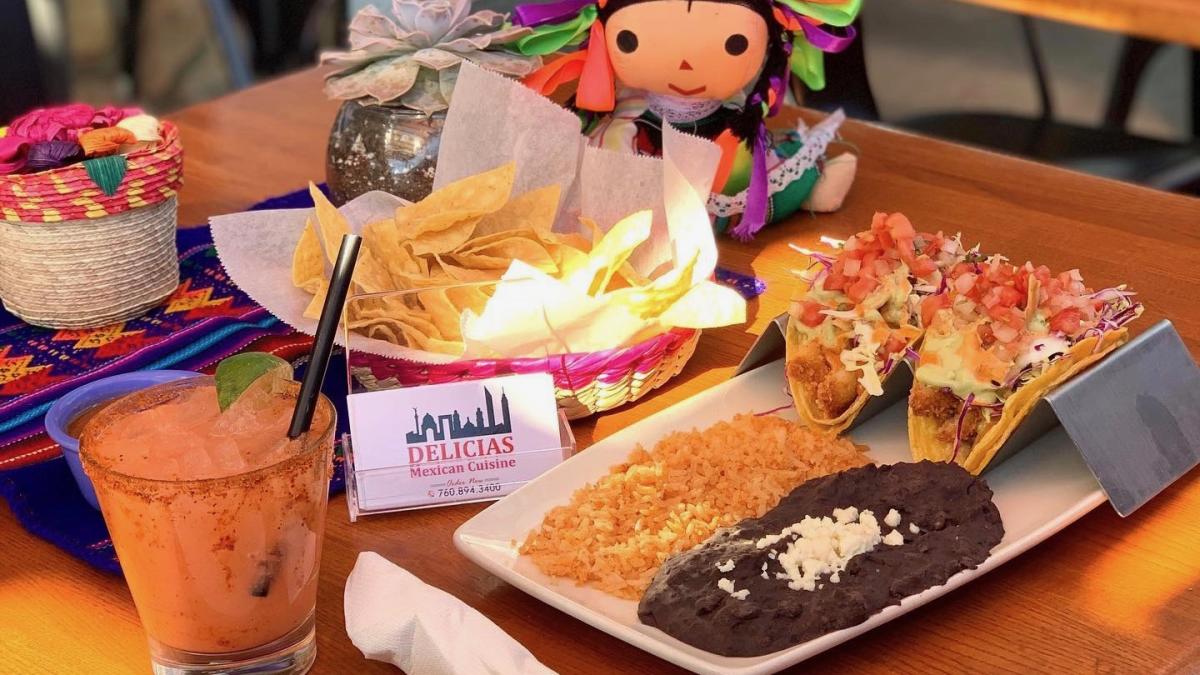 Delicias is a family-owned Mexican restaurant in Desert Hot Springs that boasts authentic Mexican food from Mexico City. 
The Mole Poblano, made from the owner's grandmother's recipe, is a must-try. And to wash it down, a mango or horchata agua fresca will hit the spot. Though their calling card is certainly Mexican food, they do have a full menu featuring everything from pancakes to hamburgers. Their two outdoor patios are even equipped with heaters so you can stay nice and toasty well into the night.
If you go: 66121 Pierson Blvd., Desert Hot Springs. Offers outdoor dining and takeout. 

The Cafe at Shields Date Garden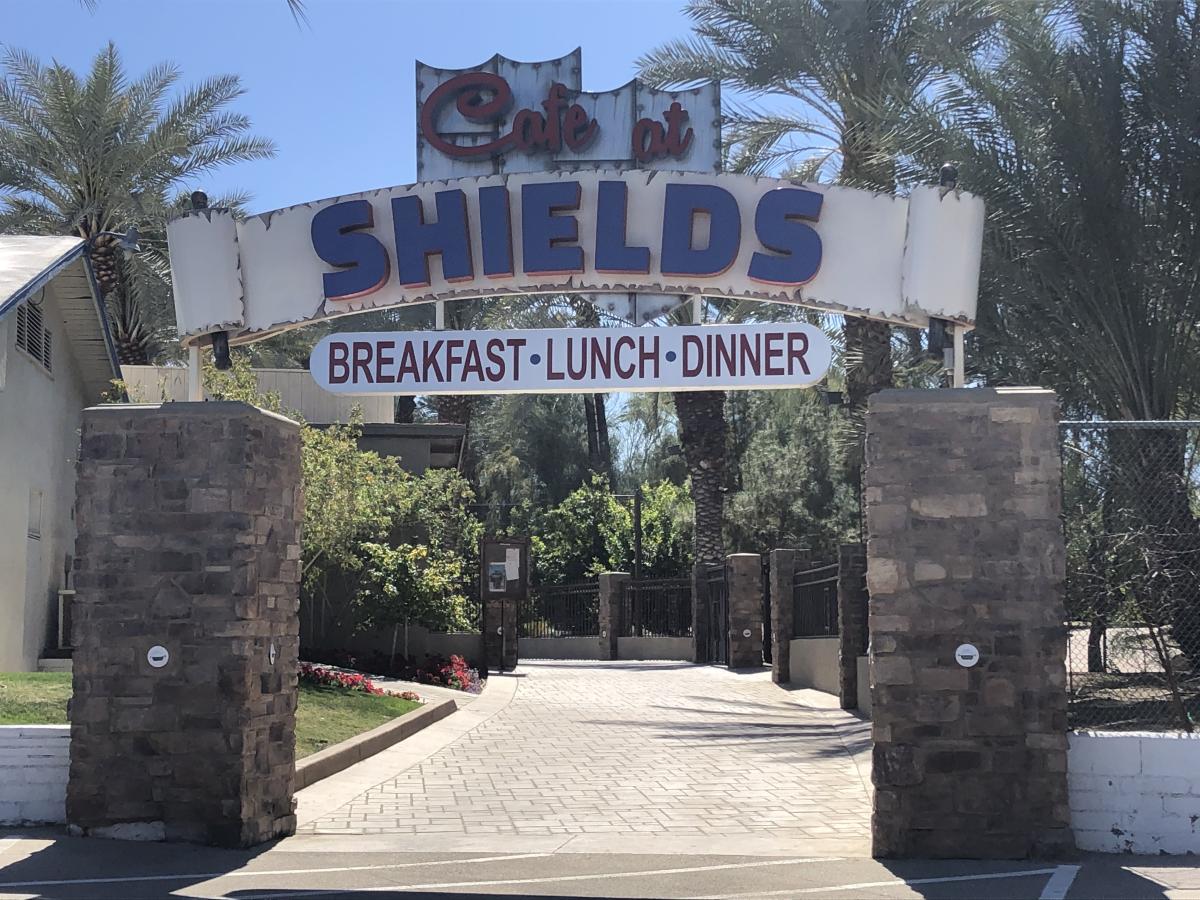 Greater Palm Springs is known for its date production, and one of the best places to get the tasty treat in practically any form is Shields Date Garden. With its iconic knight standing guard roadside, you can't miss it. 
The Cafe is located behind the shop and boasts a huge outdoor patio with multiple dining areas—all with spectacular views. They're also pet friendly, so bring your four-legged pal along, too. The restaurant features California-style cuisine with lots of date-infused dishes. The date pancakes, chock-full of locally grown dates and served with date butter to slather on top, are a breakfast favorite.
If you go: 80225 Highway 111, Indio. Offers outdoor dining and takeout. 

Pappy & Harriet's 
Pappy & Harriet's Pioneertown Palace is known for hosting a steady stream of musical acts ranging from local favorites to global, big-name performers.
This rustic, western-themed venue provides the perfect backdrop for a hearty bowl of chili and a cold, craft cocktail, like the Highway Queen, inspired by country music singer Nikki Lane. In addition to their signature chili, they also serve salads, burgers, sandwiches and steaks—all made to order and fresh off the grill. 
If you go: Pappy & Harriet's, 53688 Pioneertown Road, Pioneertown. Offers outdoor dining and takeout. 

Tac/Quila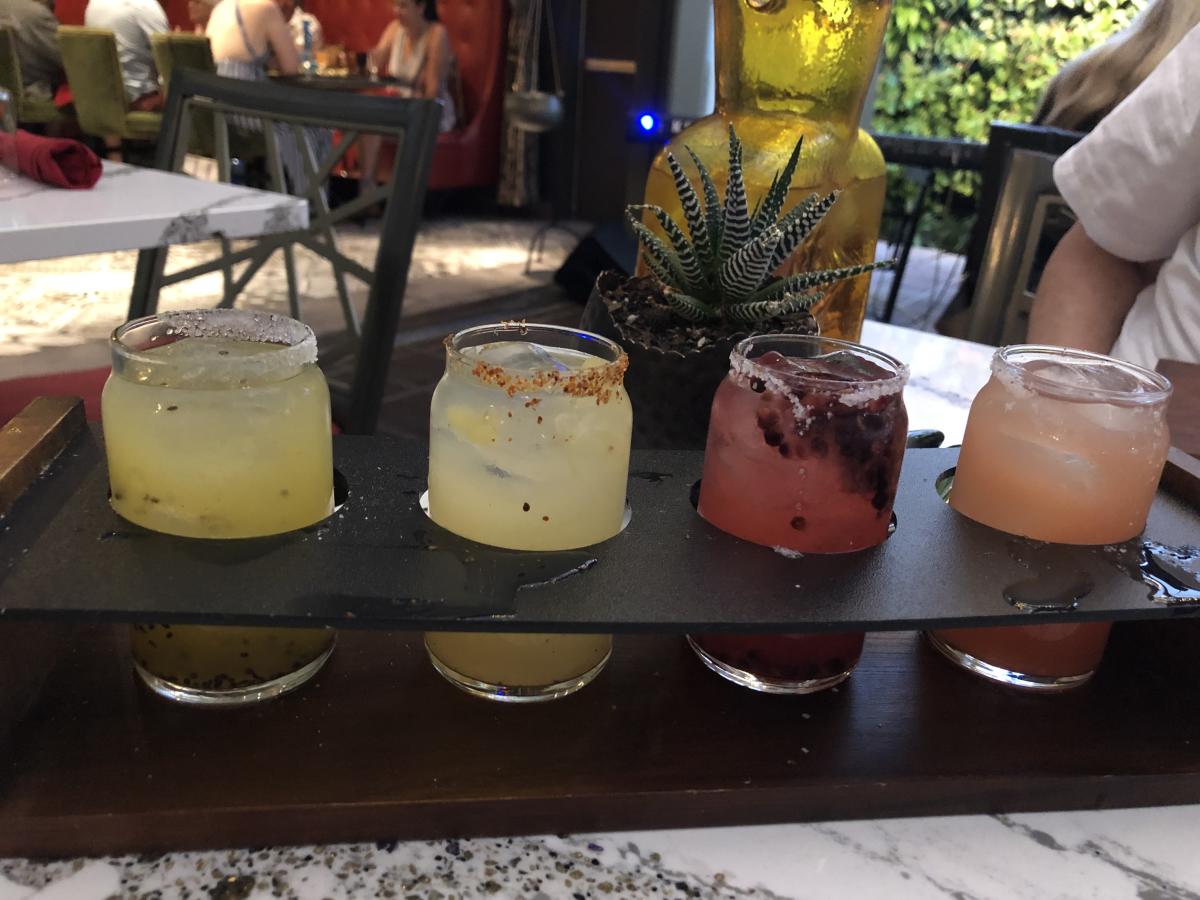 Tac/Quila features gourmet Jalisco-style cuisine, including several variations of street tacos and stuffed peppers, as well as some hearty salads (try the jicama and papaya for something different!).
As the name suggests, they're also known for the seemingly endless variety of tequilas available—mezcal, too. If you can't decide which one of the uniquely flavored margaritas to try, order a flight of four so you can taste them all. And for dessert, you can't go wrong with the churro ice cream sandwich.
If you go: 415 N. Palm Canyon Dr. Palm Springs. Offers outdoor dining. 
DESERT X LOCATIONS & DIRECTIONS