Two young Midwesterners – Jaali and Nia – have relocated to Greater Palm Springs hoping to find love, settle down and eventually start a family. The latest edition of The Bachelorette? Nope! They are the residents of Rhino Savanna, the newest exhibit at The Living Desert Zoo & Gardens, set to open on November 12, 2021. 
Pictured in the header photo is Nia, showing a close-up of her beautiful face and textured skin. 
Jaali and Nia are African black rhinos that have been strategically matched to mate and help boost the black rhino population. Zoo officials have high hopes for their procreation progress, which is important due to the low 5,600 black rhinos that are left in Africa. Black rhinos are now considered "critically endangered" by the International Union for Conservation of Nature with their biggest threats being poachers coming after their horns and their loss of habitat. 
The new $17 million, 4-acre Rhino Savanna habitat is The Living Desert's biggest expansion to date, offering wide open grasslands for roaming, a mud wallow for the rhinos to cool off in, rocky terraces and a watering hole for their friends to enjoy. They will use this space to house multiple species of animals and engage guests, all while helping protect and boost the population of the endangered black rhinos. While Jaali and Nia are the stars of the savanna, zoo-goers will also get the chance to see African antelope, such as waterbuck and springbok, along with birds like cape vultures and pelicans. There will be mongoose and naked mole rats, as well; two subterranean species that will make their home in specialized underground habitats, with viewing opportunities for the public.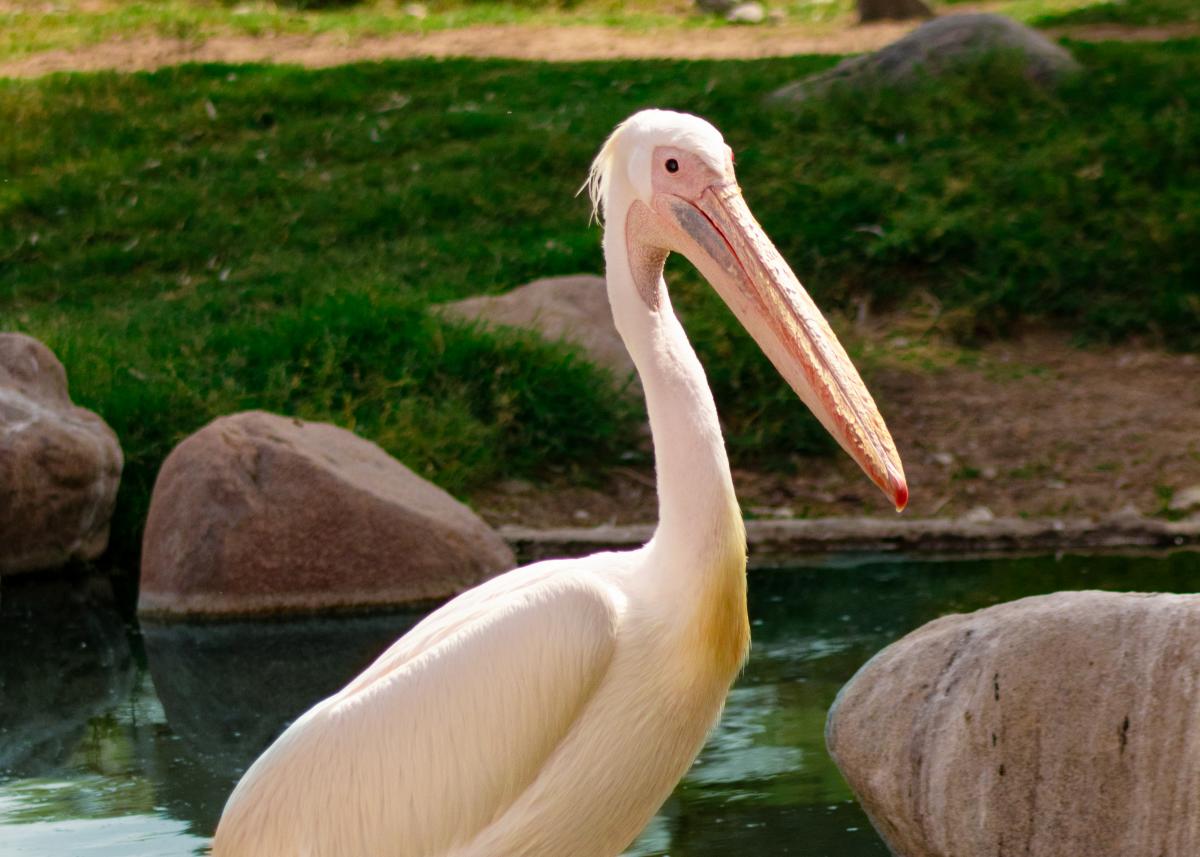 About Jaali and Nia
Jaali, which means "powerful" in Swahili, turns two on December 24, 2021. He currently weighs in at 1,100 pounds and came to The Living Desert from Potter Park Zoo in Lansing, Michigan. He loves having his face scratched, is very curious and loves attention from his keepers. 
Nia, which means "purpose" in Swahili, is 3-years-old and also loves face-scratches. She moved from Cleveland Metroparks Zoo in Cleveland, Ohio. She is intelligent, eager to learn and participate in her husbandry training, according to her animal care team.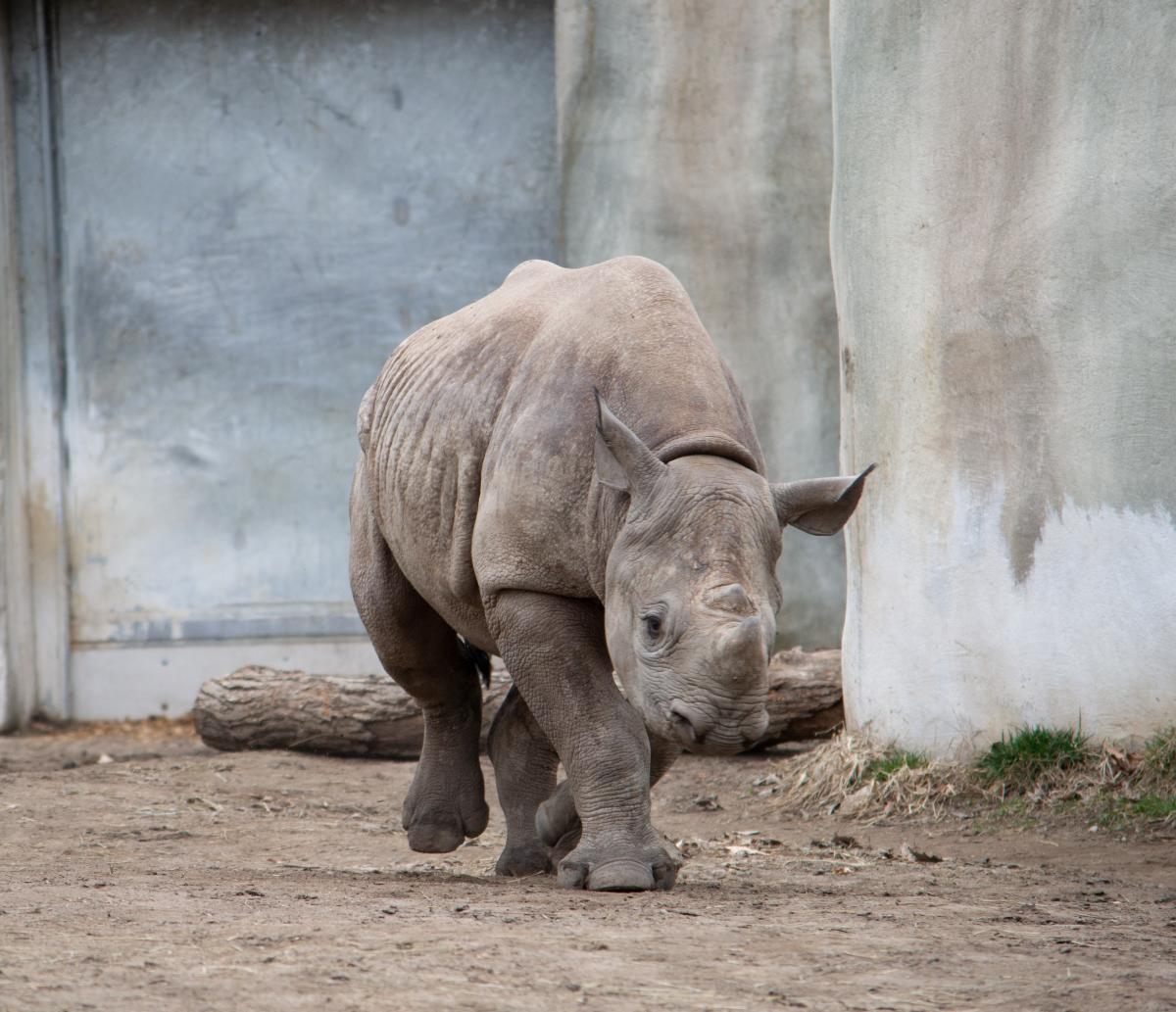 Pictured above is Jaali as he wanders and explores his original habitat in Michigan. 
The Living Desert is one of 25 facilities accredited by the Association of Zoos and Aquariums (AZA) for the care of black rhinos. Jaali and Nia's transfer to The Living Desert is part of AZA's Species Survival Plan breeding recommendations, also referred to as strategic matchmaking. Exhaustive research conducted by animal care professionals, reviewed the genetic lineages of both animals to ensure they were a good match and of course, are not related. It's kind of like match.com, but for animals!
Jaali and Nia won't start breeding immediately. They will live in separate areas of the savanna for several years until they reach the appropriate age for breeding. Then, they will be introduced. If sparks fly and their relationship works, guests might eventually see a calf (baby rhino) roaming around the savanna. So in time, there could be a "crash" of rhinos; that's the technical name for a group of rhinos. 
Jaali and Nia are The Living Desert's first rhinos and are also the largest mammals at the zoo. Full grown adult rhinos can weigh up to 3,000 pounds and stand 5 feet, 9 inches tall. The black rhino species are native to southern and eastern African savannas and grasslands. They are also known as intelligent and social animals and like to eat leaves off trees and bushes. They have incredible hearing, so be careful what you say around them! It's their cone-shaped ears that provide that helpful skill. 
About the Savanna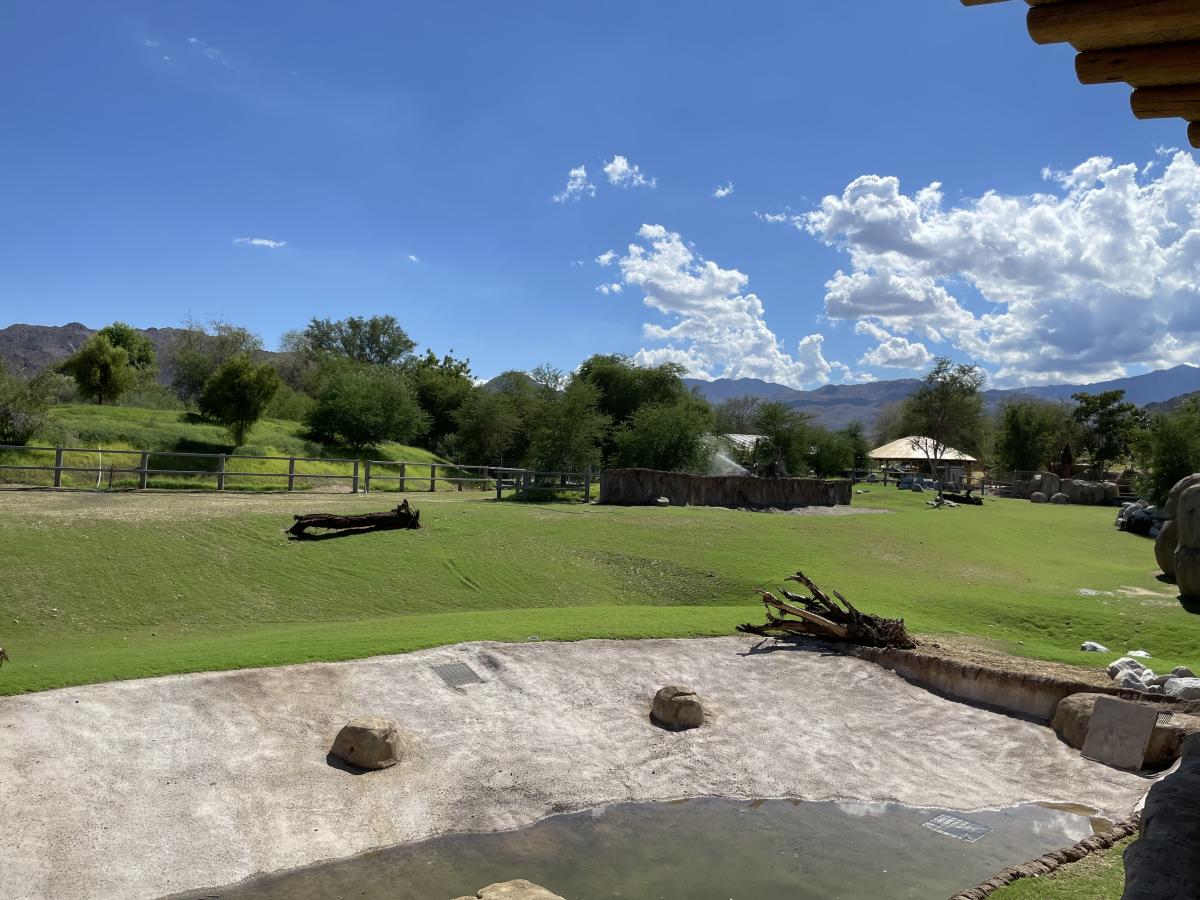 The Rhino Savanna is the first habitat guests will encounter when they enter the zoo. There are strategically placed viewing areas and a bridge that provides a sweeping overview of the area.
A state-of-the-art facility provides educational opportunities for the guests to learn more about the iconic and endangered rhino. At the Animal Care and Nutrition Center, zoo-goers can see what goes into feeding all the animals and pursue opportunities to view training and veterinarian procedures.
There are also plenty of opportunities for visitors to view the majestic rhinos up close and see all their unique characteristics. Black rhinos are known for their two horns, thick skin and prehensile lips that allow them to feed on trees and shrubs. 
Personal encounters with Jaali & Nia, similar to the feeding of giraffes elsewhere in the zoo, are anticipated to be available at some point in the future.
Make sure to plan your trip to The Living Desert to see, not only these incredible rhinos, but all 160 species and over 600 animals that call this their home.