One of the things visitors love most about Greater Palm Springs is that great midcentury modern vibe. Whether it's the sleek designs and architecture, the beautiful palette of desert colors or the fun retro touches, there's lots to look at across the oasis, and it all starts with your hotel.
When Greater Palm Springs began to gain favor with Hollywood visitors, many chic new hotels sprang up, and many of them are still standing today, a testament to the modernist aesthetic and its popularity. Choosing a great midcentury or vintage-styled hotel is a great option because it lets you live for a few days in another era—not to mention the Instagram selfies you'll take will be pretty sweet. Booking one of these midcentury hotels is a can't miss way to enjoy your visit to Greater Palm Springs.

Designed by star modernist architect Albert Frey, the Monkey Tree Hotel is what you might call 1960's-style 'California chill', updated for the 21st century. It's also got a rich history. In the 1980s, it was The Legacy, a gay clothing-optional resort. In the 1990s, it became the Terra Cotta Inn, another very popular nudist resort.
This hotel is tiny by comparison to some others—just 16 rooms here form a circle around the expansive one-acre pool courtyard, but the impact is huge. Originally designed and built in 1960, the hotel re-opened in 2016 after a restoration by its current owners to its original midcentury modern glory.
The hotel also boasts the area's first Scandinavian spa, which includes a newly built sauna, hot tub and cold plunge pool. You'll also want to grab a selfie in front of the colorful retro mural painted by the hotel's owner.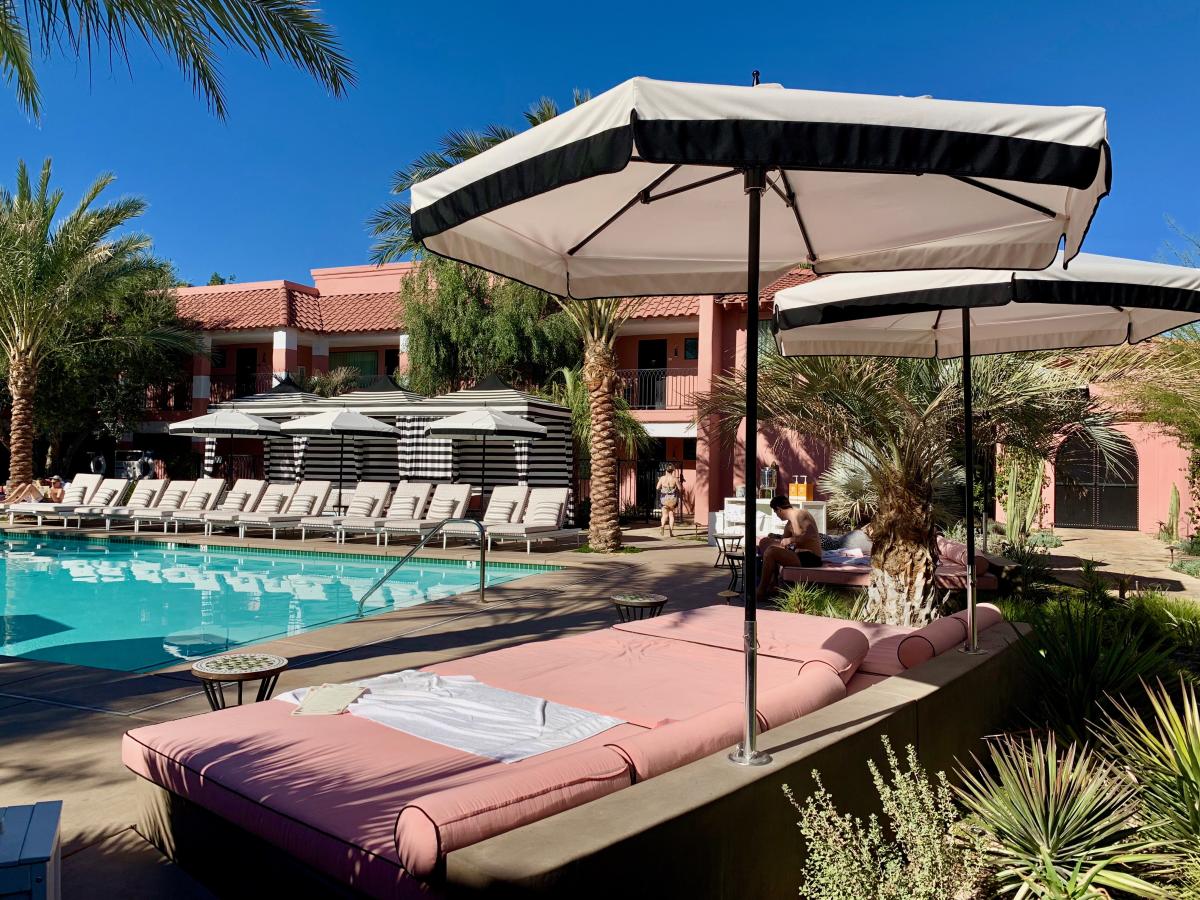 You might drive by this vintage gem without even realizing it. Tucked off Highway 111 just east of Palm Desert, the Sands Hotel is a small but gorgeous property with just 46 rooms.  
The hotel underwent a redesign unveiled in 2018 that took it from tired to trendy, thanks to the skills of renowned interior designer Martyn Lawrence Bullard, one of Architectural Digest's Top 100 designers in the world. Bullard's Moroccan-inspired influence mixes with a midcentury vibe synonymous with the desert that makes it a standout stay, particularly if you're looking for a spot to enjoy the Coachella music festival.
With a name that translates to "castle," you might be expecting old world, Spanish-style rooms at this courtyard-style hotel, but the Alcazar, located on Palm Springs' busy Palm Canyon Drive, is a low key, bright, minimalist and modern spot to lay your head. The owners also run the insanely popular breakfast spot Cheeky's right next door.
Originally a favorite mid-century getaway for Hollywood's elite like Marilyn Monroe, the L'Horizon hotel today is a chic and modern boutique escape. Built in 1952 by well-known modernist architect William F. Cody, the hotel has been completely restored.
Spread out over three acres, the property is lush and green and its semi-detached bungalow style buildings – many with private patios and outdoor showers – provide an exclusive, intimate atmosphere in a quiet but dramatic desert setting.

This 24-room small hotel is a hidden gem, and perfect for visitors looking to stay outside of Palm Springs itself. All the rooms are centered around a lush, green pool courtyard, and have private patios. Some units also boast fireplaces and small kitchenettes, perfect for longer stays.
The hotel was built in the 1940s in midcentury modern style and is located right around the corner from Palm Desert's version of Rodeo Drive, the glitzy shopping and dining mecca called El Paseo.
You'll no doubt find the Orbit In's retro vibe perfectly groovy. This hotel leans more towards kitschy vintage style with its boomerang bar and common area, original fixtures and on-point retro furnishings, making it very photo-friendly. Plus it's got a great location right in the heart of Palm Springs.
Built in 1947, the hotel has been updated but retains its classic mid-century courtyard style. Designed by Herb Burns, the first designer/builder to introduce Palm Springs to a new concept at the time called the "ultramodern motor court inn", the property features large studio style rooms with sitting areas and kitchenettes, all surrounding an expansive pool.
If you want to appreciate modernism, architecture and stay in a luxe, comfortable room, these midcentury hotels in Palm Springs and area are excellent choices. Or if you are looking for more options for your vacation, visit places to stay in Greater Palm Springs.