When one thinks of an art exhibit, the first thought that comes to mind is usually that of a sterile, museum-like setting with carefully lit artwork kept at distance by velvet ropes. However, that's not the only way to experience art - especially when it comes to Greater Palm Springs!
With a natural backdrop that's already jaw dropping enough on its own, outdoor art exhibits abound in nearly every city in the desert. From multi-acred immersive wonders to a never-ending rotation of color-splashed murals, Greater Palm Springs never fails to inspire with its outdoor art exhibits, no matter what your taste may be.
Noah Purifoy Joshua Tree Outdoor Museum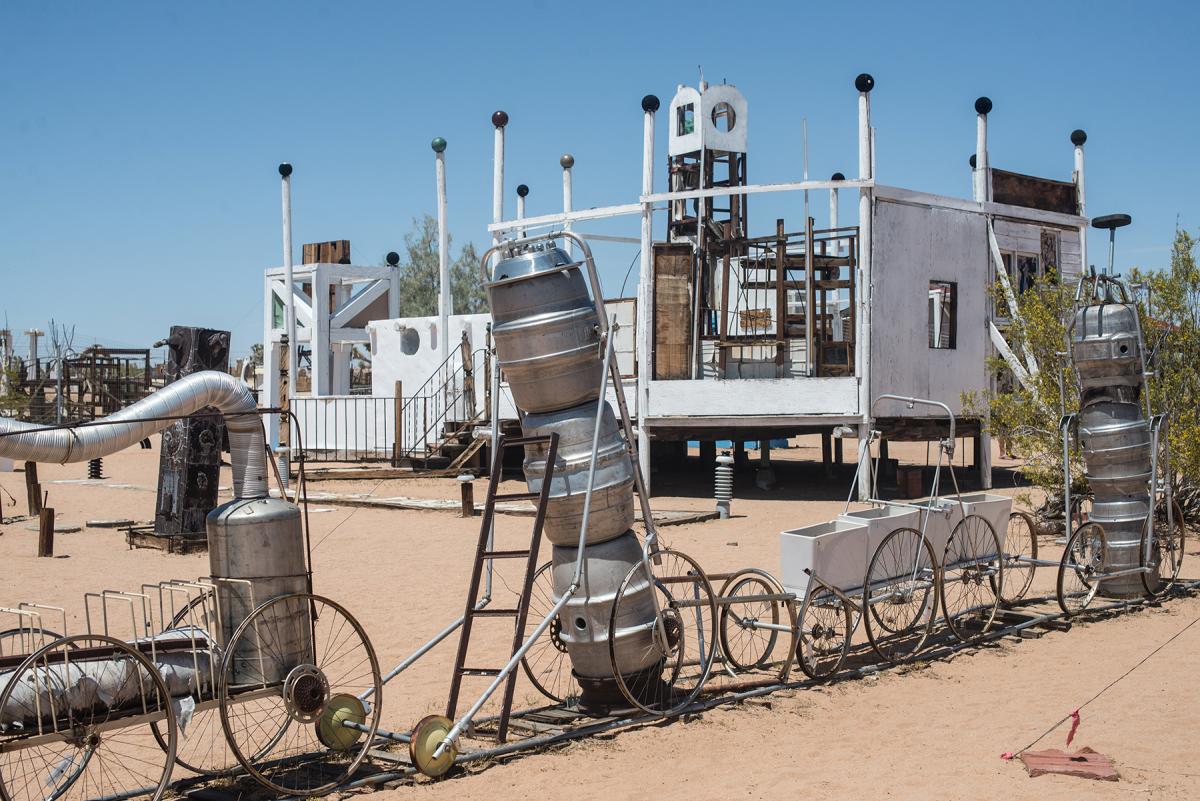 While Joshua Tree is home to several outdoor art exhibits, Noah Purifoy's Joshua Tree Outdoor Museum should definitely be the first stop. Made up of 10 acres of "Dadaist Junk Art," the Noah Purifoy Outdoor Museum was created by artist (and founding director of the Watts Tower Art Center) Noah Purifoy, who is known both for his use of found objects, as well as his dedication to social change through his artwork.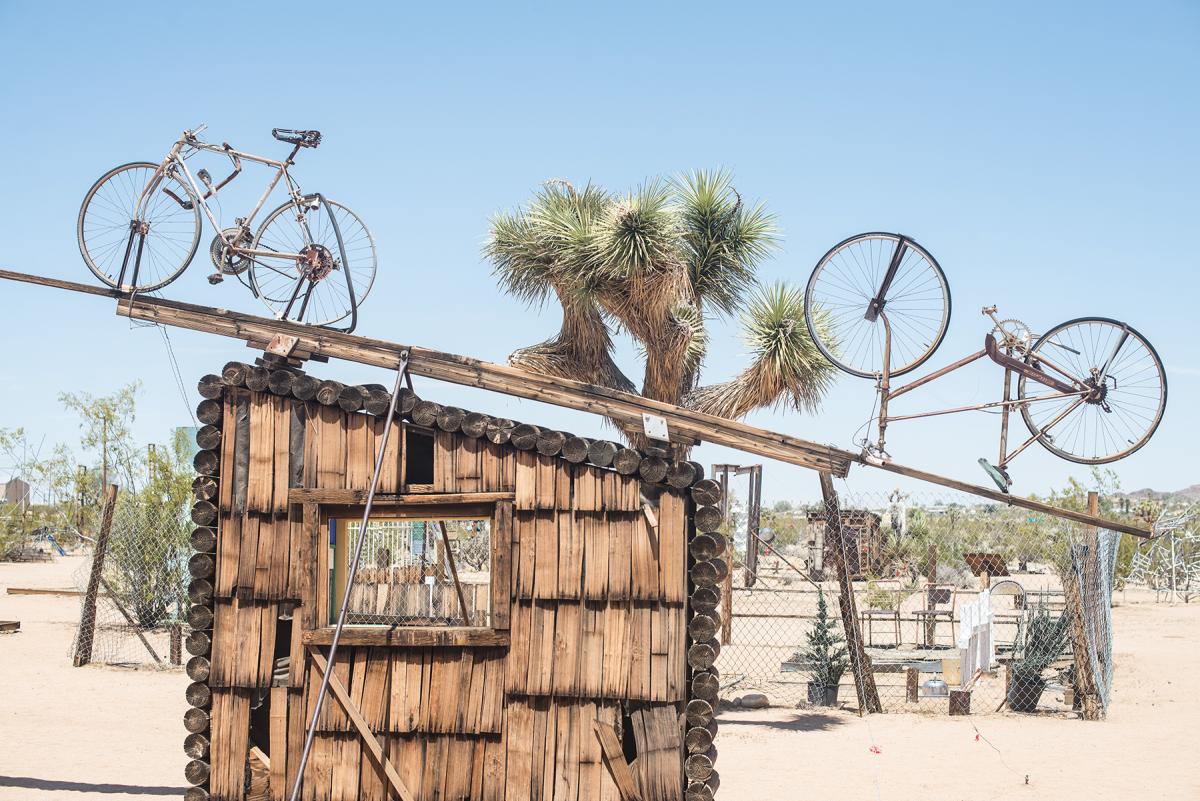 He built the sculptures starting from 1989 (when he was in his 70s) until his death in 2004. Many of his pieces weave in threads of social commentary, from subtle approaches to more severe and ominous. Because the site is 10 acres, set aside plenty of time to take in the works, and be sure to pick up a brochure at the front. This is the kind of outdoor museum where you won't see everything the first time you go, so a repeat visit just may be in order.
Desert Christ Park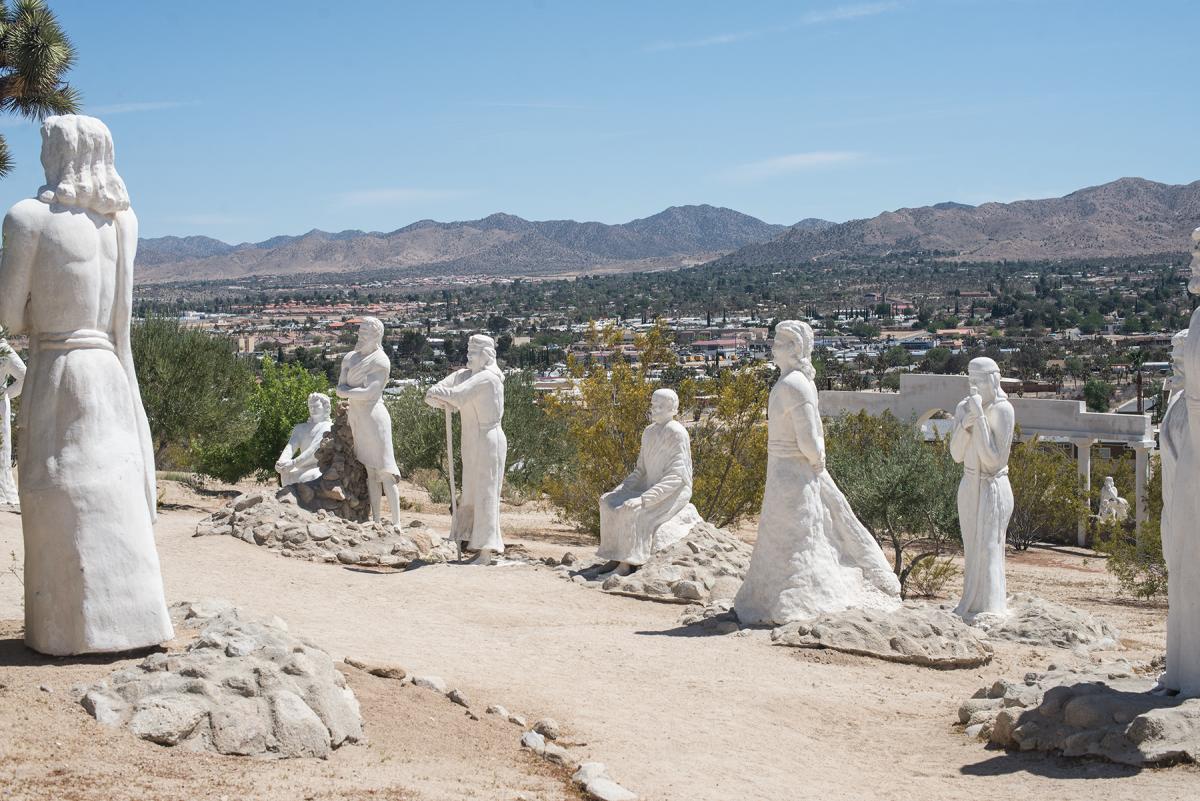 Originally built in 1951, Desert Christ Park is the creation of sculptor Antone Martin, who, with Reverend Eddie Garver, wanted to create a site that was dedicated to peace on earth and good will toward men. Although Antone Martin was never formally educated, he taught himself how to read, write, and perhaps the most impressive feat, to sculpt.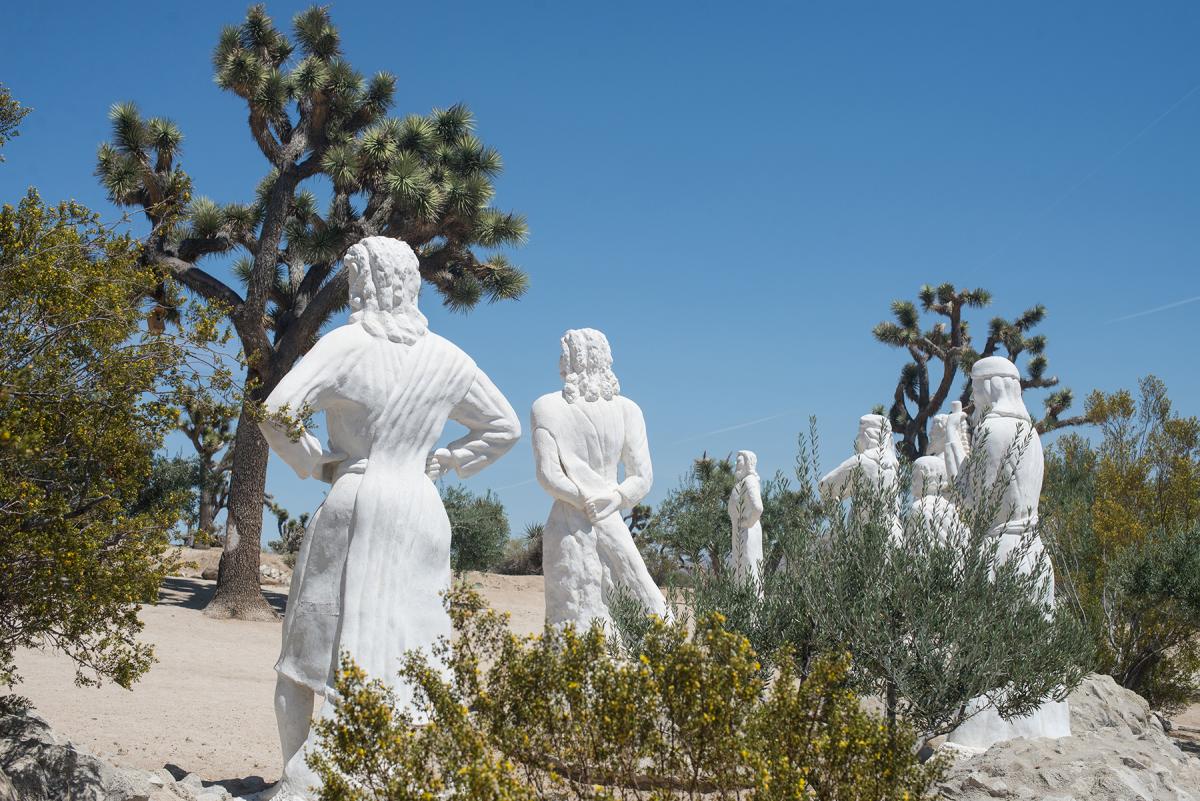 Run completely on donations, Desert Christ Park sits on 3.5 acres and houses over 40 religious sculptures, most of which were created on site, and have been restored over the years by volunteers. Pick up a map at the information kiosk and take their guided tour, or take your own approach and let your inspiration guide you.
A bevy of birdhouses (all donated by volunteers) make for a gorgeous soundtrack to your experience. Be sure to take note of the recently added iron-wrought ocotillo sculptures as well, and don't leave without taking a peek inside the unique, mid-century Stone Chapel on the outskirts of the park property. It was built by Frank Garske and Eddie Garver in 1954 (in only 4 weeks) and features lovely tonal stones and an open-air feel.
Salvation Mountain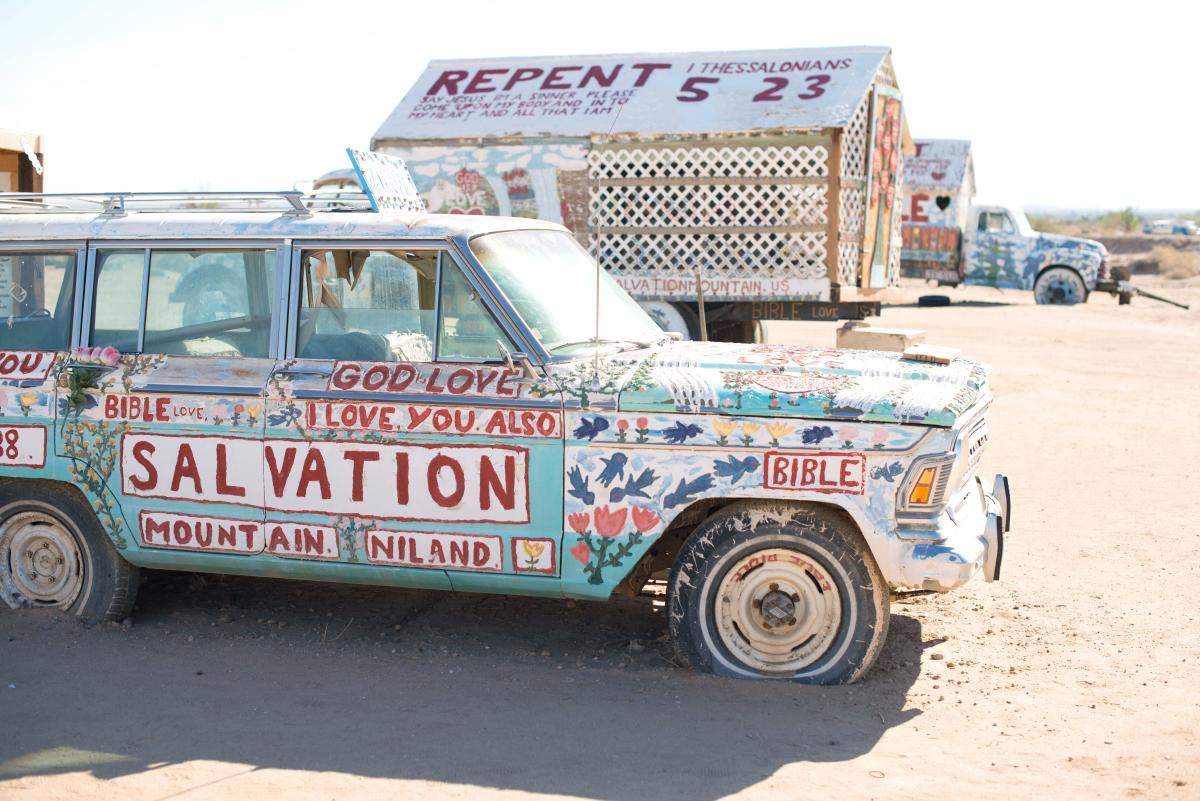 While there is plenty of "outsider art" in the Greater Palm Springs area, there is one masterpiece that stands out from the rest, partly due to its size and vibrancy, but the story behind it is just as riveting. Created by Leonard Knight, Salvation Mountain is a masterpiece of monstrous proportions and sits proudly against the stark background of Slab City, just east of the Salton Sea.
The exhibit is so big, it covers an entire hill and then some, with over an estimated 100,000 cans of paint having gone into the work throughout the years. The message behind the art is about as straightforward as it gets, with the words "God is Love" painted in red right at the top, below a large cross.
While religion may have been the catalyst for this creation, the true inspiration, as made clear by the artist, was pure love. Visitors can climb parts of the massive sculpture and peek into rooms, or admire the additional found art items, such as painted cars, placed around the base.
Desert Art Collection Sculpture Garden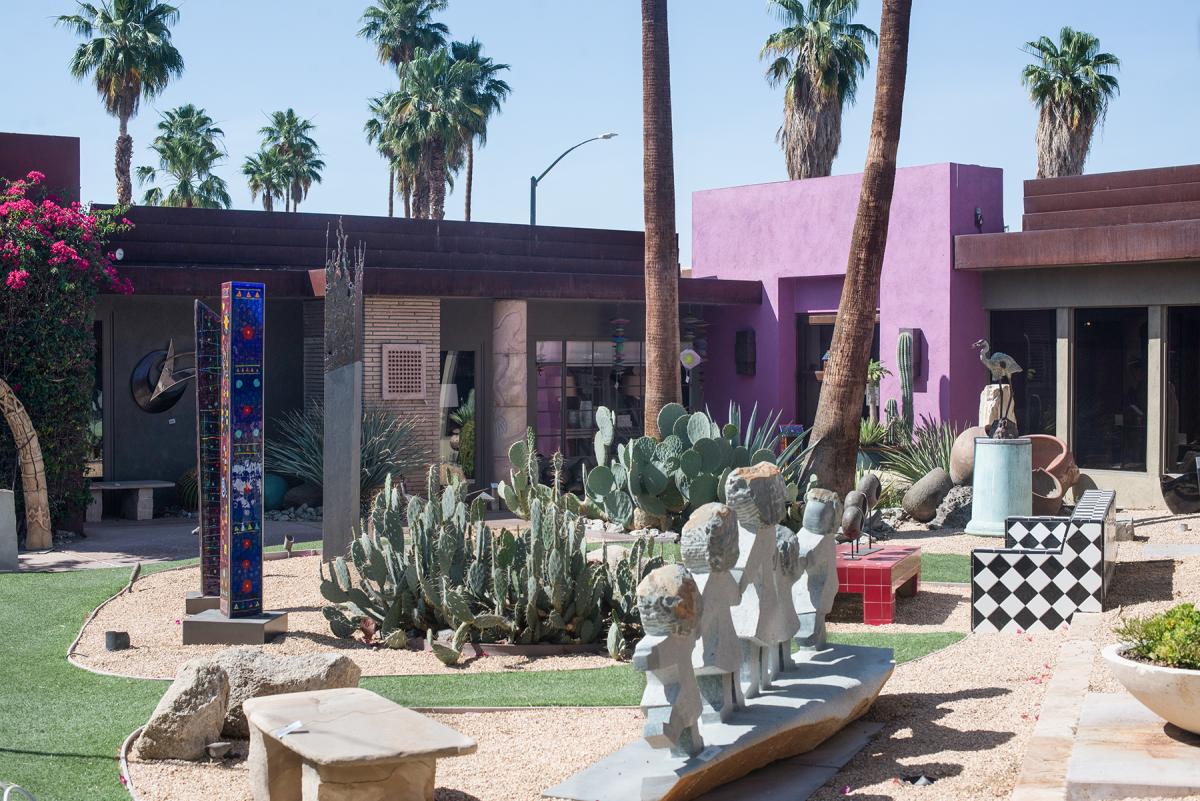 While Desert Art Collection may in part be more of a traditional fine art gallery, it boasts the title of being the largest fine art gallery in the Coachella Valley. It's also home to the largest sculpture garden in the Coachella Valley, which nestles neatly by the entrance of the indoor gallery portion, next to the lush and equally beautiful Lotus Garden.
Fine art sculptures range in style and size, with some towering over 6 feet tall. Because everything is for sale, the collection is ongoing and in constant rotation.
Stop by for a stroll around the garden, and you may wind up finding something you'll want to take home with you. But even if you don't, you'll enjoy the serene atmosphere, the unique artworks, the beautiful landscaping, and the midcentury architecture. The Desert Art Sculpture Garden is also available for soirees and get togethers. Email them directly for more details.
The Ace Hotel Mural
Known as a mecca for style-conscious, family-friendly millennials, the hip Ace Hotel & Swim Club also houses some of the best murals in Palm Springs - on constant rotation. Most recently featured is the mural titled 'Lifting The Sun' by Chicago-based painter Laura Berger, who is known for her flesh and desert-toned explorations of connectivity amongst people, nature, symbols, natures, and ritual, among other things. The mural itself is made up of 8 women, of different skin tones, holding a large, golden sun. Set against the backdrop of mountains and palm trees, the mural takes on an even more majestic feel. Stop by to admire it in person and maybe stay for a drink. After all, art is supposed to be experiential!
Looking for more ways to explore? Check out all the arts and culture around Greater Palm Springs.