There is no better way to welcome fall than to spend time in this Southern California oasis. Find your way to Greater Palm Springs this October and experience signature events, celebrate Halloween festivities, and explore the outdoors with ideal weather.
MODERNISM WEEK — OCTOBER
When: October 18 - 21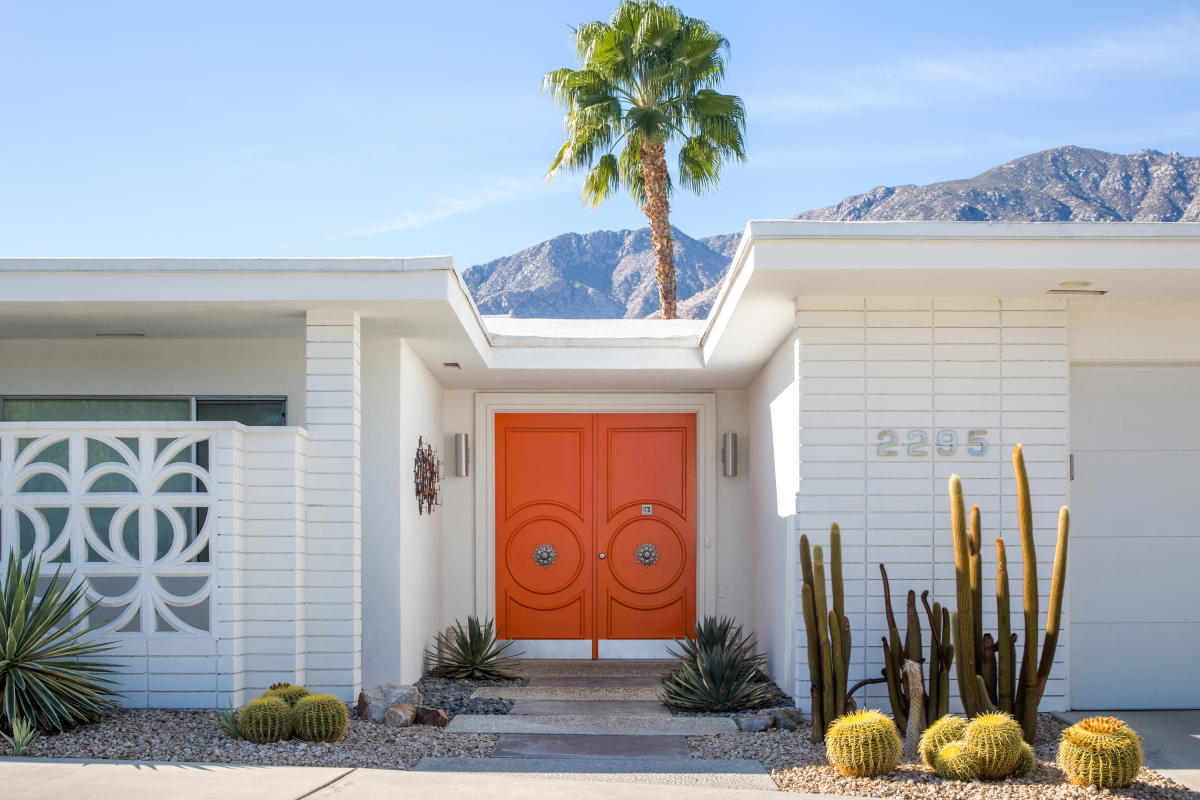 Modernism Week – October has arrived and so have the midcentury modern aficionados! Palm Springs is known for the unique and iconic architecture that surrounds the city, a feature that attracts visitors from around the world. This 4-day event will feature events, parties, home tours, and more, all surrounding the world of architecture and design. Tickets are available for purchase.
Things To Do
PALM SPRINGS VINTAGE MARKET
When: October 1 
Back for the first time this year, the Palm Springs Vintage Market is ready to showcase vintage finds from furniture to clothing, as well as live entertainment and food. This is a perfect way to spend your Sunday morning in Palm Springs.
CINEMA DIVERSE FILM FESTIVAL
When: October 1
Immerse yourself in a cinematic array of LGBTQ+ stories at Cinema Diverse: The Palm Springs LGBTQ+ Film Festival. Every year, this lively event lights up the heart of Palm Springs with its dazzling celebration of diversity, inclusion, and the vibrant LGBTQ+ community. With a dynamic lineup that includes thought-provoking documentaries, heartwarming narratives, and cutting-edge shorts, the festival is more than just a gathering; it's a powerhouse platform for amplifying diverse voices and perspectives.
ARIZONA COYOTES VS. ANAHEIM DUCKS: NHL PRESEASON GAME
When: October 1
Gear up for an electrifying showdown as the Arizona Coyotes face off against the Anaheim Ducks in an adrenaline-pumping NHL preseason game at the Acrisure Arena. Get ready to witness the fast-paced action, jaw-dropping saves, and bone-crushing hits as these two hockey titans hit the ice. It's a thrilling preview of the upcoming NHL season, and hockey fans won't want to miss a single moment of this epic clash in Greater Palm Springs.
GOLDENVOICE PRESENTS: POWERTRIP
When: October 6-8
Prepare to embark on a journey of musical transcendence at the PowerTrip Festival in Greater Palm Springs. This one-of-a-kind event brings together a lineup of music's most electrifying bands such as Guns N' Roses, Iron Maiden, AC/DC, Judas Priest, Metallica, and Tool. Set against the stunning desert backdrop, PowerTrip Festival is a sonic oasis where fans can revel in the energy in an unforgettable weekend of live rock music from some of the best bands of all time.
AGUA CALIENTE FOOD TRUCK FEST
When: October 7
Save your appetite for a culinary adventure at the Agua Caliente Food Truck Fest. This exciting festival happens right in the parking lot of the Agua Caliente Casino Cathedral City. Enjoy a vibrant atmosphere brimming with games, music, and entertainment suitable for all ages. Their talented DJ will keep the party vibe going all night, ensuring a lively and delightful experience that's perfect for everyone.
COACHELLA VALLEY FILIPINO FESTIVAL
When: October 8
Embrace the vibrant tapestry of Filipino culture and heritage right in the heart of Greater Palm Springs. Located at the Palm Springs Cultural Center for a day brimming with culinary delights, arts, music, and more. It's a joyous occasion where you gather to pay homage to Filipino culture. Best of all, admission is free, and everyone is welcome. Join everyone for a day of exploration, celebration, and the warmest of Filipino hospitality.
YUM FOOD FEST AND NIGHT MARKET
When: October 14
Prepare for a foodie adventure like no other. A vibrant night market experience that combines mouthwatering food with cultural delights. That's exactly what Yum Food Fest has in store for you as it magically transforms the Shops of Palm Desert into a culinary wonderland uniting food enthusiasts and local residents for a unique evening of excitement and delicious bites.
DESERT DUEL: LAKERS VS. SUNS
When: October 19
Be ready to be swept off your feet by the electrifying basketball showdown of the season. The Los Angeles Lakers are revving up for an epic game with the Phoenix Suns that promises to be an absolute spectacle. Whether you're a seasoned basketball enthusiast or simply someone looking for an exciting night out, mark your presence at this epic showdown. Grab your tickets, rally your friends, and be there to soak in the entertainment at Acrisure Arena.
When: October 21
Laugh out loud at the Adam Sandler: The I Missed You Tour at Acrisure Arena. Be prepared to have the best time at this ultimate comedy show. 
When: October 22
This is not your typical Oktoberfest as you will experience BMW driving exercises and dinner trackside. For $500 per person, you will be able to enjoy a closed course with dinner included. Or if you would only like to spectate, for $75 per person, indulge in pretzels, schnitzel, and much more. 
PALM DESERT GOLF CART PARADE
When: October 30
The Palm Desert Area Chamber of Commerce is excited to host the return of the 50th Annual Golf Cart Parade at the beautiful and picturesque streets of the  El Paseo Shopping District. NFL legend and recent Pro Football Hall of Fame Inductee, Tom Flores, will be the Golf Cart Parade Grand Marshal. The theme for this year's festivities is Masquerade so get your vivacious masks ready for this event because it will be a memorable experience for all friends and family to enjoy.
When: Every Thursday
Villagefest takes place in downtown Palm Springs where the street is closed to create a relaxed, fun, and festive atmosphere full of food, artists, fashion, and other unique vendors.
CITY OF INDIO FOOD TRUCK FRIDAYS
When: Every Friday
Experience the City of Indio as it presents its beloved event, Food Truck Fridays. Taking place on Friday at the corner of Towne Street and Bliss Avenue this delightful gathering offers an array of delectable food trucks and live music.
Discover the wonders of the world's deserts without ever leaving Greater Palm Springs. The Living Desert Zoo & Gardens is home to a variety of fascinating creatures, from bearded dragons and bobcats to giraffes and jaguars. Enjoy immersive experiences such as animal encounters, discover native flora on a nature walk, and get the chance to feed a giraffe!
Soar to new heights! The Palm Springs Air Museum has one of the world's largest collections of WWII aircraft plus Korean and Vietnam-era aircraft. The exhibits are very interactive and have an extensive library of history. It's a perfect activity for all ages to immerse oneself in the history and engineering of these aircraft. The crew of trained volunteers can also share their knowledge of what it's like to experience flying these aircraft.
Bring your family or a special loved one to experience the Palm Springs Aerial Tram, which takes you on a ten-minute ride to cooler elevations within the San Jacinto Mountains! There are restaurants, plenty of viewpoints, and over 50 miles of hiking trails. Experience the largest rotating aerial tramway in the world! Find out more information about this unique experience.
LIVE MUSIC
JOSHUA TREE MUSIC FESTIVAL
When: October 5 - 8
The Joshua Tree Music Festival is packed with a talented lineup for four days in the world-renowned Joshua Tree National Park. Just a collective of noteworthy artists all live performances will rotate between two stages in the raw beautiful landscape of the desert. Attendees can enjoy a full schedule of music, art, yoga, workshops, mindfulness, and kids' activities. Get your tickets to this one-of-a-kind family-friendly experience.
16th ANNUAL CONCERT FOR AUTISM
When: October 8, 14, 21
Rock out, dance, and simply have a great time with a purpose and for a cause this year at the annual Concert For Autism. The lead-up event will be on October 8th at the Coachella Valley Brewing Co. To follow that up there will be an acoustic afternoon session for autism on October 16th at The Hood in Palm Desert. The main event will be held at the Tack Room Tavern on October 21st to close out this series of concerts to benefit The Desert Autism Foundation. Find out more about these concerts and how you can contribute to an amazing cause.
The Acrisure Arena provides the Greater Palm Springs area with a premiere 11,000+ capacity venue to host some of the biggest artists in entertainment as well as the home for the AHL Hockey team The Coachella Valley Firebirds. Want to know more about what is happening at the Acrisure Arena? Check out their full list of upcoming events happening this month. 
This outdoor music venue is kicking off this month with Led Zeppelin, David Bowie, Metallica, and Tom Petty tribute bands. Music tributes continue on Fridays and Saturdays, throughout the month of October. Check out their upcoming schedule.
Experience live entertainment at Agua Caliente Casinos. All three locations in Greater Palm Springs offer some of the best performances for an unforgettable night. Enjoy dancing, drinks, and nightlife at the downtown Palm Springs Cascade Lounge, Cathedral City Terraza, or The Show at Agua Caliente Rancho Mirage. View their full list of events.
Eager to get back to enjoying live music? Fantasy Springs has musical options to fit everyone's tastes. You can view their full schedule from free outdoor concerts to intimate showcases at Acoustic and Unplugged at the Twelve.
COACHELLA VALLEY BREWING COMPANY
Enjoy some brews and fantastic food with live entertainment on Saturdays and Sundays at the Coachella Valley Brewing Company. Live music and comedy on Saturdays and Sundays offer a live acoustic afternoon performance. See what's happening at the taproom, they always have a jam-packed week of entertainment!
JAZZ UNDER THE DESERT SKY AT ACE HOTEL  
The Ace Hotel & Swim Club offers a live, open-air jazz and dinner series every Wednesday. Enjoy an evening under the desert sky for a night of auditory bliss, paired with a menu of delights from the King's Highway kitchen. Limited seating is also available close to the performance on a first-come-first-served basis. This event is free and open to all.
PAPPY & HARRIET'S PIONEERTOWN PALACE
Pappy & Harriet's is a barbeque restaurant and music venue near Joshua Tree National Park in Pioneertown, California. This iconic western-saloon-style movie set is a magical place to see live music and enjoy amazing food and drinks. This month they will be kicking off their live acts with Kurt Vile & The Violators, Mike and the Moonpies, L7, The Dandy Warhols, and Black Angels. Tickets sell out fast so be sure to plan ahead so you don't miss these incredible music experiences.
HEALTH & WELLNESS
PAINT EL PASEO PINK
When: October 14
Sign up for the 15th Annual Paint El Paseo Breast Cancer Walk, organized by the Desert Cancer Foundation, and be a part of raising awareness and funds for breast cancer research. Register individually or with a team–don't forget to wear pink! 
When: October 21
Do you feel up to an athletic challenge? Learn about all the different courses Alpha Win Triathlon has to offer, from the Alpha Sprint to the Alpha 140.6. What better place to race than in this Southern California oasis? Run and bike under the sun and blue skies!
COACHELLA VALLEY HEART & STROKE WALK
When: October 12
Lace-up your sneakers and join the Heart & Stroke Walk, you're not only taking steps to boost your cardiovascular health but also nurturing your mental well-being. It's a fantastic occasion to not only get your body in motion but also to connect with friends, family, and colleagues. It's a time-honored tradition leading up to the event day, where camaraderie and healthy living come together in perfect harmony.
Guided by the esteemed instructor Vanessa Johnson at The Spa at Séc-he, this aqueous practice embraces the art of gentleness, empowering you to nurture your inner strength, achieve poised equilibrium, and expand your range of motion. For a mere $15, immerse yourself in this transformative experience lasting 45 minutes—a precious add-on activity that promises to leave you revitalized and deeply attuned to the serenity within.
SATURDAY SAVASANA AT THE DRIFT HOTEL
Embark on the wondrous commencement of each and every Saturday at The Drift Hotel, where a delightful hour-long yoga flow awaits you upon the inviting outdoor terrace of Sol Studio. Envision yourself amidst this serene and picturesque setting, immersing yourself in the harmonious rhythm of yoga, as you revel in the blissful interplay between mind, body, and spirit.
HALLOWEEN
Halloween in Greater Palm Springs scares up plenty of fun and spooky activities this month. Immerse yourself in festive family fun, ghoulish things to do, and haunting outdoor experiences that live up to the exciting and festive spirit of Hallow's Eve. Get your costume ready because there is something for everyone when celebrating Halloween in Greater Palm Springs.
OKTOBERFEST
OKTOBEERFEST AGUA CALIENTE CASINO CATHEDRAL CITY
When: October 22
Cathedral City's Agave Caliente Terraza will be hosting OktoBEERfest with a dozen local and national beer vendors as well as a German buffet-style food menu for $35 per person for the buffet-style food menu and $25 for the beer tasting package. You can reserve a free ticket and start planning for a fun and exciting Oktoberfest celebration.
7th ANNUAL OKTOBERFEST AT LA QUINTA BREWING CO.
When: October 28
La Quinta Brewing Co. in Palm Desert is hosting Oktoberfest with authentic German fare and unique German-style beers of their own! Bavarian band Hazelnuss will be back playing authentic German music during the evening celebration. Be sure to wear lederhosen because a $25 gift card be awarded to the person with the best dressed German outfit. This is a free-entry event and you sure do not want to miss this!