When it comes to seeing the best in curated art, world-class paintings and standout exhibits, a trip to Greater Palm Springs is all you need! Here, art enthusiasts can spend their days checking out the region's numerous fine art galleries, all while also exploring the area's ever-changing art scene and attending creative community events.
To make the best out of your next art-inspired trip to Greater Palm Springs, check out this guide to planning a stylish yet unforgettable art crawl in the oasis.
Palm Canyon Drive
Known as the heart of Palm Springs, Palm Canyon Drive offers an impressive assortment of art galleries and spaces to explore. Whether you enjoy abstract expressionism or checking out pop art designs, Palm Canyon Drive has a little bit of everything.
Palm Springs Art Museum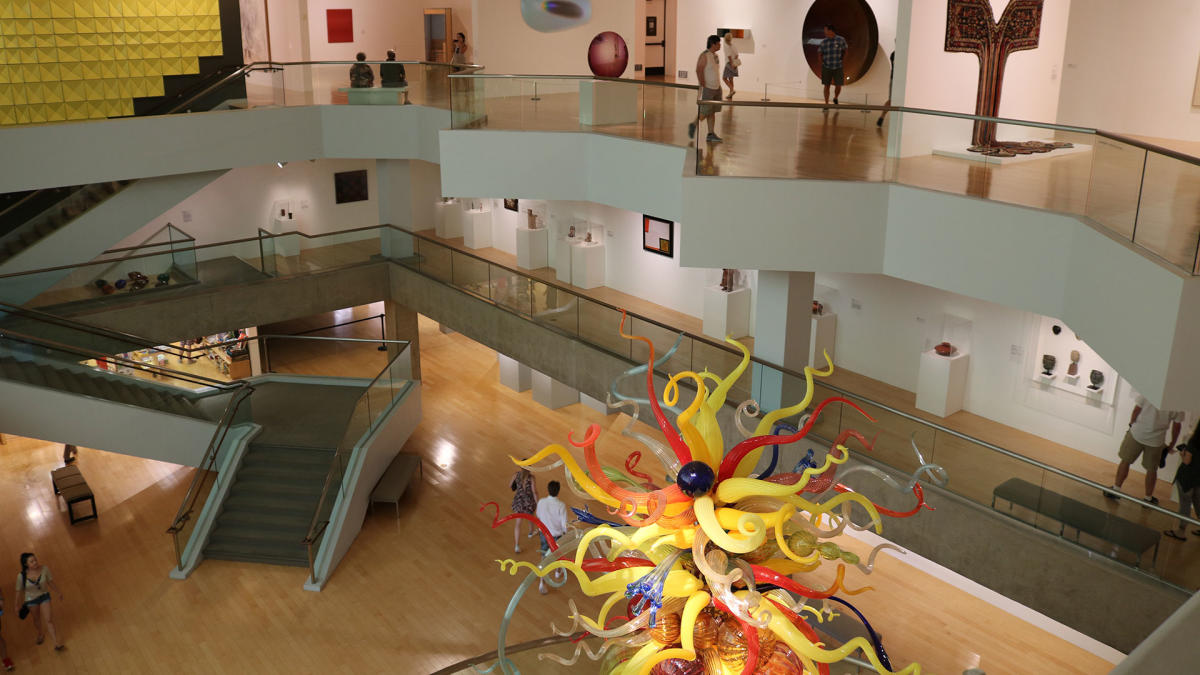 Photo by Cynthia Serna
Any art enthusiast traveling to downtown Palm Springs should plan a stop at the Palm Springs Art Museum. Popular for its compelling exhibitions and exceptional collections, museum-goers can find moving works of art by influential artists and an ever-rotating lineup of special exhibits throughout the two-story property. For free admission, stop by on a Thursday during VillageFest.
Elena Bulatova Fine Art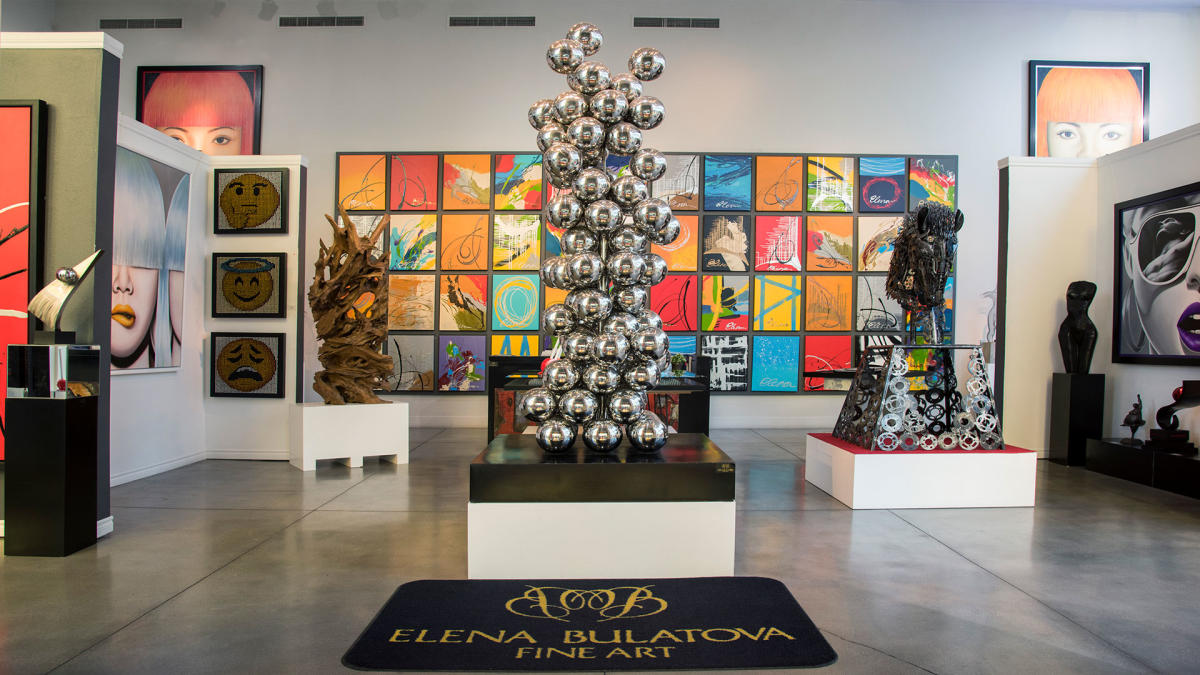 Photo by Elena Bulatova Fine Art
Get your dose of colorful modern art at Elena Bulatova Fine Art. Upon arriving, you'll notice that the gallery's attractive façade is telling about what you'll find inside–bright, vivid works of art in the form of abstract multi-media paintings, collages, sculptures, and photography. While there, make sure to explore the back-patio exhibit for more fabulous finds.
Stewart Galleries
Just a short distance from Palm Canyon Drive, you'll find Stewart Galleries, known for its eclectic selection of fine art by notable Californian and American Impressionist, Modernist and Plein Air painters. The space also features a comprehensive collection of American and European estate furnishings, lighting and accessories, as well as paintings and sculptures by European and South American artists.
Backstreet Art District
Your next stop? Backstreet Art District. Considered a one-stop shop by many art and décor enthusiasts, Backstreet Art District is a collection of boutique galleries and studios featuring renowned artists whose work is presented across various genres and mediums. Open Wednesday through Saturday with hours varying per gallery, the district boasts approximately 12 galleries with equally impressive art findings and experiences.
A great way to see everything Backstreet Art District has to offer is by joining the area's monthly Art Walk, which takes place on the first Wednesday of the month from 5:00 p.m. to 8:00 p.m. Visitors are welcome to browse the gallery spaces and enjoy numerous collections of paintings, sculptures, prints, jewelry, ceramics, photography and much, much more, all in one place. The year-round monthly event also allows guests to visit working studios, meet artists, and experience original fine art while enjoying light refreshments and occasional live entertainment.
Whether you are causally shopping for some new art décor or just feel like taking in incredible works of art by locally, nationally & internationally recognized artists, the Art Walk at Backstreet is a nice way to enjoy an evening of art in Greater Palm Springs.
Artize Art Gallery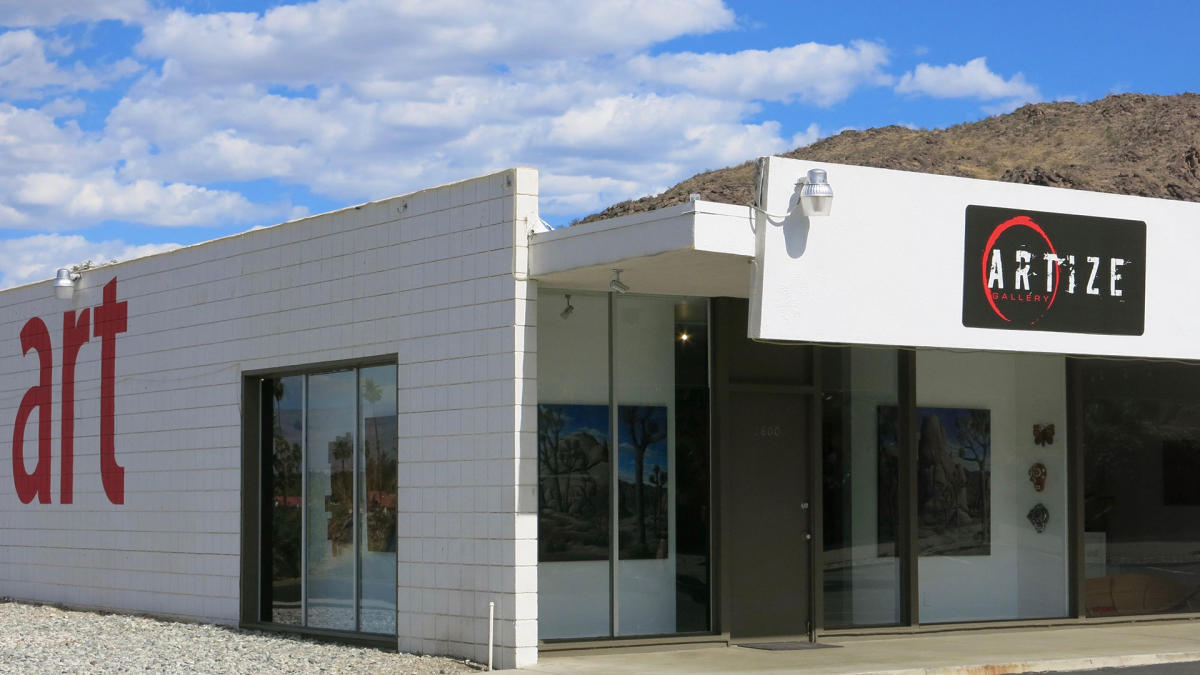 Photo by Kelly Truscott
Be sure to step inside Artize Art Gallery to explore original works by a number of up-and-coming, self-taught artists and formally-educated artists. Since its opening in 2013, gallery owner Kelly Truscott has been wowing guests with limited-edition pieces and diverse selections of contemporary art that includes everything from playful abstractions to realism and figurative designs.
Maxson Art Studio Gallery
Another must-see is Maxson Art, which is both the working studio and art gallery of founders Greg and Linda Maxson. This space showcases several artists' work, as well as Linda Maxson's ceramic art and paintings and the woodwork stylings of Greg Maxson. For a more hands-on experience, sign up for a class at the studio to learn about ceramics, tile making, and clay mono-printing.
Perez Road
Keep the fun going at Perez Road Art & Design District in Cathedral City, a destination that offers an incredible art experience. This area is home to an enclave of cutting-edge galleries that bring art, events, classes, and performances to the community. To experience all of the district's art treasures, attend the Art Walk on Perez Road, held every second Saturday of the month from 5:00 p.m. to 8:00 p.m. Those visiting the Art Walk can expect to see special art exhibits, museum-quality art pieces and art from every media, including the exciting artistry of At-Hom Vintage & Modern, Elan Vital Galleries and The Art Room.
Trenz Gallery
Photo by Trenz Gallery
Also located within Perez Road Art & Design District is the trendy Trenz Gallery. A variety of artists' work can be found here, including that of gallery co-owner Roger Leighton. The gallery's wide selection of eclectic and contemporary art includes metal sculptures, ceramic work, paintings, and glass pieces.
Simeon Den Gallery
Owner Simeon Den combines the beauty of art with the beauty of self-care in his non-traditional gallery space. Featuring a number of artists and inspiring photography and paintings, the gallery also features sculpture work and puts a special focus on minimalistic style and Zen aesthetic.
While exploring Simeon Den Gallery, visitors can experience fine art and temple art all in one location. Practices include yoga, Tai Chi, meditation groups, a writer's circle, feng shui services, and various performance-based activities.
Palm Desert
With so much to see and do in the city of Palm Desert, it should come as no surprise that you'll find remarkable galleries in the city. As an extension of the Palm Springs flagship location, the Palm Springs Art Museum in Palm Desert boasts four separate gallery spaces featuring rotating exhibits, plus a four-acre sculpture garden for guests to enjoy. Another equally impressive gallery space is Heather James Fine Art, with over 8,000-square feet of gallery space featuring artists like Vincent van Gogh, Pablo Picasso, Norman Rockwell, and Andy Warhol.
Nikko Gallery
To see something truly special, head over to Nikko Gallery. Owned by husband and wife duo Hans and Nancy Ladislaus, the space displays the creative works of Hans and the stunning work of other artists. Tour the showroom and experience the beauty within the gallery's contemporary paintings, sculptures, pottery, and decorative glass.
El Paseo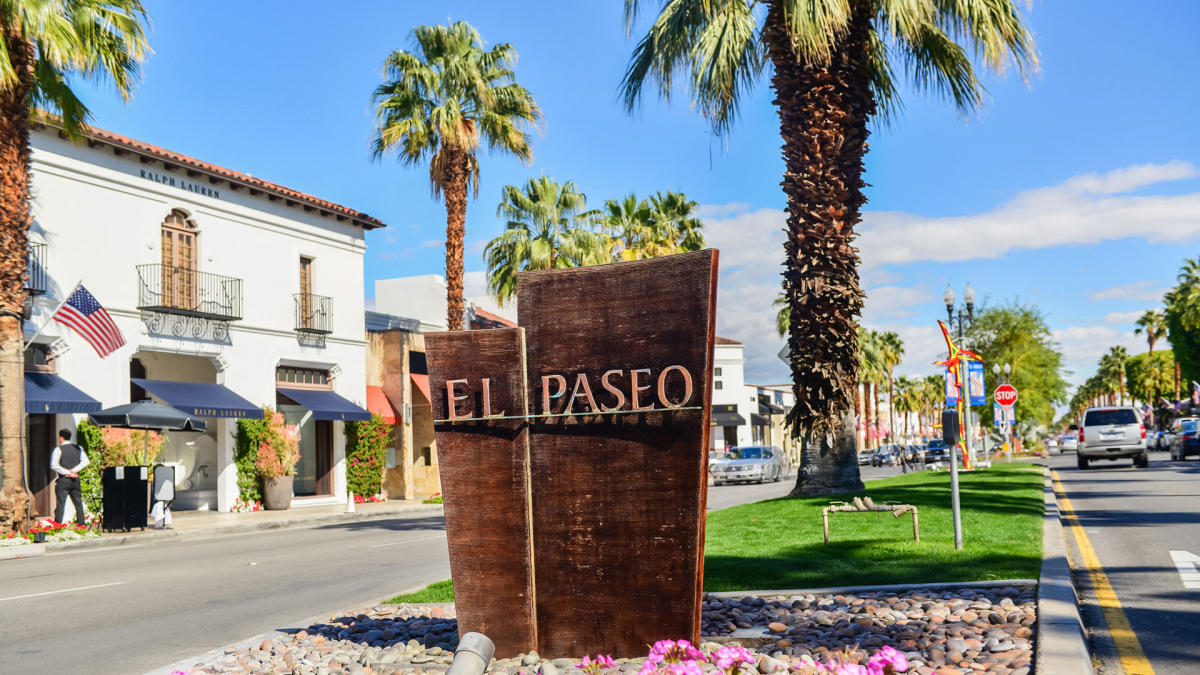 Photo by Chris Miller
More than a major shopping destination, El Paseo also boasts numerous art galleries showcasing everything from upscale, contemporary pieces to fine art. Whether you decide to drive or walk through the shopping district, the sidewalks are filled with top-notch gallery locations to choose from, plus plenty of public art to enjoy along the way.
One way to enjoy the galleries is through the monthly art walk. The El Paseo Art Walk happens every first Friday of the month, November through May, from 4:00 p.m. to 8:00 p.m., and gives local aficionados opportunities to enjoy art strolls, exhibit openings, and artist receptions.
CODA Gallery
Celebrated for its 31-year history on El Paseo and its unique art displays, CODA Gallery is a premier art destination in Palm Desert. A favorite for many who frequent it, CODA exhibits a brilliant collection of contemporary work by established, mid-career and emerging artists. The gallery also offers a vast collection of paintings, photography, sculpture and glass designs, plus popular exhibits.
Filsinger Fine Art Gallery
Another highly regarded art gallery on El Paseo is Filsinger Fine Art Gallery. At Filsinger, you'll find two types of galleries within the same space: one showcasing genuine 50 million-year-old fossils in stone, and the other showcasing contemporary and classical art pieces by a variety of artists.
Old Town La Quinta and Beyond
For plenty of artistic styles, don't miss the festivities in La Quinta. From outdoor festivals to a studio where you can make your own masterpiece, La Quinta is a must on any Greater Palm Springs art crawl.
Old Town Artisan Studios
What better way to finish your art crawl than by making a masterpiece of your own? Head to Old Town Artisan Studios to try your hand at ceramics, sculpture, painting, and glasswork. Unleash your creativity and create a memento of your Greater Palm Springs art crawl!
Looking to continue your art journey on the road? Our artsGPS app makes public art, exhibitions and art-related events in Greater Palm Springs easy to find. Learn more about the artsGPS app here.
Featured images of Artize Art Gallery and Backstreet Art District by Kelly Truscott.