The Agua Caliente Band of Cahuilla Indians reservation is home to the stunning landscapes of Tahquitz Canyon and Indian Canyons, which include several waterfalls and the largest Washingtonia filifera (California fan palm) oasis in the world.
The tribe has been managing and protecting these natural wonders for centuries, and with it, their legacy, as both reserves are listed on the National Register of Historic Places. Taking a hike on these sacred lands not only brings one closer to nature but offers an inside look into the lives of the original inhabitants of the land.
Tahquitz Canyon Trail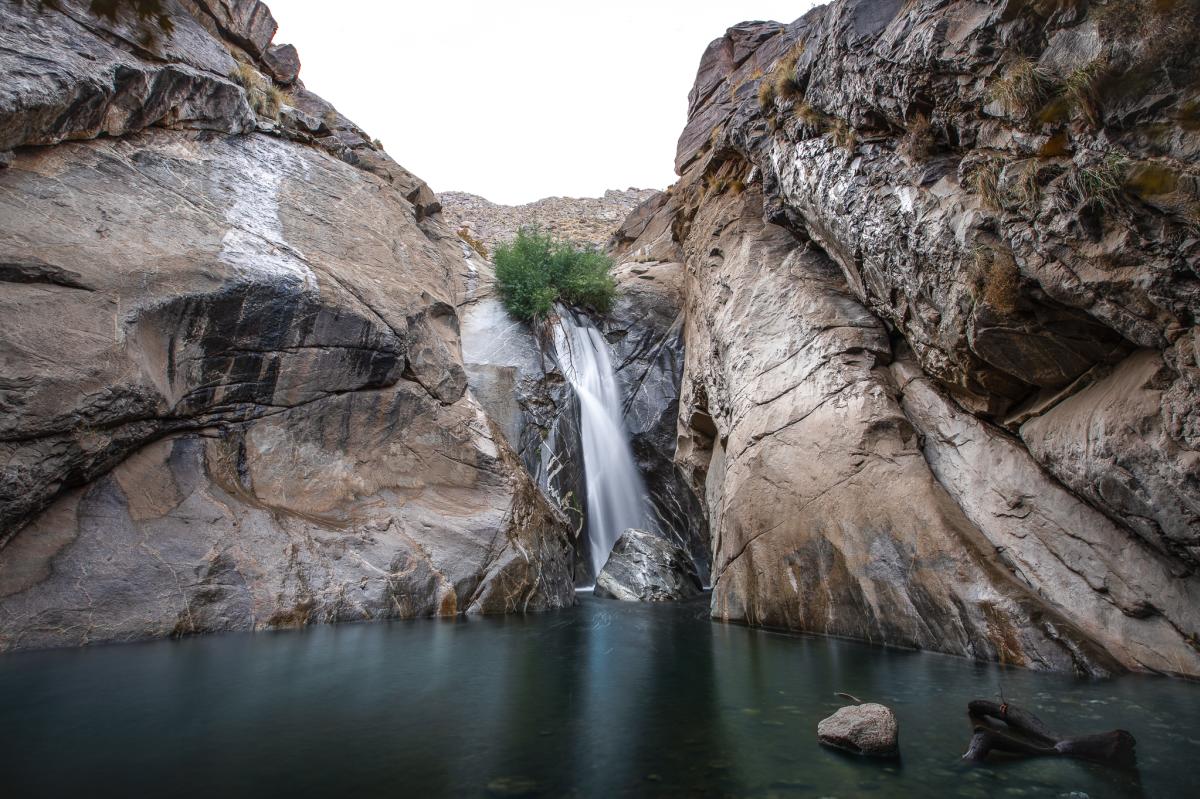 Ranger-led interpretive hikes depart from the Agua Caliente Tahquitz Visitor Center at 8 a.m., 10 a.m., noon, and 2 p.m. As you take in the scenery of the canyon, you'll learn about the tribe's history and how they thrived in the desert. During the two-and-a-half-hour tour, you'll see a rock formation that represents one of the oldest Cahuilla village sites and rangers explain how endemic plants like honey mesquite and yucca were used for medicine, and food and dyes.
Visitors can also get a peek at ancient rock art, food preparation areas, and irrigation ditches, which you might miss if you opt for a self-guided hike on the two-mile Tahquitz Canyon Trail. The path is well-maintained, but there are some steps and the trail has approximately 350 feet of elevation gain. Winter and spring are the best seasons to see the falls flowing, and they are especially stunning in the days after a rainstorm.
Andreas Canyon and Murray Canyon Trails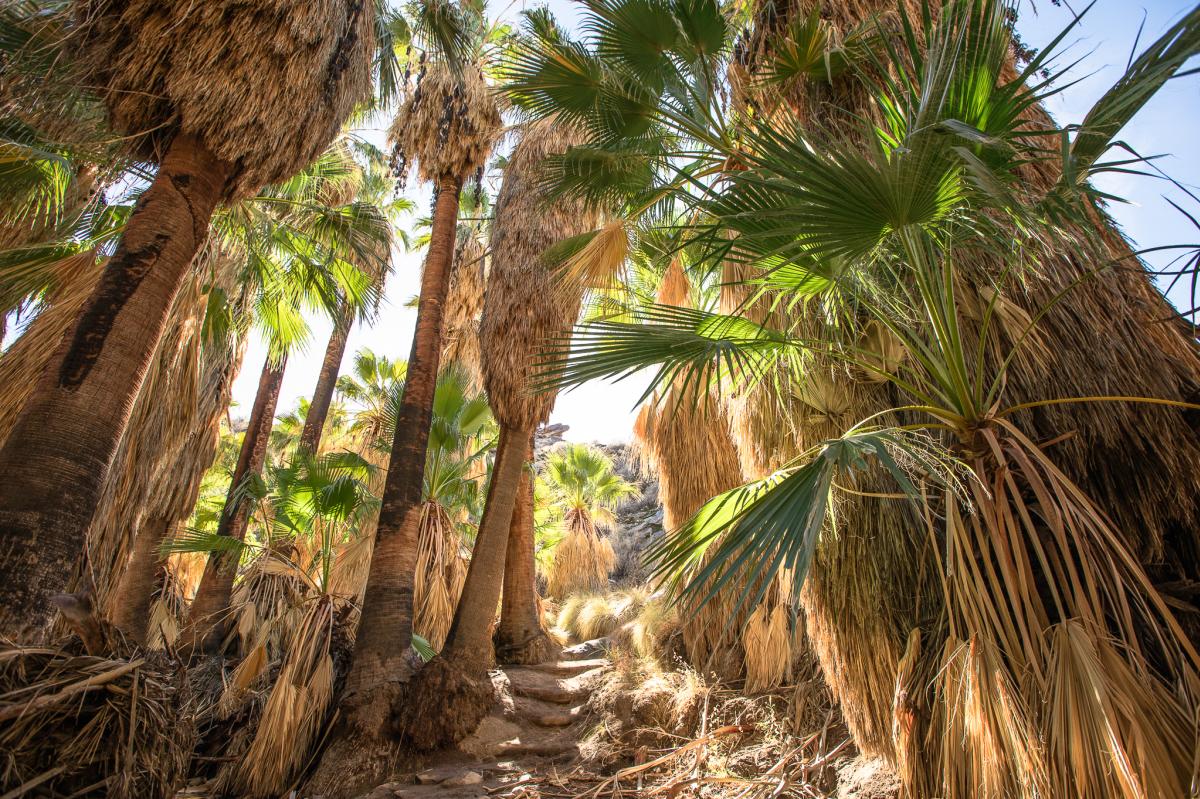 The Indian Canyons are just five miles south of the Tahquitz Visitor Center, and the reserve is home to a lengthy network of trails, with two major trailheads. Shortly after passing the Indian Canyons entrance kiosk, the parking area for the Andreas and Murray Canyon trails are to the right, both of which take hikers through a smaller fan palm oasis on the reserve.
The Andreas Canyon Trail is an easy one-mile loop that wanders through the palms from the northwest of the trailhead, while the Murray Canyon Trail is a four-mile out-and-back trek to the southwest with approximately 600 feet of gain, offering views of yet another oasis and a small waterfall. Ranger-led interpretive hikes through Andreas Canyon depart every weekend at 1 p.m., and the area is filled with picnic tables, making it an ideal spot to relax, no matter what season.
Another option for a guided adventure in the Indian Canyons is booking a three-hour tour with Desert Adventures Red Jeep Tours. In addition to exploring the oasis in a classic 4x4 Jeep and a hike through Andreas Canyon, guides give a detailed presentation on the ceremonies and history of the Agua Caliente tribe and the geology of the area. If you're keen on exploring the area by horseback, Smoke Tree Stables regularly runs two-hour trail rides in Andreas and Murray Canyons Thursday through Monday.
Palm Canyon Trail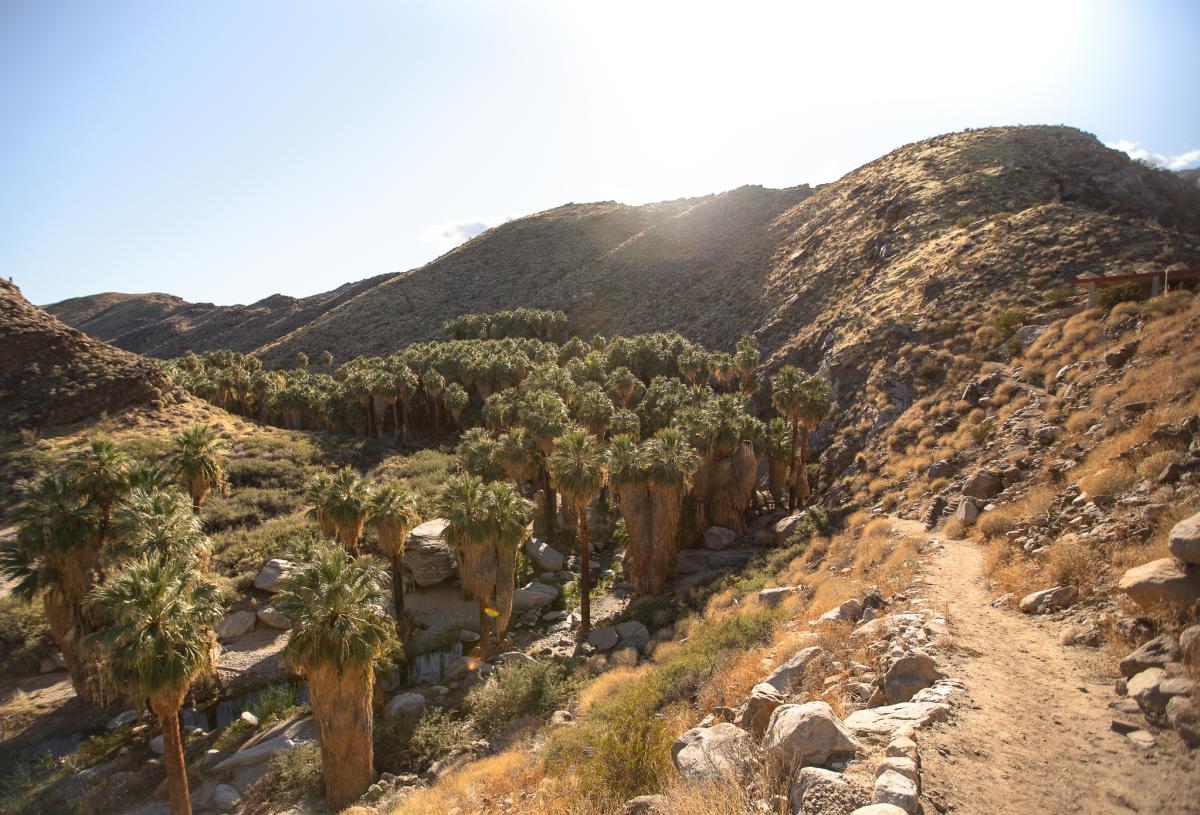 Continue down Palm Canyon Drive for another mile, and you'll find multiple parking areas for the trading post, which sells Native jewelry and books and offers displays of ancient art and artifacts. Here you'll find the second set of trailheads, including Palm Canyon, the world's largest California fan palm oasis.
The Palm Canyon Trail technically continues all the way up to Highway 74, though most hikers opt to turn around at the junction for East Fork, making it an easy two-mile out-and-back hike with 250 feet of elevation gain. Ranger-led interpretive hikes through Palm Canyon depart every weekend at 10 a.m. from the trading post, where you'll learn more about (and get a peek at) "kish," or the round huts the Agua Caliente Band of Cahuilla Indians built from palm fronds, along with a "metate," or stone mortar the women used to grind ingredients and prepare food. 
The upper and lower trading post parking lots are also the best place to park for the Dry Wash, Victor, Fern Canyon, Vandeventer, East Fork, West Fork, and Indian Portrero trails, many of which connect to give hikers different views and distances.
East Fork Trail
While the most scenic trails in the Indian Canyons are suitable for hikers of all levels, a handful of more challenging routes depart from the trading post trailhead. After a mile on the Palm Canyon Trail, hikers will see signs for the East Fork Trail, which can be done as a six-mile out-and-back with approximately 750 feet of gain, though several loop options exist as well.
After approximately three miles, the East Fork Trail splits, giving hikers the choice of going north on the East Fork Loop Trail towards the Vandeventer Trail, or south on the East Fork Loop towards the Dry Wash Trail (both are approximately seven miles with 1,000 feet of gain). Hikers taking the north route can also connect the Vandeventer Trail to the Fern Canyon Trail for an eight-mile loop. 
West Fork Trail (North and South)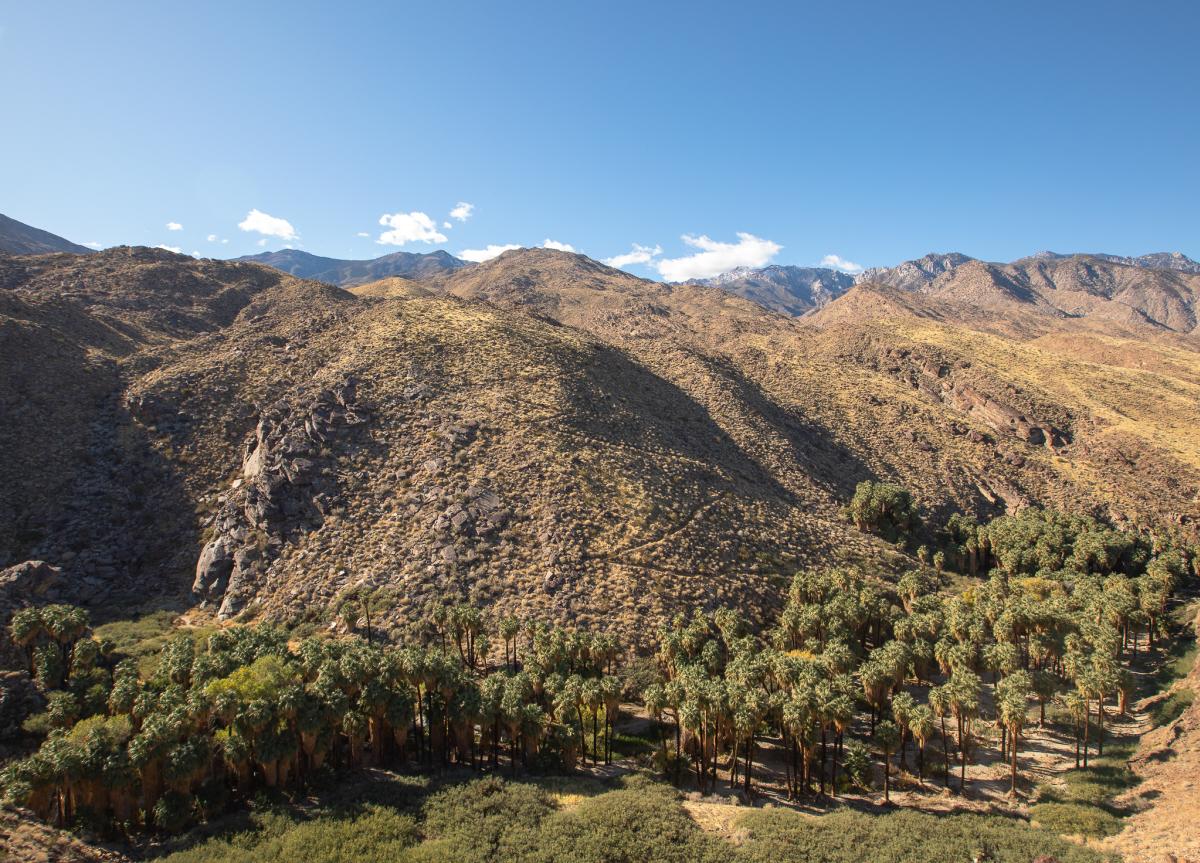 The South West Fork Trail is most commonly done as a five-mile out-and-back that quickly climbs 1,400 feet, so it offers hikers the most bang for their buck. (Look closely at the photo above, and you'll see the West Fork Trail's switchbacks snaking up from the Palm Canyon Trail.) While most hikers turn around at the two-and-a-half-mile mark, it is possible to continue on the West Fork North Trail as a much more difficult out-and-back—or as a loop.
The longer out-and-back is a total of 14 miles with 4,000 feet of gain, while the loop is a little over eight miles with 1,800 feet of gain, connecting with the Coffman and Alexander Trails, which lead back to the trading post. While the trails are well marked, it is easy to get turned around at some of the junctions, so plan ahead—and bring the appropriate route-finding gear on your hike.
For those interested in learning more about the tribe's history and ties to the oasis, in 2023 the Agua Caliente Cultural Museum will open its doors in downtown Palm Springs. The 48,000-square-foot space will feature an education center, a garden, a spa/bathhouse, along with several outdoor activity spaces. "This Cultural Center will allow us to reconnect to our own cultural heritage while sharing it with others," Tribal Chairman Jeff L. Grubbe said in a statement. For more updates and information, be sure to check the Agua Caliente Cultural Museum website.
Visitors must pay a daily admission fee, ranging from $7 to $15 for children, adults and seniors. Annual passes are $125, and are available for purchase at the Palm Springs Visitor's Center. Hours for Tahquitz Canyon are 7:30 a.m. to 5 p.m., and hours for Indian Canyons are 8 a.m. to 5 p.m., with the last vehicles allowed in at 3 p.m. and 4 p.m., respectively. Pets are not allowed. Hikers are advised to bring plenty of water, and in addition to paper and digital maps, consider bringing an emergency satellite device. Know your limits; and when in doubt, turn around.
Hike your way through the Southern California oasis! Take a look at these scenic hiking trails in Greater Palm Springs and embark on a new adventure!