There's never a shortage of things to do in Greater Palm Springs. Just when you've thought you've experienced your fair share of desert experiences, you're bound to muse, "Wait… I've always wanted to do that!" Now is your chance. Take note of this must-experience "bucket list" guide in Greater Palm Springs. 
Feed a Giraffe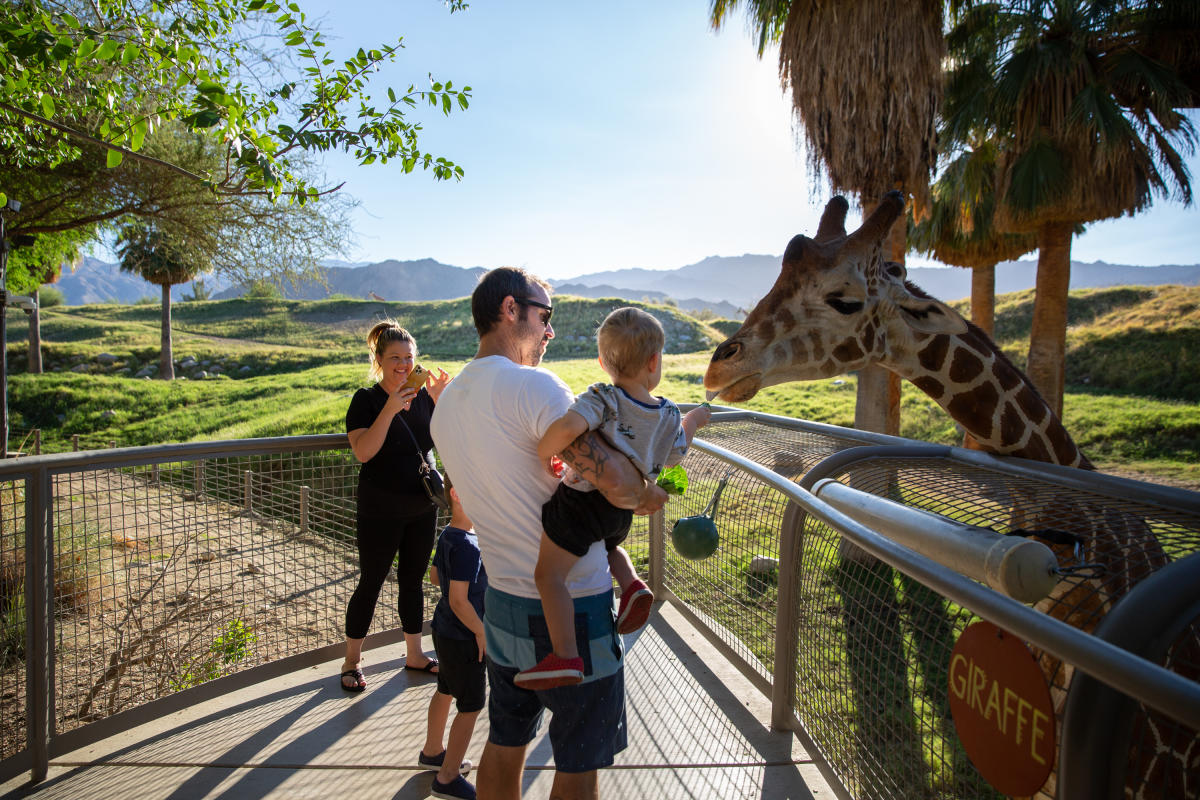 Have you ever fed a giraffe? Or interreacted with a rhino? It's yours for the taking at The Living Desert. The wondrous enclave is a must-see for travelers and visitors alike. Some new and inventive offerings have been added to the overall experience in this modern-day zoo/garden/conservatory. For starters, there's a friendly giraffe hoping to make your acquaintance. Feeding the giraffes is a one-of-a-kind experience. Elsewhere, be sure to experience Rhino Savanna, the impressive outpost perched just inside the zoo's main entrance. You'll discover a fascinating state-of-the-art, multi-species habitat here—home to 12 African species, in fact. The zoo's largest animals are yours to get to know—two black rhinos, Nia and Jaali. Guests can stand just a few feet away from these majestic creatures. Be sure to have your Instagram ready for this amazing animal content!
Info: 47900 Portola Avenue, Palm Desert.
Ride the World's Largest Tramcar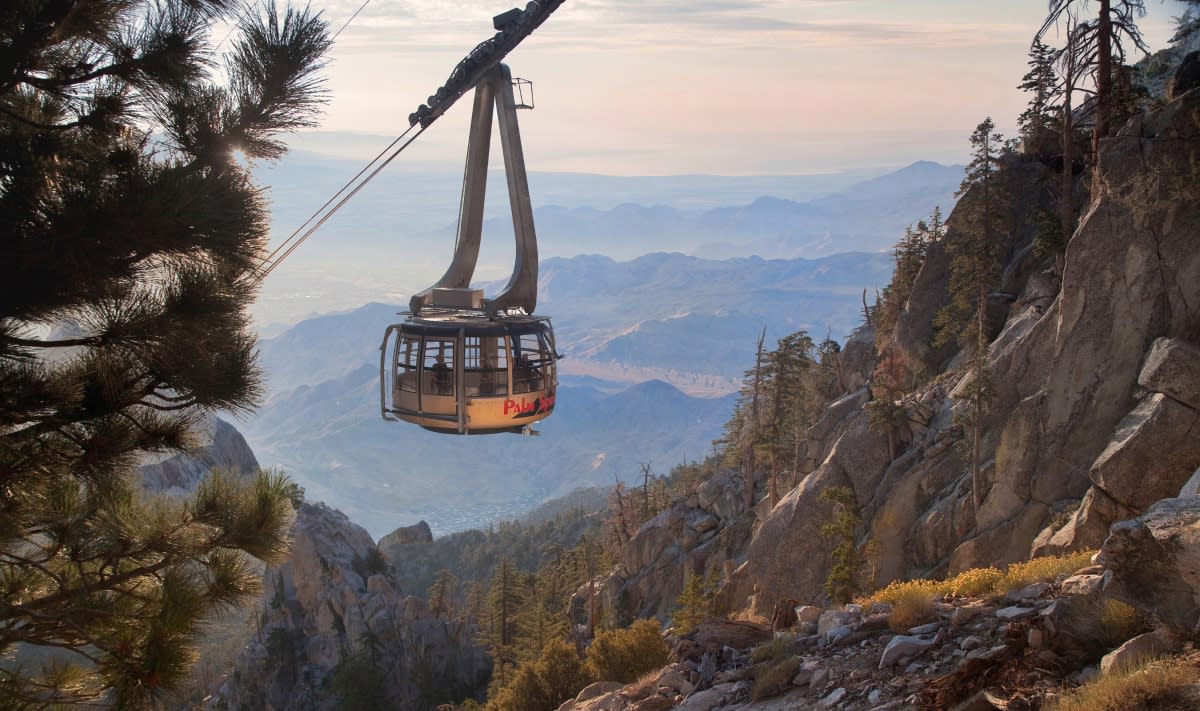 The idyllic haven is a must, even for locals who have lived in the area for years. Who wouldn't appreciate ascending two and a half miles up to stunning wilderness aboard the world's largest rotating tramcar? Once up top, there's plenty to do—make an afternoon of it, then plan for an unforgettable meal at Pines Café or Peaks Restaurant where sublime valley views await you. This bona fide national monument also features guided nature walks, camping, hiking, cross-country skiing, snowshoeing—even snow camping for adventurous souls. Unforgettable, and thoroughly sublime, the Palm Spring Aerial Tramway experience is one to be had. Perhaps a few at a time.
Info: 1 Tram Way Palm Springs.
Enjoy the View from a Hot Air Balloon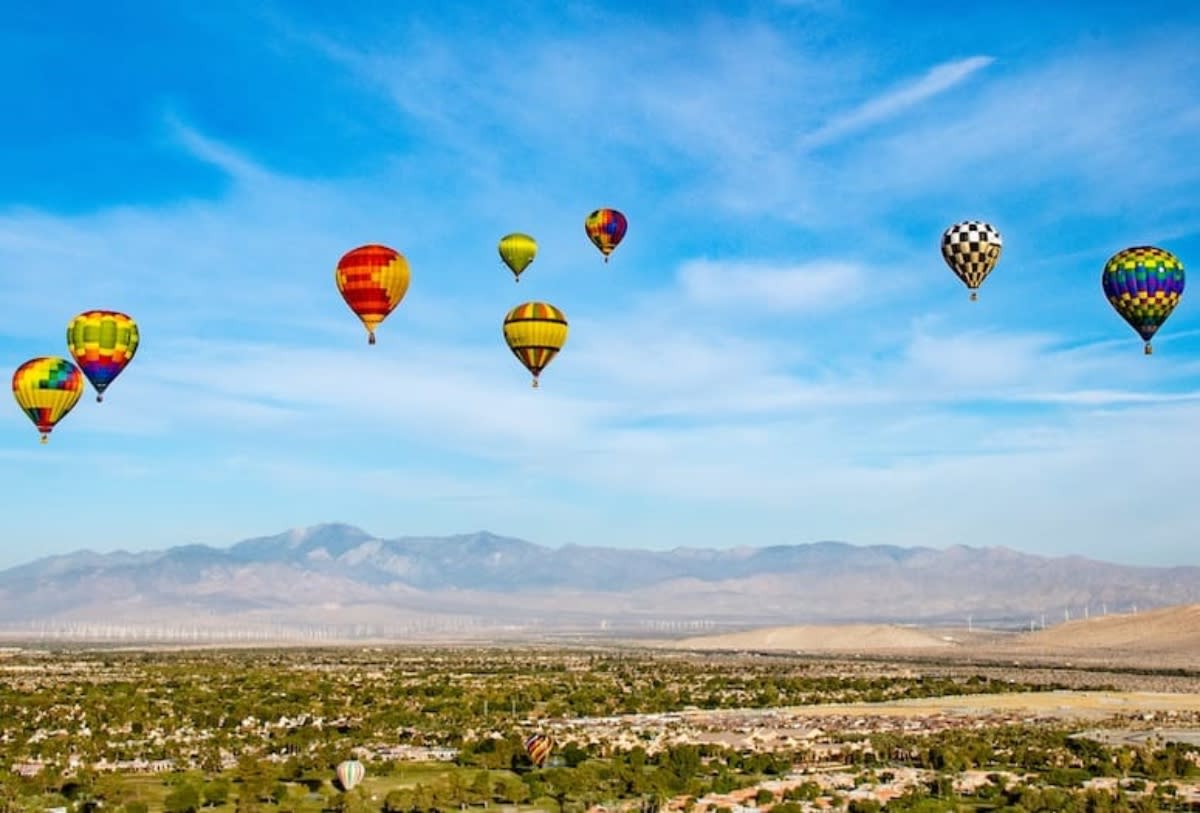 While you have your thoughts in the clouds, best to also put hot air ballooning on your bucket list. Consider Fantasy Balloon Flights, a family owned and operated business that's been around for decades. Champagne balloon adventures are available daily (September through May). Early morning balloon adventures also include a continental breakfast. These remarkable rides are also available for wedding parties. Make your "I do" thoroughly stand out. These brightly colored aerostats loom more than eight stories high and once in the air, guests experience a rare bird's eye view of striking mountainscapes, farms, cities, resorts, and, of course, the natural desert. Balloons Above is another business that provides hot air balloon experiences in the area. Most balloon rides are slated for mornings and early afternoons.
Info: Fantasy Balloon Flights, located in Palm Desert; Balloons Above, located in Indio.
Get Your Adrenaline Fix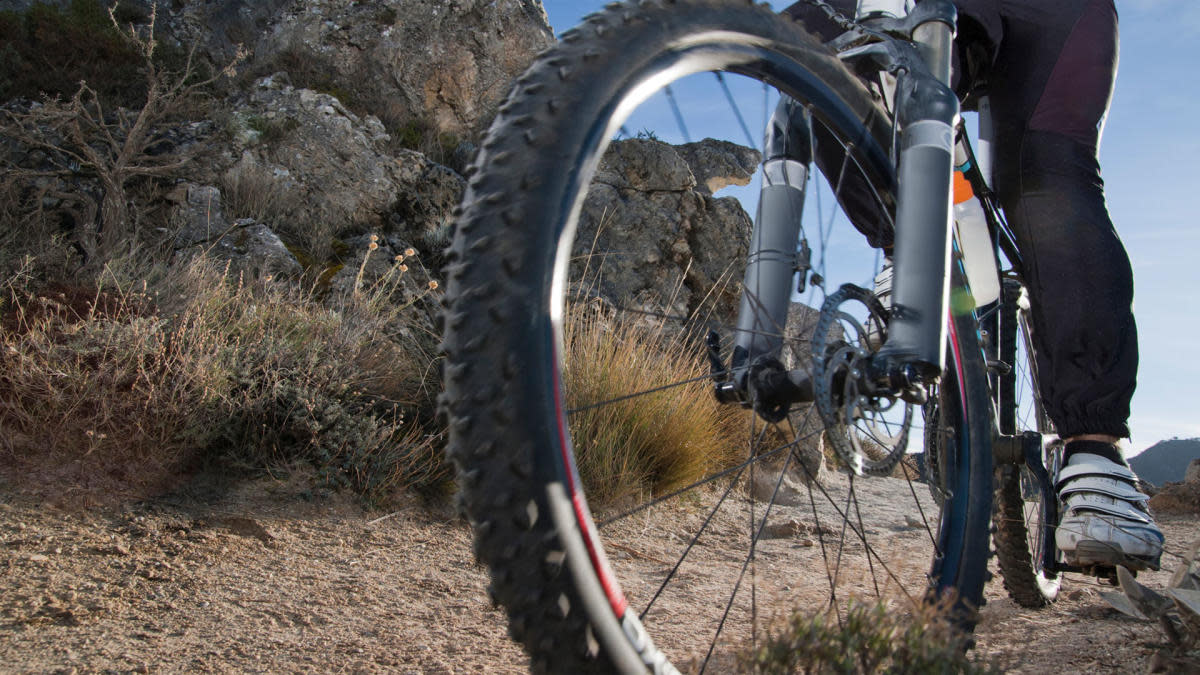 What's great about this bucket list item is that Big Wheel Tours offers more than just biking experiences. There are hiking and Jeep and SUV tours as well. But first, experience any one of the bike tours featured here. The custom Palm Springs tour allows guests to create the tour they desire. Meanwhile, the Indian Canyon Bike and Hike experience offers spectacular ways to view the stunning valley. Tours begin from the shop's downtown Palm Springs locale, taking people through several older if not eye-catching Palm Springs neighborhoods, including Canyon Country Club. It's ten miles round trip and downright unforgettable. The Earthquake Canyon Express Bicycle Tour is a gem. Riders experience a rare geologic endeavor on a 20-mile tour that takes them through the heart of the San Andreas Fault zone. Good news: the road is paved and heads to heart of grape country near Mecca. Mesmerizing all around.
Info: Big Wheel Tours, 74200 Highway 111, Palm Desert and 1590 South Palm Canyon Drive, Palm Springs.
 
Admire Iconic Homes 

Where do you start? Maybe a home tour—then you drive around iconic neighborhoods on your own and savor some special residences yourself. Consider Modern Tours Palm Springs. The perk? They take place in your own vehicle. The company does the "talking" through your smartphone. You do the driving. The Celebrity MEGA Tour is the main go-to, and your self-driving celebrity tour takes your through stellar Palm Springs neighbors, once inhabited by a bevy of celebs and/or created by iconic architects like William Krisel. See the homes of Elvis, Frank Sinatra and the Rat Pack, Leonardo DiCaprio, a U.S. president, and other memorable icons. The company's modernism tour stands out, too, and you get background/history and candid tales from an expert local guide. It's a two-hour tour. Palm Springs Mod Squad Tours should be another consideration. Take note of its Martini & MCM Architecture Tour, which takes visitors to the homes of Dean Martin, Peter Lawford and Marilyn Monroe. Take note of Five Star Adventure Tours, another worthy consideration for seeing brilliant homes from the likes of Wexler and Kauffman.
Info: Modern Tours Palm Springs, 1000 S Palm Canyon Drive, #204, Palm Springs; Palm Springs Mod Squad Tours, 1800 E Palm Canyon Dr, Palm Springs; Five Star Adventure Tours, 250. W. Tahquitz Canyon Way, Palm Springs.
Explore on Horseback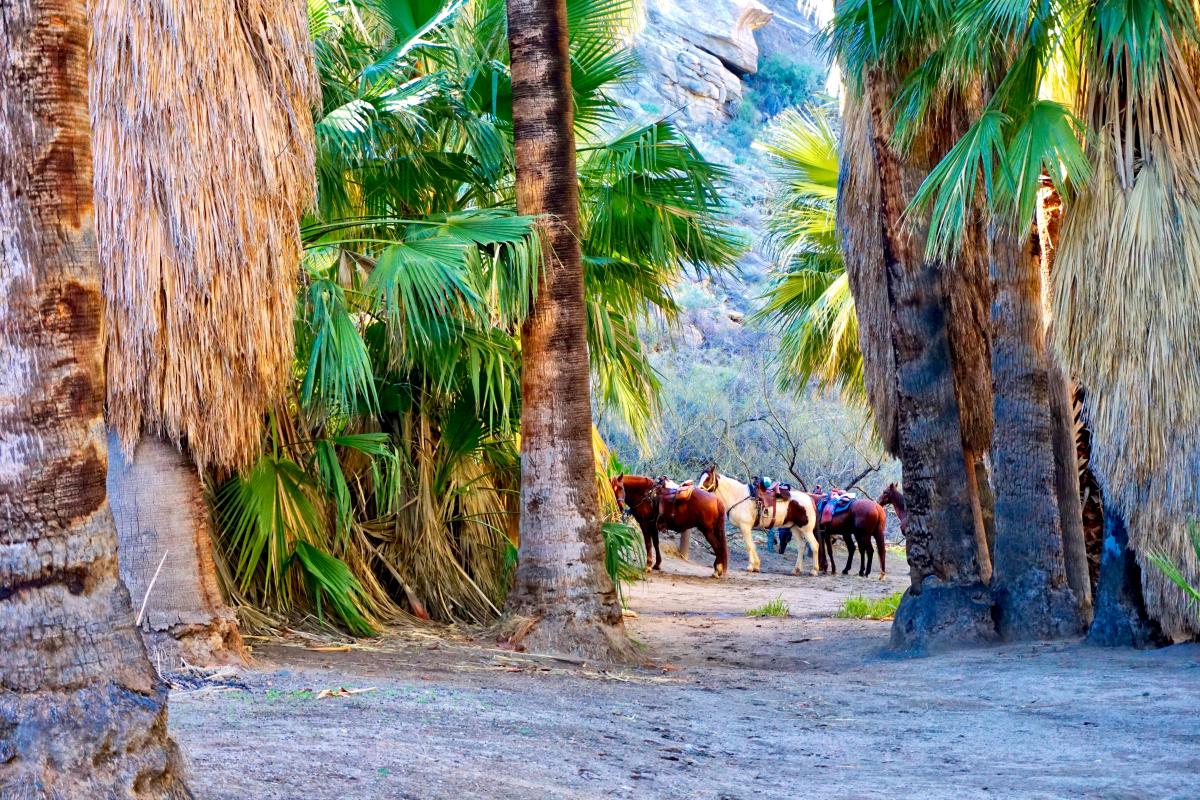 If you're feeling really adventurous, try Smoke Tree Stables and ride a horse on a palm tree path. They offer horseback riding lessons and guided trail rides through the stunning palm tree landscape. After the ride, you can hang out with the horses and learn how to brush and care for them. Whether you are celebrating a birthday, or riding with the family, horseback riding at Smoke Tree Stables is a fun and unforgettable experience that you'll never forget! 
Info:  Smoke Tree Stables, 2500 S Toledo Ave, Palm Springs                                         
Stay in an Instagramworthy Vacation Home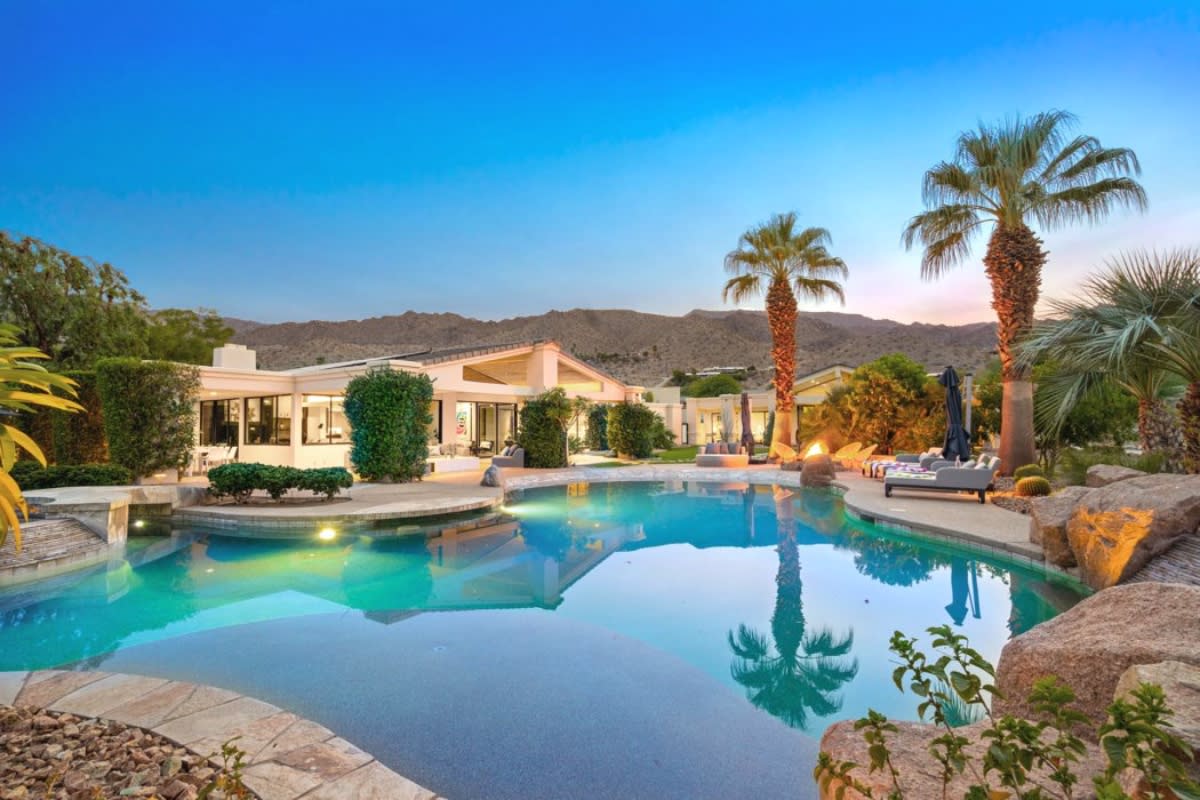 You're in an iconic area, so… why not spoil yourself. Those seeking a truly unforgettable experience in fabulous homes—we're talking dream-of-a-lifetime stuff here—should consider Desert Luxury Estates. The La Paz Estate in Palm Desert, for instance, is a destination event-type vacation, ideal for families and, say, wedding parties—it's eight bedrooms and six baths of splendor, and oh, the pool. The "Modern Mesa" in Palm Springs offering is three bedrooms, thoroughly modern and sleeps six. There are countless others. Airbnb lists some stellar Movie Colony homes, for those surfing the site. Meanwhile, Vacation Palm Springs, is a worthy look-see with vacation homes in Palm Desert, modern homes in the Tahquitz area, villas with views and more. Speaking of, Private Villa Management, offers private villas with pools and, of course, views. 
Info: Desert Luxury Estates; Vacation Palm Springs; Private Villa Management.
Stargazing and Camping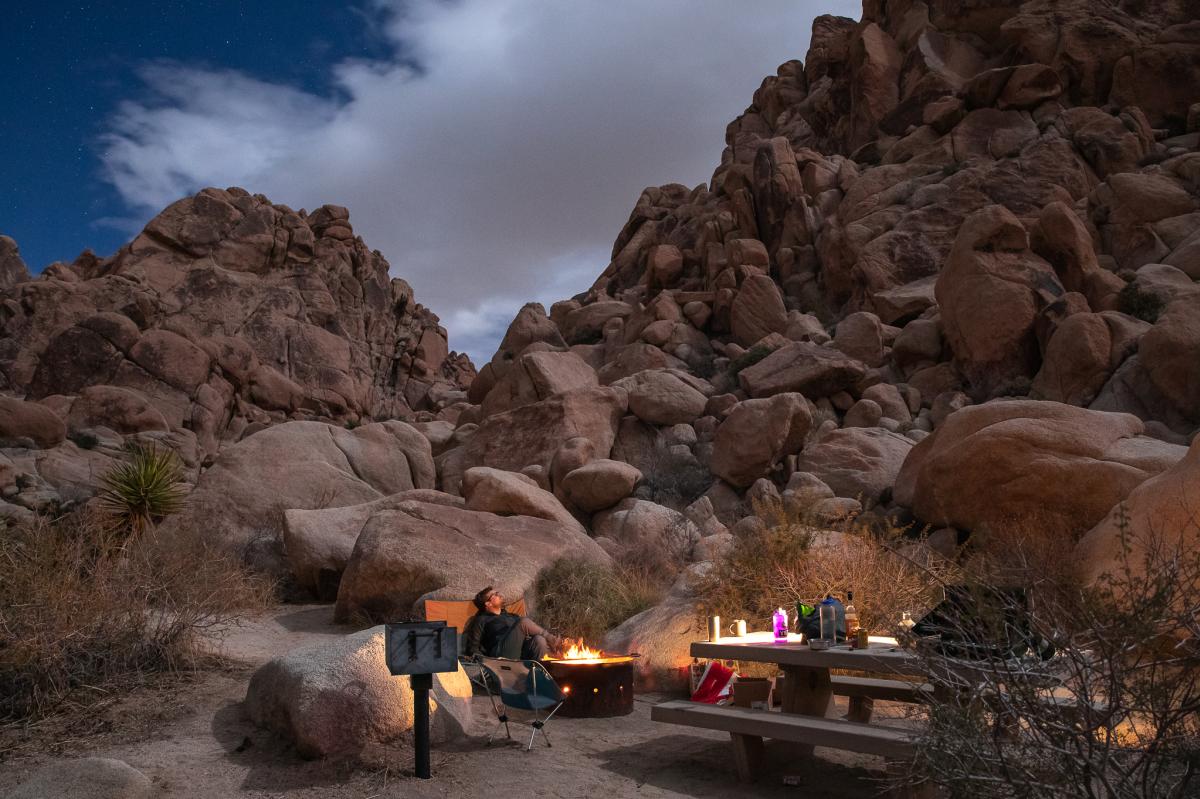 The nighttime sky is truly remarkable around these parts. Vivid, unforgettable, and sublime. Rancho Mirage Library & Observatory stands out. Between observatory tours and actual stargazers, this is a go to for those wanting a new adventure. Meanwhile, Coachella Valley Preserve should be noted because it's not as far as Joshua Tree National Park. The park is one of the most exceptional camping outposts around and should be placed on your bucket list. Plenty of stargazing there as well. Take an afternoon trip to Idyllwild, grab some dinner, and look up. This mountain community is away from the city hub below and offers exquisite stargazing. And don't forget Idyllwild Regional Park, which is a stellar spot for both camping and stargazing. The best bet, perhaps, is Indian Cove Campground, a downright idyllic haven for campers. Located in Twentynine Palms, relish this unforgettable experience.
Info: Rancho Mirage Library & Observatory, 71100 CA-111, Rancho Mirage; Joshua Tree National Park; Idyllwild Regional Park; Indian Cove Campground, 68917 Indian Cove Circle, Twentynine Palms.
From history museums to wellness experiences, there is always something new to discover in Greater Palm Springs. Explore more popular and unique things to do beyond this list and see just how much this oasis has to offer.