Greater Palm Springs Restaurant Week is an amazing opportunity for people to taste some of the best foods in the Greater Palm Springs area. Here are some of the top deals you should not miss during Greater Palm Springs Restaurant Week. 
Vicky's of Santa Fe

Deal: $29
Vicky's of Santa Fe is an Indian Wells must do. This restaurant specializes in American and Californian bistro with savory dishes like fresh lamb, prime rib, and mac n' cheese. It's three-item dinners during Greater Palm Springs Restaurant Week combines some of its greatest dishes for a great price! Enjoy your choice of appetizer from some of the options provided like the BLT Wedge-- a salad made of Iceberg lettuce, applewood smoked bacon, tomatoes and bleu cheese dressing.
Other options include the chilled soup of the day, Caesar Salad, or the Ahi Tuna, a dish made of mixed field greens, napa cabbage, crispy wontons and asian vinaigrette. For the main course, guests can enjoy a variety of options like the pan seared sea scallops with mango salsa over sauteed spinach or braised baby ribs complemented with mashed potatoes and baby carrots.
The salmon calabrese with kalamata olives, capers, heirloom tomatoes, and sauteed spinach and the herb crusted 2 Double New Zealand Lamb Chops or 10 oz Flat Iron Steak with roasted potatoes and fresh veggies are sure to fill any foodie's heart.
For dessert, finish off your meal with either the brioche bread pudding with vanilla ice cream a la mode or the chocolate decadence cake with coffee rum syrup and chocolate mousse. Either choice will satisfy the sweetest of tooths! Guests can also choose to add an additional $18 per bottle of wine.
Cork and Fork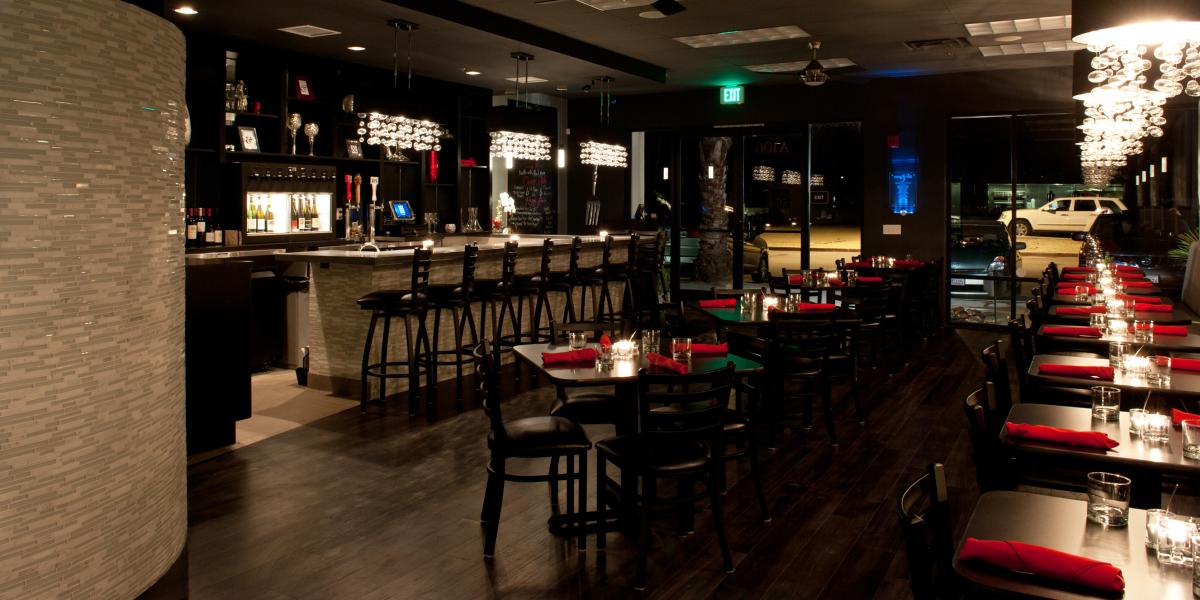 Deal: $29
This cozy La Quinta restaurant brings a sense of familiarity into the wining and dining experience. The menu ranges from classic food to exotic and flavorful fusions. Everything made at Cork and Fork is created from the highest quality local, organic, and sustainable ingredients.
The special Greater Palm Springs Restaurant Menu gives guests a three-item meal with both gluten-free and vegan options. For the first choice, people can select from a local strawberry salad made of Lemony Chevre, Baby Spinach, Pistachio, Citrus, and Flakey Salt, a House Cured Salmon flavored with Pickled Cucumber, Dill Remoulade, Candied Lemon, Grilled Ciabatta, the Cornmeal Crusted Fried Green Tomatoes which burst with flavor with Goddess Aioli, Sweet Corn & Leek Succotash, Arugula, Truffle Honey, Pickled Onion, or the Farmers Market Salad consisting of Shaved Brussels, Baby Kale, Gala Apples, Candied Pecans, White Balsamic and Gorgonzola.
The main dish entrees introduce even more amazing flavors! Guests can choose from Shrimp and Grits flavored with Portuguese Sausage, Low-country Tasso Gravy, Pickled Jalapeno, and Scallions; Filet Mignon Tacos covered in Sriracha Aioli, Pickled Red Onions, Avocado, Micro Cilantro wrapped in a fresh corn tortilla or lettuce wrap. Diners can get a little taste of Italy with the Risotto Primavera made of Roasted Tomato, Zucchini, Wild Mushroom, Fresh Herbs, and Parmesan and the G.P.S.R.W Pizza with ingredients like Artichoke Pesto, Smoked Mozzarella, Pancetta, Spinach, and Garlic. Dessert is a sweet dream with three different options. Choose from the Kings Hawaiian '99 Bananas' Bread Pudding made of Fresh Banana, White Chocolate, and Whiskey Caramel or the gelato, sorbet or creme brulee of the day.
533 Viet Fusion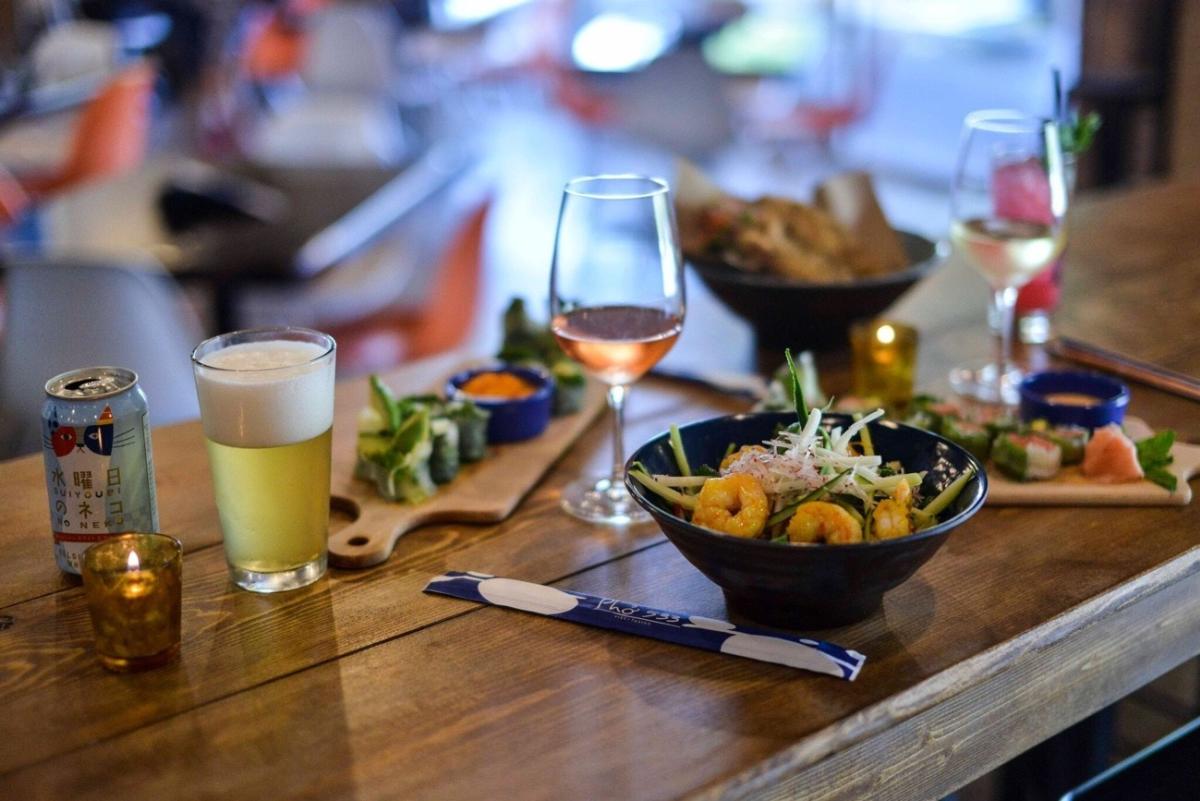 Deal: $29 Dinner | $15 Lunch
Bold, enticing, Vietnamese fusion flavors await those who enter 533 Viet Fusion. The local favorite has two great menu's available for all those who want a taste of their one of a kind menu.
The lunch menu offers chicken lemongrass "martini" a dish made of ground breast of chicken meatballs, wood ear mushrooms, rice noodles poached in coconut milk with ginger and lemongrass; green papaya salad, a salad made with cucumbers, green papaya, pickled cabbage, Thai basil, cilantro, shaved radishes tossed in a chile sesame vinaigrette, and the Ewok's ginger green beans, a wok fired haricot vert with fresh ginger and tamari as first course options.
For the second item, guests can enjoy the  sauté sautéed tiger shrimp, lemongrass duroc pork, bean sprouts, carrots, scallions, spices and tamari of the low carb ban xiao dish, "Saigon noodles"; a  wok fired tamari ginger chicken and fresh egg noodles with seasonal vegetables, organic egg, scallions, tamari, lime and spices. Another option foodies have is the soba noodle salad, consisting of gluten-free buckwheat noodles, edamame, snap peas, julienne carrots, red onion, sweet pea shoots, mint and mizuna tossed with a ginger tamari dressing.
The dinner offers the same choice with a few additions at an extra charge! Guests can choose from. Options include: "ramen" red curry coconut broth with chile tiger shrimp (spicy) red curry coconut broth with ramen noodles, and fresh scallions or the chile braised Osso Bucco (spicy) made slow braised and served on jasmine rice with chili coconut "gravy" and sautéed mizuna.
Wally's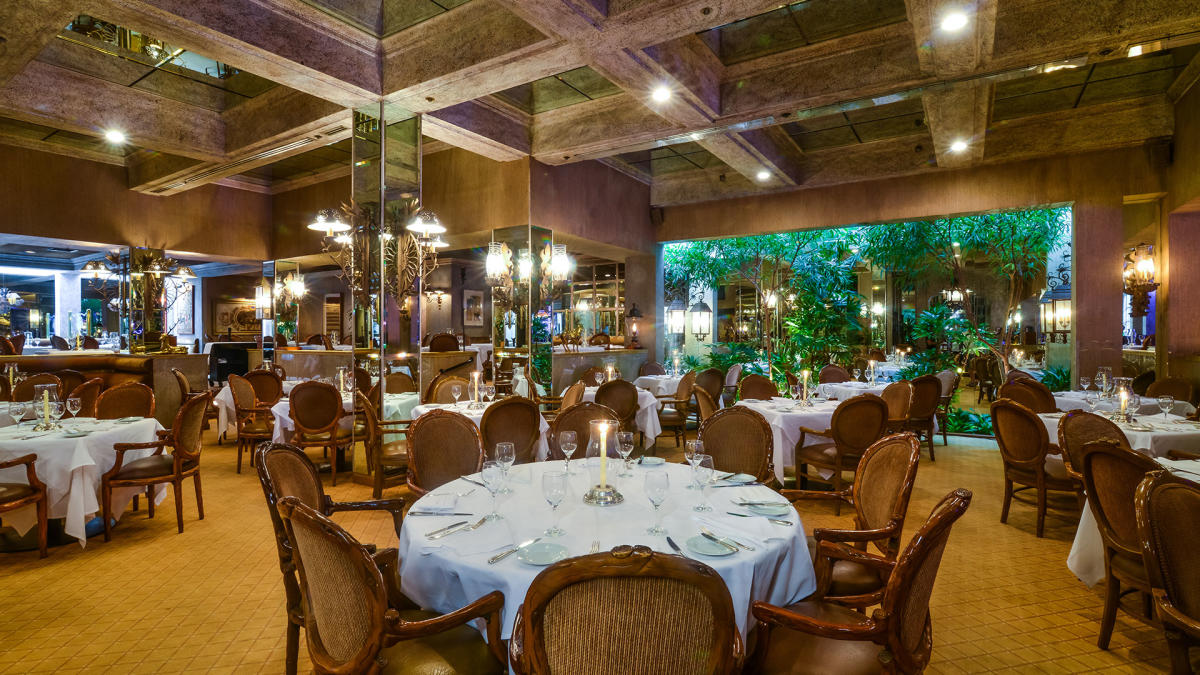 Deal: $39
Wally's is known for being one of the classiest spots in the Greater Palm Springs area to dine! It's three-item dinner deal offers many appetizing entrees at a great value. For the first course, food lovers can choose from the wedge salad, sprinkled with  Applewood Smoked Bacon, Blue Cheese Dressing, Gioia Burrata made with Heirloom Tomatoes, Micro Greens, and Balsamic Droplets; or the Little Caesar, a salad with ingredients like Little Gem Romaine Lettuce, Anchovies, and Garlic Crostini.
The main course options include the mouthwatering pan seared Scottish salmon infused with  Lemon Grass Jasmine Rice, Edamame, Miso Sauce, Green papaya Salad in Sesame and Sweet Chili Dressing. Guests can also choose from the slow braised beef short ribs and the free range roasted chicken breast. For dessert, guests can end their night with one of three options. If cake is your favorite, then the cinnamon carrot cake with Maple Frangelico Frosting, Crème Anglaise is made just for you. If you are looking for something a little bit different but still traditional try the Caramelized Tahitian Vanilla Custard Creme Brulee or the Macadamia Nut Bread Pudding with honey whipped cream. 
Can't get enough of these deals? We've got you covered during Greater Palm Springs Restaurant Week, find more here!