Planning your trip to Greater Palm Springs holds endless options. If you've been dreaming about relaxing poolside in a caftan, sipping martinis in a mid-century modern gem like the stars of Hollywood's golden era or reconnecting with family and friends under one roof sharing recipes in the kitchen and teaching the kids to play backgammon, a Greater Palm Springs vacation rental is the perfect place for you.
When booking a vacation rental, it is important to remember to keep in mind these 5 things:
Before you Book
Avoid scams by checking for a Permit ID on the advertisement for the home you're booking. Vacation rental homes and condos are required to be licensed in Greater Palm Springs, so when you're doing your search, make sure you see the home's Permit ID number somewhere on the listing. Booking an unlicensed home can lead to problems, like the home not really being there when you go to check-in. Once you book, you can even contact the city the home is licensed in to confirm the permit number and address matches up. Also, be sure to review the house rules before you book so you know what to expect.
Prices and availability can vary widely depending on the time of year. Check out the signature events page for dates and information about some of the region's largest events. These are great times of year to visit, but if you're looking for a great deal, and your dates are flexible, consider the summer and fall months or mid-week stays. Hosts will typically offer breaks on the nightly rate for longer stays, as well.
Check-in Day
Every vacation rental is a little different. Make sure you read the check-in procedures before you leave so you know if you're going directly to the house or to another location to pick up keys first. Some communities require a host meet guests for an in-person arrival, so scheduling that in advance can save valuable vacation time. 
Travel sustainably. Most vacation rental homes have limits on the number of vehicles that can be parked at a property. Having too many cars can even result in fines for guests in some communities. Plan ahead to help reduce your carbon footprint and avoid costly parking fines by carpooling with other guests and bringing as few vehicles as possible.
Pro Tip: Bring your food and drinks in a cooler or buy them cold at a local grocery store. Even the best refrigerators will take 6-8 hours to cool down if you fill it full of room temperature groceries. Starting out cold will mean less time waiting and more time enjoying chilled beverages by the pool. 
Be a Good Neighbor
Greater Palm Springs consists of nine cities. Each city has specific guidelines for vacation rentals that you can find in their 'Good Neighbor Brochure' linked below:
When thinking of renting a vacation rental, keep in mind that you are most likely going to stay in a neighborhood, surrounded by residents in their own homes.  
Tips for being a good neighbor while in your vacation rental:
speakers, if you bring them, play them inside only

enjoy your day in the pool, but keep in mind any curfew hours and when noise levels must be brought down

stick to the house rules with the amount of people you are letting onto the property

avoid parking vehicles in front of neighbor's homes, use the garage and driveway whenever possible
Traveling with Fido
Looking to bring your dog to Greater Palm Springs? When in search of a vacation rental, filter out options that do not allow pets, narrowing down your options from the start. You will also want to pay attention to any restrictions, such as weight, number of dogs that are permitted during your stay and any others. When communicating with the owner, it is recommended and often required that you tell them if you are bringing a dog and how many. When at the house, it is your responsibility to clean up after them (come prepared with poop bags). Many homes with pools do not have a gate surrounding it, so please be careful when letting your dog around it.
When going out into town, you will find that most of Greater Palm Springs is very welcoming to dogs! Check out all these dog-friendly restaurants and hiking trails.  Please remember that the ground does get hot and can burn your puppy's paws, so keep in mind when you take them out! Leaving dogs in your car is illegal at all times. Please always keep your dog on a leash and supervised when out in public places!
Planning your Stay 
Planning for your stay in Greater Palm Springs will vary depending on what your intentions are while here. For the thrill-seekers and adventurous travelers, discover the wonderful activities that will invite you outdoors where you can literally reach new heights while hiking. For the chill-chasers and ones who want to spend their days by the pool, learn about the natural mineral waters and well-known spas throughout the nine cities. 
Another great thing about Greater Palm Springs is the amount of events that are constantly taking place, whether you are here in the middle of summer of during the holidays, there is always something to do. From farmers markets where you can find locally grown and made goods to live music and performances, your favorite performer may just be headlining. 
If you are looking to immerse yourself into the culture of Greater Palm Springs and learn more about the background of the communities, there are great resources for that when trip planning. Download the ArtsGPS app in the app store and take self-guided tours around Greater Palm Springs. Learn about farmworkers that started growing on this land, indigenous people that have always called this their home and how it has grown and evolved into what it is today. After touring the art, you may find yourself hungry–look no further than DineGPS. You will find a diverse range of food to choose from, including Mexican, Greek, French and so much more. While out and about, look here to find locally owned businesses to show support to.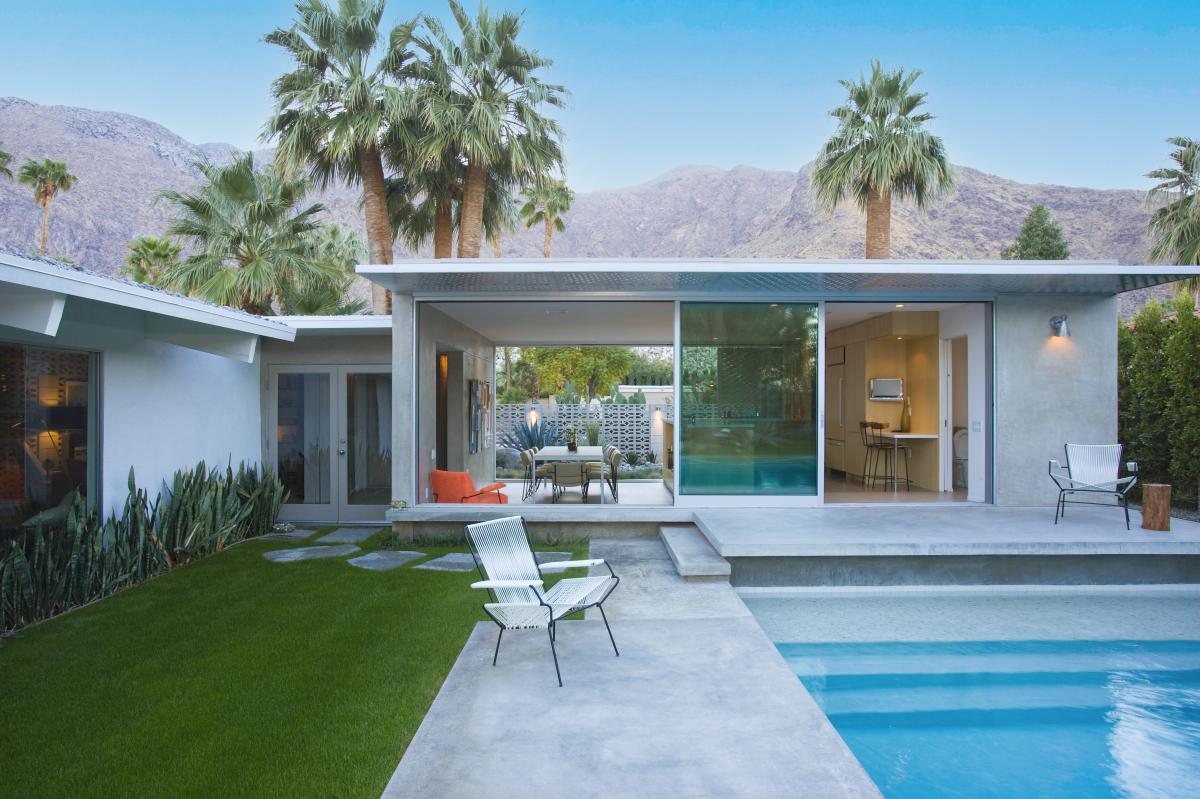 Greater Palm Springs is filled with beautiful views, sunny blue skies and attractions that keep everyone in mind. Book your stay in Greater Palm Springs and discover the endless possibilities in this Southern California oasis. Here are some fun facts to know when visiting Greater Palm Springs!
The sun is shining more that 300 days out of the year in this Southern California oasis! Before heading out to one of the 50,000 pools, grab that sunscreen and hat and refill your water, staying hydrated is very important to staying cool!
Visit the Palm Springs Aerial Tramway where you can find the world's largest rotating tramcar. The date gardens here produce more that 80 percent of dates in the United States – which is why you have to try a famous date shake! Desert Hot Springs has one of the world's best mineral water aquifers with naturally heated waters. When driving in, those large wind turbines that greet you produce energy for most of Southern California, with one turbine having the capacity of 3 megawatts, enough energy to generate over 1,500 homes.
Are you ready to experience Greater Palm Springs? Plan your getaway to this beautiful oasis and find a vacation rental that best suites you!