Sip, savor and repeat— Greater Palm Springs is home to many date farms, making the date a staple ingredient of this Southern California oasis. Their caramel-like taste and soft texture are a perfect sweet treat on their own, or even better, in a milkshake.
Treat yourself during your visit with these five locations serving tasty date shakes that will keep you coming back for more!
State Fare Bar + Kitchen | Rancho Mirage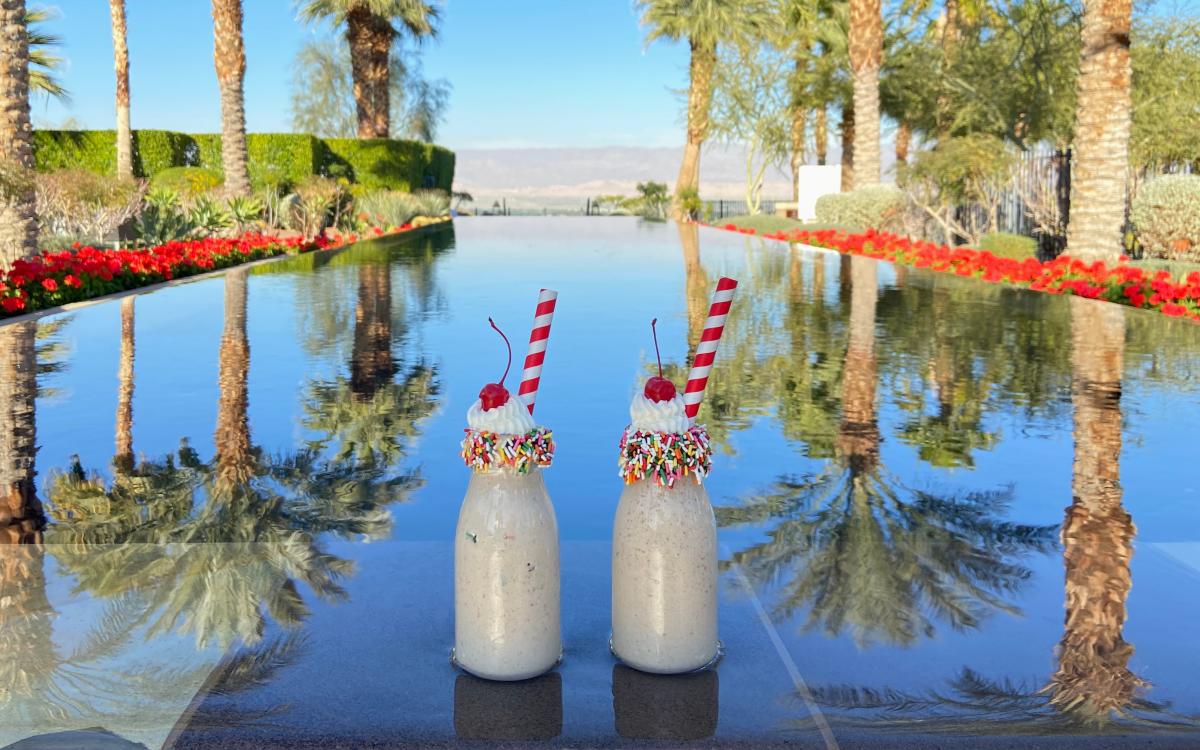 If you think this date shake looks good, it tastes even better. State Fare Bar + Kitchen at The Ritz-Carlton, Rancho Mirage is known for their outstanding service, and amazingly delicious food, so its no surprise that their date shake goes above and beyond. 
This decadent treat is made with vanilla ice cream, milk, heavy whipping cream, date sugar, and freshly chopped dates. The date sugar creates a satisfying mouth-feel that perfectly compliments the smooth and tasty flavor of the vanilla base. Stop by and treat yourself to this truly decadent and fun drink.
Great Shakes | Palm Springs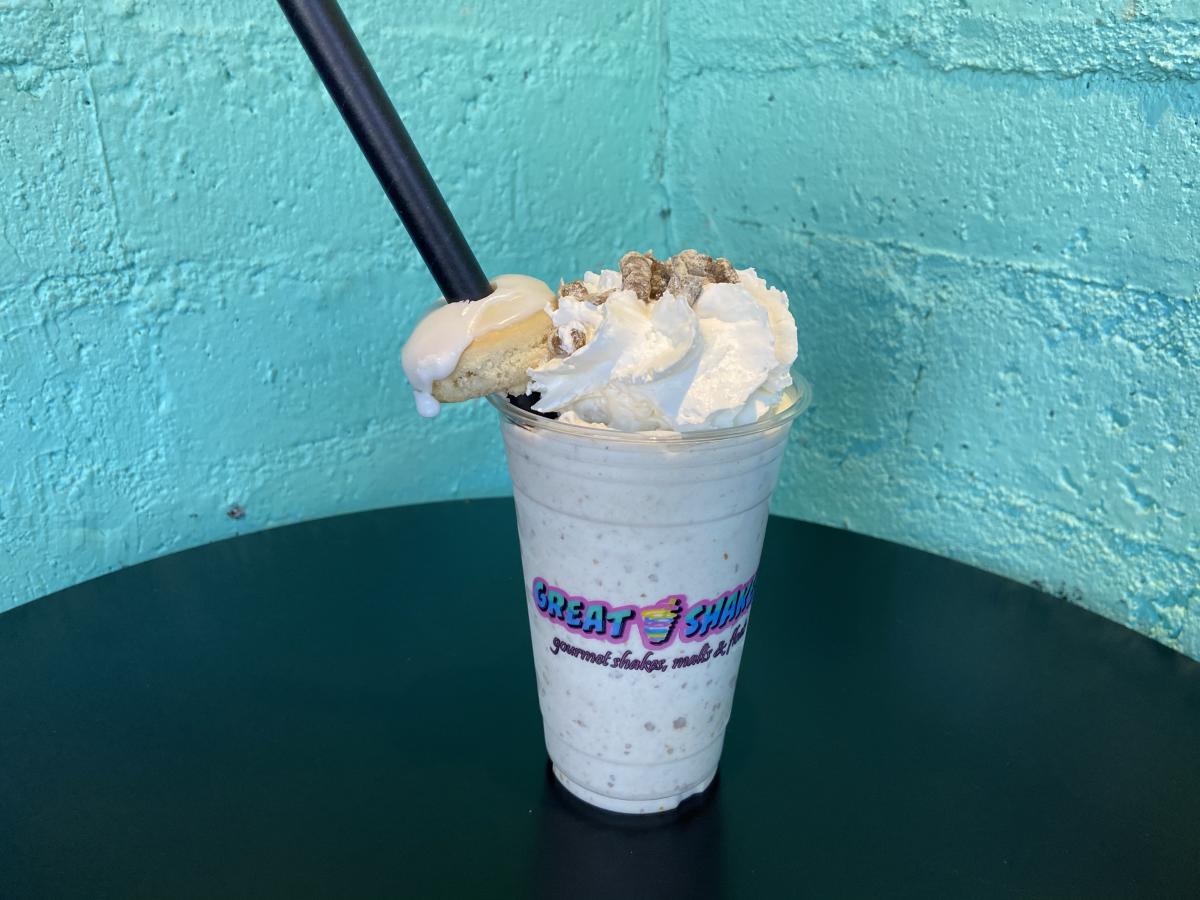 Great Shakes first opened its doors in Downtown Palm Springs in 2013 and has become one of the top foodie destinations in Greater Palm Springs. This family-owned and operated shop takes pride in their gourmet shakes, malts and floats, all made with premium ice cream and decorated with an adorable and tasty miniature donut. Their menu includes all the classics and a variety of extraordinary milkshake flavors including Almond Joy, White Chocolate Lavender, S'Mores, and many more. 
Among many, their Date Walnut shake is a must-try. The rich taste of dates combined with walnuts, topped with whipped cream, is refreshing and perfect for anyone with a sweet tooth. This treat looks as good as it tastes, so make sure to snap some photos of this Instagram-worthy delight. 
Palm Springs Fudge & Chocolates | Palm Springs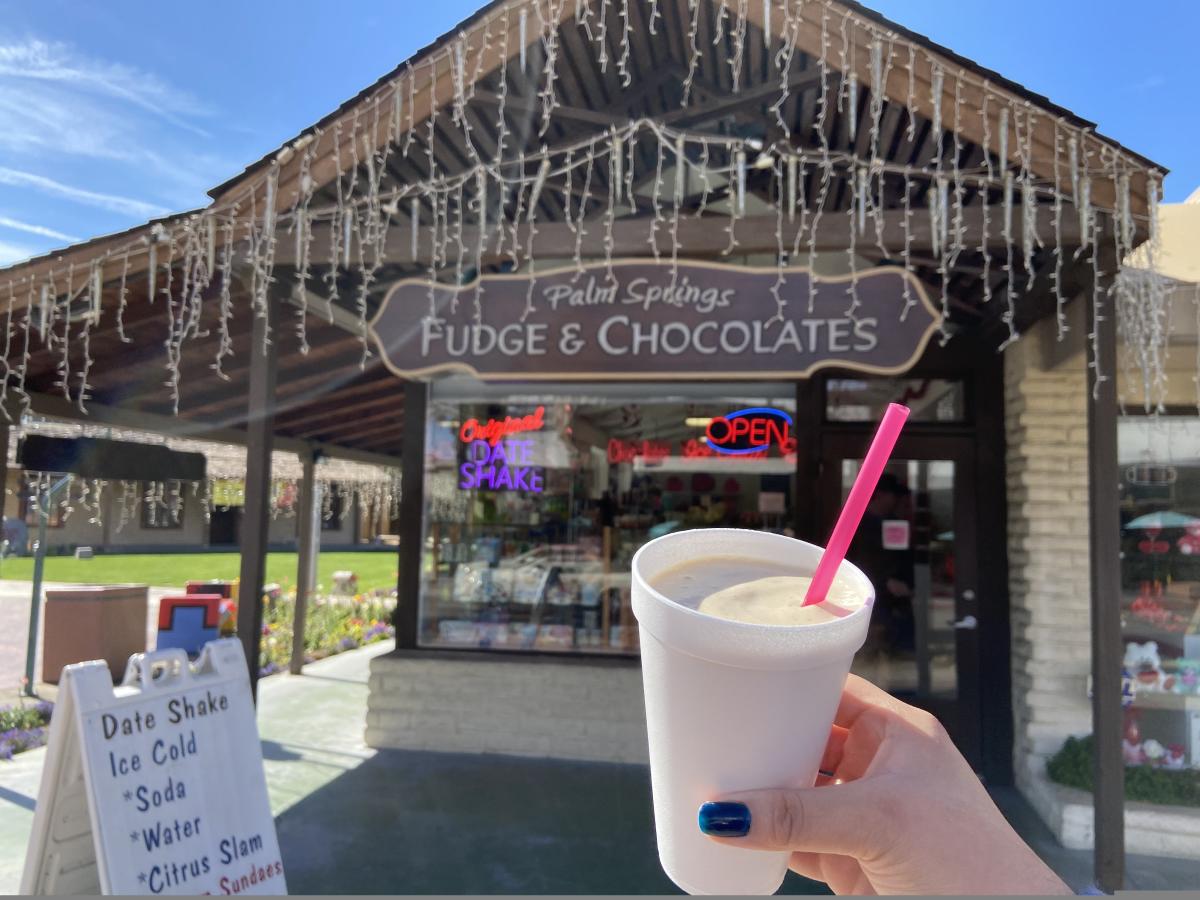 Palm Springs Fudge & Chocolates is your one-stop-shop for all things sweet. This "straight out of a fantasy book" charming family-owned candy shop has been serving Greater Palm Springs visitors and locals since first opening in 1994. Stop by to try some of the best old fashioned fudge, chocolate, and among many other treats, a remarkable date shake. 
This shop's signature date shake packs a punch. Their blend of french vanilla ice cream, date puree and milk make for an extremely satisfying, soft and creamy frozen treat. Grab your shake to go, take a stroll down the iconic Palm Canyon Drive and take in the beautiful mountain views of the destination.
Nature's Health Food & Cafe | Palm Springs (Vegan)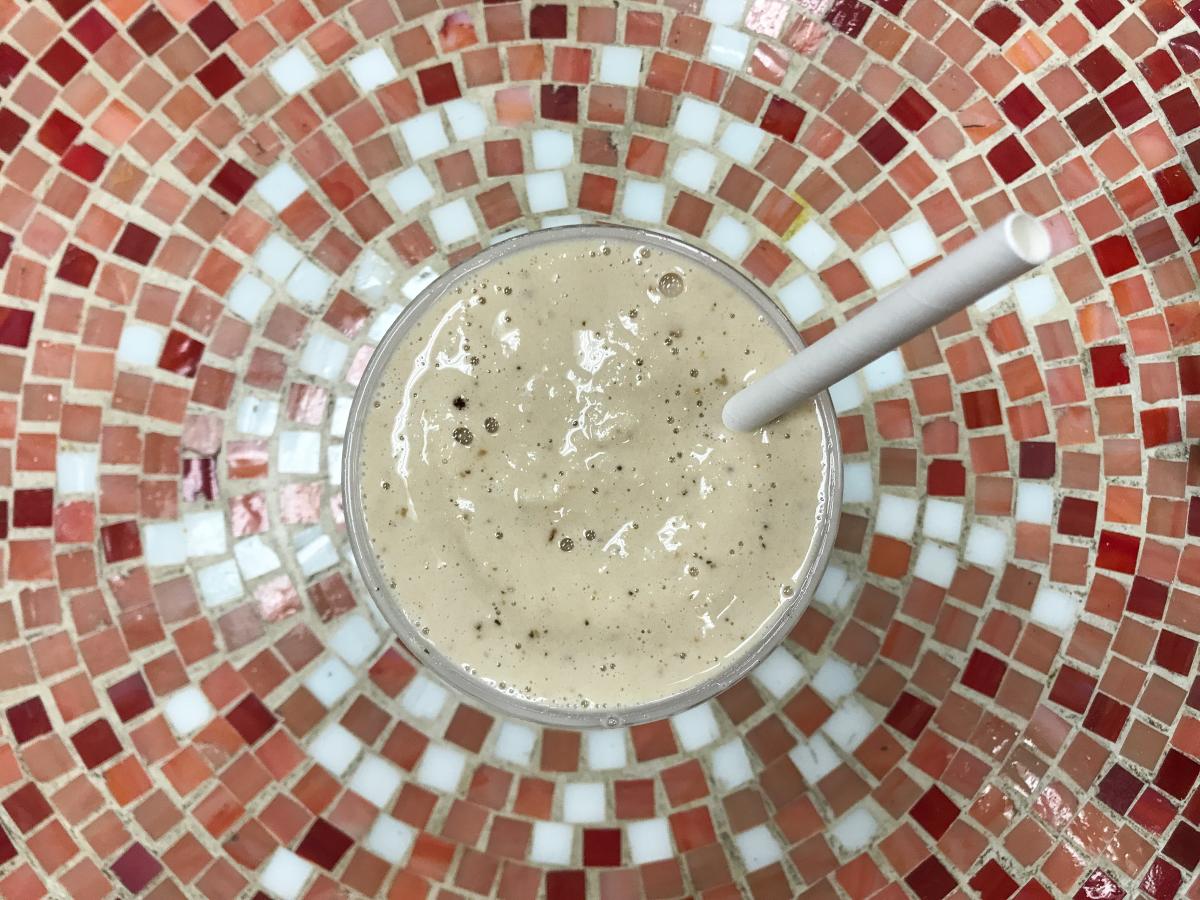 Since first opening its doors in 1993, Nature's Health Food & Cafe in Palm Springs has become a paradise for the health-conscious. With an adjacent market selling organic goods, vitamins, health supplements and more, this shop aims to promote nutrition and healthy living.
For years this cafe has served bold and flavorful vegan and vegetarian meals, healthy drinks, and among many other delectable menu items, a fantastic Vegan Date Shake. Made with Shields Date Crystals, soy milk, soy ice cream and bananas this unique shake is velvety and delicious. The banana flavor pairs perfectly with the dates, bringing the perfect amount of sweetness to this (somewhat) guilt-free treat. 
Shields Date Garden | Indio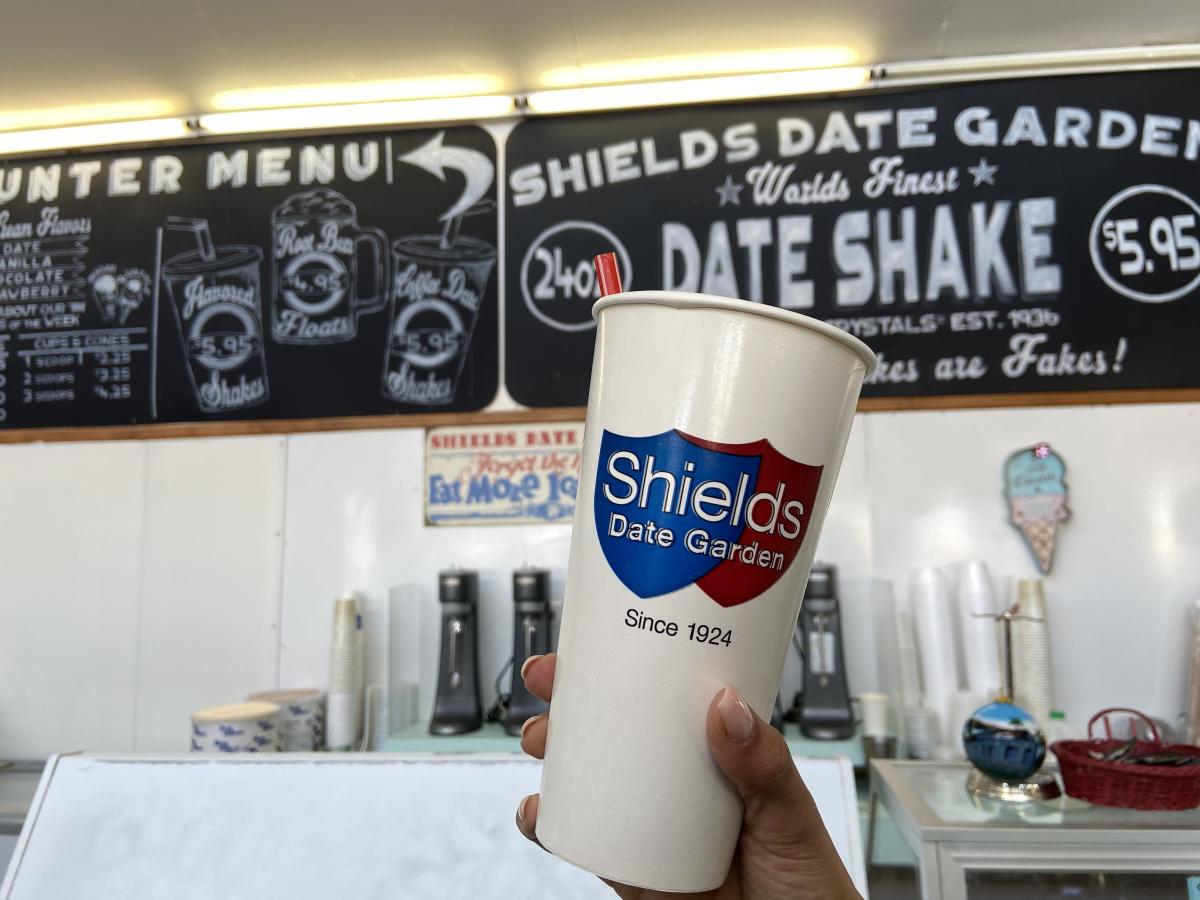 Established in 1924, Shields Date Garden in Indio has become a staple of Greater Palm Springs. Visitors can walk the 17-acre date garden, and try a wide variety of products all made with locally harvested and grown dates, including their famous and delicious date shakes.
Take a seat at their original 1960s milkshake counter and get ready to treat yourself. Shields makes their date shakes by combining low-fat vanilla ice cream with their housemade blonde date paste to make their very own signature date shake. The sweet date flavor and creamy ice cream base melt in your mouth. Once you've taken the first sip, you won't be able to stop. 
Make your own delicious date shake at home with their Date Crystals, created and sold at Shields Date Garden. Just blend them with vanilla ice cream and impress your loved ones with this flavorful and sweet treat.
Welcome to our culinary oasis — Explore delicious dining and try these places to eat & drink during your visit to Greater Palm Springs. Bon Appetit!