From public courts surrounded by swaying palms to first-rate resort options to championship-level venues, opportunities for some serve-and-volley abound across Greater Palm Springs.
According to reports from USA Today in early 2021, tennis participation nationally has soared to the tune of a 22 percent ascent in play, welcoming nearly 7 million new or returning players to courts across the country.
Ready to lace up?  Here's a city-centric breakdown of tennis courts and instruction options across Greater Palm Springs.
Indian Wells

Serve your match a real treat with play and prep at one of the world's most lauded tennis venues: the Indian Wells Tennis Garden. Home to the annual BNP Paribas Open, this world-class facility offers a variety of membership options, along with a full calendar of individual or group lessons, clinics, and program opportunities for adults, juniors and wheelchair play.
If you're looking for nearby places to stay, The Collection at Indian Wells comprises four resort properties a few minutes away from the Tennis Garden—and all within walking distance of each other. The popular Renaissance Esmeralda Resort & Spa, Indian Wells sports a pair of courts ready for daytime action and lit for evening play. At the neighboring Hyatt Regency Indian Wells Resort & Spa, you'll find a trio of hard courts on-site, while across the street at the intimate Indian Wells Resort Hotel, a pair of courts lie tucked away, waiting to serve.
La Quinta
Under the watch of the Santa Rosa Mountains, the historic La Quinta Resort & Club spreads 23 hard and clay courts across its lush, garden-like grounds, including 10 lit for nighttime play. The resort's nationally renowned facility presents a monthly class schedule with prep opportunities for all ages and skill sets, while the property's cast of USPTA-certified trainers help round out one's game with guidance ranging from on-court skills to full-fledged fitness plans.  
The City of La Quinta's six public courts at Fritz Burns Park are also open for tennis action from dawn until 10 p.m., with courts lit for evening games.
Palm Desert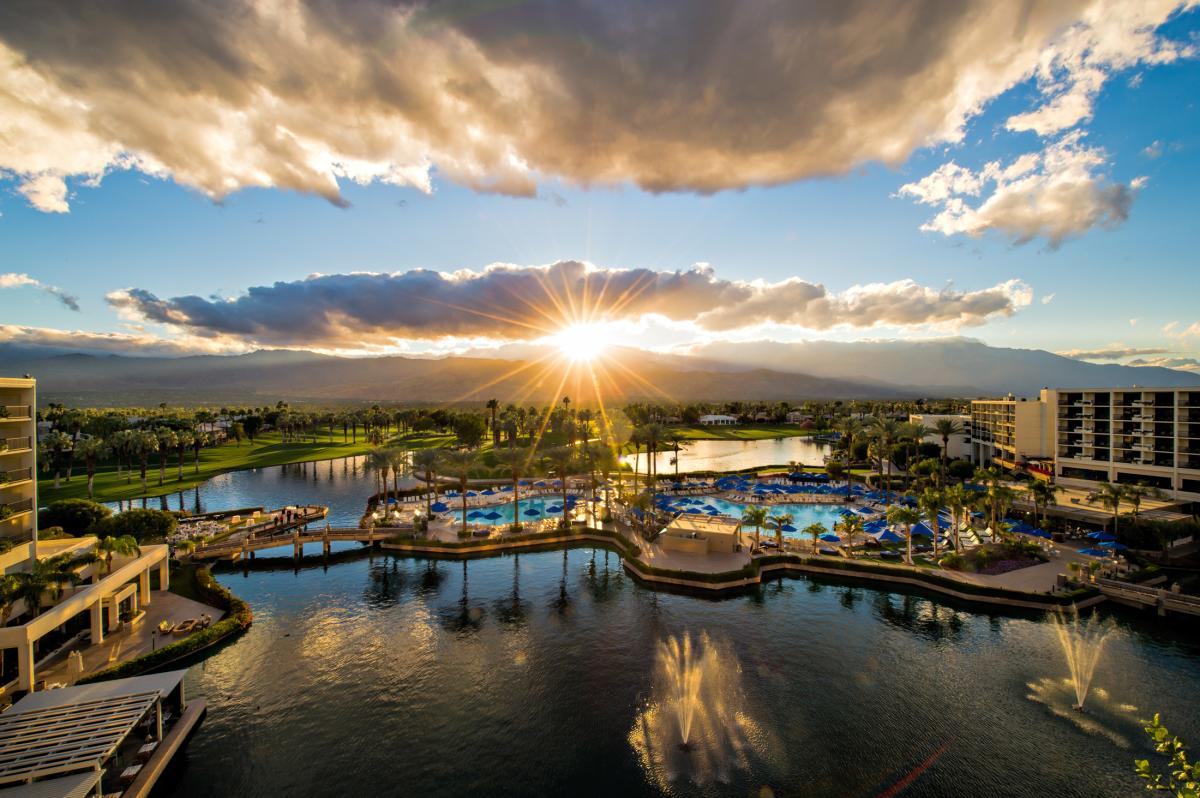 Mid-valley guests will find superb facilities at the JW Marriott Desert Springs Resort & Spa, where the on-site PBI Tennis Club plays across 15 hard courts, three clay courts and a pair of grass surfaces. A full menu of ongoing clinics proves comprehensive for all ages and experience levels, and the resort's pro shop offers full outfitting and gear. For wheelchair players, the popular PBI program dates back to 1975.
Meanwhile, in the heart of Palm Desert, Civic Center Park features six lit tennis courts across its 70 acres of well-groomed recreational grounds.
A pair of well-known Palm Desert community clubs are also ready to volley. Shadow Mountain Resort & Club's award-winning Desert Tennis Academy is consistently ranked among the nation's top schools, as the thorough spread of 16 courts (including three clay courts and six courts lit for nighttime play) makes for a prime tennis destination.
And at nearby Woodhaven Country Club, public play, USTA league and private/group instruction are all welcome across its eight courts, with non-resident guests able to easily access the tennis grounds via an online reservation portal.
Palm Springs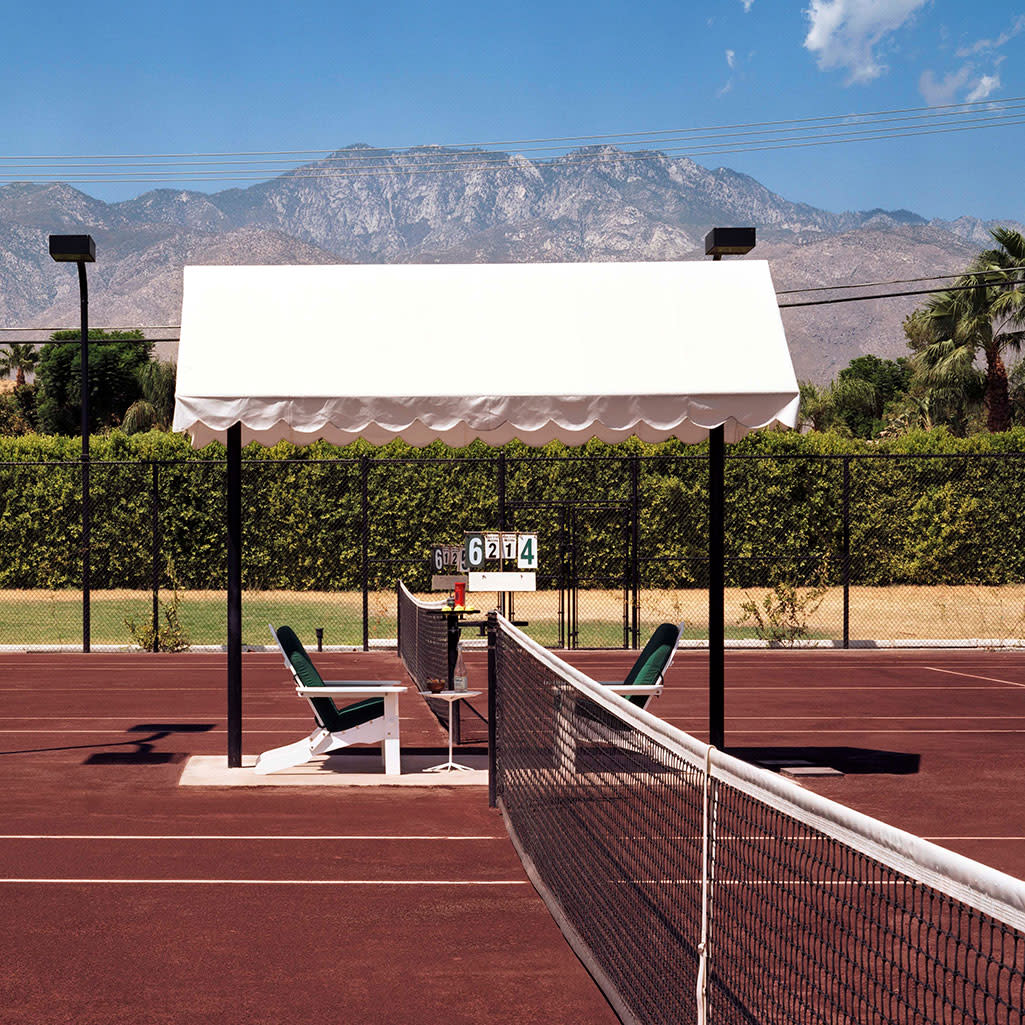 Among the destination's most unique (and posh) tennis settings, the Parker Palm Springs sports red clay courts (open day and night) along with private lesson opportunities from the resort professional.
For some eponymous stay-and-play action, the Palm Springs Tennis Club pairs a downtown Palm Springs locale with an 11-court spread and on-site pro shop.
And for public Palm Springs options, Ruth Hardy Park has eight courts for day and night play, while nearby Demuth, the city's largest park, offers a pair of courts, also available from sunup to sundown.
Rancho Mirage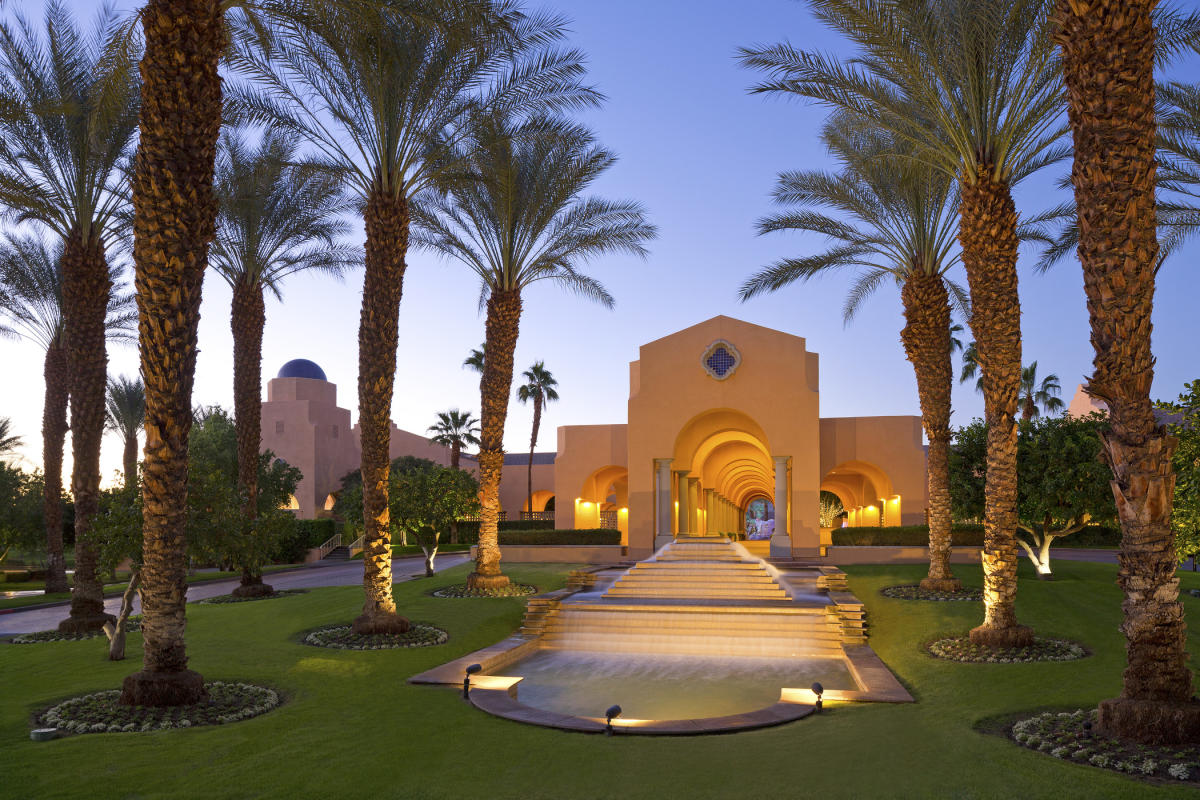 Centrally situated Westin Mission Hills Golf Resort & Spa serves an ace with its seven-court facility, matched with ongoing clinics and a full-service pro shop.
For public access, the Rancho Mirage Community Park presents a spread of four hard courts, all lit for evening play.
Looking to grab a post-match meal? Take a look at these outstanding restaurants serving outdoor dining, delivery and takeout in Greater Palm Springs.