Vaccine Information
Vaccine Information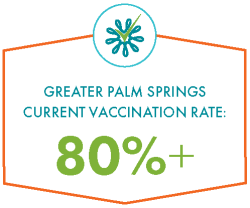 Current vaccination rates for the Coachella Valley are over 80% of the population either partially or fully vaccinated. 
To see vaccination rates by city, please visit: https://rivcoph.org/COVID-19-Vaccine 
COVID-19 vaccines are now available in Riverside County through a variety of providers. The vaccine is now available to all individuals 12 or older. Vaccine information and appointments for Riverside County are available at rivcoph.org/COVID-19-vaccine.
For questions about the COVID-19 vaccine visit:
• covid19.ca.gov/vaccines
• ruhealth.org/covid-19-vaccine 
• rivco.vaccines@ruhealth.org
To receive a digital copy of your COVID-19 vaccine record, visit www.myvaccinerecord.cdph.ca.gov/