(GREATER PALM SPRINGS, CA) Always iconic and classic, Greater Palm Springs is a desert oasis that continues to evolve and grow with compelling new attractions, accommodations and restaurants. Whether visitors want to chill, spend hours relaxing by the pool, or adventure into shady palm groves and twisted canyons, Greater Palm Springs offers a variety of choices.  Discover What's New and coming soon to the desert oasis that invites visitors to be as active or chilled out as they desire.
ACCOMMODATIONS
Several hotel and resort properties have refreshed their offerings, from simply a name change to a full transformation which will unveil an iconic brand's first foray into the hotel space.
Located in the heart of Indian Wells, the new Tommy Bahama Miramonte Resort & Spa will debut in November 2023 following an extensive renovation and redesign that pairs island living with desert luxury. The first resort concept for the elevated lifestyle brand, Tommy Bahama Miramonte Resort & Spa will effortlessly serve as a chic desert escape tucked within the Santa Rosa Mountains in Southern California's Coachella Valley. With 215 redesigned guestrooms and villas that embody the elevated yet laid-back Tommy Bahama design aesthetic, the transformed property will offer three saltwater swimming pools, a new signature restaurant and bar created specifically for the resort, a renovated 12,000 square foot destination spa and a specialty store with exclusive retail products, all gracefully woven into 11 expansive acres of citrus groves, olive trees and flower gardens.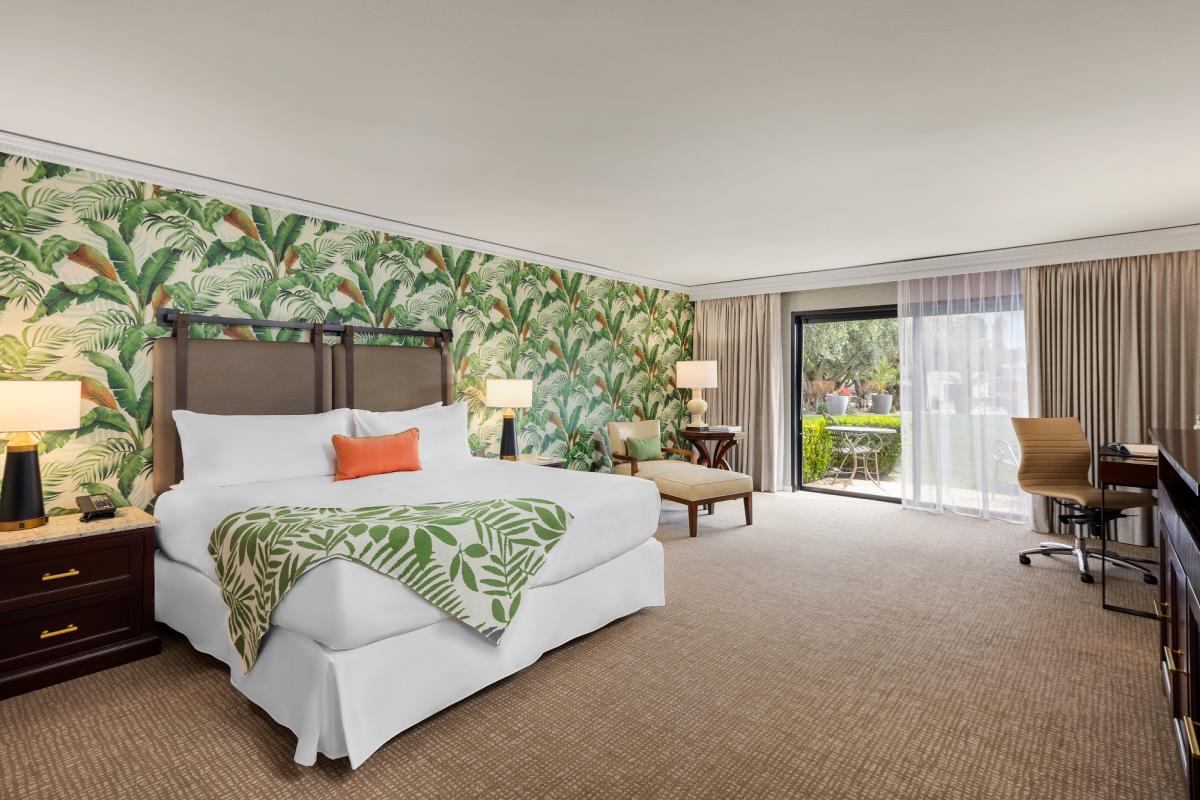 Guestroom at the new Tommy Bahama Miramonte Resort & Spa
Set to open late 2023 in the heart of downtown Palm Springs and under the World of Hyatt umbrella, is the newly constructed, trendsetting Thompson Palm Springs that will cater to influential locals and sophisticated globetrotters alike. Designed by B2 Architecture + Design and SMS Architecture with an estimated budget of $55 million, the 168-key hotel will embrace the history and spirit of Palm Springs.
The Ritz-Carlton, Rancho Mirage with 244 newly, remastered guest rooms and suites, redesigned corridors, and an updated main lobby, invites guests to immerse themselves in the serene modern desert oasis ambiance, featuring muted palettes, contemporary designs, and stylish furnishings.
Inspired by the work of renowned conservationist, Minerva Hamilton Hoyt, Life House Palm Springs is a modernist hotel that blends the enigmatic beauty of the Coachella Valley with Old Hollywood glamour. Each of the 66 guest rooms brims with the vibrancy of California's natural terrain. Inspired by starlets who fled from the extravagance of Old Hollywood for a more minimalist lifestyle, sun-soaked rooms blend opulence with modernity. Life House Palm Springs will feature two on property dining options: Minerva's Pool House and Minerva's Indoor Apothecary.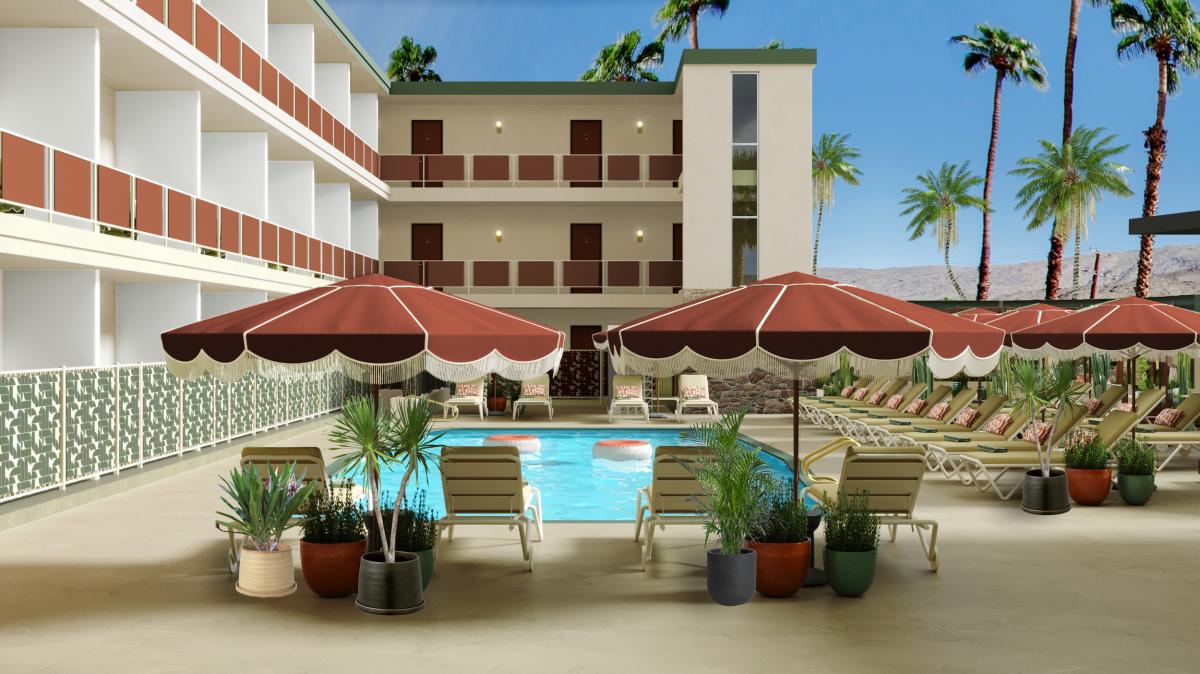 Life House Palm Springs

Villa Royale, the historic hideaway in Palm Springs' Deepwell neighborhood, is completing a $1 million refresh to enhance the property, including grounds, guest rooms and menu updates at Del Rey from local chef Gabriel Woo (Bar Cecil).
With the goal of elevating and better expressing the tone of Ingleside Inn, the property has rebranded as Ingleside Estate Hotel & Bungalows — leveraging a more timeless and elegant positioning while staying true to its original identity as a social club situated on a former private estate. Melvyn's & The Casablanca Lounge will continue to be a focal point for the property as a natural extension of the private social club, reviving its original Hollywood decadence for a younger, contemporary audience. The iconic and historic property features 30 rooms and bungalows.
RESTAURANTS TO SINK YOUR TEETH INTO
Chulita Artisan Café is Indian Wells newest brunch and cocktail café. The sister restaurant of Chula Artisan Eatery in La Quinta, Chulita Artisan Café serves organic, farm fresh breakfast and lunch as well as tapas, wine & bubbles.
Keedy's, the storied, old-school Palm Desert diner and soda fountain has expanded to a second location in Indio, embracing its retro principles but with new traditions and modern fixings to bring the long-standing classic into the 21st century.
Inspired by the historic celebrity hot spot, Desert Club, which opened in 1937 in La Quinta, the owners of the popular RD RNNR restaurant have opened a new eatery in Old Town La Quinta called DSRT CLUB. The new restaurant plays tribute to the original but with a slightly modern twist that offers a "sporty vintage vibe". This trendy new spot offers a unique dining experience with a focus on healthy, fresh ingredients and a creative menu.
Shorebird Coastal Kitchen will open on El Paseo in October, using only the freshest seafood from the highest-quality purveyors to create their unique flavors. The restaurant has only two other locations, one in Sedona and one in Newport Beach.
The Jackalope Ranch bar and grill in Indio reopened in September, serving delicious smoked dishes, steaks, seafood, and refreshing cocktails in a charming, western-themed setting. Meats and produce are locally sourced whenever possible to support local farmers and ensure the freshest ingredients. Within the Jackalope Ranch, is Club 111, an exclusive and upscale steakhouse and seafood dining experience accompanied by a thoughtfully curated wine and spirits list.
KIKI'S restaurant and lounge in La Quinta, blends eccentric design and sincere hospitality, with delicious Italian flavors and craft cocktails. Executive Chef Jon Butler has crafted an authentic and innovative food program; even the flour is sourced from Italy. Discover the flavors that have delighted the East Coast for generations, all while sipping crafted cocktails in a vibrant setting.
Kiki's La Quinta
Delightful news! Afternoon Tea at Willie's in Rancho Mirage debuts on Sundays beginning October 1st. Savor traditional tea sandwiches, homemade scones with jam and cream, and handcrafted confections by Cake & Cakes. An exquisite selection of teas and bubbly await. Reservations, made 24 hours in advance, are recommended.
Casual and playful dining establishments opening in the destination include Dave and Buster's at The River in Rancho Mirage, Texas Roadhouse in Indio, DJ's Sports Bar and Grill in Cathedral City and DHS Downtown Bar, a sports bar on Pierson in Desert Hot Springs.
ATTRACTIONS ON THE HORIZON
Upon fully opening on November 3, 2023, the Agua Caliente Cultural Plaza will be the second largest of its kind in the United States and a long-awaited addition to cultural tourism in Greater Palm Springs. The Spa at Séc-he that celebrates the sacred Agua Caliente Hot Mineral Spring opened earlier this year and is just one portion of the complex which will also feature a new Agua Caliente Cultural Museum, a Gathering Plaza, gardens and an Oasis Trail. The new cultural plaza is located at the corner of N. Indian Canyon Drive and E. Tahquitz Canyon Way in downtown Palm Springs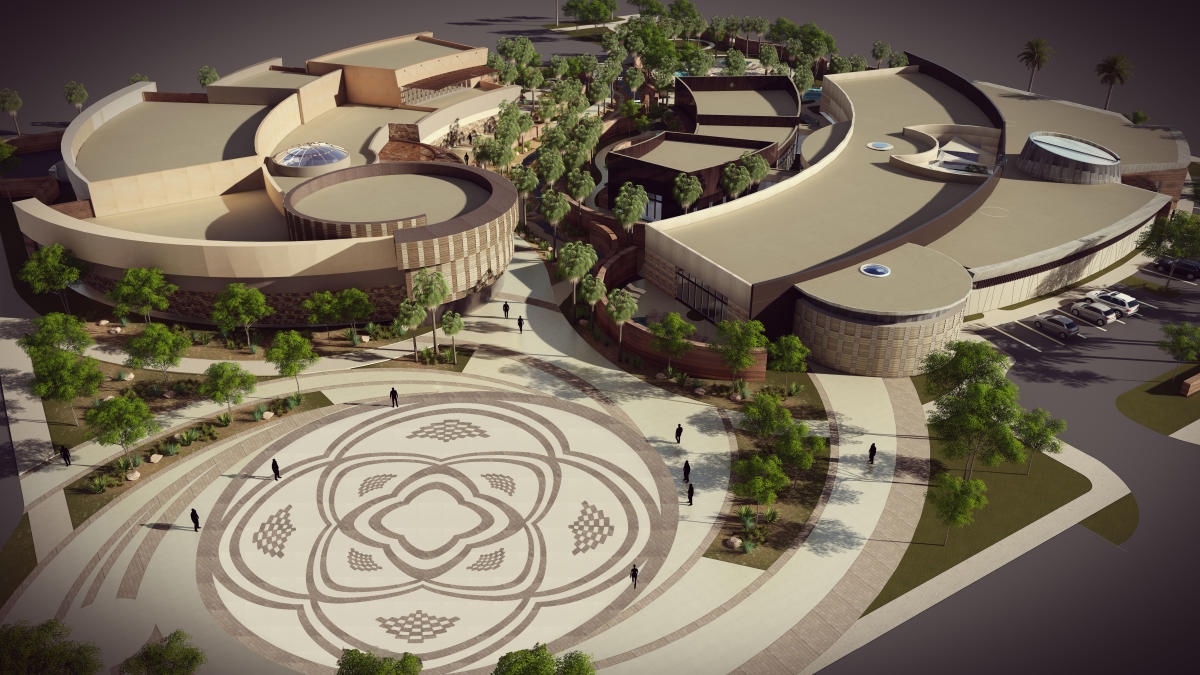 Agua Caliente Cultural Plaza
 The Children's Discovery Museum of the Desert, closed since April 2020 will reopen in March 2024 with all new, hands-on exhibitry to inspire personal growth and engage curiosity and creativity for children under the age of 8. The only facility of its kind in Greater Palm Springs, the museum is a resource for families and inclusive of all learning abilities.
WHERE RENOVATIONS WILL BEGIN
The Palm Springs Air Museum will soon undergo a $2.5 million renovation to the entrance that will include the addition of a 400-seat presentation room and larger restrooms. The renovation will transform the façade of the building to a modernist look. Rated by CNN as one of the top 14 Air Museums in the World, the Palm Springs Air Museum gives visitors an up-close look at the legendary fighters and bombers of WWII, Korea, and Vietnam.
The Plaza Theatre has an impressive role in the history of Palm Springs. The theatre's iconic identity was established on its opening to the public in 1936. Although it hosted iconic entertainment for decades, the building deteriorated over time and was in danger of demolition. The Plaza Theatre Foundation was established to raise $16.5M to support efforts to fully restore and modernize the historic theatre and is poised to start renovations. Once renovations are complete, The Plaza Theatre will present live entertainment, screen films and host a variety of educational, civic and community events.
UPCOMING EVENTS
Scare and Pumpkin Festival, weekends from September 29-October 31, 2023. Immerse yourself in the festive atmosphere as you wander through pumpkin patches, haunted mazes, and creepy carnival rides. Indulge in delicious treats and drinks, and don't forget to snap some photos with the giant scarecrows and jack-o'-lanterns!
Modernism Week: October, October 19-22, 2023. While smaller in scope than the 11-day festival held each February, the October event offers more than 50 events over 4-days, including several free and low-cost programs. A hallmark of Modernism Week events is the inspirational and educational tours of neighborhoods, significant buildings, and residences. Signature events include Premier Double Decker Architectural Bus Tour, tours of Frank Sinatra's Twin Palms estate, the Palm Springs Modernism Show, architectural walking and biking tours, tours of the historic Annenberg Estate at Sunnylands, parties, and a special series of compelling and informative talks.
Greater Palm Springs Pride, November 3-5, 2023. The 2023 edition of Greater Palm Springs Pride marks the festival's 37th anniversary as a free festival bringing a diverse community together. Known for celebrating strength, equality, and self-determination of the LGBTQ+ community, Greater Palm Springs Pride celebrates with a parade, festival, and a vendor marketplace.
Cathedral City Hot Air Balloon Festival and Food Truck Fiesta, November 17-19, 2023. The fiesta will feature a dozen food truck vendors from all over Southern California, a beer garden, tethered balloon rides, a car show, kid zones, live music, and more.
The Acrisure Classic and Acrisure Invitational, November 23-25, 2023. College basketball is coming to Acrisure Arena in Greater Palm Springs. The Acrisure Classic will feature the Michigan State Spartans vs. the Arizona Wildcats in a nationally televised game on Thanksgiving Day. The Acrisure Inviational takes place over the following two days. Saturday's Coast to Coast Championship Game will feature the two winners of Friday's Texas Rio Grande Valley versus University of Hawaii Rainbow Warriors and the University of San Diego versus Arkansas State match-ups.
The Indio International Tamale Festival, December 3-4, 2023. The 31st annual event features more than 260 vendors, multiple entertainment stages, Mexican music, dancing, arts, a carnival, 5k and 10k runs and a holiday parade. The atmosphere is lively with numerous options for delicious tamales and other amazing food.
Holidays are magical in Greater Palm Springs. Join in the many events and special programs taking place to celebrate the season.
Winterfest, December 1 - January 4, 2023. Discover the delights of the holiday season under blue skies and swaying palm trees, all decked out with dazzling lights and festive décor at the second annual Winterfest in Indian Wells. Activities take place at the Indian Wells Golf Resort and surrounding resort properties and include a roller disco rink, Igloo Bubble Bar, life-sized snow globes, Holiday Cookie and Candy Truck, firepits, hot chocolate, holiday films and music, a special holiday-themed Shots in the Night, and of course, photos with Santa.
Palm Springs Festival of Lights Parade, December 2, 2023. The annual Palm Springs Festival of Lights Parade illuminates Palm Canyon Drive and features a host of marching bands, performing groups as well as signature floats adorned in thousands of colorful holiday lights! Huge Macy's-style balloons and the arrival of Santa and Mrs. Claus round out the festivities.
Wildlights, select nights, November 22-December 30, 2023. WildLights at The Living Desert Zoo and Gardens in Palm Desert is a magical winter wonderland, complete with a million twinkling lights, festive displays, and holiday fun. New for 2023 is an adults-only (21+) night on December 14 and a 30-foot walk-through holiday tree that will join fan favorites such as the popular illuminated gift box and tunnel of lights flashing to holiday music. Carousel rides, DJ spinning holiday tunes, and holiday themed food and beverage are offered nightly.
See the event calendar at VisitGreaterPalmSprings.com for more events and seasonal programs.
IMAGES:
Agua Caliente Cultural Center Renderings
Life House Image library
Thompson Palm Springs Images and Renderings
Kiki's La Quinta Images