A haven for those seeking relaxation and reconnection with themselves, there's no better time to visit Greater Palm Springs. Our nine-city oasis has more than 300 days of sunshine and mountains you can almost reach out and touch, and the wide-open spaces welcome you to discover what's new and coming in 2022.
WELLNESS
The new year kicks off with the Visit Greater Palm Springs digital Wellness Pass. The free mobile pass, launching next week, gives locals and visitors discounts and incentives at a variety of local businesses, including fitness and yoga studios, spas, and hot springs. The program continues through March. More details will be available at www.GPSwellnesspass.com.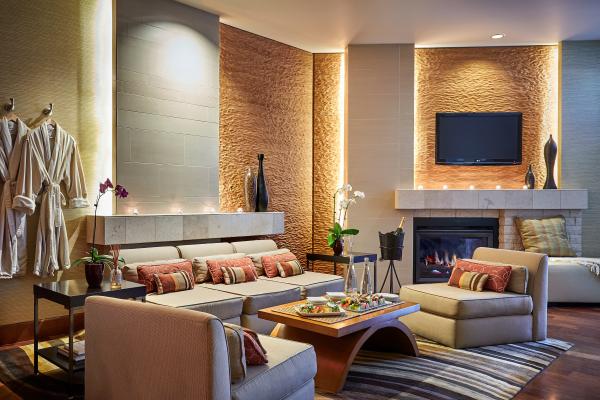 The largest spa in Palm Desert has reopened its doors after undergoing a major refresh as part of the JW Marriott Desert Springs Resort & Spa's multimillion-dollar redesign. The Spa at Desert Springs boasts significant aesthetic improvements to its impressive 38,000-square-foot space, along with the debut of an extensive new treatment menu.
HOTEL AND RESORT UPDATES
The Miramonte Resort & Spa has a stunning $9 million renovation and reimagining. The property-wide transformation includes redesigned and upgraded rooms, a new restaurant and bar concept, new outdoor dining and gathering spaces, modernized meeting rooms, and an updated pool experience.
The Westin Mission Hills Golf Resort & Spa has completed a $15+ million resort-wide renovation with new and expanded outdoor areas for live music and events, as well as updated guest rooms and meeting spaces. Expanding beyond the spa, wellness is woven throughout the resort experience. Families with kids will love the addition of two new waterslides at the main pool.
Fleur Noire Hotel is a boldly re-imagined historic boutique Palm Springs hotel in the city's Uptown Design District. Opened in fall 2021, its 21 uniquely designed casitas and suites feature exteriors with giant-sized California flower murals hand-painted by Detroit-based muralist Louise Jones (@ouizi). Interiors feature floral wallpaper from wallpaper artist Ellie Cashman (@elliecashmandesign).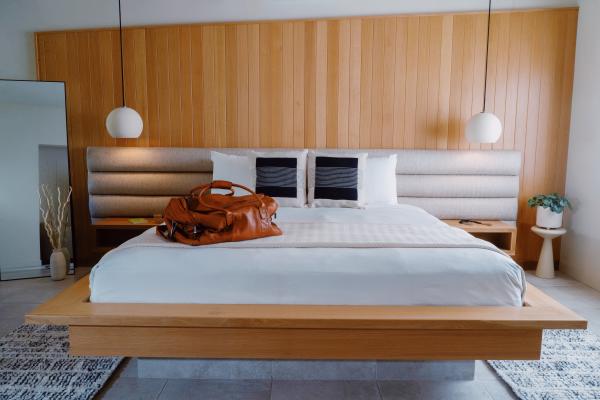 Azure Sky, a 14-room, 21-and-over, luxury boutique hotel, will open March 2022 in South Palm Springs. The renovated property, originally constructed in 1959, offers wide-open views of the San Jacinto Mountains and is enveloped by desert landscaping, providing a sanctuary with a residential feel. The hotel's 14 rooms range from 225 to 620 square feet and include five spacious one-bedroom suites.
Set on a 230-acre private estate within the foothills of the Santa Rosa Mountains in Rancho Mirage, Sensei Porcupine Creek is scheduled to open in the fall of 2022. The new Sensei retreat will offer a luxury wellness experience, including a private golf course; world-class tennis facilities; spa, nutrition, movement and other wellness and sports programs paired with a state-of-the-art diagnostic center; yoga and fitness pavilions; a swimming pool; and a Sensei by Nobu restaurant.
 
NEW DINING OPTIONS
GiGi's Restaurant & Lounge is a desert-inspired, Modern American restaurant, serving creative farm-to-table fare with a commitment to the freshest locally sourced ingredients. The Indoor and outdoor spaces combine flowing dining areas with a large Indoor/Outdoor Bar, Lounge, and Firepit Cocktail area, serving elevated and reimagined classic cocktails with a worldly flair.
Willie's Modern Fare — a 'modern European' dining experience in Rancho Mirage — will open in February. This will be the second joint venture between Chad Gardner and Willie Rhine, the restaurateurs behind 1501 Uptown Gastropub.
Salt Flats opened in the fall of 2021 in Cathedral City featuring modern American food made with love. The foods they create "have ancient backgrounds and celebrate diversity in flavor."  Open for lunch and dinner 11 a.m. to 8 p.m. daily, Salt Flats hand sources the freshest ingredients from regional farms.
Dragon Lili Boba Bar opens in January in Rancho Mirage with its very own menu of authentic boba milk teas, refreshing fruit teas and creative specialty drinks with a wide selection of flavorful jellies and boba from the boba bar. Dragon Lili also serves a colorful assortment of macarons and pastries. (Boba tea is made from boba pearls, which come from cassava root and are vegan. The beverage originated in Taiwan in the 1980s.)
NEW AND RETURNING SPECIAL EVENTS
Four days of world-class golf descend on this Southern California resort oasis for the annual The American Express tournament, a favorite stop on the PGA Tour. Maroon and Brad Paisley will headline the fan experience concerts. Mark your calendar for January 19-23, 2022.
Modernism Week is an 11-day festival featuring more than 350 events including the Palm Springs Modernism Show & Sale, tours of iconic homes, parties, and more. Taking place February 17-27, 2022, Modernism Week highlights midcentury modern architecture, art, and interior and exterior design.
Greater Palm Springs "loves" a good rallying comeback. From March 7-22, 2022, the world's best tennis stars gather underneath our sun-kissed sky for BNP Paribas Open. The Tennis Paradise experience goes beyond the exciting on court action, with live entertainment, shopping, exquisite dining, and more.
The best women golfers in the world are coming to compete in the Chevron Championship at Mission Hills Country Club in Rancho Mirage. The competition, taking place from March 31-April 3, 2022, will be fierce for the $5 million purse, coveted Dinah Shore Trophy, Famous jump into Poppie's Pond, and honor of wearing the Champion's white robe.
The inaugural Oasis Music Festival, presented by Agua Caliente Casinos, revives the storied past of the musical playground that made Palm Springs famous. Featuring all genres of music at more than 30 venues, the Oasis Music Festival will re-create anew the celebrity, excitement, and swank of Palm Springs.
Other events include:
March 19-25, 2022, Fashion Week El Paseo
March 25-27, 2022, Palm Desert Food & Wine
April 15-17 and 22-24, 2022, Coachella Valley Music & Arts Festival
April 29 – May 1, 2022, Stagecoach Country Music Festival
April 29 - May 1, 2022, White Party Palm Springs
FLYING TO GREATER PALM SPRINGS: PSP
With more than 30 direct destinations and connections to over 500 destinations worldwide, Palm Springs International Airport (PSP) is welcoming record-setting numbers of passengers. Over the past 18 months, Southwest Airlines, Flair Air, Swoop, and aha! have begun nonstop service to Greater Palm Springs.
COMING ATTRACTIONS
The Coachella Valley Firebirds, the American Hockey League (AHL) team for the Seattle Kraken, will be playing the 2022-2023 AHL season at the new 10,000-seat Coachella Valley Arena. The facility will also host other sporting events and live music.
The Agua Caliente Cultural Plaza, opening late 2022, will include an approximately 48,000-square-foot Agua Caliente Museum and an approximately 40,000-square-foot luxury Spa at Séc-he with a tranquil garden and an outdoor mineral pool. The Cultural Plaza will feature numerous outdoor activity spaces, including a Gathering Plaza.
Making waves in the surf scene, in 2022 Palm Springs will welcome the Palm Springs Surf Club. Designed for surfers, by surfers, the attraction will feature a wave pool and include private cabanas, a restaurant, a spa, and a gym.
XPark is a city owned skate park for skateboard and BMX enthusiasts in the City of La Quinta slated to open early 2022. The park features a concrete pump track and modern street course with a variety of stairs, rails, and ledges. It will have three distinct bowls that cover the full spectrum of skill levels.
# # #
About Greater Palm Springs
Greater Palm Springs is Southern California's most storied desert oasis, with nine distinct cities—Palm Springs, Desert Hot Springs, Cathedral City, Rancho Mirage, Palm Desert, Indian Wells, La Quinta, Indio, and Coachella—each with its own personality and blend of experiences. From an emerging art scene to international film, sporting, and music events, the choices of things to do are endless. With natural hot mineral springs, lush palm groves, over 100 golf courses, and more than 300 sunny days each year, Greater Palm Springs presents a unique combination of escape, adventure, recreation, and relaxation any time of the year.