Whether you need time to chill or simply relax under the sun, there's no reason you need to leave your four-legged friend behind on your getaway to Greater Palm Springs. This Southern California oasis has always been a pet-friendly destination, and you'll find plenty of hotels ready to welcome your pet with open arms.
We rounded up some of our favorite pet-friendly hotels where your pooch can get in on all of the vacation action. Perfect weather for dining al fresco also makes Greater Palm Springs a haven for sharing a meal with your dog. There are oodles of places for poodles and a host of hot spots for hounds. So, get out and enjoy some time with your favorite furry companion. Our desert oasis has definitely gone to the dogs (and their owners)!

Resorts
Greater Palm Springs' first and only lakefront hotel, The Chateau at Lake La Quinta, is welcoming a new breed of guests to enjoy its serene waterfront setting. The boutique retreat welcomes four-legged guests for overnight stays, offering special treats and amenities for guests' best friends. At check-in, pets will find the room furnished with their own plush pet bed, plus fresh food and water doggie bowl, even a complimentary treat. Dogs can also chow down with a special pet menu created the executive chef of the Chateau's acclaimed Mélange restaurant. Reservations are open to dogs less than 25 pounds, with an additional pet fee per night.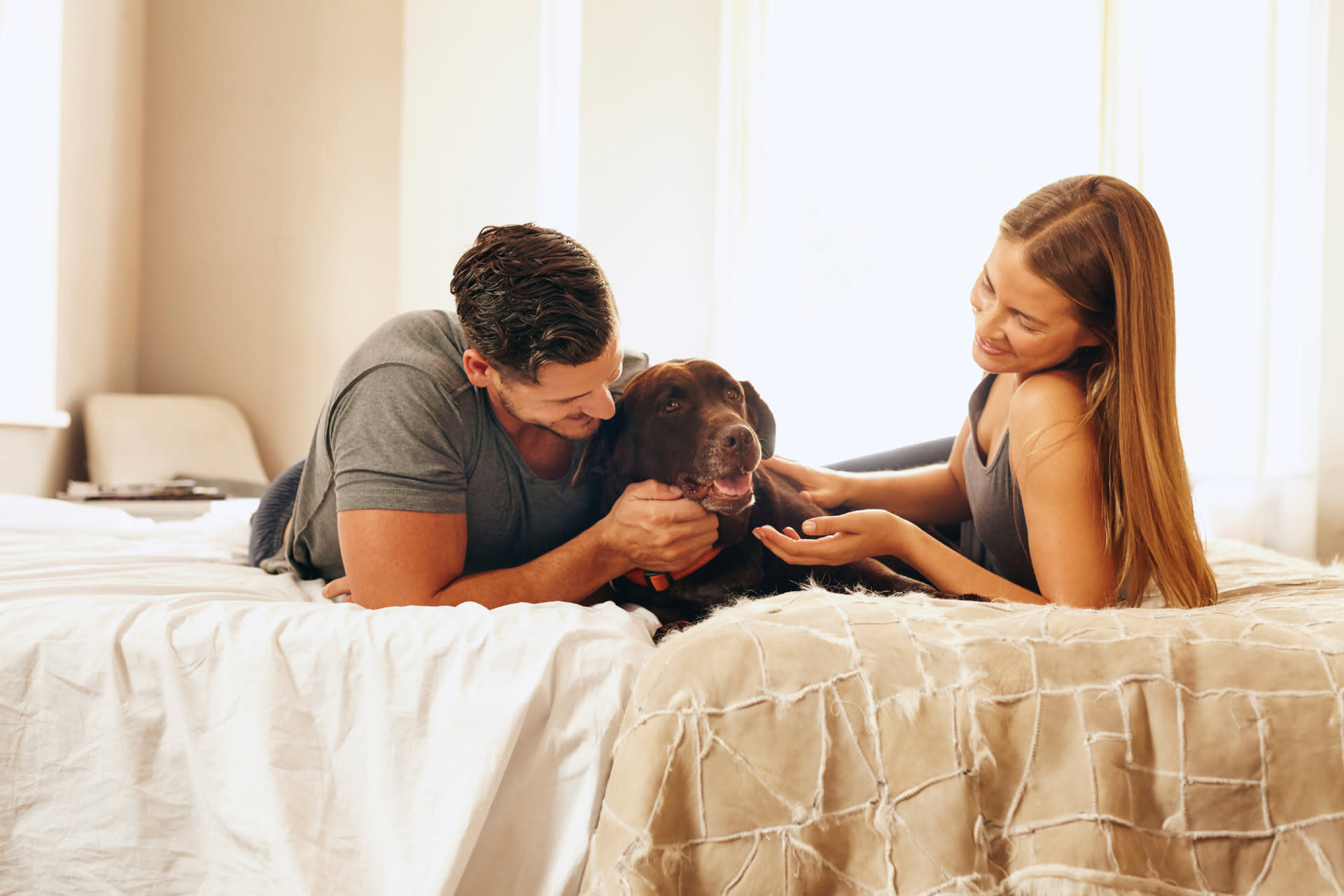 Ace Hotel loves dogs as much as dogs love visiting. Not only is there an on-site dog friendly park, but dogs are allowed to hang out with you at the pool (but not in it). Dogs get further fresh air by roaming in and around the outdoor patio fireplace. There's a fee of $25 per night for the first pet and $10 for any additional pet per night for pets up to 25 lbs. The dogs will love it here!
The Saguaro is one of the only hotels in Greater Palm Springs that welcomes pets of any size, up to two dogs. Upon arrival, guest will pay a $50 non-refundable cleaning deposit and sign a pet waiver. It's a great launching point for easy dog walks in mid-century neighborhoods, in addition to terrific hiking trails less than five minutes from the hotel. Dogs are welcome in common areas around the hotel and property, including a large patch of grass for play time. The Saguaro is also steps away from a shopping plaza, where you can pick up food for your furry friend!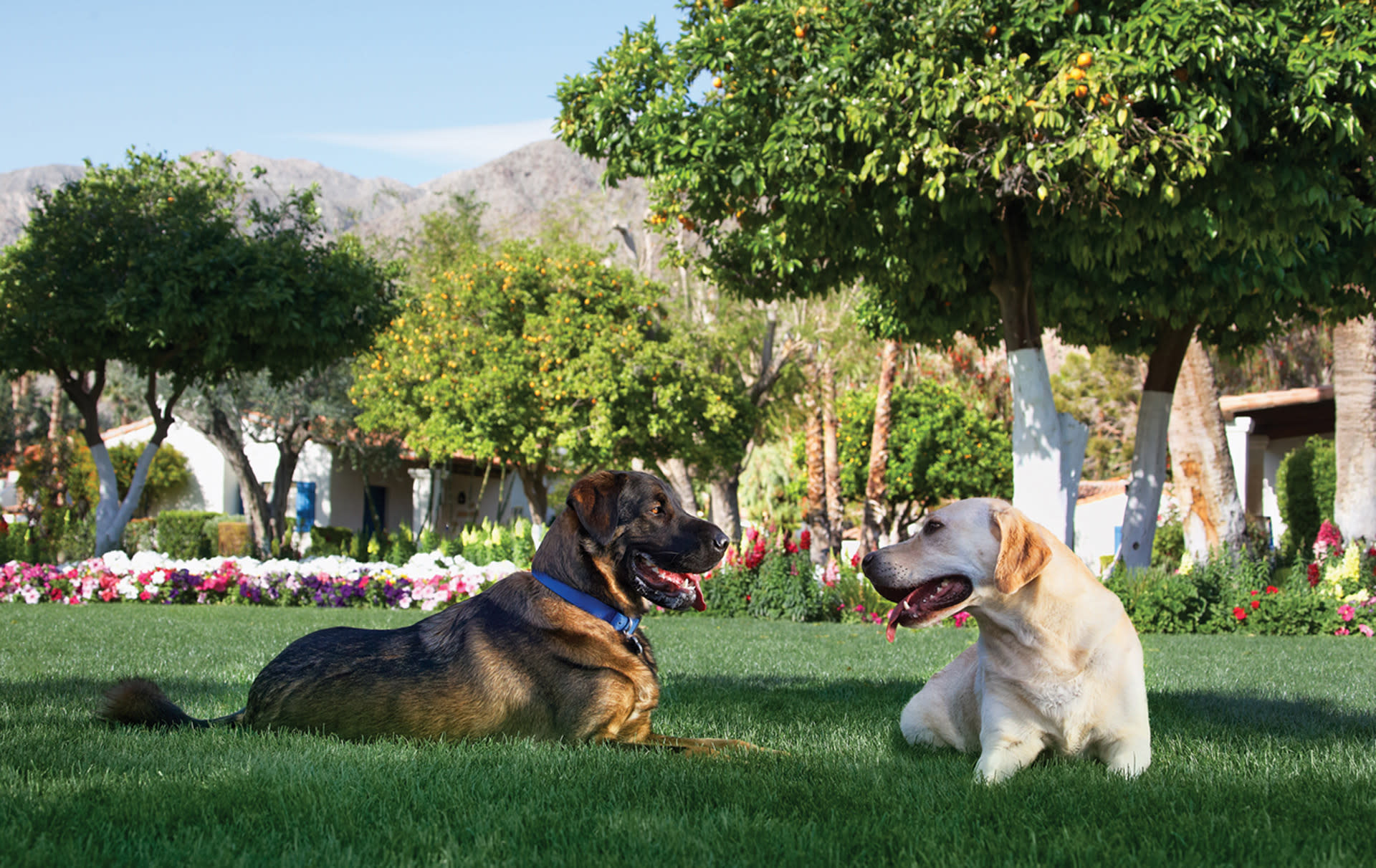 Legendary La Quinta Resort is so pet-friendly that there's a PAWS pet experience exclusively for your pooch! Pets frolic upon the 45 acres of lushly landscaped grounds. With a $150 pet fee, dogs receive a placemat, pet-friendly door hanger, dog bone at check in, oversized pet bed and a personalized PupJoy box with goodies to take home. There are even relaxation massages for dogs, should you have no choice but to pamper.
Visitors, whether furry or not, get plenty of privacy at the chic Avalon Palm Springs with stand-alone villas and studios spread about the citrus-laced grounds. Pets love the hotel's three courtyards with manicured gardens. For $100 per stay-–with a portion being donated to the Best Friend Animal Society-–pets not only receive unique amenities when checking in, they are also gifted with a take-home dog dish. There are even special pooch perks like dog walking and sitting services, so you can enjoy dinner or a spa treatment with your dog in good hands.
Bistros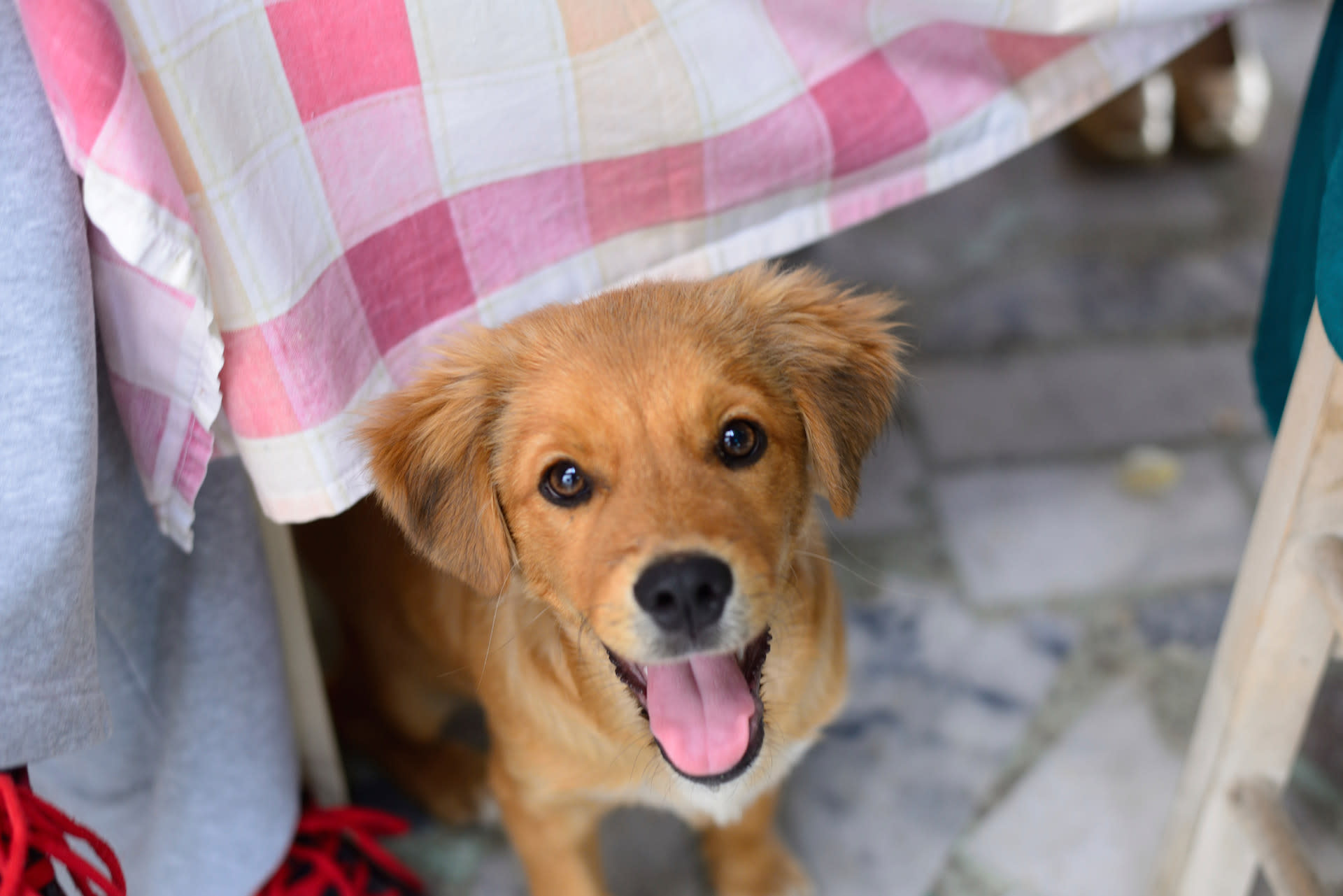 Every dog has its day in the shade on the charming patio of Jake's Palm Springs in Uptown, especially since the restaurant was named after the owners' very own pup! Palm Desert's El Paseo is very dog-friendly. Find lots of eateries, such as Backstreet Bistro with live jazz and tasty Italian fare. Great margaritas, Mexican cuisine and a daily Fiesta Happy Hour make Don Diego's in Indian Wells the perfect spot for a pet-friendly evening on the town. Elegant patio dining perfect for purebreds can be found at Spencer's where even the restaurant is named after a dog. You may not find pup-peroni pizza on the menu, but the friendly patio milieu at Stuft Pizza is a great bet for your pooch at this popular Old Town La Quinta bistro. While in La Quinta, try RD RNNR for a perfect al fresco dining experience. Their special Pup Plate Menu offers a variety for your best pal to indulge in. Choose from a Paw Patty, BokBok Breast, PB Pooch Cup, Beggin' for Bacon or Cheese Bites. Experience the newest eatery where dogs bring their humans: Boozehounds Palm Springs is fun for dogs and humans a like. The cuisine is delicious, the drinks are incredible and pawparents and pups can snuggle in between courses. Head over and choose from their brunch, dinner, cocktail and dessert menu. Four-legged friends have their own dedicated menu with a vast selection of mains and snacks & treats. Not only is their a spacious patio to dine with your pet, but they also have a walled glass atrium where dogs are permitted and the decor is daw-gone paw-fect! Find more paw friendly patios here. 
Find more doggie dining options in Greater Palm Springs with our searchable restaurant listings and discover more pet-friendly hotels for your stay on our dog-friendly page.