The game of golf has seen a rise in popularity this past year, and few places are as well-suited as Greater Palm Springs to inspire the new crop of players. Across the destination's 120-course bounty of emerald green play, superb options abound for those just starting to get their swing on, as well as players ready to graduate to more earnest tests.
From par-3s to short courses to inviting championship grounds, here are must-play golf courses in greater palm springs that are perfect for beginners.
Prior to traveling, you'll want to call ahead to ensure the businesses you are planning to visit are open during regular hours.
Just Getting Started... 

Home of the First Tee of the Coachella Valley, the Golf Center proves an ideal spot for beginner instruction, newcomer swings, and some on-course learning. Coupled with a fine practice area (including a two-sided range, chipping area, practice green, and practice bunker), this 9-hole par-3 course makes for a fun stroll across holes ranging from 80-130 yards.
This walking-only, 18-hole par-3 course in La Quinta engages players of all levels, and despite a dearth of distance, will undoubtedly test the novice golfer. Though the big clubs will stay in the bag, bunkering on every hole and water hazards on nine holes ensure that newcomers and mid-handicappers alike enjoy a great round across the Ted Robinson design.
Play golf under the stars at the valley's only course lit for evening play. Reputed to be among the longest 18-hole par-3 courses in the nation (nearly 2,800 yards), the grounds are no pushover, sporting seven holes playing at least 160 yards.
Among one of the most unique golf courses in Greater Palm Springs thanks to a wide-open, sprawling layout, the pair of John Fought-designed courses at Cimarron Golf Resort in Cathedral City make for a unique day of play under the watch of the surrounding San Jacinto Mountains. For beginners, a round on the executive, par-55 Pebble Course (17 par-3s and one par-4) presents a great way to hone in on those lofted irons while navigating around greens with true character.
Carding almost 3,000 yards across the sporty grounds and presenting a host of water features,  the attractive, 18-hole North Course from architects Schmidt-Curley creates an earnest challenge of mid-iron play in Indio.  Newcomers and mid-level players alike will get all they can handle with 10 holes playing at a minimum of 160 yards.
Graduate to . . .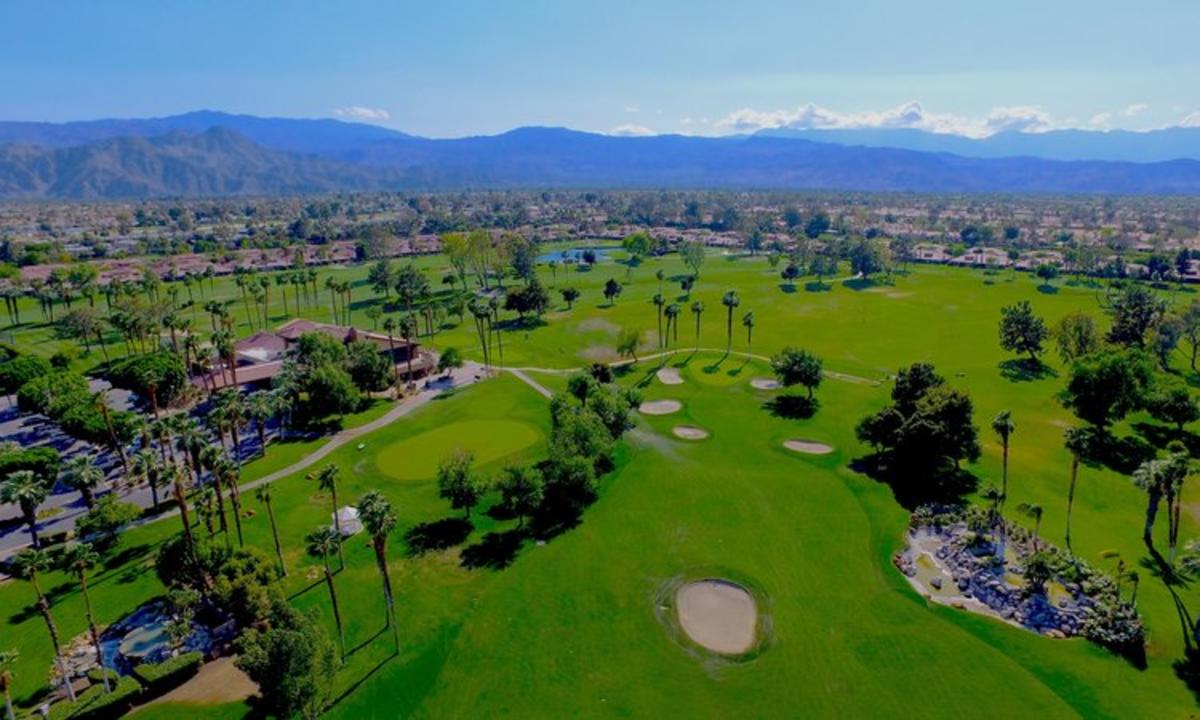 With the swing starting to dial in and beginners ready to segue to longer challenges, a short drive up to the High Desert reveals the rustic, unique grounds of Hawk's Landing in Yucca Valley. Designed as a 12-hole loop, a fast dozen holes can be had in under three hours' time, and for those seeking a full round, simply "loop" back around to get in a full 18.
Beginners will grasp the gravity of tee placement and wedge control across the 5,900 yards of par-70 play at Woodhaven Country Club in Palm Desert. Short on distance but long on accuracy, Woodhaven's taut, palm-lined fairways and small greens offer an excellent lesson plan before graduating to the area's burly championship courses.
One of the most underrated community-style courses in Greater Palm Springs, Indio's Heritage Palms is a real pleasure to play. Well-kept, impressive bunkering aids beginners seeking greenside sand prep, and a manageable distance from the Men's Combo tees (under 5,800 yards) ensures that newbies won't be overwhelmed by distance.
For beginners or rusty swingers seeking a boost in confidence with the driver, check out the Santa Rosa Course at Mountain Vista Sun City in Palm Desert. Excellent course conditions pair with massive, landing-strip fairways and a "bowled" design feature that finds askew tee shots (generally) kept in play.
Of the two courses at the popular Tahquitz Creek Golf Resort in Palm Springs, new and ascending golfers will want to start with the Resort Course, which plays with a bit more forgiveness than the adjacent Legend. Designed by the prolific Ted Robinson, the resort's links-style layout will prove the sternest test on this list as it does bring Robinson's well-known water into play on several holes; nonetheless, most players will still find ample room to navigate from tee boxes while enjoying views of the San Jacinto Mountains.

Hitting the links on your next visit to Greater Palm Springs? Take a look at some additional golf courses in Greater Palm Springs, perfect for players of every level.