After a game well-played across Greater Palm Springs' bounty of golf grounds (or, even if you made a bunch of bogeys), your day treading the turf is deserving of a post-round refresher.
From hacks to Happy Hours, duffs to drinks, birdies to imbibing and cuts to cocktails, the desert golf oasis sports a host of smooth segues to saddle-up and cool down.
Listed alphabetically, here are some choice options across Greater Palm Springs for great public courses coupled with top cocktailing.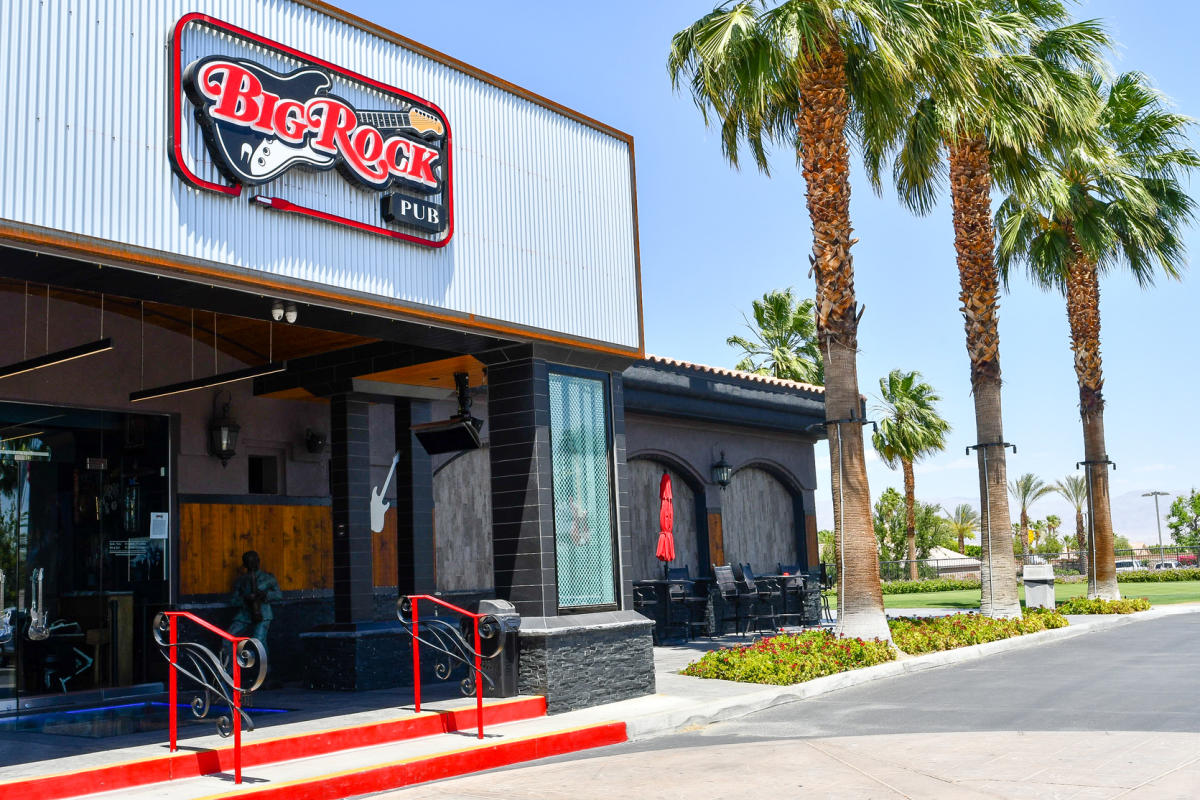 Transition from swing to song at this increasingly-popular east-end pub presence.  Recently-rebranded, the eponymous, on-site pub serves up sports bar-style fare and specials, and also scorecards a regular menu of diverse, live entertainment.  The walls (and ceilings) alone, replete with ample music memorabilia, make it worth the trip after a round on the player-friendly grounds (with some sweet greens).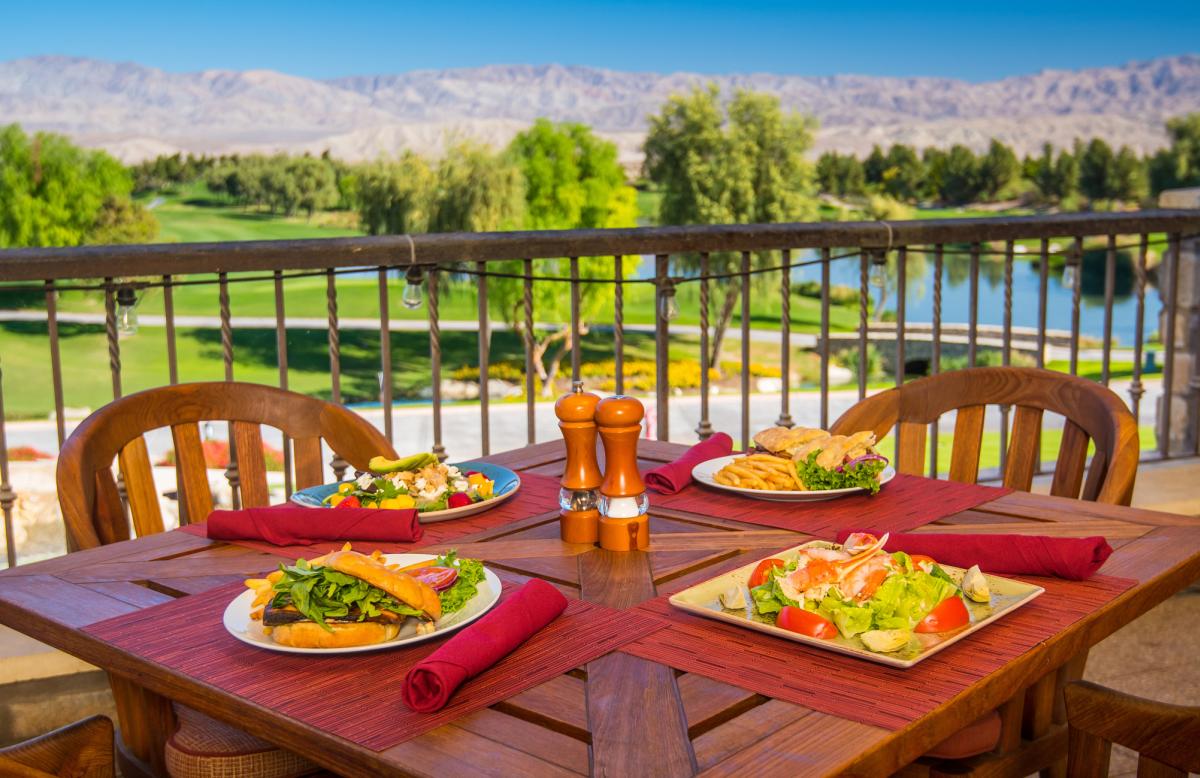 A step-up from your typical post-round setting, on-site Bellatrix couples polished environs worthy of the stately clubhouse and stellar Arnold Palmer design.
A sporting lunch menu is but an accent for the high-end dinner spread.  For post-round refreshment, the 3-6 p.m. Happy Hour (Tuesday – Saturday), offered at the bar and excellent patio, provide $6 cocktail specials and $7 martinis.
The 27-hole, mid-valley play serves a fine post-round segue at its on-site, Mountain View Grille.  For imbibing, Mondays are all-day Happy Hour from 11:00 a.m. – 5:00 p.m.; Wednesday's provide half-priced Wine selection from 5-7 p.m. and Sundays offer $2 mimosas from 7:00 a.m. -2:00 p.m.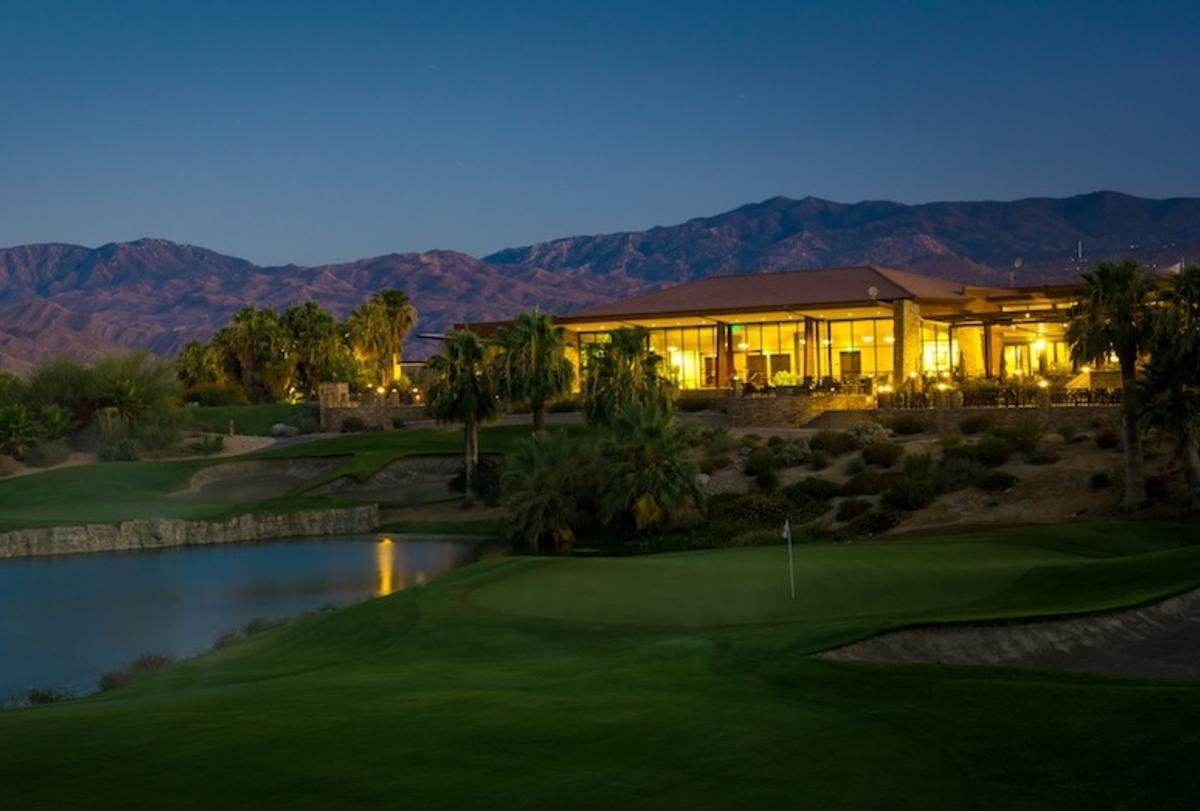 While off-season may slide guests indoors from the excellent patio after the breakfast hour, the prime Palm Desert 36-hole grounds keep all the views in-play from the cool indoor environs of the full-service Lobby Bar.  Lunch is served daily from 11:00 -3:00 p.m., with the Twilight menu extending until 5:00 p.m.   A terrific wind-down spot to kick up the spikes and check the days' scores on a spread of flatscreen TVs.
After dueling across Eagle Falls, the valley's only on-site, course-to-casino pairing presents a full spread of drink, dine, gamble and entertainment options.
A post-round cool-down has ample choices across Fantasy's four bars. 
For players staying at the resort, a wash-up session into evening may find LIT Lounge or the rooftop Twelve the top options; for golfers simply seeking to toss off the spikes and head inside, the mid-casino Springs Bar or the Fantasy Bowling Lounge see no shortage of post-rounders reviewing scorecards over a few cold ones.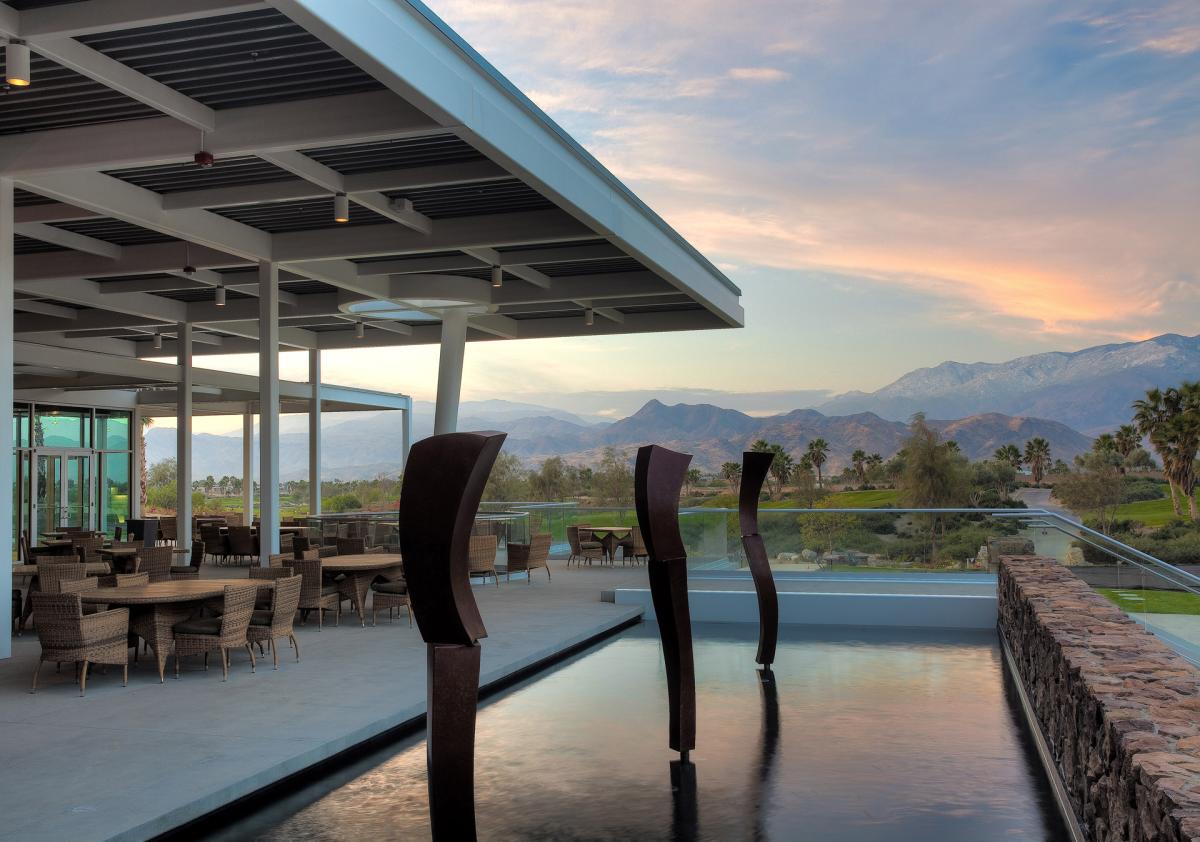 Generally viewed as the desert's most alluring clubhouse, the midcentury-stylings of Escena GC in Palm Springs don't lean on aesthetic alone.  Serving breakfast through dinner at the on-site Grill, the club menus Happy Hour drinks daily from 11:00 a.m. – Close, with $4 drafts and $5 well drinks; on Wednesday – Saturday, the Happy Hour food menu is also in-play, with Wednesday evening's extending to live entertainment and 25% off all wine bottling and specialty cocktails.
Over the summer of '19, ever-popular, on-site VUE Grille & Bar is undergoing a renovation of its bar, kitchen and dining/banquet space, with completion scheduled for Labor Day.  Once finished, a refreshed restaurant will present players with not simply a renovated appearance – but a brand new bar space that will double in seating and extend outdoors onto the patio.
After a round across the Nick Faldo-designed grounds, segue back into the clubhouse for a stop at The Grill.  Overlooking the first tee, lunch - dinner menus and a full-service bar presents a perfect perch to review the day's birdies and bogeys.
Spreading sweet views of the San Jacinto Mountain, Desert Hot Springs-based Mission Lakes extends the vista values with a Friday Happy Hour from 3:00 – 7:00 p.m.
PGA WEST and La Quinta Resort & Club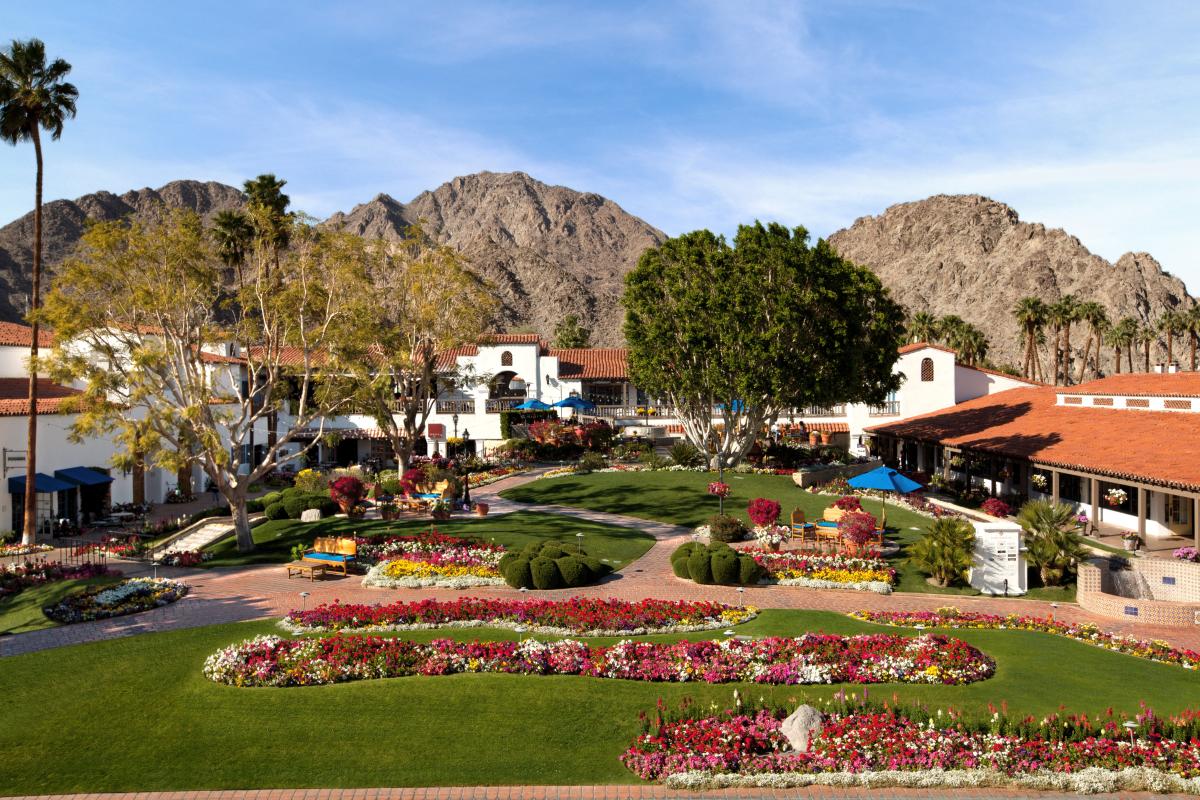 Between the superb spread of five public plays at "The Western Home of Golf in America," further allure will be had at seven bar and dining options across the properties.
After taking on either the Mountain or Dunes Course at historic La Quinta Resort, the MD Grill presents a Santa Rose Mountain view to go with a full bar; back at the resort grounds adjacent, TWENTY6 offers breakfast – dinner daily, along with Happy Hour on Sunday – Thursday from 3:00 p.m. – 5:00 p.m.
At PGA WEST, the Stadium Clubhouse is home to long-popular Ernie's, where breakfast – dinner service and full bar are a scene complimented by an excellent view of Nos. 9 and 18 on the Jack Nicklaus Tournament Course.
At the nearby, stand-along Greg Norman course, ranch-style Wallaby's West pairs breakfast and lunch dining with afternoon, cool-down cocktails.
The underrated Indio play posts further reason for exploration with its Shadow Restaurant, where a daily Happy Hour from 3-6 p.m. finds highlight with $3.50 domestic bottles, $6 margaritas and a $7 Lynchburg Lemonade cocktail.
After a match at the Westin's on-site Pete Dye Course or nearby Gary Player (just a mile away), slide into the resort's casual Season's Grill, where a poolside patio seating, full bar and thorough wine list play caddie to a relaxed setting for American-style fare in the heart of Rancho Mirage.
Looking to save on a round of golf? Check out these great summer savings on 2019 Summer Golf Deals Across Greater Palm Springs.