Red, white and blue will fill the skies this upcoming Fourth of July! Celebrate the country's independence by checking out some of the most spectacular shows in Greater Palm Springs. 
This list will continue to be updated. Please check back for more events.
City of Desert Hot Springs
When: July 2 | 6 p.m. - 10 p.m.
Grab your lawn chairs and blankets and head to Mission Springs Park for a fireworks celebration. This free event will be complete with food trucks and fun. No pets or alcohol will be permitted. 
Coachella Crossroads
When: July 3 | 4 p.m.
Spotlight 29 Casino & Coachella Crossroads will be celebrating the day with live music, food, hot air balloon rides, fireworks show and giveaways. Grab the family and join in on this Independence Day celebration!
City of Palm Desert
When: July 4 | 9 p.m.
Looking forward to watching fireworks in the sky? Look no further than Civic Center Park in Palm Desert to join in on the festivities. 
City of Palm Springs
When: July 4 | Multiple events, 11 a.m. - 9 p.m.
The city of Palm Springs is celebrating with four FREE events throughout the day for everyone to enjoy. These include:
Fourth of July Water Palooza | 11 a.m. - 1 p.m.
Fourth of July Family Pool Party | 3 p.m. - 9 p.m.
Fourth of July Independence-Fest and Movie in Sunrise Park | 3 p.m.
Fourth of July Concert and Laser Show at Ruth Hardy Park | Show begins at 9:15 p.m.
Agua Caliente Resort Casino Spa Rancho Mirage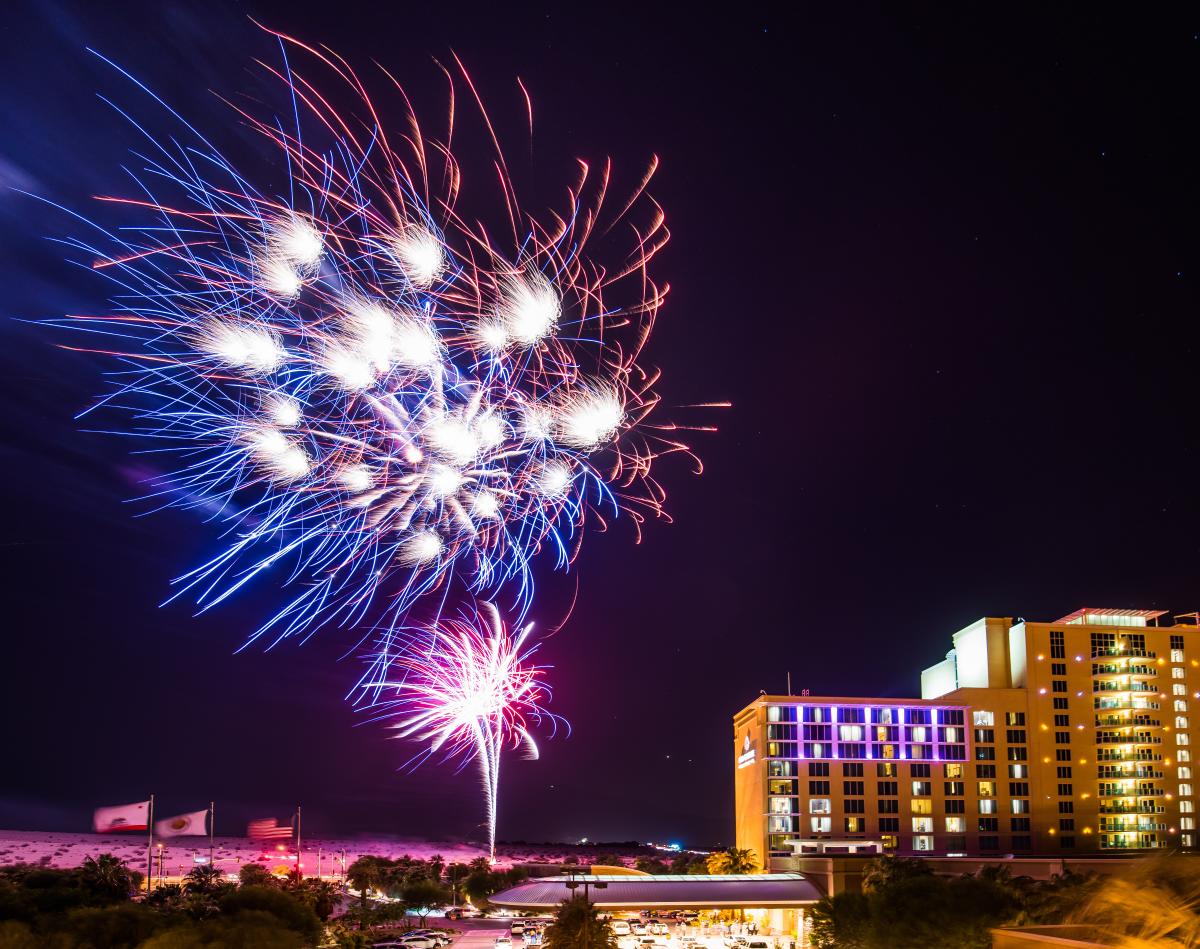 When: July 4 | 9:00 - 9:30 p.m.
Looking forward to watching fireworks this year? Enjoy the summer evening at this 7th annual Fireworks Spectacular with synchronized music on 106.9 The Eagle. Parking for the outdoor event is free. Viewers can bring their own chairs, blankets and snacks to attend.
Celebrate at the historic O'Donnell House
When: July 4 | 7:30 p.m.
Join supporters of AAP - Food Samaritans at this Independence Day fundraiser. This celebration is a great way to have fun and help an amazing charity in Greater Palm Springs. Guests will feast on a tasty dinner catered by Willie Rhine and the Eight4Nine team. Tickets are $200 per person and include cocktails, dinner, entertainment and valet parking. Advance purchase is required. 
Food
With the Summer Eats Pass, you can dine, save and chill this Fourth of July! Select restaurants are featuring dining deals that you can take advantage of by clicking Restaurant Special Offers. But simply checking in to any participating restaurant from the full list below (deal or no deal) will get you entered to win a gift card from a Greater Palm Springs eatery.
Things to Do
As you celebrate Independence Day, there is nothing more 'independent' then getting behind the wheel of a high performance BMW and learning new driving skills at the BMW Performance Center at The Thermal Club.
Looking for family fun with a bit of history? Head indoors to the Palm Springs Air Museum , where families can discover aerial adventures of decades past. For more things to do, click here.
Panoramic Views
Looking for something a little bit different?  Vista Point on Highway 74 has some of the best and most expansive views of Greater Palm Springs. Drive up the winding road and park your car before sunset to get a good spot and enjoy the symphony of fireworks. Remember to take your own snacks and food–there isn't a shop near Vista Point.
Ready to celebrate Independence Day in Greater Palm Springs? Check out these getaway offers for your stay!