Indulge your inner fashionista during Fashion Week El Paseo! Now celebrating its 15th year of high-end designs and style, the eight-day event is set to take the stage from Saturday, March 19 through Saturday, March 26, 2022, at The Gardens on El Paseo in Palm Desert.
Ready for a week of sequins, statement pieces, fresh styles, and sunshine? Plan ahead with our guide to Fashion Week El Paseo 2022.
 
What
Regarded as the largest consumer fashion show on the West Coast, the event provides an immersive and inspiring fashion experience all week long, including sneak peeks of new collections, celebrity meet-and-greets, pre-runway cocktail receptions, book signings, trunk shows, after-parties, and more. Plus, it's open to the general public, including children, and offers a variety of runway shows to choose from.
When
The fashionable fun kicks off Saturday, March 19 and wraps up a week later on Saturday, March 22, 2022, with reception doors opening at 6:30 p.m. on most evenings.  Times for all program events can be found under the Fashion Week El Paseo website schedule of events.
Where
Runway shows and event take place at the Fashion Week Tents, located at The Gardens on El Paseo on the west side upper-level parking deck.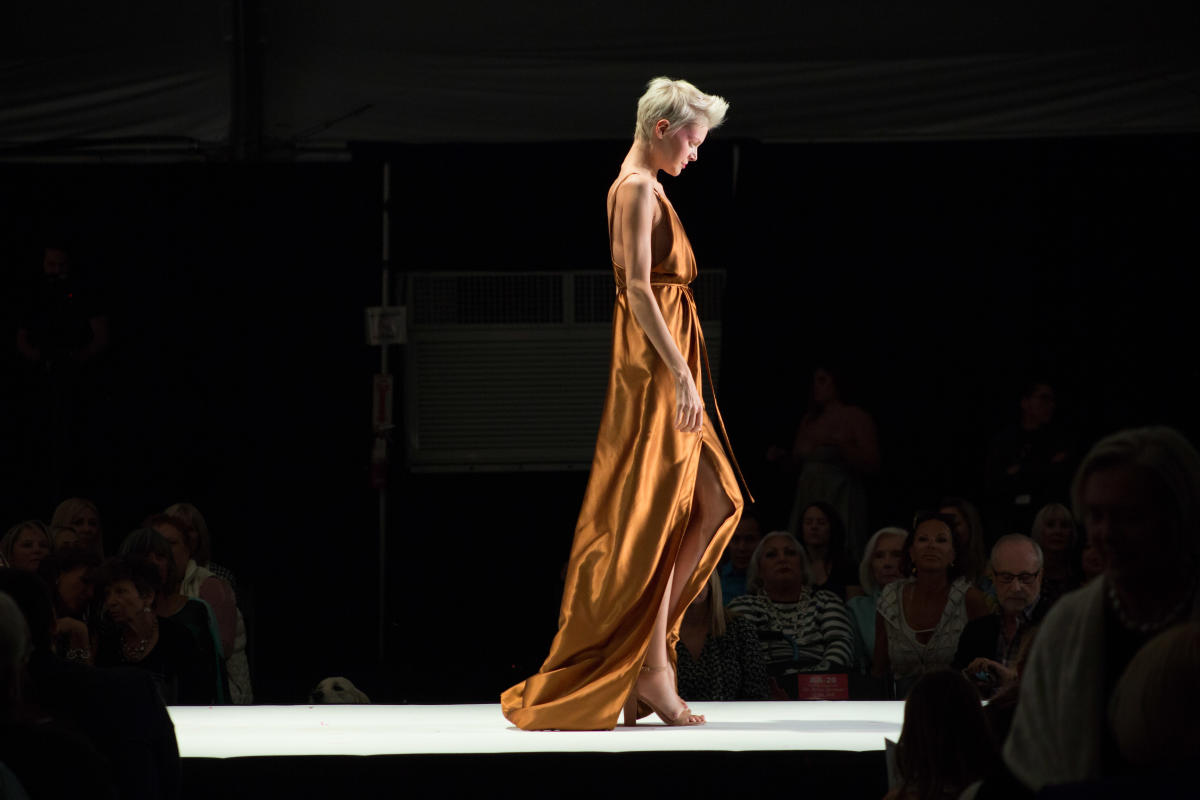 Featured Designers & Runway Shows
As in past years, ticket holders can expect a star-studded lineup featuring top designers and swoon-worthy ensembles, including the amazing work of Greater Palm Springs local and long-time Fashion Week El Paseo supporter Michael Costello, as well as Trina Turk, who opened her first retail store 20 years ago in Palm Springs.

Saturday, March 19
Kick off Fashion Week El Paseo by attending the event's opening runway show titled Trina Turk's 2022 West Coast Attitude, featuring Turk's signature Golden State-inspired aesthetic (think bold prints, bright colors, and carefree glamour). The night begins with a cocktail reception at 6:30 p.m., followed by the show.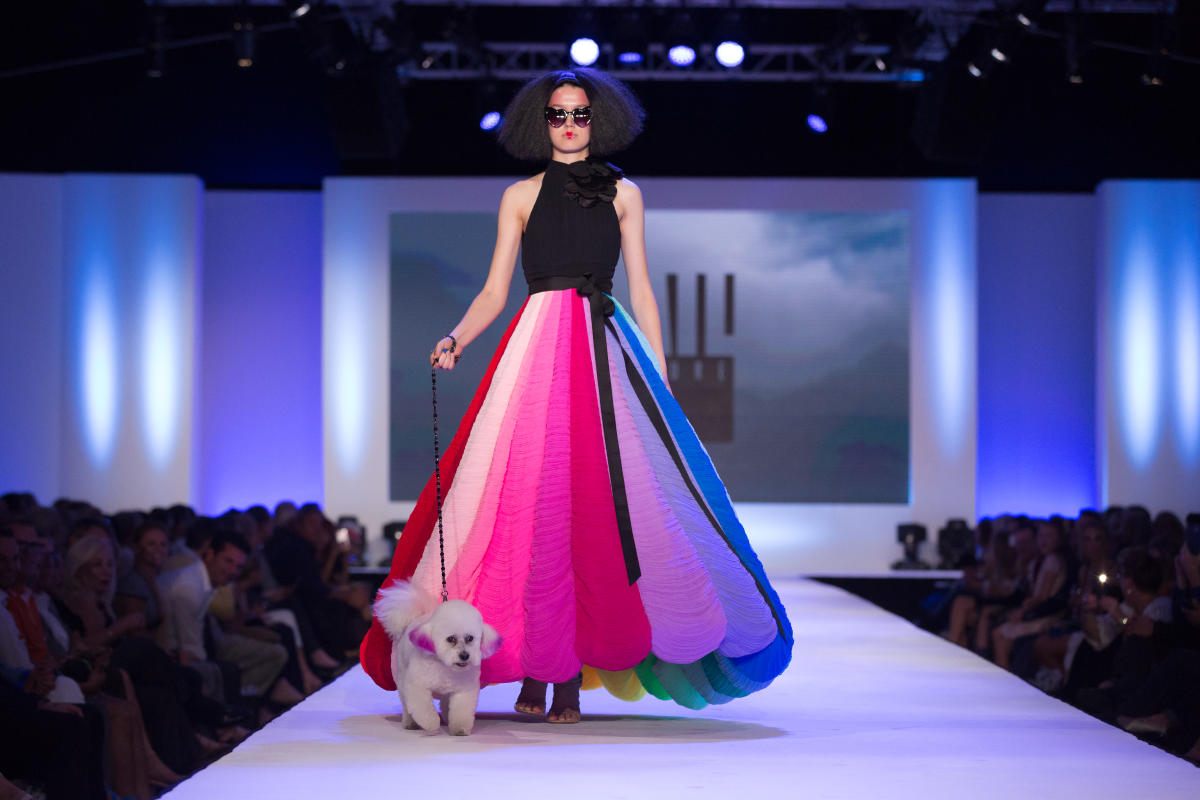 Sunday, March 20
Get a double dose of couture on Sunday, starting with Le Chien, an exciting show featuring high-fashion supermodels and their incredible rescue dogs! The event welcomes dog lovers in the region to come out and support a good cause, with proceeds benefitting the Palm Springs Animal Shelter and California Paws Rescue.
This year's show, which begins at 5:30 p.m. (following a cocktail reception and silent auction), will feature locally based designer Aneka Brown, whose 2022 collection, "Post-Apocalyptic Funk," will be modeled by professional fashionistas and their furry best friends.
Later in the evening, be transported to the starlit sand dunes of distant deserts during Michael Costello Midnight Sahara, a runway show featuring Michael Costello's latest collection, which was designed to "evoke the ultimate desert fantasy." An outstanding designer to the stars, and a star in his own right, Costello is recognized nationally for his stunning work and stand-out gowns and has been a Fashion Week regular since 2011.
And as always, make the most of your night during the cocktail reception (7:30 p.m.) and don't forget to check out the pop-up store featuring Costello's fashions, all available for purchase.

Monday, March 21
If you can't attend Le Chien on Sunday evening, start your week by stopping by Aneka Brown's trunk show and pop-up store from 11:30 a.m. to 2 p.m., where her collection will be available for purchase.
In search of a little inspiration for your spring/summer wardrobe? Don't miss Monday night's runway show, The "Buzz" on El Paseo, when El Paseo stores — including Grayse, Eileen Fisher, The Jewelry Bar, Summer Colony Living, and Johnny Was — will present the season's trendiest ensembles and ready-to-wear fashions.  


Tuesday, March 22
New York-based fashion designer (and frequent Greater Palm Springs visitor) Keanan Duffty brings his rock 'n' roll inspired looks to Tuesday night's Rebel! Rebel! On the Runway, an immersive and entertaining show that is sure to have you feeling all the good vibrations. Get a sneak peek of Duffty's styles (and even buy some for yourself!) the next day at his pop-up store and trunk show.   

Wednesday, March 23
If you feel the need for fashion then don't miss Wednesday's show, Christopher Bates Presents, when Canadian designer Christopher Bates debuts his Top Gun unisex capsule collection (licensed by Paramount Pictures). You'll also get a glimpse of his spring/summer 2022 menswear and womenswear collection, which blends contemporary tailoring with his signature "athluxury" style.

Thursday, March 24
Get a glimpse of the future of fashion during the FIDM/Fashion Institute of Design and Merchandising's Debut Presentation. The show will display the recent work of FIDM Debut program graduates, which is sure to bring cheers from the crowd as they view what's in store for style enthusiasts and fashion lovers everywhere. Arrive early for the cocktail reception and be sure to dress to impress, as always!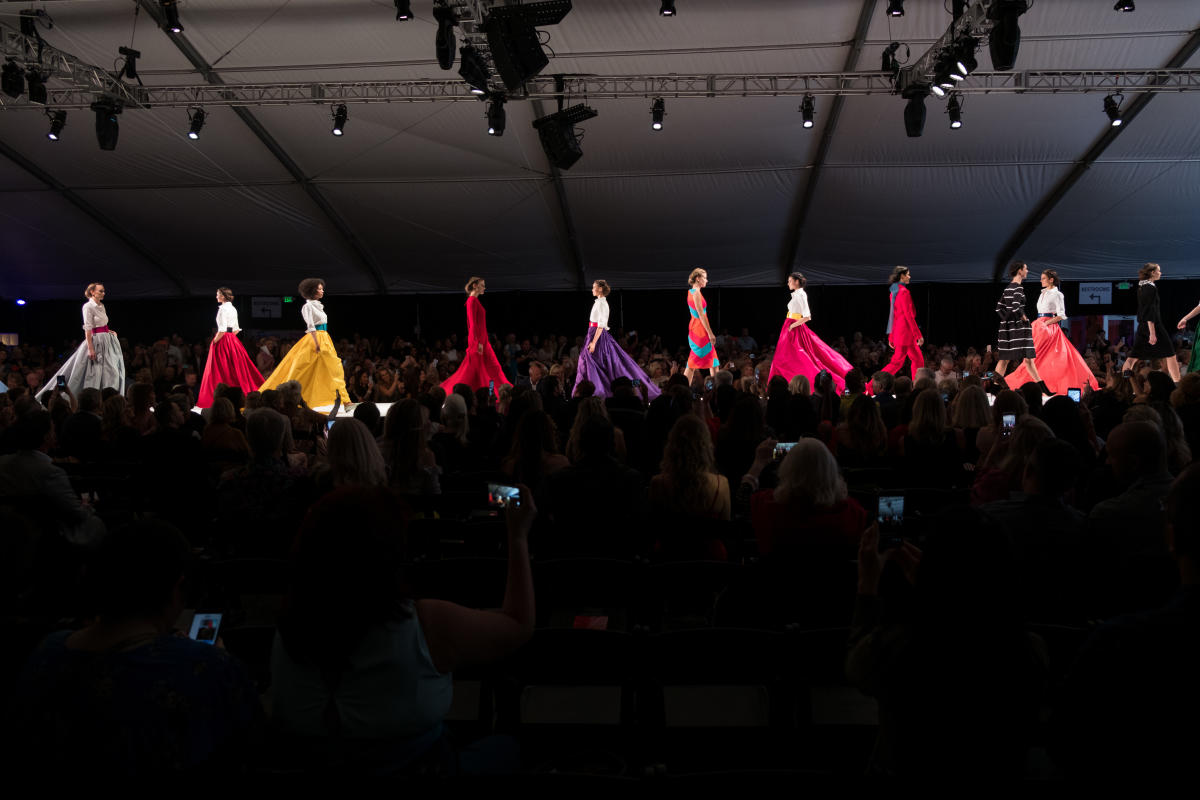 Friday, March 25
Clear your schedule for Friday night as The Best of Saks Fifth Avenue takes Fashion Week El Paseo by storm. Both high-end pieces for men and women will leave their mark on the stage as spring and summer styles make their way down the 100-foot runway. Featured designers include Balenciaga, Oscar de la Renta, The Row, Alice and Olivia, and many more.

Saturday, March 26
You'll feel like you've stepped inside a fairytale during the finale night of Fashion Week El Paseo, when The Fantastical Fashions of Edwin Oudshoorn, a famous couture designer from Amsterdam, creates pure desert magic with floaty silhouettes and elegant, sequined styles.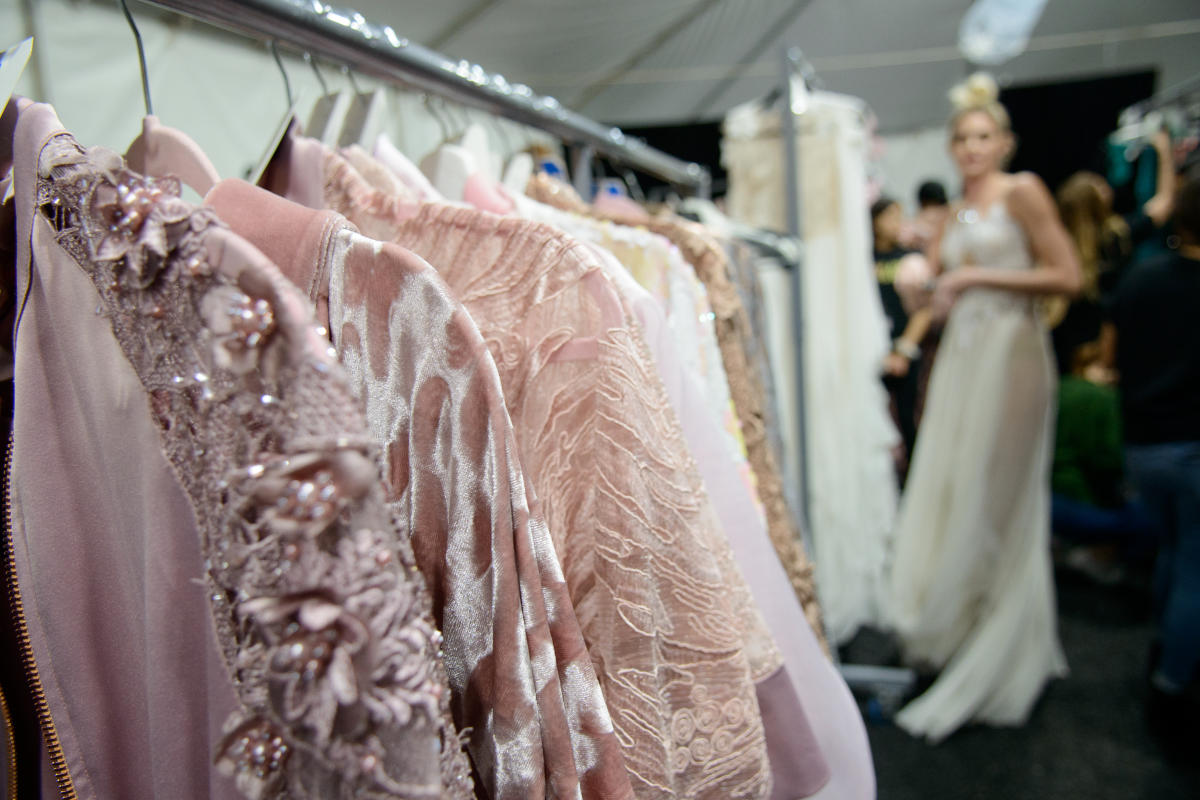 Special Event Features
One unique aspect of Fashion Week El Paseo is that attendees have the opportunity to not only view designers' recent works on the runway but also shop them during trunk shows. These designer trunk shows offer guests a chance to receive personal consultations with event designers. And the best part? Consumers can purchase limited catwalk styles right away, too! Those that cannot attend runway showcases can come out to trunk shows to experience the excitement that Fashion Week brings, from a more up-close-and-personal approach. Trunk shows are free and open to the public.

Health & Safety
Fashion Week El Paseo requires all attendees to provide proof of COVID-19 vaccination or a negative COVID-19 test (within 24 for antigen or 48 hours for PCR). Visit their website for more up-to-date details.  

Event Tips
It's best to arrive early to events and have your tickets in hand to avoid delays at the door. Attendees can also find a variety of parking options throughout The Gardens on El Paseo and the general El Paseo shopping area. Shuttle services will also be available for those who are parking elsewhere in the vicinity.
We also highly recommend attending the pop-up shops during nightly cocktail receptions, as they are a great way to snag posh pieces and view what's currently trending before the show even begins.


Benefiting Charities
Fashion with a purpose is what Fashion Week El Paseo is all about, as a number of runway shows are known to benefit a local charitable organization in Greater Palm Springs. This year's benefiting charities include the Palm Springs Animal Shelter, California Paws Rescue, and GirlFriend Factor.

Ticket Info
Attendees can purchase tickets on the event website and may choose between reserved and general seating. Runway show prices range per night, while specially priced student tickets are available for purchase on-site from the Fashion Week El Paseo ticket booth. Student tickets are $35 each and do require a valid student ID at the time of purchase.
Want to enjoy even more fashion fun this spring? Check out our Guide Through El Paseo Shopping District to discover the hottest stores to shop while in Greater Palm Springs.