There is something surprising and surreal about discovering art in the California desert. Maybe it is finding art within magnificent desert settings, from horizonless, sweeping vistas to mounds of dunes and ancient lava flows. Or maybe it is the quirkiness of these artistic finds themselves that makes exploring the "Desert Art Trail" all the more fun.
No matter what direction you wander in the California desert you are apt to discover art. Sometimes it is found down a less-traveled road or, perhaps, right in the middle of a town. You just need to know where to look. Here are ten options for your next desert road trip following the "Desert Art Trail":
1. Noah Purifoy's Desert Art Museum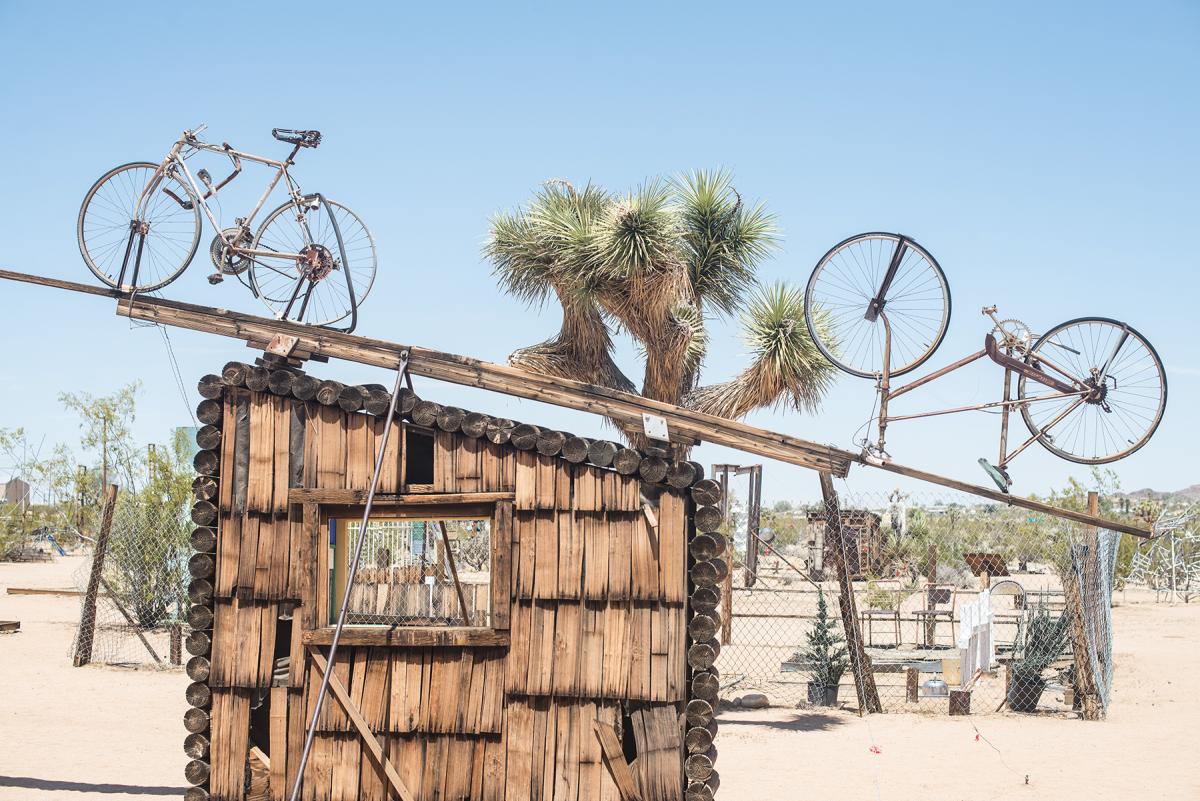 Los Angeles artist Noah Purifoy craved the wide-open spaces of the desert where he could realize his dream of creating bigger-than-life art. The desert surrounding Joshua Tree, just a few miles from Joshua Tree National Park, was ideal. The late Purifoy spent the last 15 years of his life producing ten acres of sculpture on the desert floor, all constructed from discarded objects he found there, from toilets to tires. The result? Astonishing.
2. Oasis of Murals
The Oasis of Murals in Twentynine Palms was an attempt in 1994 by city merchants to liven up its retail area and attract artists. It did both. By 2014, there were 26 outdoor murals commissioned, spanning area history to the natural beauty of the Mojave Desert and nearby Joshua Tree National Park. You can take a self-guided tour of the colorful murals with a handy brochure available on the website.
3. Desert Christ Park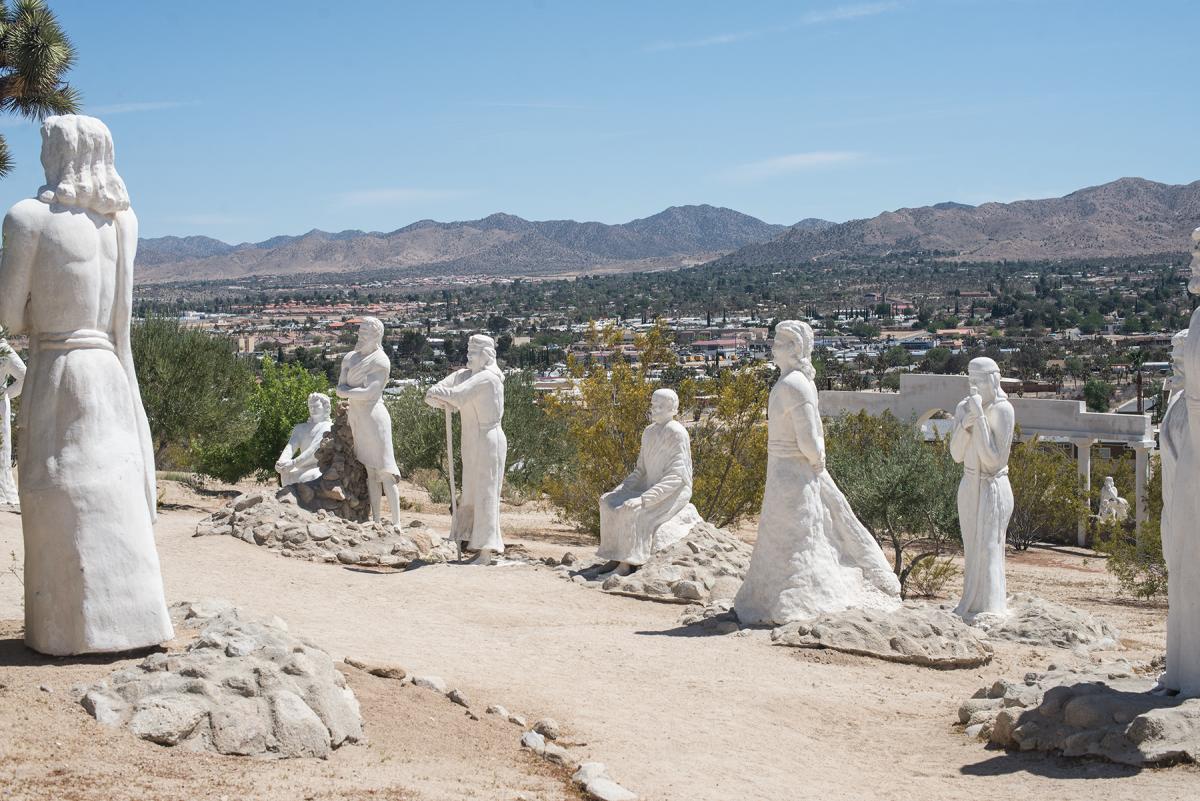 It was Easter 1951 when hundreds gathered to construct this park made of dozens of Biblical statues just north of Palm Springs in Yucca Valley. The statues have been moved to a new locale since its inception, but the idea of a park dedicated to Christian principles remains. Time, weather and vandals have played havoc on the statues, but restoration projects are in constant motion, overseen by the non-profit Desert Christ Park Foundation. The park is open every day and free to everyone.
4. Glass Outhouse Art Gallery
This art gallery that includes several outdoor installations lives up to its name as a unique stop off the beaten path. Located in 29 Palms in the upper desert above Greater Palm Springs, the Glass Outhouse Art Gallery does indeed have a glass outhouse open to vistas of the bright blue sky found along with other amusing pieces of art on trails that surround the gallery. The gallery is located near Joshua Tree National Park on Thunder Road off Highway 62. Monthly open house receptions reveal new artist showings.
5. Salvation Mountain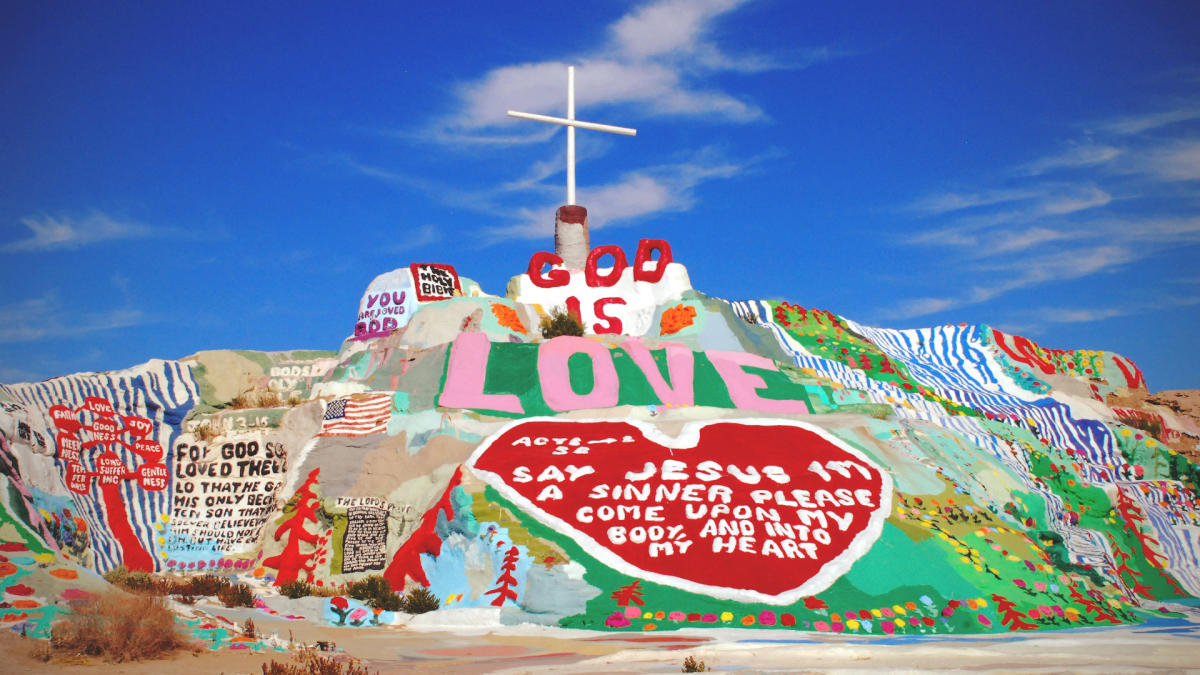 Probably one of the most photographed—and unique--of desert art discoveries, Salvation Mountain began as one man's vision of artistic expression. Located in tiny Niland, near the Salton Sea and infamous Slab City, the brightly painted mountain touting love and faith was the lifetime labor of Leonard Knight. The late Knight constructed his 50' by 150' mountain from local adobe clay and adorned the mountain with his messages illustrated with flowers, waterfalls and suns and birds.
Find more info on Salvation Mountain and other outdoor art exhibits here.
6. Galleta Meadows
You'll think you're seeing a mirage—actually, a multitude of mirages—as you wind through the rural roads of tiny Borrego Springs in the southern California desert. The town that is home to Anza-Borrego State Park is also home to Galleta Meadows, an outdoor sculpture extravaganza that surprises at every turn. The one-of-a-kind, giant metal sculptures by Ricardo Breceda range from a 350-foot-long fantasy-like serpent that winds across a roadway to recognizable prehistoric creatures. Breceda's sculpture's fulfilled the vision of the late Avery label heir, Dennis Avery, who wanted to establish an outdoor art gallery for all to enjoy.
7. Cabazon Dinosaurs
There was a time when the sight of giant dinosaurs would surprise visitors headed to Greater Palm Springs on I-10, but surrounding development has made spotting the quirky roadside dinos a little more difficult. In fact, the iconic statues that were featured in "Pee Wee Herman's Big Adventure" are still there but now a part of a larger park. Mr. Rex's Dinosaur Adventure has expanded to 50 dinosaurs and activities such as fossil digging. The Dinosaur Adventure is open seven days a week; there is an entrance fee.
8. Elmer's Bottle Tree Ranch
As a child, Elmer Long used to travel through the open desert near Barstow with his dad who would collect discarded objects they found. When his father passed away, he left behind a sizable collection of colorful bottles and Long struggled to decide what to do with the unusual collection. One day, the artist decided to build his first bottle tree on his desert ranch. Today, Long's Bottle Tree Ranch on Route 66 west of Barstow has hundreds of imaginative scrap metal bottle trees made from recyclable discoveries, from typewriters to saxophones. There is no charge to wander the outdoor glass and iron "gallery," and Long is often there to greet the thousands of guests who stop by each year and to chat about his treasured creations.
9. Barstow's Main Street Murals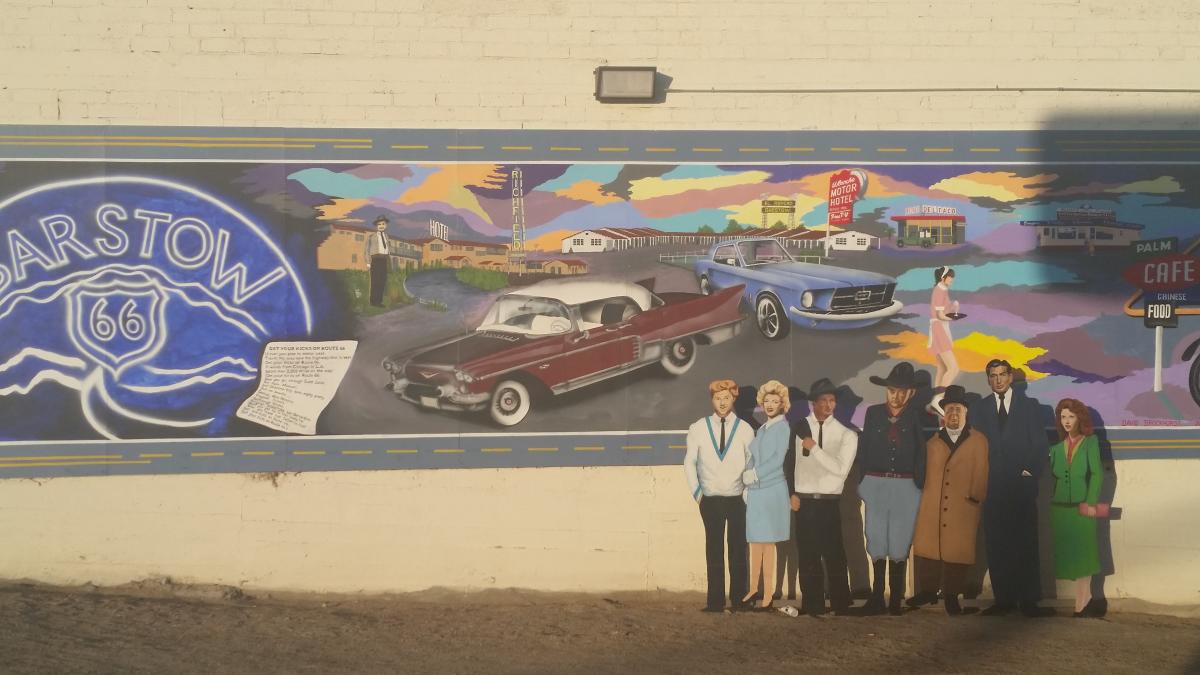 You can't travel Route 66 without a stop to view the 15 murals that grace the walls of downtown Barstow. Take a self-guided tour for a drive-by or walking history lesson of the area that spans the city's Native American heritage to the founders of the railroading town.
10. Goldwell Open Air Museum
On the eastern edge of Death Valley National Park near Rhyolite ghost town, is a 15-acre outdoor sculpture park that surprises. With the tagline, "Art where it seemingly shouldn't be", you get the idea. A group of prominent Belgian artists chose this remote and surprising locale to enable these no-walls, large works within the vast scape. It makes an impression and so does the method the artists used to create their art. Live models were wrapped in plaster (and later fiberglass) soaked fabric and slipped out when the fabric mold set in place, creating ghost-like images. The sculpture park is free and open to the public 24/7.