A scenic drive up Highway 62 to Twentynine Palms leads to the north entrance of Joshua Tree National Park. Comprised of high-desert wilderness and hosting "forests" of namesake Joshua trees, desert wildlife, inspiring vistas and a colorful history, the nearby park is a natural treasure for visitors from all over the world. Plan to hike, camp, rock climb or take a guided tour. In the spring, view colorful spring blooms or spy a desert tortoise emerging from hibernation.
Geographically, the park encompasses rugged mountains of twisted rock, granite monoliths, arroyos, playas and alluvial fans. Besides fascinating geography, wildlife and plant life, Joshua Tree National Park is distinctively marked by the reminders of the early Pinto Man who inhabited the area and the abandoned mines of 1800's gold seekers waiting to be discovered along the many hiking trails. 
Climbing & Hiking in the Park
The high desert mecca for rock climbers attracts aficionados from all over the world. Joshua Tree's gigantic boulders and its famous traditional- style crack, slab and steep-face climbing opportunities tempt even the most experienced climber. However, with more than 400 climbing formations and 8,000 climbing routes, there is something for any experience level.
If this is your first visit, stop at the park Visitor Center and pick up a handy guide to climbing or a hiking map. Rangers warn climbers and hikers about not only taking precautions to keep themselves safe, but also in protecting the fragile desert environment around them. 
Hiking trails are plentiful in the park. For steep hiking adventures, choose from ten mountain peaks that rise higher than 5,000 feet or perhaps make a trek to all five of the park's fan oases. There are twelve nature trails that can be accomplished in a shorter period of time for a day visit.
Guided Tours to Keys
One of visitors' favorite tours is the Keys Ranch Guided Tour. In the late 1800s, explorers, cattlemen and miners began venturing into this desert. The Desert Queen mine, rich in gold and ore, was discovered near a working cow camp, but the mine's riches diminished, and its owner died. Ownership of the mine passed on to mine worker Bill Keys in exchange for back wages. Keys, who had collaborated on several "deals" with the infamous "Death Valley Scotty," also filed a homestead on 160 acres of land that included the Old Queen Mill, an ore processing site.
Keys and his new wife, Frances, built a home on this isolated site on the edge of the Mojave—the Desert Queen Ranch—and raised a large family. When the Depression hit the nation, a few more families homesteaded near the Desert Queen, ending Keys' isolated life. The ranger-guided tour includes a colorful story (including Bill Keys' disastrous feud with a neighbor and subsequent jail time) and a look at the ranch house, school, store, workshop, mining equipment and orchards.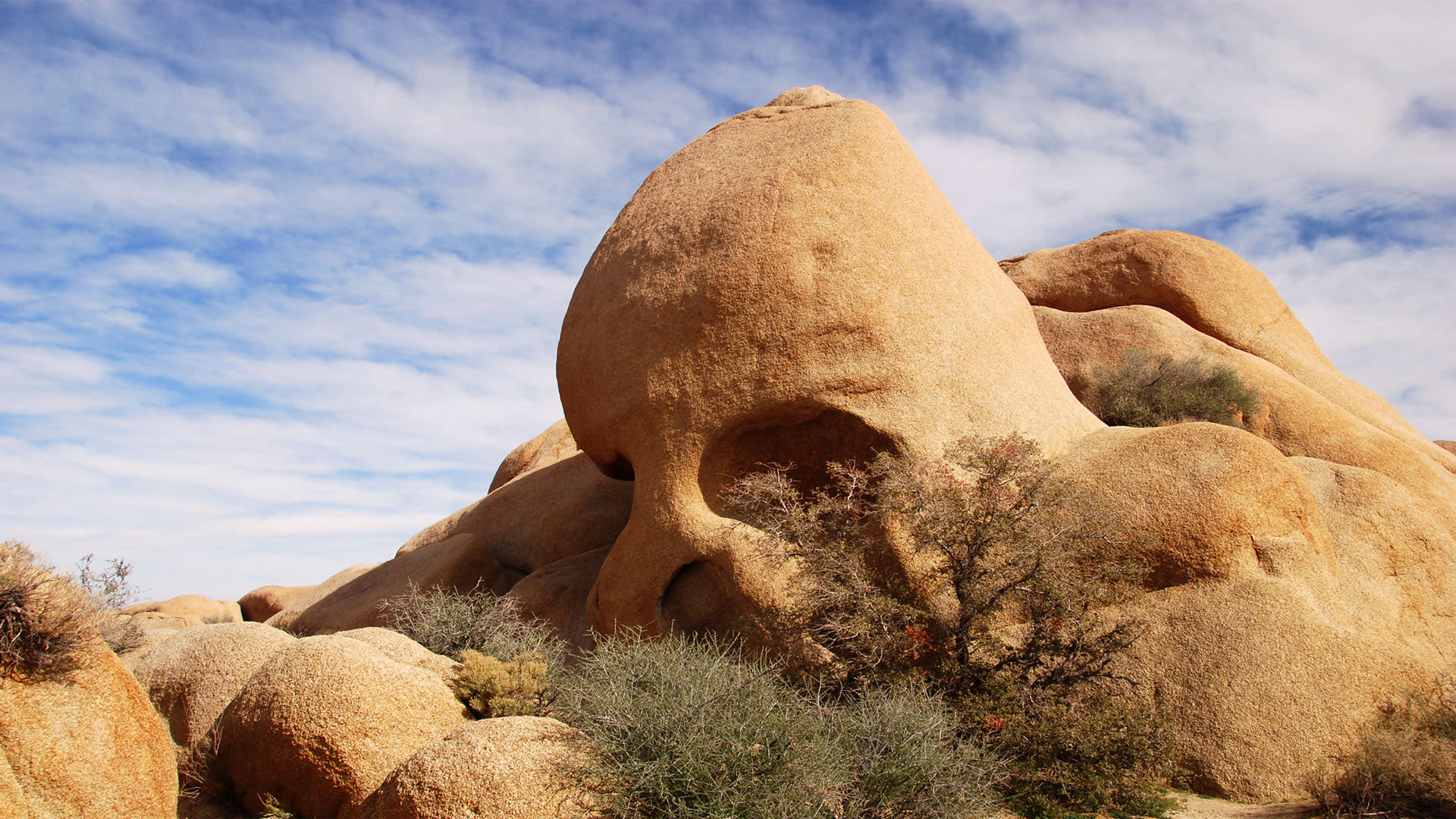 Minerva's Park
A rich early history aside, according to author Joe Zarki, Joshua Tree's genesis to becoming a part of our nation's National Park system can be attributed to one persistent woman, Minerva Hamilton Hoyt. She was a wealthy socialite and civic activist from South Pasadena whose trips to the desert instilled in her a passion for the beauty and vegetation of the desert.
Known as the "apostle of the cacti," Hoyt dedicated herself to the protection of the desert, eventually serving on a California commission to recommend proposals for new state parks. Ultimately, Hoyt believed the best option for preservation of a large park to preserve desert plants was via the National Park Service.
Joshua Tree was established as a national monument on August 10, 1936 by a Presidential Proclamation signed by President Franklin Roosevelt, thanks to Hoyt's efforts. In 1994, Joshua Tree was expanded in size and re-designated a National park when Congress passed, and President Bill Clinton signed, the California Desert Protection Act on October 31, 1994.  
Looking to satisfy your hunger after adventuring through these trails? Check out where to eat in Joshua Tree and indulge in the delicious restaurants located in the high desert.
From sustainably sourced saloons to picturesque cafés, here's a highlight of some of...
Read More
With nearly 800,000 acres of mystical beauty, Joshua Tree National Park is...
Read More