Make it a year to remember by trying out new locales and digging into delicious plates at a number of recently-opened eateries in this Southern California oasis. Check out the latest and greatest in new restaurants in Greater Palm Springs and get ready to experience this top culinary destination.
Little Bar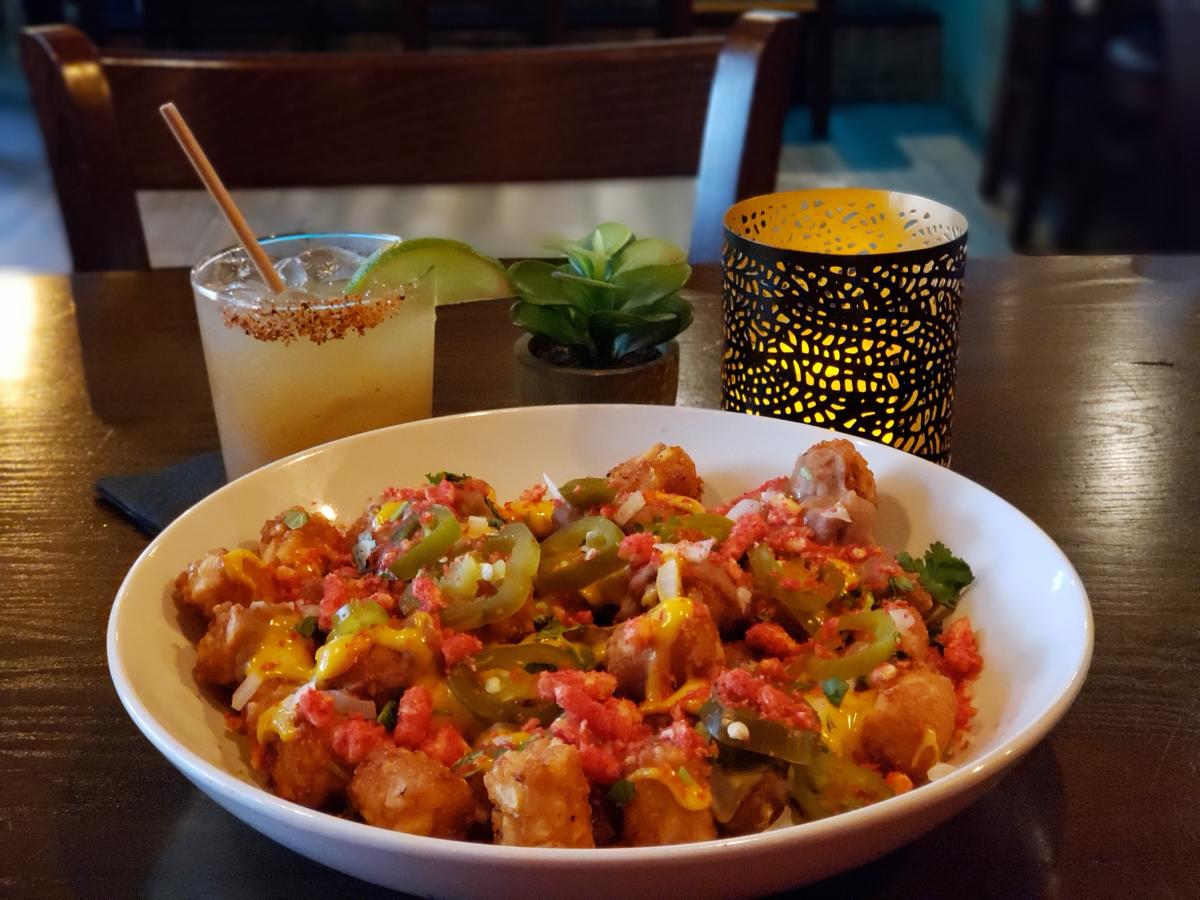 Step inside Little Bar in Palm Desert and you'll soon discover the big history and stand-out menu selections that make this place a must-visit. The establishment, owned by Skip Paige, the former COO of Goldenvoice, was initially transformed in fall 2019 from what used to be the local favorite breakfast and lunch spot Randy's Café. Now known as Little Bar, the location provides cocktails, wine, beer and spirits as well as lunch, dinner and late-night bites.
Breakfast is also available on Saturday and Sunday when Randy returns to the kitchen. Visitors to Little Bar will find wallpaper throughout the bar and bathroom that represents more than 30 years of Paige's accumulating music memorabilia as a fan and through his career in concert production. Bar visitors are also in for a special treat when it comes to the food, as all the menu items are a part of Paige's personal recipes. Tasty options include the Tatchos – tater tot nachos pictured above – the cheeseburgers, Paradise Mule cocktail and Tamarindo Margarita.
Tac/Quila
Tac/Quila is the newest Mexican fare hotspot in the oasis that is quickly making a name for itself. Upon walking in, you'll be taken by the aesthetically-pleasing tile décor and sultry tones, which sets the mood for the mouth-watering Jalisco-style meal you're about to enjoy.
Start with Shredded Chicken Nachos for the table and then move on to their must-try taco menu with options like Al Pastor Street Tacos, Carnitas Street Tacos or their Fried Calamari Gourmet Taco. Pair all of this with a flight of four margaritas or their flight of three sangrias for top-notch dining. Known as the heart and soul of Mexico in downtown Palm Springs, visitors to Tac/Quila are guaranteed to leave happy, full and satisfied.
Roly China Fusion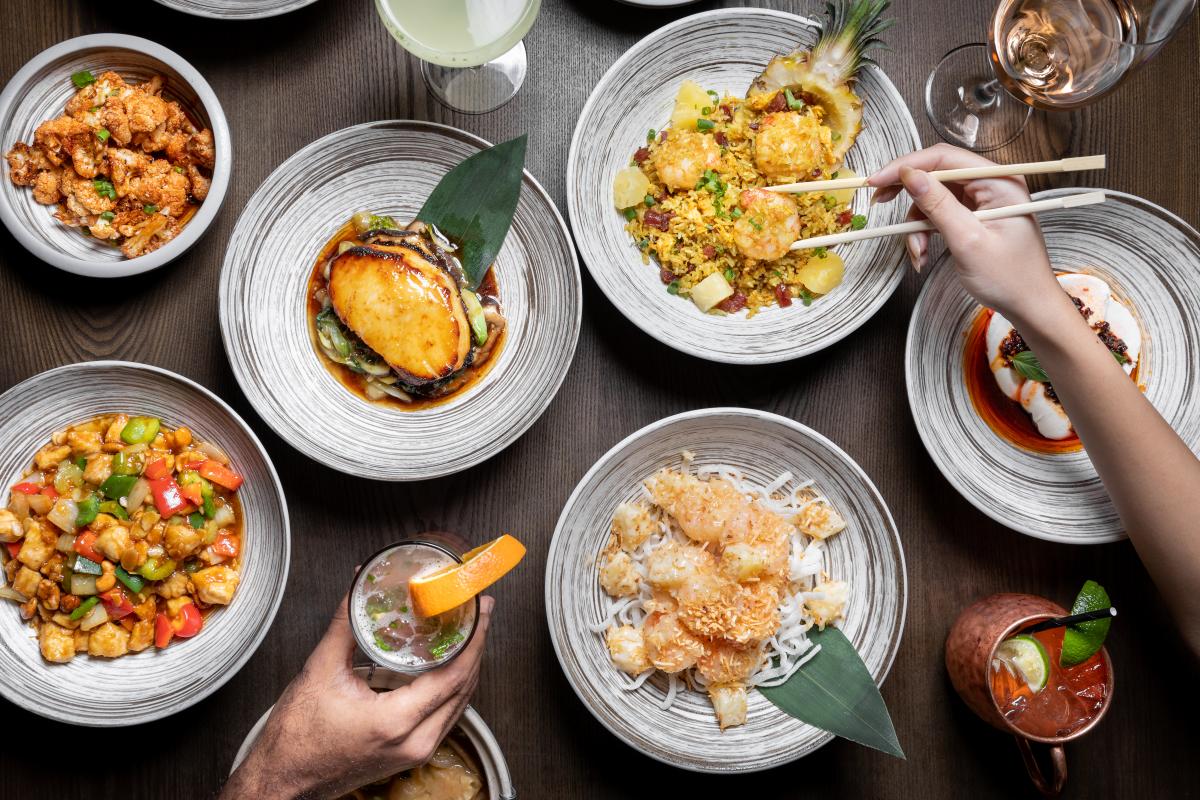 Roly China Fusion was recently opened by local restauranteur Chad Gardner, who also owns the popular 533 Viet Fusion and Dash and a Handful Catering. The restaurant offers diners a vibrant, whimsical and refined dining experience while serving up fresh and locally sourced Chinese dishes with a modern twist by Chef DJ Cheek, formerly of TAO Los Angeles and TAO Las Vegas.
Restaurant guests are able to taste interesting dishes that highlight global flavors and offer a creative presentation at Roly China Fusion. In addition to this, seven unique styles of dim sum are produced every day, giving you plenty to look forward to during your visit. The menu is primarily gluten-free with many vegetarian and vegan-friendly options as well. Recommendations include the Miso-Glazed Seabass and Pineapple Fried Rice – both traditional, yet innovative and savory Chinese dishes.
The Sandbox Kitchen
In need of some home-style cooking for either breakfast or lunch? The Sandbox Kitchen in Palm Desert might be the place for you. Come in to try their Stack of Madagascar Vanilla Pancakes or enjoy their filling BreakFast Tacos X3, which comes with three tacos, eggs, bacon, beans, hashbrowns, pico de gallo, crema fresca and cheese. The eatery hosts a number of private events, taco catering and special dining opportunities. For more information, contact the kitchen at 760-565-6044.
Eddie V's Palm Desert
Fine dining in Greater Palm Springs just got better with the newly-opened Eddie V's in Palm Desert's El Paseo Shopping District. The upscale restaurant specializes in prime seafood and premium, hand-carved steaks. Craft cocktails and world-class wine can also be found on the menu.
Make a reservation soon to experience the freshest seafood in town, flown in daily from pristine waters from around the world. Eddie V's varied seafood-forward dinner menu offers a wide array of seasonal oysters, complete with tasting notes and signature dishes including Crab Fried Rice, Chilean Sea Bass Steamed Hong Kong Style, Cold Water Lobster Tails and Parmesan Sole. The restaurant is also making its mark on the region's vibrant nightlife by providing nightly live music trios for guests.
Las Palmas Brewing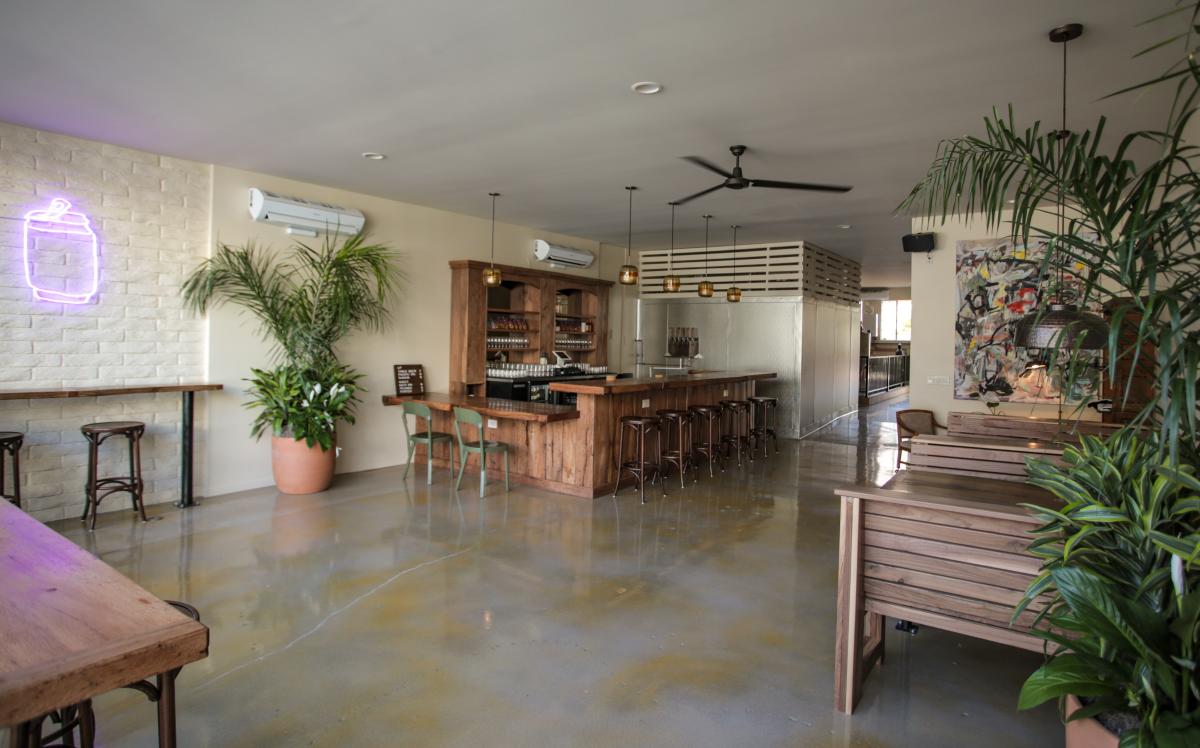 Cruise into the newest and coolest brewery in downtown Palm Springs, also known as Las Palm Palmas Brewing. Las Palmas is a family-owned and operated brewery, beer garden, and natural wine bar that offers both indoor seating accommodations and outdoor seats on the street-side patio and backyard beer garden. It is currently the only brewery with an onsite facility in Palm Springs.
Here, all beers are made on-site on a two-barrel system, which allows the brewery great flexibility for a constantly revolving selection of experimental brews and one-offs. The locale also collaborates with local food vendors on the weekends, which altogether, make for the perfect, cozy hang-out for desert locals and visitors alike.  
RD RNNR Libations Pints & Plates
Pronounced Roadrunner, RD RNNR Libations Pints & Plates is the newest craft American restaurant in Old Town La Quinta. The modern eatery offers local farm to table produce, craft cocktails and a great selection of rotating taps.
During your visit, we recommend you take a bite of out the Mac & Whaaat (Jalapeño & cauliflower mac & cheese smoked gouda, white cheddar parmesan, RNNR dust), or the Cheesesteak (Braised short rib, shishito peppers, caramelized onions, roasted jalapenos, white cheddar and house pickle) – just to name a couple.
Enzo's Bistro & Bar Rancho Mirage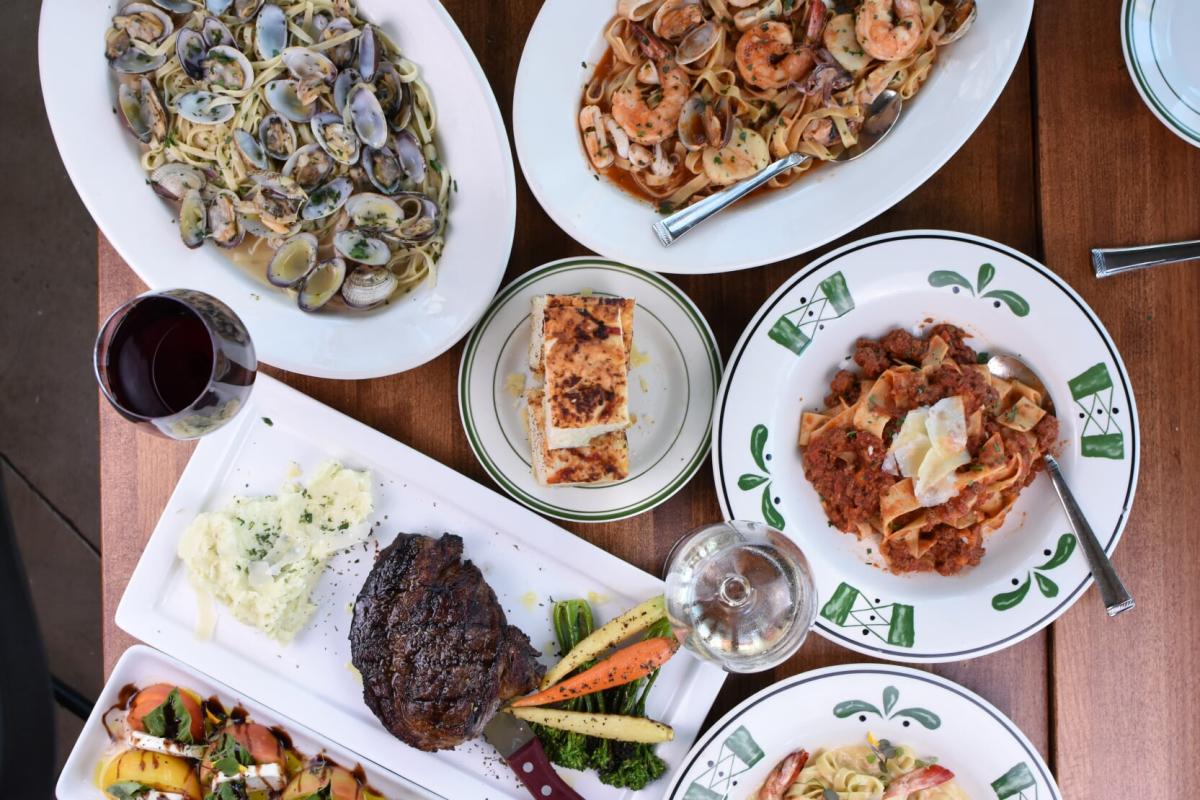 The recently-opened Enzo's Bistro & Bar in Rancho Mirage is serving up elevated Italian classics and Calabrian dishes, inspired by the family recipes of the Novello Family from Southern Italy. The location includes expansive indoor and outdoor spaces and a lively bar scene that's ideal for a night out with friends or an intimate dinner for two.
Happy hour is offered daily from 3-7 p.m. with specials on domestic draft beers, house wines and martinis, plus deals on shareable plates like the Polpette, featuring the Novello family recipe of handmade meatballs simmered in a fresh, marinara sauce.  For dinner, feast on Enzo's Lasagna – Calabrese style with house-made marinara and sausage, ricotta, Parmigiana Reggiano and Romano Pecorino.
Tu Madres Cantina & Grill
From the team that brought you Heirloom Craft Kitchen and Cork & Fork comes Tu Madres Cantina & Grill. The new restaurant in Indio brings a fresh and modern approach to Mexican and Baja-style cuisine, while also providing a crazy tequila list and craft beer selection.
Tu Madres will offer patrons local and organic ingredients, as well as a variety of vegetarian, vegan and gluten-free options like Nachos Libres, Crispy Fried Avocado Tacos and Esquites. Tu Madres Cantina & Grill is set to open by early 2020.
As you may have guessed, the deliciousness never stops in the oasis. Indulge in local sweet treats by reading our article on Best Restaurants for Late-Night Desserts in Greater Palm Springs.