In Greater Palm Springs, it is easy to find something to appreciate – from pink skies at sunset to the plethora of outdoor activities. Though the temperature gets cooler, the returning events start warming up. This month welcomes the holidays and winter season with all of the happenings and more to enjoy this November.
 
Events
NOVEMBER 4 - 6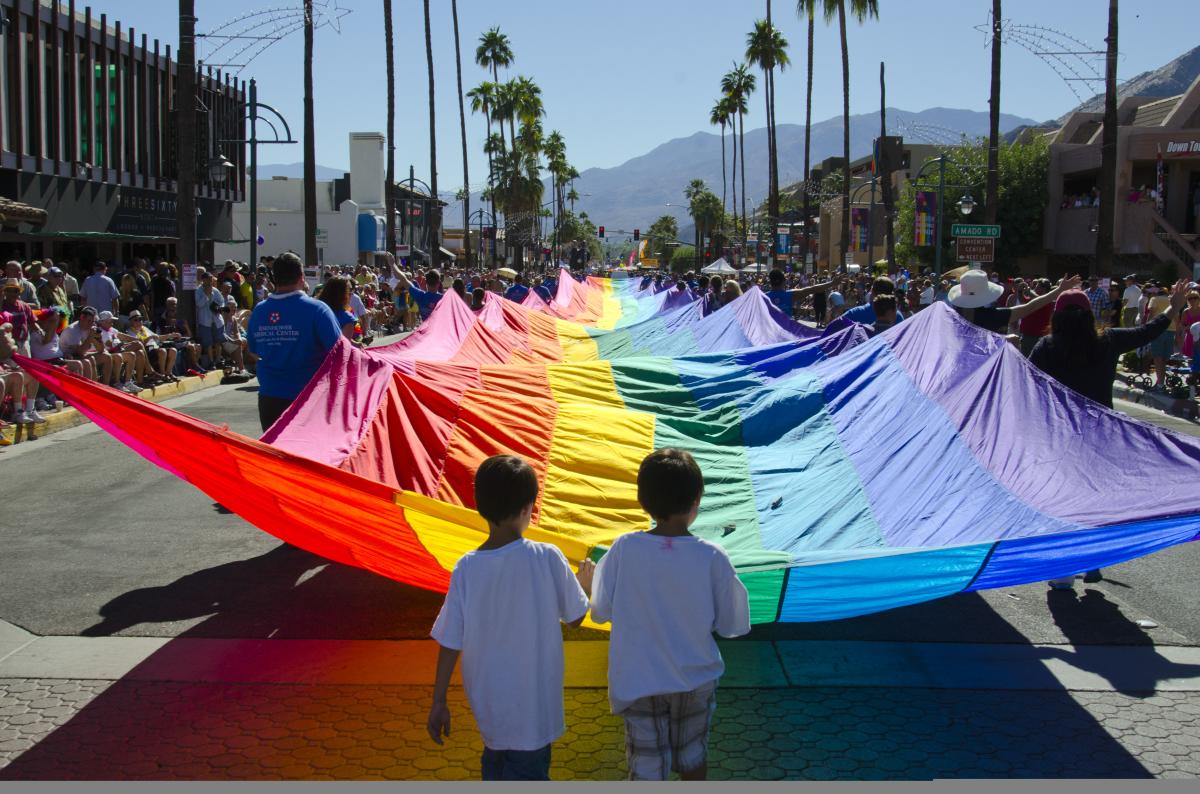 The 36th annual Greater Palm Springs Pride is happening this year as a free festival bringing a diverse community together. Known for celebrating strength, equality and self-determination of the LGBTQ+ community, Greater Palm Springs Pride celebrates with a parade, festival, and vendor marketplace. 
RUN WITH LOS MUERTOS 5K
NOVEMBER 5
Día de los Muertos in Greater Palm Springs, is a two-day holiday that reunites the living and dead. From the pre, during, and post 5k art viewing opportunities, the live music, neon lights, burning candles, painted faces, on course entertainment, to the Los Muertos procession, the 9th Annual Run with Los Muertos promises to be a fun and fulfilling Saturday night. 
MARGARITAVILLE USA PICKLEBALL NATIONAL CHAMPIONSHIPS
NOVEMBER 5 - 13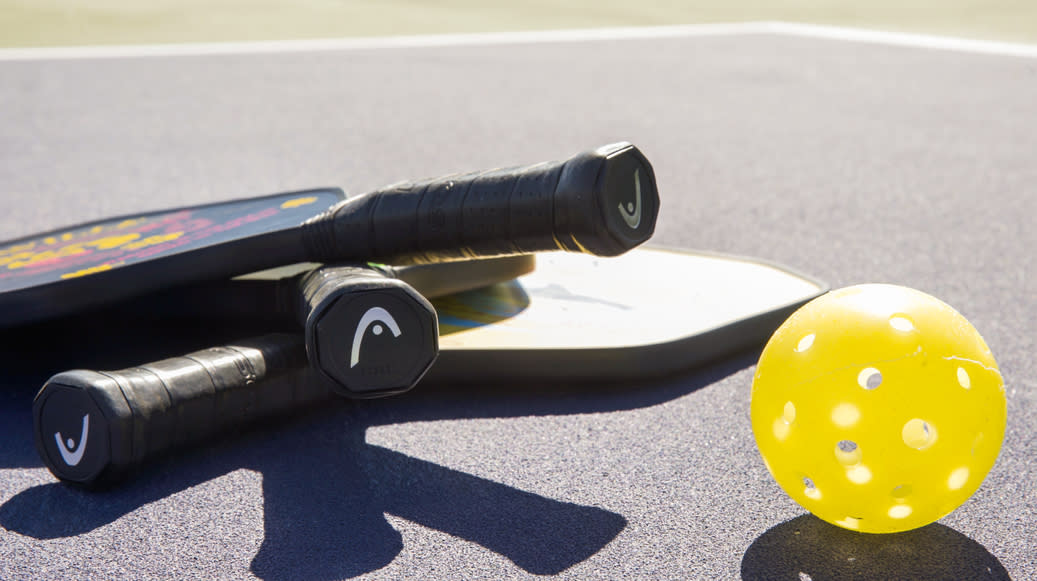 The 2022 Margaritaville USA Pickleball National Championships will return to the state-of-the-art Indian Wells Tennis Garden. The facility is home to the BNP Paribas Open – the largest combined men and women's tennis tournament in the world. This event is fun for beginners, professionals, and fanatics. Be prepared for the matches this year by checking out the Fan Guide for the Margaritaville USA Pickleball National Championships.
NOVEMBER 18
Embrace a new holiday tradition – Indian Wells Winterfest. Discover the delight of this holiday season under blue skies and swaying palm trees, all decked out with dazzling lights and festive décor. This season experience tree lightings, an ice skating rink, holiday-inspired activities for all ages, and more! 
HOT AIR BALLOON FESTIVAL AND FOOD TRUCK FIESTA Presented by Agua Caliente Casinos 
NOVEMBER 18 - 20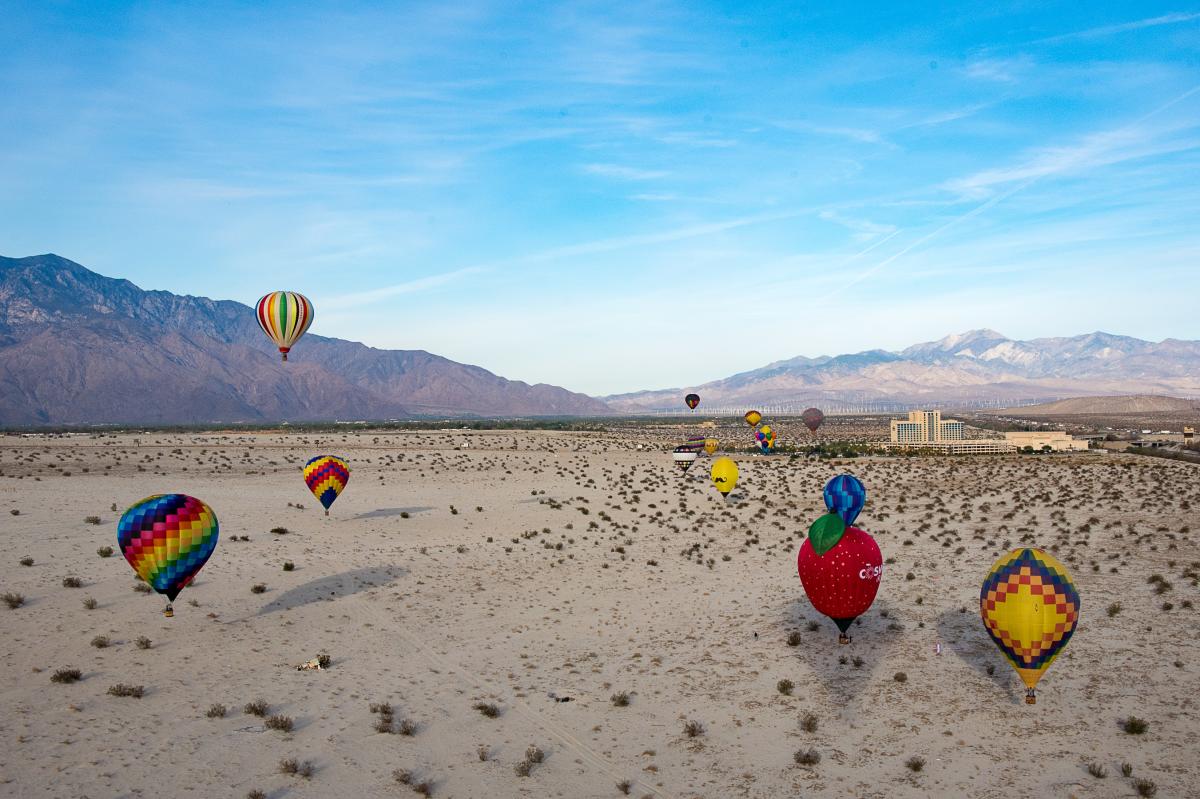 Agua Caliente Casinos Presents 8th Annual Cathedral City Hot Air Balloon Festival + Food Truck Fiesta happening November 18-19. This event will take flight on Friday at 6:30 a.m. with the first launch and continue all day Saturday and Sunday. Enjoy many of the top southern California food trucks don't miss this beautiful opportunity to Soar to the Cathedral City Hot Air Balloon Festival & Food Truck Fiesta for a weekend that you will always remember.
PROPS AND HOPS BEER FESTIVAL
NOVEMBER 19
Head out with some friends to enjoy the beautiful weather, tasty beer and make great memories at Props & Hops Craft Beer Festival at the Palm Springs Air Museum. Props & Hops prides itself on being the only craft beer festival with flying vintage aircraft in Southern California, providing a treat for your eyes with unique sights and beers that will tantalize your taste buds.
VETERANS DAY
NOVEMBER 11
15th ANNUAL FIELDS OF VALOR | PATRIOT PARK, CATHEDRAL CITY
24th ANNUAL PALM SPRINGS VETERANS DAY PARADE | DOWNTOWN PALM SPRINGS
DESERT HOT SPRINGS VETERANS DAY CEREMONY | DESERT HOT SPRINGS VETERAN'S PARK
INDIAN WELLS VETERANS DAY CEREMONY | INDIAN WELLS CITY HALL
LA QUINTA VETERAN'S DAY RECOGNITION CEREMONY | LA QUINTA CITY HALL
A SALUTE TO OUR HEROES FEATURING BLAKE SHELTON | COACHELLA CROSSROADS
PALM DESERT VETERANS DAY CELEBRATION & RESOURCE EXPO | PALM DESERT CIVIC CENTER PARK
NOVEMBER 12
26th ANNIVERSARY & F-117 NIGHTHAWK UNVEILING | PALM SPRINGS AIR MUSEUM
COACHELLA VETERANS PANCAKE BREAKFAST | COACHELLA VETERAN'S PARK
THINGS TO DO
KEWET: NATIVE AMERICAN LEARNING DAY & MARKET 
NOVEMBER 5
Kewet, the Cahuilla word for fiesta features activities including bird singers and dancers; demonstrations and activities such as basket weaving, beading, gourd rattle making, traditional games, food, and an Native American Market. This event is free and is hosted in partnership by the Agua Caliente Band of Cahuilla Indians , the City of Palm Springs  and the Palm Springs Unified School District .
NOVEMBER 6
Back for the first time this year, the Palm Springs Vintage Market is ready to showcase vintage finds from furniture to clothing, as well as live entertainment and food. This is a perfect way to spend your Saturday morning in Palm Springs! 
MCCORMICK'S PALM SPRINGS EXOTIC CAR AUCTION
NOVEMBER 18-20
McCormick's Exotic Car Auction is a semi-annual event, held each February and November outdoors on the grounds of The Palm Springs Convention Center. Each auction features over 500 classic and exotic cars. Admission for the public is free on Friday, with 180 cars crossing the block and offering the opportunity to preview the weekend's auction. Saturday and Sunday are $15 per day or $25 for both days.
EVERY THURSDAY
Villagefest takes place in downtown Palm Springs where the street is closed to create a relaxed, fun, and festive atmosphere full of food, artists, fashion, and other unique vendors.
 
Oasis of Art
NOVEMBER 4
The renowned El Paseo Art Walk, a long-standing tradition on El Paseo, is now happening on the first Friday of every month, from November through May. There will be exhibit openings, artist receptions and more. Enjoy seeing everything there is to admire from each gallery and entertaining stops along the way.
RANCHO MIRAGE FESTIVAL OF THE ARTS 
NOVEMBER 5 - 6
One of Rancho Mirage's most-loved events is back with a rejuvenated look and concept. Formerly known as the Rancho Mirage Art Affaire, the new Festival of the Arts is a stunning museum exhibition with the joy of being outdoors. Thirty handpicked artists from Southern California, Texas, and the Pacific Northwest will showcase their most recent work in glass, ceramics, textiles, photography, painting, sculpture, and digital. Get to know the artists, learn the stories behind their creations, and see the artwork being made.
NOVEMBER 10 - 13
Make the La Quinta Art Celebration the priority destination for a fun desert road-trip. Experience a wide range of artwork showcased at La Quinta Civic Center Park where 200 world-class artists will exhibit their spectacular creations in styles from classical to whimsical. 
BEYOND VAN GOGH - THE IMMERSIVE EXPERIENCE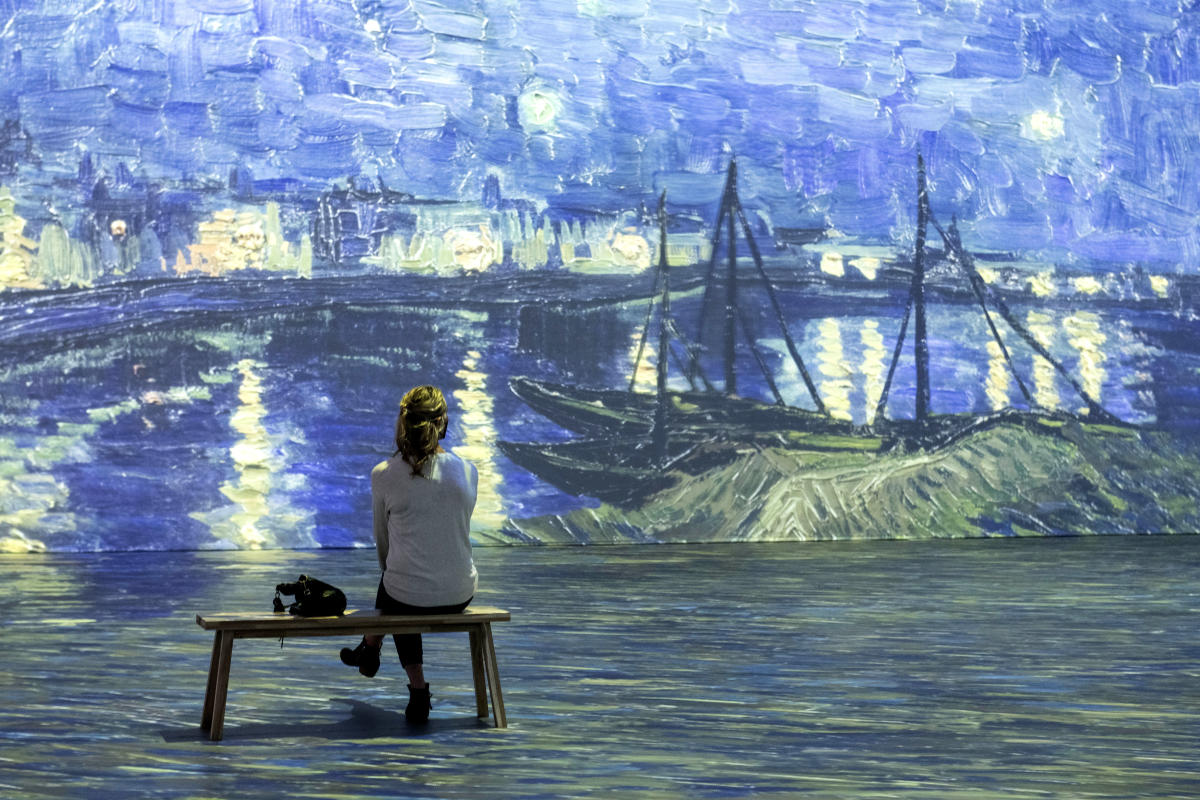 NOVEMBER 1 - DECEMBER 27
Have you ever wondered what it would be like to immerse yourself in the distinctive paintings by Vincent Van Gogh? Beyond Van Gogh - The Immersive Experience truly captures the luminous landscapes, expressive portraits, and emotional canvases! This event will take the viewer on a journey through over 300 iconic artworks including instantly-recognizable classics. Reserve your tickets as soon as you can because you do not want to miss Van Gogh's art come to life!
 
DINING
YUM FOOD FESTIVAL

NOVEMBER 5
If you're a foodie who wants to stumble across new and local gems — you will definitely want to attend this open-air market located at The Shops at Palm Desert. This event is full of food trucks, sweets, treats, drinks, and artisan vendors. Live DJ's, bands, and entertainers are also present to fill up the fun and eccentric atmosphere with music as you browse through the largest food festival in Greater Palm Springs. Find out more about how you can attend and participate.
INDIO BBQ STATE CHAMPIONSHIP & FESTIVAL
NOVEMBER 5
Head over to the City of Indio for the 6th Annual Indio California BBQ State Championship and Festival. This BBQ competition draws pit masters from across the nation to compete for a big money prize as the reward for the best plate. As part of the festivities, BBQ competitors will be offering their championship-style delights for sale to the public. Come out and sample some of the best contest-quality BBQ in the nation. This year's event will include live entertainment, craft beer garden, a kids' zone, a horseshoe tournament, and more. Admission to this event is free.
FALL TEQUILA AND TEQUILA PAIRING DINNER AT LAS CASUELAS
NOVEMBER 7
Enjoy a night of delight and indulgence at Las Casuelas Terraza in Downtown Palm Springs. On their famous patios, they are offering an evening of tequila and cigar pairings coupled with a special dinner featuring their succulent Carnitas. Featured tequilas are Siete Leguas and 818. The cigars will be provided by Fame Cigar Lounge.
PALM SPRINGS FOOD AND WINE EXPERIENCE
NOVEMBER 19
The Palm Springs Wine & Food Experience presented by USA TODAY will host an experience full of deliciousness for guests to taste, savor and explore in the Palm Springs culinary scene, from local trends to regional traditions. Enjoy an outstanding foodie showcase by local chefs, emerging talent and nationally renowned culinary leaders. Lively cooking demonstrations and seminars will deliver unforgettable experiences for fans, connoisseurs, and people in the gourmet food industry.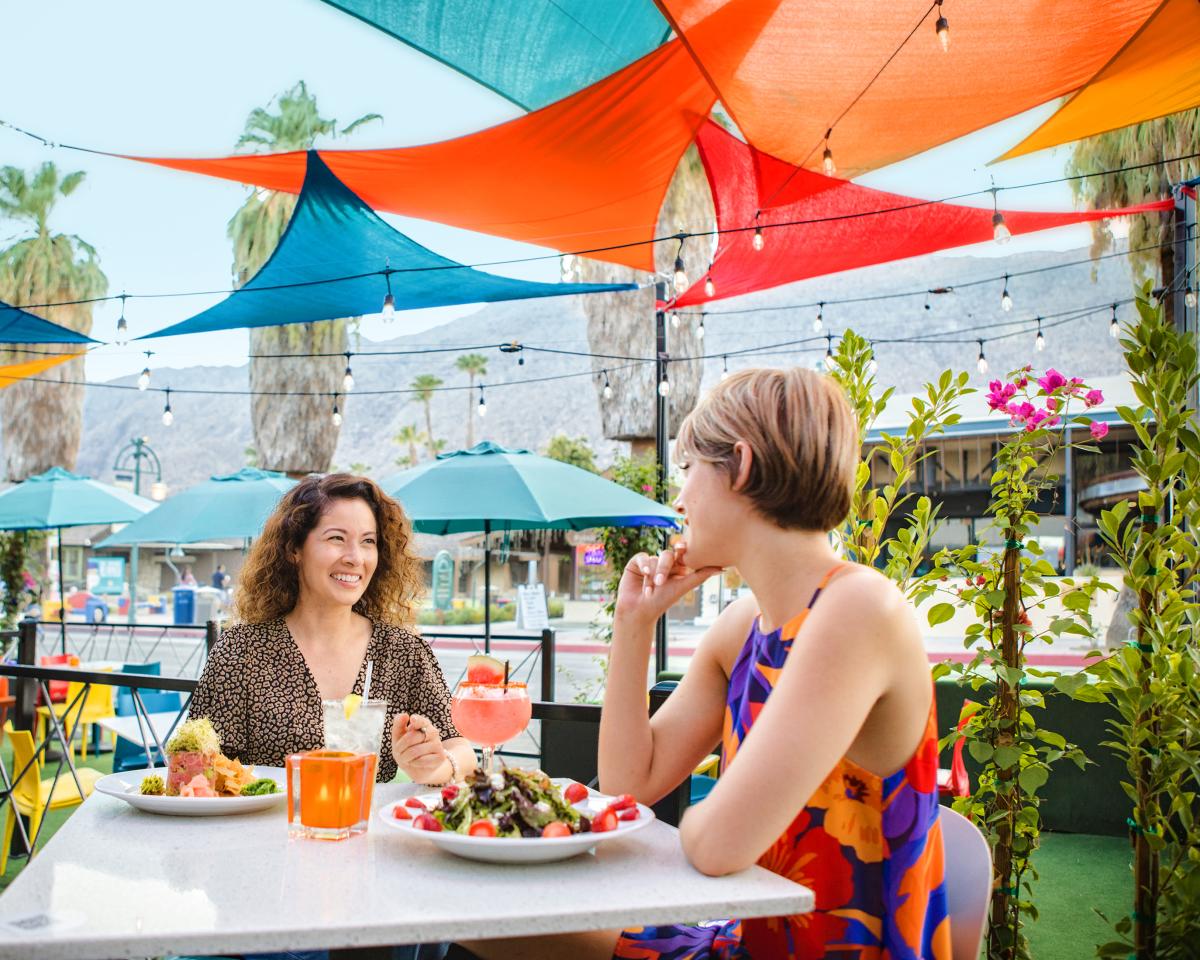 November offers amazing weather this time of year. Dine under swaying palm trees and a breathtaking landscape — Greater Palm Springs is home to a variety of eateries that offer guests the opportunity to take their dining experience outdoors and take in the beautiful sights of this Southern California oasis. Embrace the Al Fresco Dining culture during your visit so you can indulge in the beautiful scenery as you eat.
 
HEALTH & WELLNESS
NOVEMBER 5
This year, you can participate in person or virtually, so anyone can take part in this 5k! Hosted by Palm Springs Front Runners & Walkers, an informal network of LGBTQ+ running groups that form around the world, this walk/run will take you through the historic neighborhood of Las Palmas in Palm Springs, consisting of mostly flat, paved streets. Proceeds will benefit the LGBTQ+ Community Center of the Desert  ('The Center') and the Transgender Health and Wellness Center. Come out, show your support and have some fun!
NOVEMBER 19
The Coachella Valley Heart & Stroke Walk, presented by the American Heart Association, is ready to reinvigorate your healthy lifestyle by uniting the community for better heart health, fun times and an opportunity to help save lives. All proceeds raised by teams and participants will help fund the American Heart Association. 
PALM SPRINGS WILD TURKEY TROT 5K
NOVEMBER 25
Get a workout before digging into Thanksgiving dinner at this year's Wild Turkey Trot in downtown Palm Springs. Take in the scenic views, and run through charming neighborhoods on a course perfect for the whole family, even your four-legged friends. 
FORTEM FINANCIAL THANKSGIVING 5K
NOVEMBER 25
Start your Thanksgiving morning off on an active note with friends and family at the Fortem Financial Thanksgiving 5K on El Paseo. Enjoy the festivities surrounding this event as it features exhibitor booths, a photo station, kids' zone, and a beer garden. Sign up and join the fun and vibrant atmosphere this year for Thanksgiving.
SATURDAYS IN NOVEMBER
Join in every Saturday morning at 9 a.m. for yoga flow at Hyatt Regency Indian Wells. This morning class will revitalize your body and is held in the Gym Movement Studio and is open to the Indian Wells residents for $20 and $10 for spa members. 
YOGA  AT MARGARITAVILLE RESORT
EVERY SATURDAY MORNING
Join in every Saturday morning for a moderate-level yoga class at the Margaritaville Resort Palm Springs. This morning class will allow you to arrive and enjoy quiet stillness, warm up and energize the body, and leave class ready to enter the rest of your day with vitality and equanimity. This class is free for all registered resort guests and $20 per person for non-resort guests. For more information view here.

There is something for everyone this month in Greater Palm Springs. The question now is what will you find?