Getting outside does the body (and mind) so much good—especially in Greater Palm Springs. With 300-plus days of sunshine each year, this oasis of open-air spaces offers endless opportunities to take your workout outdoors. The health benefits alone can range from reducing stress to boosting creativity and self-esteem. Whether you're looking to stay active while on vacation or simply need a break from your solo regimen at home, break a sweat while soaking up some vitamin D at these outdoor fitness classes in Greater Palm Springs.
 
FITNESS CLASSES FOR ALL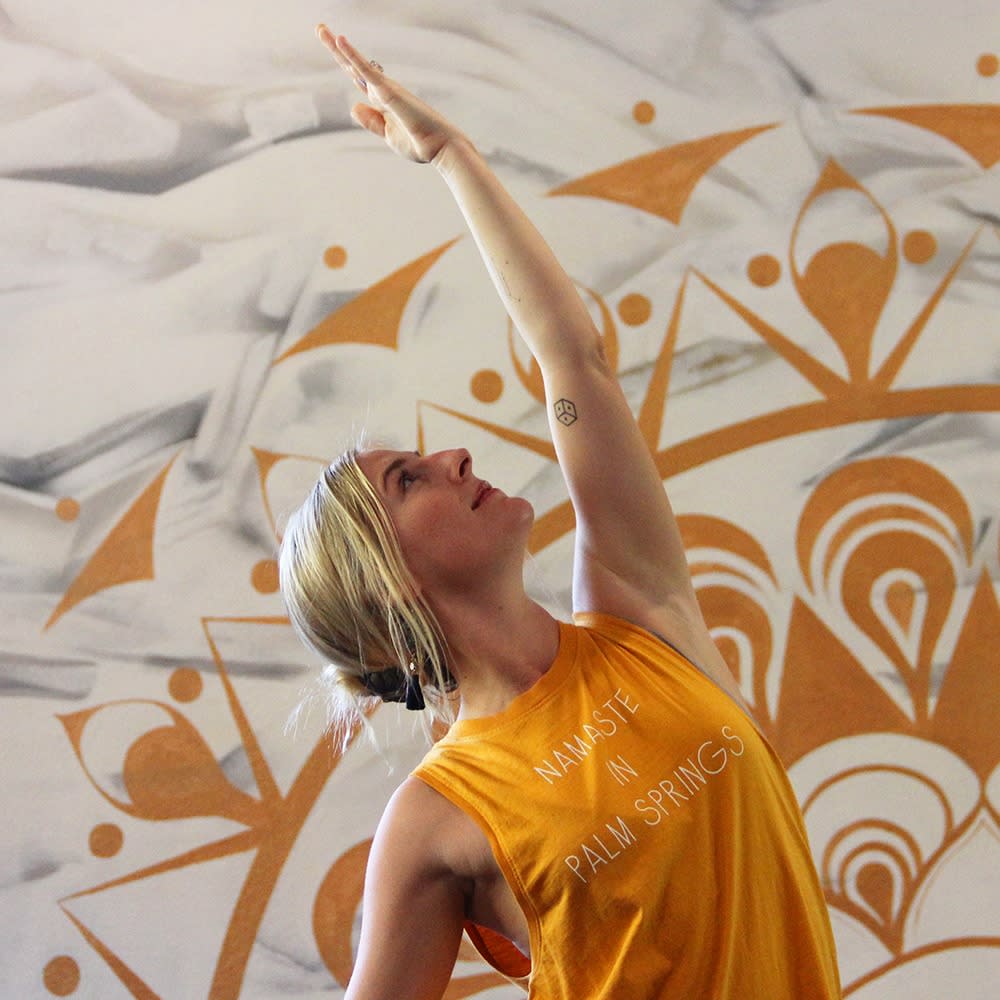 Rooftop Yoga with Power Yoga Palm Springs
In addition to regular in-studio sessions, Power Yoga Palm Springs is offering a variety of vinyasa and power yoga classes in a spectacular rooftop setting in the Uptown Design District of Palm Springs. Find your flow while moving from asana to asana. Be present beneath a bright blue sky. Let the wide-open views of mountains and palm trees inspire an inner peace and give way to an equally open (and gracious) heart. 
To view their upcoming schedule and sign up for classes, click here.
 
Yoga and Pilates at The River at Rancho Mirage
Grab a mat, towel and water and get your om on at The River, where Hot Yoga Plus Palm Springs is hosting outdoor fitness classes along the grassy tiers of the plaza amphitheater. Whether you focus on strength, balance and flexibility with a 60-minute Bikram yoga session (suitable for all levels) or feel the burn during a low-impact, high-intensity Pilates workout, your body will thank you. 
Limited spots are available and there's a $10 fee per person, per class. Click here to view the class schedule and book your spot!
 
Yoga on the Plaza in Old Town La Quinta
Greet the day with a sun salutation on the beautiful, bougainvillea-filled plaza in Old Town La Quinta. Gather Movement & Wellness Studio welcomes yogis of all levels to move, breathe and grow during Sunday morning classes. You'll want to bring a mat, towel, water, sunglasses and mask—plus an appetite for a post-yoga coffee and pastry from local java spot Old Town Coffee Company.
To learn more, contact Jen at jennifer@gatherlaquinta.com or 760-219-7953. Since they do not accommodate drop-ins, you'll want to view the class schedule and sign up here.
 
Free Fitness Fridays at Palm Desert Civic Center Park
Feel rejuvenated—and get your blood pumping—during Free Fitness Fridays at the Palm Desert Civic Center Park, a 70-acre recreational oasis with meandering walking paths and a pond. Classes take place at the outdoor amphitheater and range from Adult Fitness (think cardio and core/abdominal work) to dance. 
Registration is required and can be accessed here. And stay tuned for additional programming that is currently in the works!
 
Yoga at Ruth Hardy Park in Palm Springs
Urban Yoga Center (the longest-running yoga studio in Greater Palm Springs) is bringing its regular outdoor classes to the spacious lawns at Ruth Hardy Park. Practice a deep, heart-healing stretch as you gaze up at the dramatic mountain backdrop. Feel refreshed by the crisp, open air. And let these healing moments inspire an inner peace that lingers throughout the rest of your day.
Payment isn't required but deeply appreciated. View the upcoming class schedule here.
 
FITNESS CLASSES AT YOUR RESORT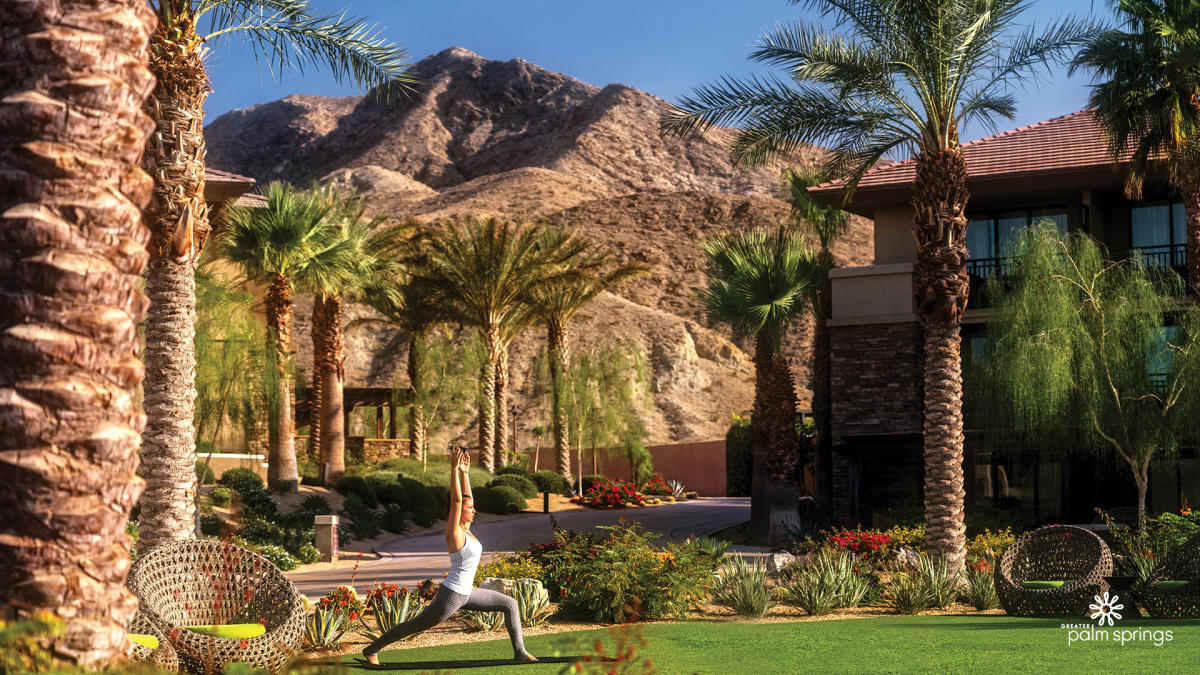 The Ritz-Carlton, Rancho Mirage
At The Ritz-Carlton, Rancho Mirage, a luxurious property nestled high up in the Santa Rosa Mountains, guests can attend various classes ranging from core and balance yoga to dance and total body workouts on the beautiful Vista Lawn. Center yourself with a strengthening tree pose beneath towering palms, or hop on a spin bike and set your pace while taking in the panoramic views. 
 
La Quinta Resort & Club
La Quinta Resort & Club has long lured visitors with its spacious grounds sprinkled with citrus trees, historic casitas and pops of floral color. Shake up your wellness routine with one of their new outdoor fitness offerings (available to guests only) ranging from an early morning power walk to yoga. Reservations aren't required—just show up and get ready to move! 
 
Hotel Paseo
Daily morning yoga on the lawn is just one of the many complimentary perks offered to guests at Hotel Paseo. The classes are suitable for all levels and a great way to start your day off on the right note. Stretch. Strike a pose. Then hit up your favorite shops on El Paseo.

Renaissance Esmeralda Resort & Spa, Indian Wells
Reawaken your senses during a morning yoga session on the beautiful, garden-like grounds of the Renaissance Esmeralda Resort & Spa, Indian Wells. Hosted by local studio Yoga Central, the classes range from gentle vinyasa to yin to restorative and are open to hotel guests and the public (pre-registration is required). Just park in the parking structure behind the resort, follow the signs to the Yoga Lawn and find your flow! For class schedules and registration, click here.