Modernism buffs worldwide know that Palm Springs is a major destination for midcentury modern architecture. Every February, Modernism Week offers 11 days of design, architecture, exclusive tours and more with over 300 events scheduled. There is no shortage of modernism examples to enjoy in Palm Springs proper, but what about the remaining cities that span this eclectic oasis? Modernism and other unique forms of architecture can be found on each end of the 111 and at point in between.
Starting in Palm Springs, we've put together a sampling of lesser known locations to find hidden architectural "treasures." Take your own road trip across Greater Palm Springs in search of these structural gems, both old and new.
Del Marcos Hotel, Palm Springs
Designed in 1947 by beloved desert architect William F. Cody, the Del Marcos Hotel sits in Palm Springs' historic hotel and shopping district. Its angular, colorful profile resembles the jags of the mountains behind it. The bubbly namesake sign and striking tangerine colored rooflines lend a fun vibe to the building.
Ship of Desert, Palm Springs
Continuing into the mesa neighborhood from the bend where Palm Canyon turns into Highway 111, one will find the Ship of the Desert. Owned by renowned fashion designer Trina Turk and her photographer husband Jonathon Skow, the home is an example of Streamline Moderne. The couple rebuilt the entire house according to plans drafted by the original architects, Wilson and Webster with the help of Marmol Radziner – a firm known for midcentury and museum quality restorations of particular integrity.
1995 Camino Monte, Palm Springs, CA
Parker Palm Springs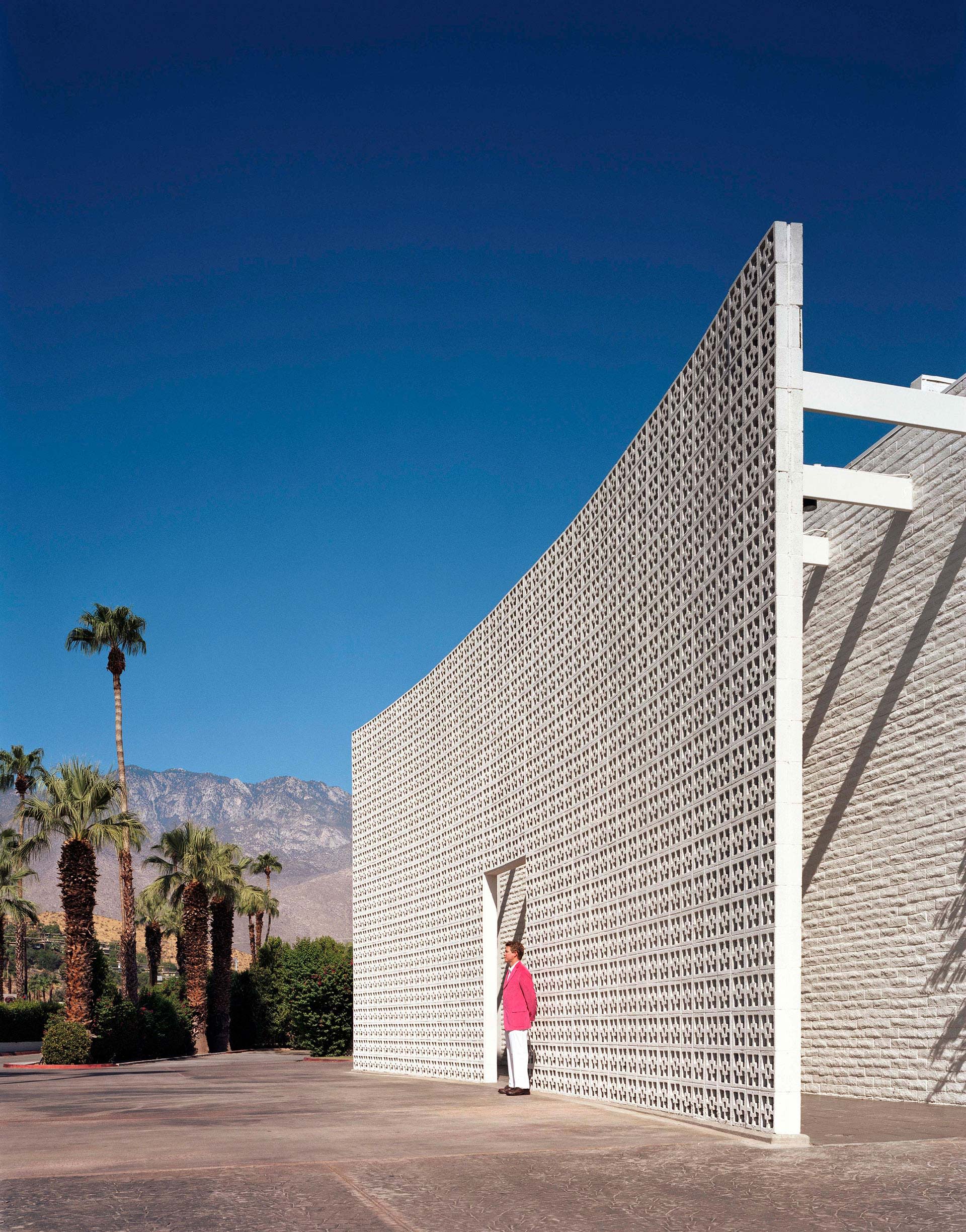 Close to the border between Palm Springs and Cathedral City resides the Parker Palm Springs—known as a chic getaway for the stars. The sprawling property has a legendary history after being home of the first Holiday Inn in California in 1959. It then became Gene Autry's Melody Ranch followed by Merv Griffin's Givenchy Resort and Spa. In 2004, architect David Mann and ceramics-king/designer Johnathan Adler paired up to reinvent the resort for a trendy, fashionable and affluent clientele. The result is clean lines, airy spaces and a stunning decorative wall that looms majestically against the sky upon arrival.
4200 E. Palm Canyon Drive, Palm Springs, CA
Tamarisk Rancho, Rancho Mirage
In 1958, famed modernist architect William Krisel designed the Tamarisk Rancho enclave of homes, which sits adjacent to Tamarisk Country Club in Rancho Mirage.  The neighborhood is rumored to have been an al fresco party central for celebrities like Groucho Marx and Barbara Sinatra.  Modernism's famous flat, low-pitched front gabled and butterfly roofs are featured.
Palm View and Tamarisk Lane, Rancho Mirage, CA
Sunnylands, Rancho Mirage
In the 1960s, architect A. Quincy Jones was commissioned by Walter and Leonore Annenberg to design a sunny home away from their primary residence in Pennsylvania as an escape for harsh winters. The result? Sunnylands. The midcentury modern masterpiece was built with a signature Mayan-style pink roof on vast greens at the corner of Gerald Ford and Bob Hope Drive behind a creamy pink wall. In 2012, after extensive renovations, Sunnylands was opened to the public for tours as well as Annenberg retreats.
37977 Bob Hope Drive, Rancho Mirage, CA
Sandpiper, Palm Desert
The midcentury modern community of Sandpiper is a Palm Desert landmark. Also designed by William Krisel, it is one of the first condominium projects in the Coachella Valley from the early 1960s. Ninety- six homes are splayed out among green lawns, pool clusters and winding walking paths – all boasting the original designs.
72-245 El Paseo, Palm Desert, CA
Marrakesh, Palm Desert
Amid a sea of emerald golf courses housed behind the traditional sand -hued walls of gated country club communities in Palm Desert sits the breathtakingly pink Marrakesh Country Club. The historical midcentury modern property was designed by famed architect, John Elgin Woolf, known for his Hollywood Regency style that includes 10-foot ceilings with wall to wall glass, walled courtyards, Mansard roofs and Pullman entries that exude charm.
47000 Marrakesh Drive, Palm Desert, CA
Fiddleneck Lane, Palm Desert
The Leonard Firestone estate, designed by William Pereira in the 1950s, still holds regal court today at 73155 Fiddleneck Lane in Palm Desert. An 8,000- square- foot steel and glass home, it is situated on three acres with a tennis court and features a low horizon roof floating over shorter front walls that allow for a seamless merge between land and sky. Fiddleneck Lane also boasts other architectural jewels like a 1963 William Krisel which was discovered 45 years after it had been built as one of the architect's early designs. 
73155 Fiddleneck Lane, Palm Desert, CA
Walter S. White Miles Bates House, Palm Desert
Preeminent valley architect Walter S. White was known for homes that consisted of three main elements. First, he created a roof because in the desert it is essential for a home to provide shade. His roofs were experimentations in whimsical forms like wavy, concave and crinkled or in hyperbolic paraboloid shapes. Second, he was a fan of space-defining walls, a few per room which also designated outdoor areas. Finally, he often filled the remaining sides of rooms with big panes of glass. This indoor-outdoor blend became very popular in the desert. A grand example of this is the Miles Bates House in Palm Desert.
73697 Santa Rosa Way, Palm Desert, CA
Indio Teen Center, Indio
Touted as an example of the "new contemporary" and derived from modernist influences amid the distinct geography of the desert, the Indio Teen Center was designed by W.W.Cot/Mills Architects. The City of Indio wanted a place that would attract youth so the architects used Googie architecture, a modern style accentuated most prominently by the 1950's Los Angeles fast food restaurant chain Norms. Public artist Phillip K. Smith created a cutting edge piece of artwork near the entrance.
Coachella Valley Rescue Mission, Indio
After operating for more than 40 years as a food and shelter resource for the homeless and migrant worker populations of the valley, the Coachella Valley Rescue Mission received a sprightly renovation in 2011. As a result of collaboration between Indio's The Art Office and Martinez/Kuch Architects, the new building pops with modernist geometry and bold, vibrant colors creating striking visual juxtapositions.